Be More Chill. This fun and quirky musical about teenage angst looks set for a committed and appreciative audience . . .
"This is some top-secret, can't – even – look – it – up on the internet shit
It's from Japan
It's a gray oblong pill
Quantum nano-technology CPU
The quantum computer in the pill will travel through your blood until
It implants in your brain and tells you what to do."
Rich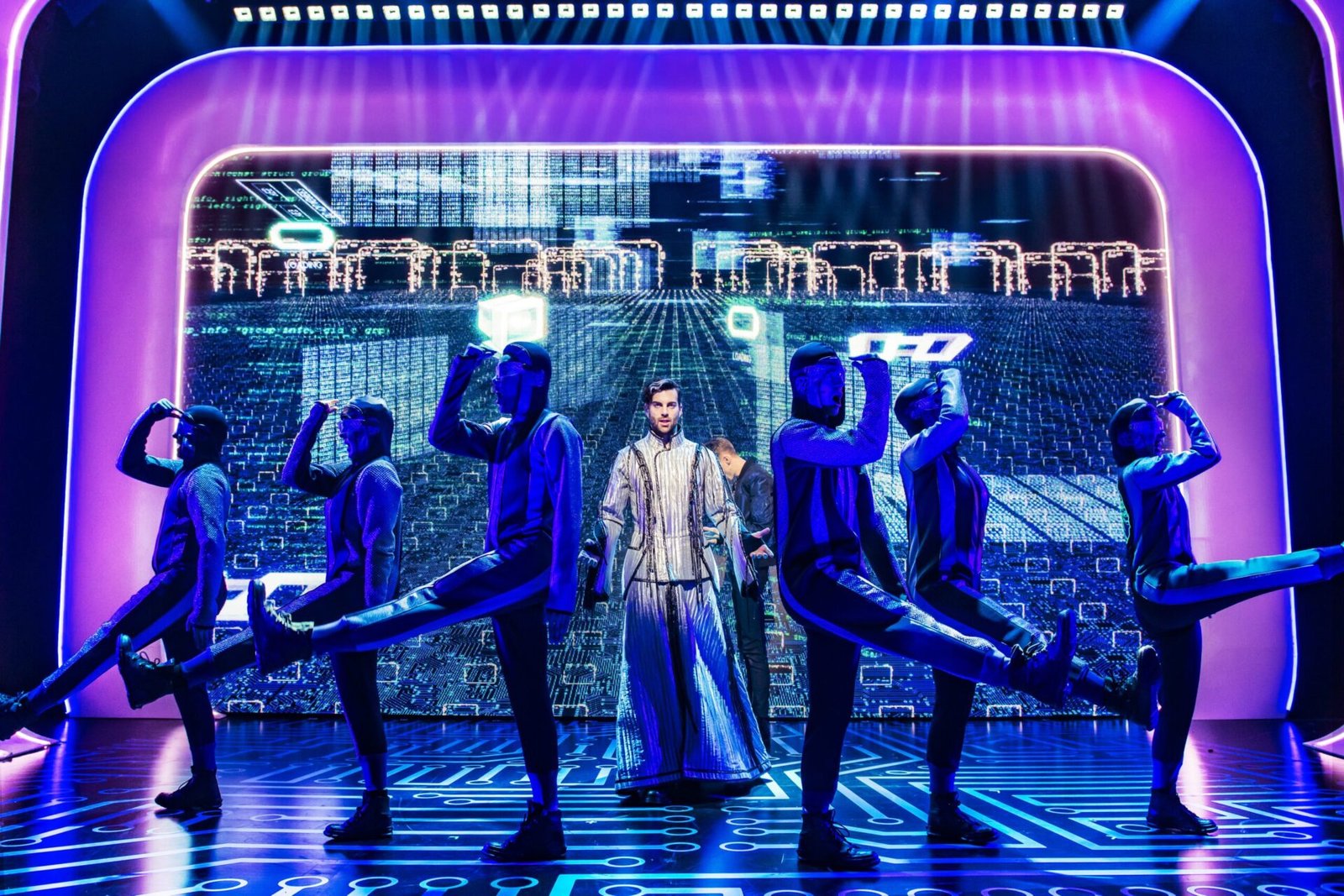 Be More Chill  the musical has been a phenomenon on Broadway after Ned Vizzini's "young adult novel" captured the imagination of American teenagers in New Jersey and beyond. For a show to be sold out in the States before it opens is remarkable. So Be More Chill comes to London with an impressive amount of downloads on Spotify and the like. There have been 350 million streams of the original cast recording.
It is very much in the genre of Dear Evan Hansen and the British musical Everybody's Talking About Jamie in as far as Be More Chill is about coping with difference at the vulnerable age of late adolescence. Except that Be More Chill takes off in a science fiction fantasy way and is brimful with humour.
Jeremy Heere (Scott Folan) is very tall and very skinny and mocked by the cool kids. He meets the very cool Rich Goranski (James Hameed) who has taken a chill pill. Rich Goranski was one of the uncool "outcasts" in his freshman year. Jeremy has a crush on a drama wannabe Christine Canigula (with the fascinating name of Miracle Chance) and she has a whole library of wide eyed visual expression to match. Christine sings "I Love Play Rehearsal" so we can be sure about her dramatic ambition.
Jeremy blows his bar mitzvar money on this chill pill with a difference and his SQUIP (Super Quantum Unit Intel Processor) (Stewart Clarke) is materialised with his silvered circuit board designed costume matching some of the set. The squid is inside Jeremy's brain and all he has to do is to listen to it and it will guide him to be the acknowledged coolest kid around. "My job's to colour your aesthetic and to make you seem much less pathetic," is in the Squip's witty lyric.
Jeremy's best friend and fellow geek is Michael Mell (Blake Patrick Anderson), a warm character who is left out in the cold after Jeremy's chill conversion. His song, "Michael in the Bathroom" at a party is touching. "I'm just Michael in the bathroom/ Michael in the bathroom at a party/ No, you can't come in/ I'm waiting it out 'til it's time to leave/ And picking at grout as I softly grieve."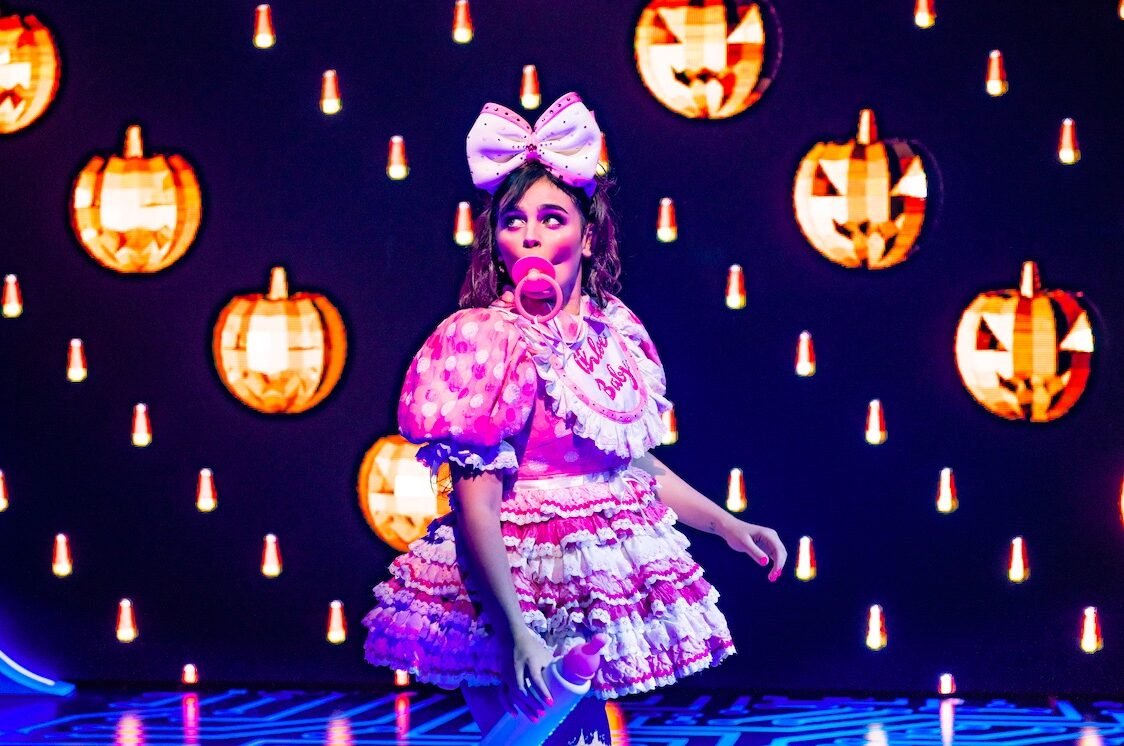 Two standout girls Brooke Lohst (Eloise Davies) and Chloe Valentine (Millie O'Connell) are the top of the high school pecking order dating tree and the Squip gives Jeremy a back story about dumping a French girlfriend who cheated on him to draw in Brooke. Millie's comic range is on show here as well as her musical talent. We all remember her as Anne Boleyn in Six. Another Six star is Renee Lamb as Jenna Rolan, the high school gossip.
I very much liked Beowulf Boritt's set: clever projections from Alex Basco Koch, simple but effective and lit very well by Tyler Micoleau to make it exciting and impactful. The tunes are good, the lyrics comic and meaningful. You will understand why they have been so often streamed. The Halloween scene sees fabulous costumes and more of the vibrant choreography which is full of energy.
Teenage concerns to the fore, this musical isn't afraid to mention masturbation. It is a joy to see a show which may start a whole life of theatre going for some and who will not be short changed by Be More Chill.
Act One
More Than Survive
I Love Play Rehearsal
More Than Survive (Reprise)  
The SQUIP Song
Two-Player Game
The Squip Enters
Be More Chill Pt. 1
Do You Wanna Ride?
Be More Chill Pt. 2
Sync Up
More Than Survive (Reprise)
A Guy That l'd Kinda Be into  
Upgrade Loser Geek Whatever
Act Two
Do You Wanna Hang?
Michael in the Bathroom
A Guy That I'd Kinda Be Into
The Smartphone Hour
The Pants Song
The Pitiful Children
The Play
Voices in My Head
Be More Chill
Book by Joe Tracz 
Music and Lyrics: Joe Iconis 
From the novel by Ned Vizzini 
Directed by Stephen Brackett 
Cast
Starring:
Blake Patrick Anderson
Miracle Chance
Stewart Clarke
Eloise Davies
Scott Folan
Christopher Fry
James Hameed
Renee Lambe
Millie O'Connell
Miles Paloma 
Creatives
Director: Stephen Brackett
Choreographer: Chase Brock 
Music Supervisor and Orchestrations: Charlie Rosen 
Vocal Arrangements: Emily Marshall 
Scenic Designer: Beowulf Boritt 
Costume Design: Bobby Frederick Tilley II 
Lighting Design: Tyler Micoleau 
Sound Design: Ryan Rumery 
Projection Design: Alex Basco Koch 
Information
Running Time: Two hours and 30 minutes with an interval
Was booking pre-lockdown 1 to 14th June 2020
Message from lwtheatres  
THANK YOU to all our amazing fans, including those
who had purchased tickets but still haven't seen the show.
Hopefully we'll be back in London soon,
so please stop by bemorechillmusical.com and
make sure you're on our list — we can't wait
to share some good news when it comes! Stay safe, players…
Theatre:

The Other Palace
Palace Street
Victoria
London SW1E 5JA
London NW1 4NU
Rail/Tube : Victoria
Website:  Be More Chill Musical
Reviewed by Lizzie Loveridge at the
Other Palace on 18th February 2020