Matilda the Musical thrills children and adults alike with the gruesome Olympian Miss Trunchbull
"Looks are more important than books."
Mrs Wormwood
We had heard from its showing in Stratford Upon Avon last year that Matilda the Musical was rather special but I didn't expect to be so blown away by this delightful production about the precocious little girl who loves books and is born into a family of book hating telly addicts. Delightful as ten year old Eleanor Worthington Cox is as Matilda, it is Bertie Carvel as the wicked headmistress Miss Trunchbull who stole the show for me.

It all goes wrong for Matilda at birth when her father, the second hand car dealer Mr Wormwood (Paul Kaye), refuses to acknowledge that she is a girl and calls her boy throughout. Her mother (Josie Walker) is obsessed with ballroom dancing competitions with her dance partner the slimy Rudolpho (Gary Watson).

Matilda discovers she can be naughty and substitutes her father's hair oil for something that turns his hair green. She seeks solace in the stories at the local library with librarian Mrs Phelps (Melanie la Barrie) but is sent to Crunchem Hall Primary School ruled by the vicious ex-hammer thrower, Miss Trunchbull.
Matilda is taught by the shy, self effacing Miss Honey (Lauren Ward) and discovers that one of her stories about a daring Escapologist (Matthew Malthouse) and his wife the Acrobat (Emily Shaw) has a basis in fact. She uses her special powers to frustrate Miss Trunchbull and her favoured punishment for the pupils of confinement in a cell with nails and glass in the walls called "Chokey." 
The music will have you trying to work out where you have heard those notes before, so I presume what we have here is not derivative but pastiche. The tunes are a play on the style and rhythms of those from Oliver,  Phantom, Les Miserables and many other well known musicals, and even grand opera. They make excellent hearing.

Minchin's lyrics too are great fun. The choreographed children have been drilled to within an inch of their life and the set piece numbers are startingly good. "When I Grow Up" in which we see smaller children grow up and switch swings with their older counterparts is really impressive and memorable. I loved the gym drill over the gym horse which culminates in Trunchbull athletically skipping with a gymnastic ribbon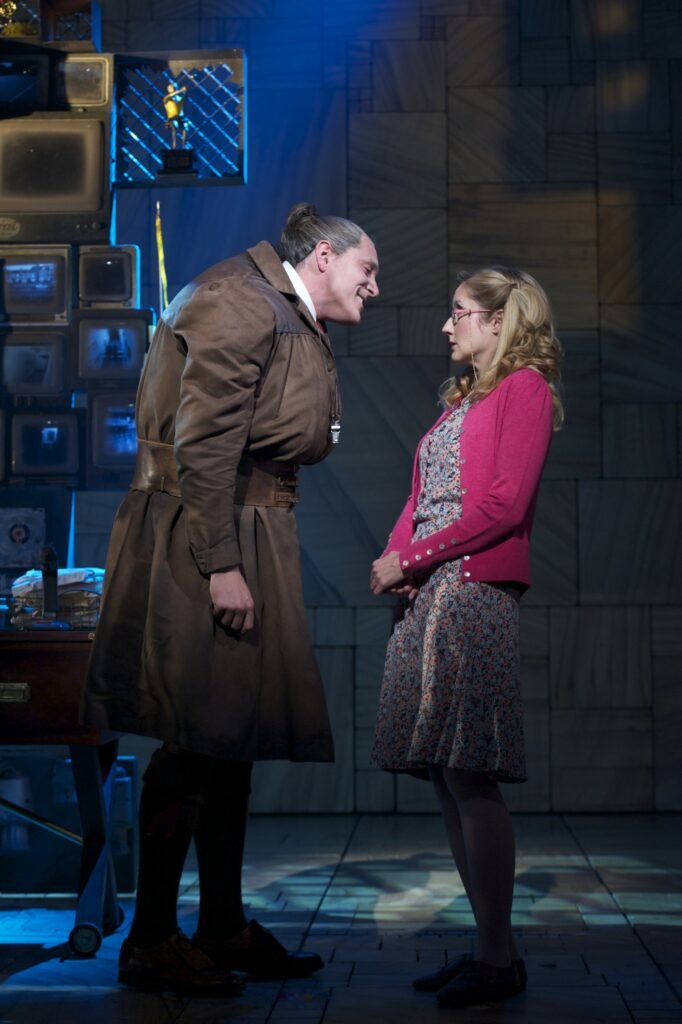 Matthew Warchus' production has plenty of dark fun in it to satisfy adults in the audience but the heart warming story of the delicate Miss Honey never feels sentimental or schmaltzy as admirably underplayed by Mrs Warchus, Lauren Ward. I saw 10 year old Eleanor Worthington Cox as Matilda. She is one of four alternate Matildas. She sings and dances superbly but is a natural actress with an innocent charm that pleases. 

Bertie Carvel gives a superbly, wry comic performance as Miss Trunchbull. Part leather clad Richard III, part daunting Olympian in the strength field events, she has a capacious bosom adorned with a T shirt of Olympic rings. Trunchbull so should have been the symbol of the London Olympics in 2012! Carvel has a large hairy mole on his face and stands giving the audience amused asides with one hand permanently bent backwards. We cheer on Bruce (Jake Bailey) who has the challenge of eating all of Miss Trunchbull's Chocolate Cake and love the rock number at the end when the children sing "Revolting Children".  

Rob Howell's set and costume designs are delightful. Library shelves fill the stage and the surround is alphabet building blocks lit dramatically by Hugh Vanstone. The RSC may have as big a hit with Matilda as they did with Les Miserables back in 1985. And what do I want for Christmas? A ticket to see Matilda again! 
Act One
Miracle
Naughty
School Song
Pathetic
The Hammer
The Chokey Chant
Loud
This Little Girl
Bruce
Act Two
Telly
When I Grow Up
I'm Here
The Smell of Rebellion
Quiet
My House
Revolting Children
Matilda the Musical

Music and Lyrics by Tim Minchin 
Book by Dennis Kelly 
Original novel by Roald Dahl 
Directed by Matthew Warchus
Cast
Starring:
Bertie Carvel
Paul Kaye
Lauren Ward
Josie Walker 
The Matildas:
Eleanor Worthington Cox
Sophia Kiely
Cleo Demetriou
Kerry Ingram 
With:
Peter Howe
Melanie La Barrie
Matthew Malthouse
Emily Shaw
Verity Bentham
Alistair Parker
Marc Antolin
Nick Searle
Lucy Thatcher
Matthew Clark
Michael Kent
Rachel Moran
Leanne Pinder
The Children:
Ruby Bridle
Jemima Eaton
Ellie Simons
Jake Bailey
James Beesley
Zachary Harris
William Keeler
Alfie Manser
Jaydon Vijn
Lili Laight
Isobelle Molloy
Lucy May Pollard
Toby Murray
Louis Suc
Ted Wilson
Alicia Gould
Jemima Morgan
Annabel Parsons
Oonagh Cox
Fleur Houdijk
Katie Lee
Thomas Atkinson
Callum Henderson
Jamie Kaye 
Creatives
Director: Matthew Warchus
Choreographer: Peter Darling
Designer: Rob Howell
Musical Director:  Bruce Lee
Orchestrations and Additional Music: Chris Nightingale
Lighting Designer: Hugh Vanstone
Sound Designer: Simon Baker
Illusions: Paul Kieve
Information
Running Time: Two hours and 30 minutes with an interval
Booking from 16th September 2021
Theatre:

Cambridge Theatre
Earlham Street,
London WC2 9HU
London NW1 4NU
Tube : Covent Garden, Leicester Square
Reviewed by Lizzie Loveridge
at the Cambridge Theatre, on 21st November  2011