John Doyle's minimalist The Color Purple at the Chocolate Factory is a triumph with Cynthia Erivo
"You hide your head under your wing, just like a little bird."
Shug Avery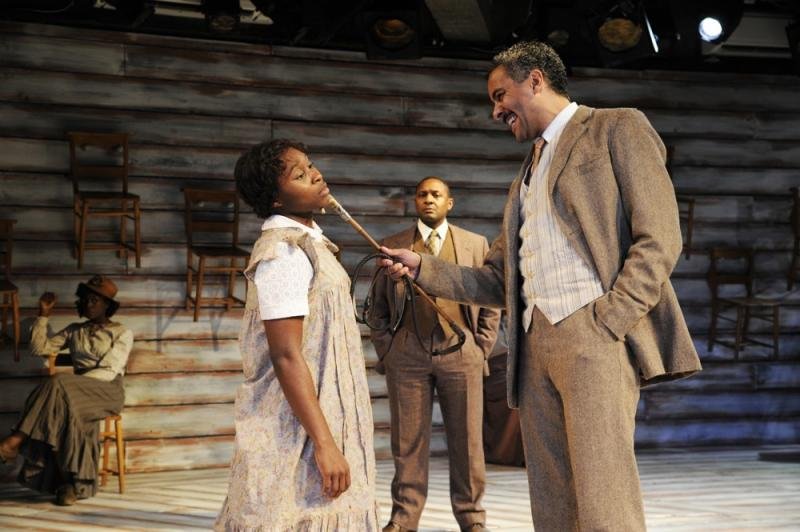 Into a reconfigured space at the Chocolate Factory comes the American musical based on Alice Walker's seminal novel and Steven Spielberg's film of The Color Purple. The stage area is a simple platform of light bleached wood and the audience surround on three sides in this wonderfully intimate theatre. It's Sunday morning and the lighting designer gives us bright sunshine, as women wearing their Sunday Best, greet each other to discuss "Who's the Daddy?" of Celie's (Cynthia Erivo) baby?

The horrible truth is that the father of her second child is the same as the father of her first child, her own step father (Neil Reidman).  But here we can concentrate for a moment on the sisterly love of Celie and Nettie (Abiona Omonua) in the lovely duet "Huckleberry Pie".  We switch to the gospel type rhythms for the church meeting only to be impressed by the strong, wonderful voice of Mister (Christopher Colquhoun).   Sadly his character is not as beautiful as his voice and his behaviour not as handsome as his personage.

The London set design uses wooden chairs which hang behind the stage like a modern painting and can be lifted off to be placed on the stage but also used to improvise any prop.  This is surprisingly effective and I loved the simplicity of the design.  The movement of the chairs is a choreography all of its own and the dance in the show is as seamless and natural as is needed. Never once did "switch to a dance number" go through my head because the flow of the story is never allowed to come second.  It is interesting that John Doyle is credited both as director and designer as the design is incorporated into the direction!  A live eight piece band led by Tom Deering is tucked away in the corner of the stage.

I think Americans who saw this musical in New York in 2005 will be excited by the intimacy and sincerity of John Doyle's stripped back London production.

The music is very accessible, bluesy, Southern jazzy with touches of ragtime, making it varied and invigorating.  The singing is magnificent with soloist quality voices from several of the cast.  Cynthia Erivo belts out her heroic numbers, married to the cruel Mister, Christopher Colquhoun whose great singing voice I have already mentioned, and Nicola Hughes, who plays showgirl Shug Avery was Trevor Nunn's Bess in his latest version of Porgy and Bess.  We meet Mister's son Harpo (Adebayo Bolaji) and his unconventional wife Sofia (Sophia Nomvete).  Mister is in love with Shug and nicer to everyone when the fabulous club singer is staying with them, but Shug takes an interest in Celie and builds her confidence and self esteem.  Celie has once more found a loving relationship akin to that she had with her sister.

Cruelly allowed to think that her sister Nellie was dead, Shug finds letters from Nellie hidden by Mister. The scene after the interval switches for a scene to Africa where Nellie is living with a missionary couple, who were given Celie's children to adopt. To create Africa, the women of the chorus sport colourful headdresses and masks decorated with exotic flowers.  Empowered by this, and once more in contact with Nellie, and now with her lost babies, Celie uses her sewing skills to make pants for Shug Avery and soon everyone onstage will be wearing a pair of Celie's high waisted, checked, designer pants, giving her economic independence and choices she never had before.

This production has been exceptionally well cast. The acting is superb and makes each one of the characters believable.  Cynthia Erivo has a voice to die for and a sweet, unassuming countenance which contrasts with the glamour of Nicola Hughes's Shug Avery.

Emotion will bring tears to your eyes at the bravery of Celie, and women like her, in the face of adversity. The context, of course, is that these women whose grandparents were born into slavery are still living an oppressed existence dictated by their gender and their lack of economic power.

I cannot recommend more highly this moving and soulful production in London's exciting 200 seater Chocolate Factory space.  I think The Color Purple may well be top of my list for Best Musical nomination this year, giving Book of Mormon a close run.  It's a choice between tears and laughter.  I had trouble sticking to the critics' code of not giving a standing ovation to a performance, as only the infirm were left in their chairs at the curtain call!
Act One
Huckleberry Pie
Mysterious Ways
Somebody Gonna Love You
Our Prayer
Big Dog
Hell No!
Brown Betty
Shug Avery Comin' to Town
Too Beautiful for Words
Push Da Button
Uh-Oh!
What About Love?
Act Two
African Homeland
The Color Purple
Mister's Song
Miss Celie's Pants
Any Little Thing
I'm Here
The Color Purple (Reprise)
The Color Purple

Music and Lyrics by Brenda Russell, Allee Willis, Stephen Bray
Book by Marsha Norman
Based on the novel written by Alice Walker and the Warner Brothers/Amblin Entertainment Motion Picture
Directed and designed by John Doyle
Cast
Starring:
Cynthia Erivo
Abiona Omonua
Christopher Colquhoun
Adebayo Bolaji
Nicola Hughes
Sophia Nomvete 
With:
Keisha T Fraser
Samantha-Antoinette Smith
Jennifer Saayeng
Leon Lopez
Neil Redman
Lakesha Cammock
Joe Speare
Marc Akinfolarin
Ashley Campbell
Ibinabo Jack
Gabriel Mokake 
Creatives
Director and Design: John Doyle

Orchestrations: Brian Morales
Musical Director: Tom Deering
Musical Supervision: Catherine Jayes
Choreography: Ann Yee
Lighting Designer: Jane Cox

Sound Designer: Gregory Clarke
Information
Running Time: Two hours and 30 minutes with an interval
Closed at Menier on 14th September 2013
Theatre:
Menier Chocolate Factory
53 Southwark Street
London SE1 1RU
Rail/Tube: London Bridge
Reviewed by Lizzie Loveridge at the Menier Chocolate Factory
on 18th July 2013