Most of the pre-publicity about Elf was to do with its record breaking seat prices. So is it worth it?
"I'm the worst toy maker in the world. I'm a cotton headed ninny muggins."
Buddy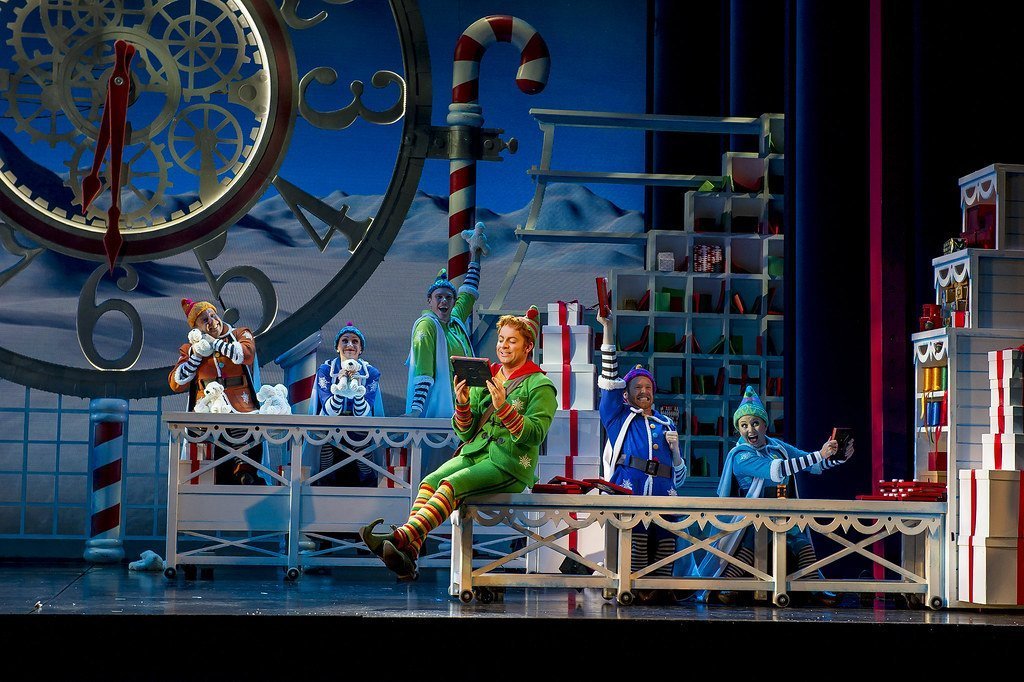 Such is the popularity of the Will Ferrell film, Elf, there are many children and parents who want to see this seasonal musical about the human foundling brought up as an elf until he outgrows his environment. Having taken five years to come from New York isn't a good sign. Further, that Elf has come via Plymouth, Devon doesn't increase our confidence that this show is West End big musical ready.
There is also a problem for the producers in mounting a Christmas or holiday season show for a couple of months. There just won't be the time to recoup costs of large sets, expensive costumes and a big cast. So, if despite the ticket prices, you limit your expectations then you are more likely to be pleased by the outcome. The show has received much advance publicity about the record breaking ticket prices, programmes at ten pounds, souvenir merchandise and ice creams also adding to the cost for the average family.
Ben Forster who plays the outsized Elf, Buddy, has a charming personality. I spotted him as the likely winner of the 2012 show to select the musical actor to play Jesus in Jesus Christ Superstar on ITV's Superstar, in the first episode, and his singing voice is clear and powerful. He can act too, although the story takes a stretch to suspend disbelief. And the scruffy red wig, well I hope it is a wig, was not a good choice.

The other principal is Buddy's love interest, Jovie played by Kimberley Walsh, once of Girls Aloud, the girl group that launched Cheryl Cole's career. Like Forster, she too is a worthy musical star with brilliant vocals; this girl can really sing although her part is a bit of a downer as the dissatisfied shop girl who initially hasn't got the joy of the Christmas spirit.
I liked Jessica Martin who plays Buddy's step mother, and in this show she isn't the wicked stepmother of most Christmas pantomimes but a neglected wife whose workaholic husband (Joe McGann) resents the time at Christmas which takes him away from his work in publishing in the Empire State Building. Now you would think wouldn't you that this hard hearted character was in high end business or technical publishing but actually his business is publishing children's books.
Jennie Dale does brilliantly as Deb, Mr Hobbs' comedic PA with strong personality acting and singing. The feel good factor is satisfied when Buddy bonds with his half brother Michael delightfully played by Harry Collett/Ilan Galkoff/Noah Key/Ewam Rutherford. I didn't find the tunes memorable on first hearing but the orchestra was excellent.
There are a few dance numbers I liked. One with tap dancers in Macy's, the New York department store where Kimberley Walsh is the only girl wearing a skirt but the shop workers are dressed in Christmas red and elfin green. The finale is also spectacular with the cast lined up in snowy white. Santa's fly past is underwhelming but there is snowfall and watch out if you are that far forward because you will get wet.
I had to keep reminding myself that this is a show for children who are already familiar with the jokes of the film: Santa smelling not like Santa but of beef and cheese as Buddy meets the hundreds of impersonating Santas, and Buddy talking about his curious reaction to Jovie, "I think you're really beautiful and I feel really warm when I'm around you and my tongue swells up." Talk about a double entendre not suitable for children!
I am sorry; Elf wasn't my cup of egg nog!
Act One
Overture
Christmastown
World's Greatest Dad
In The Way
Sparklejollytwinklejingley
I'll Believe In You
In The Way (Reprise)
Just Like Him
A Christmas Song
I'll Believe In You (Reprise)
Act Two
Nobody Cares About Santa
Never Fall In Love
There Is A Santa Clause
The Story of Buddy The Elf
Nobody Cares About Santa (Reprise)
A Christmas Song (Reprise)
Elf: The Musical
Based on the New Line Cinema film, written by David Berenbaum
Book by Thomas Meehan and Bob Martin
Music by Matthew Sklar
Lyrics by Chad Beguelin
Directed and Choreographed by Morgan Young
Cast
Starring:
Ben Forster
Kimberley Walsh
Joe McGann
Jessica Martin
Jennie Dale
Mark McKerracher
Graham Lappin
Harry Collett
Ilan Galkoff
Noah Key
Ewan Rutherford
With:
Alex Fobbester
Ceili O'Connor
Ed White
Mark Iles
Francis Haugen
Charlotte Gale
Barnaby Thompson
Debbie Paul
Nicola Coates
Paul Hutton
Katie Bradley
Charlie Bull
Creatives
Director and Choreographer: Morgan Young
Musical Supervisor: Stuart Morley
Production Designer: Tim Goodchild
Lighting Designer: Tim Lutkin
Video Designer: Ian William Galloway
Sound Designer: Clement Rawling
Information
Running Time: Two hours and 25 minutes with an interval
Closed on 2nd January 2016
Address:
Dominion Theatre
268-269 Tottenham Court Road
London W1T 7AQ
Tube: Tottenham Court Road
Reviewed by Lizzie Loveridge at the Dominion Theatre on 5th November 2015