A home grown rock musical is set to become the 1980s cult sensation for the twenty first century
"I feel we needed more romance and Spandex and less of the wizardy stuff"
Lex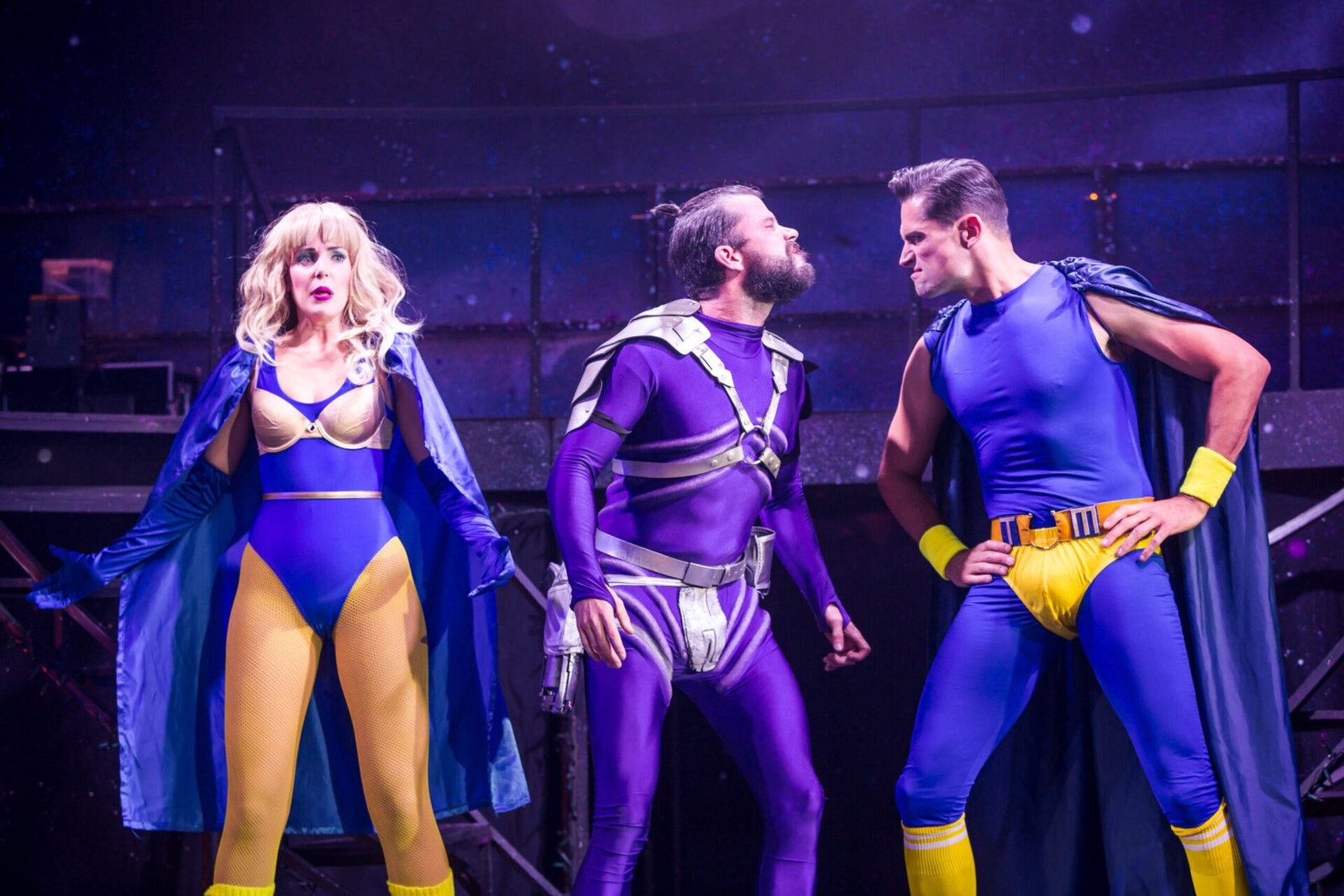 How exciting to see a home grown musical come of age after the creators have been working on their ideas for more than four years! I came to review because I had seen Rob Houchen on a retrospective BBC television programme about the origins of West Side Story and was so impressed by the vocal and emotional quality of the young man singing Tony, I wanted to hear more. I looked him up to find he is taking the lead as Eugene in Eugenius at The Other Palace, Lloyd Webber's theatre in Palace Street Victoria is hosting the musical until 20th October but surely this show must be destined to find a West End future.
With a book written by the British creators, Ben Adams singer of the boy band A1 and writer and actor Chris Wilkins, Eugenius creates the kind of vibe I experienced in seeing The Rocky Horror Picture Show on stage at a former cinema in the King's Road, Chelsea in the early 1970s. It wasn't just the rock music, the gloriously over the top performances and costumes but the humour that was so delightful and I get the same feeling from Eugenius. Interestingly, a man named Chris Wilkins used to write Theresa May's speeches. Could this be the same Chris Wilkins? Sadly not. Why? Because her speeches would have been a whole lot wittier!
Much of the show is pastiche, a homage to those superhero movies of the 1980s and the rock of Bonnie Tyler, Prince, Boy George and Michael Jackson. Of course one man's pastiche is another man's derivative but the music of Eugenius is accessible, catchy and fun and the lyrics make you smile.
Eugene (Rob Houchen) is an American schoolboy who has dreams about a superhero called Tough Man which he converts into drawings and stories. Song: "Tough Man". Eugene, Janey (Laura Baldwin) and Feris (Daniel Buckley) are teased by the "Cool kids" an obnoxious bunch of sports jocks in red and yellow baseball jackets with an entourage of cheerleading girls. Feris is an unashamed Geek and he and Janey sing "G.E.E.K." It is a lesson in how to stand up to bullies by Feris bravely taking them on.
A Hollywood Talent scout, the delightfully camp Theo (Scott Paige) visits the school looking for ideas for new movies and despite being sabotaged by the Jocks, Eugene's Tough Man stories take him to Hollywood. Producer Lex (Alex Bourne) casts two actors, Gerhard as Tough Man (Simon Thomas) and Cassie as Super Hot Lady (Emily Tierney).  Tough Man's real twin, cast out into space, Evil Lord Hector (Neil McDermott) comes to Earth to avenge himself on his twin and mistakes the actor in the movie for his actual twin. Eugene is given the confidence by Janey to question the way his story has been misinterpreted by Hollywood and a feel good ending is arrived at.
I cannot fault this musical: Rob Houchen and Laura Baldwin are both outstanding singers who are easy to believe in because of their acting skills.  Laura as plain Janey has a number, "The Future's Bright" when she literally lets down her hair, ties her tee shirt in a knot, takes off her glasses and "girl next door" turns into sexy heroine, with a wind machine emphasising her beautiful flowing hair. Her backing group are three girls, dressed like dominoes but wearing leg warmers. Remember those?
The special quality of Rob Houchen's voice is impressive and despite the jokey quality of the script, he conveys genuine feelings and we care about the outcome. "Comic Book Kind of Love" is a standout song.  Alex Bourne inhabits the Hollywood mogul with the "Cool Kids" becoming film company executives in suits, white shirts and blue ties, but with all their suit jacket sleeves pushed up to their elbows as they personify sycophancy in the Lex adulation song, "A Little Kiss Ass".  Lex is perfection with a white suit down to his white tasselled loafers and has huge stage presence even if he thinks CEO stands for Capable of Everything. I liked too the masked band singer with Flock of Eagles, Tom Senior who doubles unmasked as a Stock Jock.
Evil Lord Hector comes to Earth wearing a Babygro and drinking milk from a baby's bottle.  His robot nanny companion reminds us of the etiquette droid C-3PO.  The two movie stars, Tough Man and Super Hot Lady are the Ken and Barbie Dolls of Hollywood with his terrible German accent and her initial wooden dancing with a silly grin.  The No Pants Dance starring Feris and Carrie, Super Hot Lady, is eye bogglingly superb but the choreography is generally full of energy in this very visually pleasing show.
Sparkling, brilliantly loud costume and lighting design combine, often playing on the Marvel Superhero film scenes we know so well.  The birth of the twins will strike a tongue in cheek chord and I found lots to giggle at with allusions to other musicals and movies.  The audience were encouraged to film the finale on their phones and to share it.  Director Ian Talbot is known for his annual musical at the Open Air in Regent's Park prior to Timothy Sheader's. I feel Eugenius's tryouts have polished a show that is now fully West End ready.
EUGENIUS! IS BACK at The Turbine Theatre to May 2023
Act One
Tough Man
G.E.E.K.
Who's That Guy?
Origins
Comic Book Kind of Love (Solo) 
Go You Genius
Ticket to Hollywood
Lex Hogan
A Little Kick Ass
The Future's Bright
She's Amazing
Hollywood
Act Two
Hands Up!
Evil
The No Pants Dance
Happy Endings Don't Exist
Don't Shoot for the Stars, Shoot Higher
Comic Book Kind of Love
Go Eugenius!
Eugenius!
Book, Music and Lyrics by Ben Adams and Chris Wilkins
Directed by Ian Talbot
Cast
Starring:
Rob Houchen
Laura Baldwin
Daniel Buckley
Neil McDermott
Scott Paige
Alex Bourne
Simon Thomas
Emily Tierney
Christopher Ragland
Tom Senior
Alison Arnopp
With:
Titus Rowe
Alex Tranter
Ben Darcy
Dillon Scott-Lewis
Lauren Concannon
Amy West
Sasha Wareham 
Creatives
Director: Ian Talbot

Creative Consultant: Mike Jibson
Design: Hannah Wolfe
Musical Director: Darren Lord 
Choreographer: Aaron Renfree 
Lighting Designer: Andrew Ellis
Sound Designer: Dan Sampson
Original Sound Design: Gareth Owen
AV Projection Design: Dr Andy
Musical Consultant: Stuart Morley
Resident Director: Anthony Houghton
Information
Running Time: Two hours and 20 minutes with an interval
Closed at The Other Palace on 27th October 2018
Theatre: 
The Other Palace 
Palace Street
Victoria
London SW1E 5JA 
Rail/Tube: Victoria
Reviewed by Lizzie Loveridge at The Other Palace on 5th September 2018