Stephen Sondheim's Company gets a meaningful and invigorating makeover with an inspired gender flip
"Everythings different
Nothings changed
Only maybe slightly rearranged"
Harry – from the song, Sorry-Grateful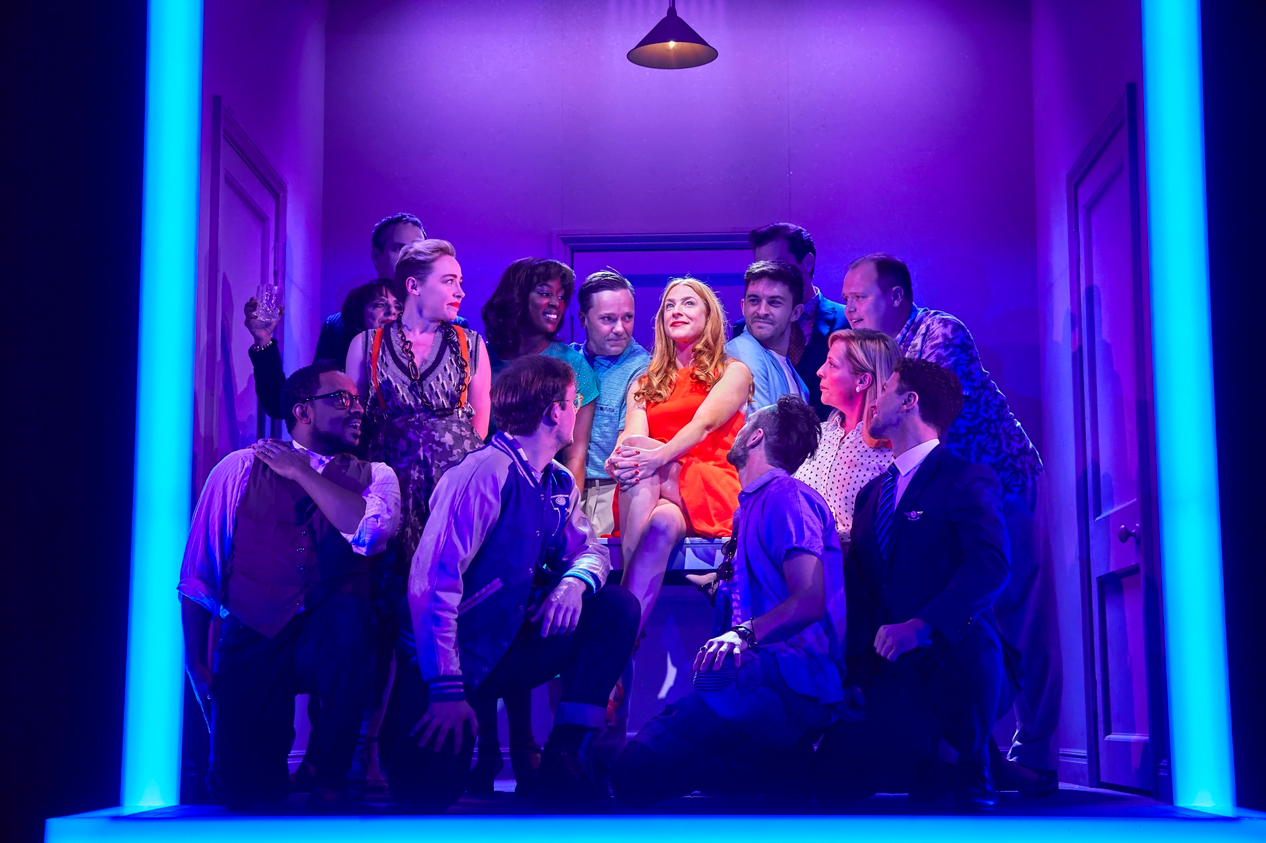 Marianne Elliott's new production of Stephen Sondheim's Company is a modern spectacular. Never has a revival of this 1970 musical felt more current and fresh. After every number, I was left thinking "Why has no one ever thought of doing this before?"
In the original, Bobby is a successful, single man living in New York City. He is celebrating his 35th birthday, whether he wants to or not, surrounded by friends most of whom are married couples. As he goes to blow out his candles and make a wish, Bobby realises he may be missing something, a wife. Through a series of scenes where Bobby is invited around to each of the couple's homes, they inevitably get onto the topic of conversation about why Bobby is still single? After seeing how his friends are as married couples, Bobby starts to question himself and whether or not marriage is for him after all.
Whilst keeping most of the original dialogue, Marianne Elliott has transformed this musical by changing just one simple attribute of a few of the characters: their gender. Bobby, the central male character becomes the female Bobbie (Rosalie Craig). Bobby's girlfriends; April, Kathy and Marta are now Andy (Richard Fleeshman), a handsome yet ditsy flight attendant, Theo (Matthew Seadon-Young), a lovable geek and PJ (George Blagden), a British hipster who is too cool for the uptown scene. Lastly, anxious bride-to-be Amy is turned into bridegroom, Jamie (Jonathan Bailey). But Paul, Jamie's husband to be (Alex Gaumond) remains male, which means that this musical gets its very first gay couple, adding yet another contemporary element to this game changing production.
Floating through doors from one frame lit scene to the next and dressed in bright red to match her fiery locks, Rosalie Craig is charismatic and endearing as Bobbie. Her voice is tender yet soaring in her breathtaking performances of "Marry Me a Little" and "Being Alive". "You Could Drive a Person Crazy" has been re-imagined as a barbershop-style number with silky harmonies being performed with class by Fleeshman, Seadon-Young and Blagden.
Mel Giedroyc brings all of her famous quirkiness and impeccable comedic timing to the role of yo-yo dieting, brownie-loving Sarah. Jonathan Bailey's Jamie is the perfect balance of neurotic and adorable. His solo number, "Getting Married Today", is by far the most zany number of the show and it is sprinkled with hilarious surprises that are pure genius. Watch for the entrance of the presiding minister. In the role of sharp-witted Joanne, Patti LuPone is showstopping. LuPone showcases her warm-toned vocals with elegance in "The Ladies Who Lunch".
What makes this production stand out are the superb talents of its creative team. From the moment the curtain goes up, Ian Dickinson's sound design immerses the audience within the hustle and bustle of New York City. In "Side by Side by Side", Liam Steel's choreography is full of energy, yet is still performed with great precision. Bunny Christie's design captures chic apartment life in the Big Apple, with intimate boxes their framed surrounds neon lit to form compartments that are fully furnished in grey, allowing the focus to be maintained on the cast at all times. The addition of Chris Fisher's slick illusions, make for a hauntingly beautiful realisation in "Tick Tock".
Marianne Elliott, who directed the award-winning The Curious Incident of the Dog in the Night-Time, has delivered an inspired revival. Stephen Sondheim saw its first preview and is reported to have given it his blessing. This show carries a powerful message that will resonate with its millennial audience and will please Sondheim fans and visiting Americans. All whilst leaving a lasting impression on London's West End.
Act One
Overture
Company
The Little Things You Do Together
Sorry-Grateful
You Could Drive A Person Crazy
Have I Got A Guy For You
Someone is Waiting
Another Hundred People
Getting Married Today
Marry Me A Little
Act Two
Entr'acte
Side by Side by Side
Poor Baby
Tick Tock
Barcelona
The Ladies Who Lunch
Being Alive
Company
Music and Lyrics by Stephen Sondheim
Book by George Furth
Directed by Marianne Elliott
Cast
Starring:
Rosalie Craig
Patti LuPone
Mel Giedroyc
Jonathan Bailey
George Blagden
Ashley Campbell
Richard Fleeshman
Alex Gaumond
Richard Henders
Ben Lewis
Daisy Maywood
Jennifer Saayeng
Matthew Seadon-Young
Gavin Spokes
With:
Michael Colbourne
Francesca Ellis
Ewan Gillies
Grant Neal
Jaimie Pruden
Creatives
Director: Marianne Elliot
Choreographer: Liam Steel
Musical Supervisor and Conductor: Joel Fram

Production Designer: Bunny Christie
Lighting Designer: Neil Austin

Sound Designer: Ian Dickinson for Autograph
Orchestrator: David Cullen
Illusions: Chris Fisher
Information
Running Time: Two hours and 45 minutes with an interval
Closed at the Gielgud Theatre on 30th March 2019
Theatre:
Gielgud Theatre
Shaftesbury Avenue
London W1D 6AR
Tube: Leicester Square
Reviewed by Reece George at the Gielgud Theatre on 17th October 2018