The Turbine Theatre at Battersea launches its first musical with a vibrant production of Nick Hornby's High Fidelity
"It's not a crime to like Celine Dion."
Female Customer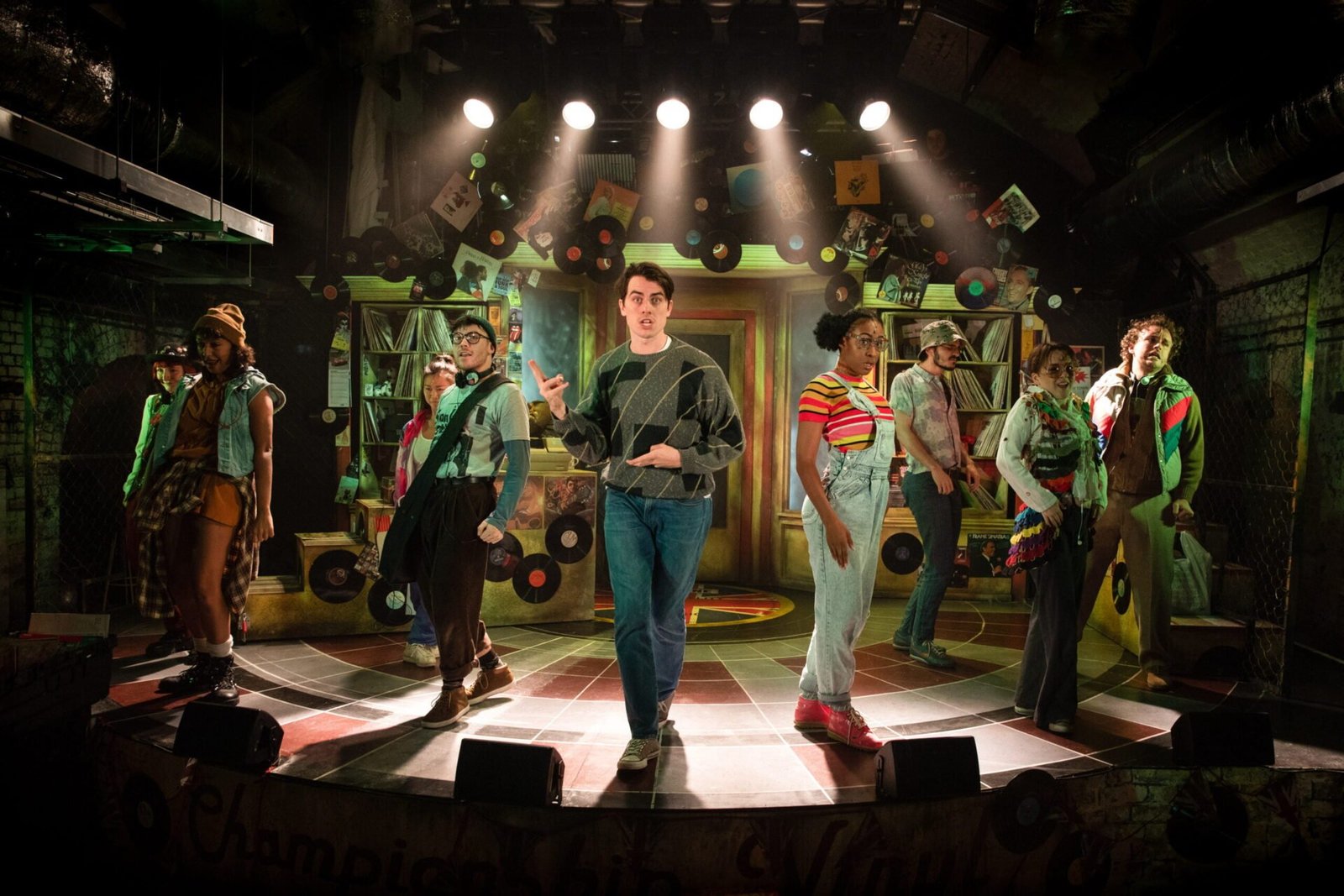 The musical High Fidelity in the Turbine Theatre's new production returns to its London roots and Nick Hornby's novel with the shop in Seven Sisters Road where Rob (Oliver Ormson) sells vinyls, musical memories of yesteryear.  Vikki Stone has adapted the book and lyrics from the American production to its literary English setting in the 1990s.
I enjoyed the film and watched it again after seeing the new musical which I am pleased to say I found fun and entertaining.  I like the way the ex-girlfriends are introduced in the musical with their idiosyncratic dates and the choreographic energy which counters some of the more nerdy "serious about vinyl" element. I especially enjoyed the detailed introduction of Laura's new boyfriend Ian (Robert Tripolino) with his doctrinaire vegan ways and tantric sex moves!
Designer David Shields has decorated the shop with record sleeves and black vinyl 33rpm discs and the whole company join in with "The Last Real Record Store". Dancers use the passageways of the auditorium as we are all immersed in this high energy, colourful and witty musical.   And there are steps on the stage to give differing heights.
We meet Rob's friends geeky Dick (Carl Au) and Meatloaf-alike Barry (Robbie Durham) and an odd customer nicknamed TMPMITW (Joshua Dever).  Rob's shop fan group have strict opinions as to the merits of popular music artists and are not afraid to turn away a customer for Celine Dion.
Rob's memories aren't just musical but, as he splits from his gorgeous girlfriend Laura (Shanay Holmes with the beautiful voice), he recalls his top five relationships.  Skitting on BBC Radio's Desert Island Discs, the musical number "Desert Island Top Five Break-ups" sees Rob's list of exes, each girl being introduced with zany outfits and their own vocals and dance.  This is initially designed by Rob to spite Laura by not including her in his top five, although he has to trawl back to his schooldays to find his five and at least one of them was very brief.  "You don't even make the list!" says Rob.
Laura and Rob's mutual friend Liz (Bobbie Little) is very strong in advising Rob and telling Laura's side of the break-up.  As in the film, it is the mention of Laura's new man Ian which raises Rob's jealousy and anyone who has suffered a break up will recognise how Rob, clinging onto 9% hope of reconciliation, means ignoring the other 91%.
An American folk singer Marie Le Salle (Eleanor Kane) distracts Rob and her ex celebrity loves inspire Rob's song, based on "I danced with a man who danced with a girl who danced with the Prince of Wales":  "I Slept With Someone Who Slept With Lyle Lovett".
Some will remember the degrees of separation game which always led to Kevin Bacon.  Anyway Rob – Marie – Lyle Lovett reach Kevin Bacon via Julia Roberts and someone else I don't recall. Laura counters with Ian's New Age claim to fame, "I Slept With Someone Who Handled Kurt Cobain's Intervention".  Not exactly a recommendation if you think about Kurt Cobain's end.
The Ian character, so much more developed than Tim Robbins in the movie, is a major source of derision in the skilled hands of Robert Tripolino.  Laura tells us part of the attraction is being slathered in oil and his orgasmic sex shout is "I'm your Gandhi!"  Laura's desire for a bacon sandwich has Ian saying "I'm gonna call Tofu Connection and reserve a straw mat in the corner".
Joshua Dever will dress as Neil Young and sing his style of song in "Exit Sign".  Dick will face a group judgment problem when his new girlfriend Anna (Rosie Fletcher) buys him a Natalie Imbruglia CD.  There is a stylised fight between the record shop guys and Ian and the song "Conflict Resolution".  Bruce Springsteen, The Boss, (Joshua Dever) will intervene to encourage Rob "to move on down the road" in "Goodbye and Good Luck".
Barry's rock heavy metal style band is finally formed as "Sonic Death Monkey" with deliberately bad and very funny choreography.  And Laura and Rob . . . . , well I won't spoil the ending.
I'd happily go to see High Fidelity again.  Oliver Ormson can act as well as sing and Shanay Holmes's clear voice is a dream for Laura's sweet nature.  Robert Tripolino's Maharishi influenced character is the one we love to hate.  The songs are tuneful, poppy and witty and the whole show colourful and well choreographed by the director Tom Jackson Greaves.  A live band plays from the top of the stage.   The Turbine's space is intimate and with both the first two productions I've seen, somewhere you are very glad to be close to the action. 
Act One
The Last Real Record Store
Desert Island Top Five Break Ups
It's No Problem
She Goes
Ian's Here
Number Five With A Bullet
Ready To Settle
Terrible Things
The Last Real Record Store (Reprise)
Nine Percent Chance Of Your Love
Act Two
I Slept With Someone Who Slept With Lyle Lovett
I Slept With Someone Who Handled Kurt Cobain's Intervention
Exit Sign
Cryin' In The Rain
Conflict Resolution
Goodbye And Good Luck
It's No Problem (Reprise)
Ian's Eulogy
Laura, Laura
Saturday Night Girl
Turn The World Off And Turn You On
High Fidelity
Music by Tom Kitt
Lyrics by Amanda Green
Book by David Lindsay-Abaire
Book and Lyrics adapted by Vikki Stone
Directed and choreographed by Tom Jackson Greaves
Cast
Starring:
Oliver Ormson
Carl Au
Joshua Dever
Robbie Durham
Rosie Fletcher
Shanay Holmes
Eleanor Kane
Jessica Lee
Bobbie Little
Lauran Rae
Robert Tripolino
Musicians:
Lewis Andrews
Robyn Brown
Steve Hynes
Creatives
Director and Choreographer: Tom Jackson Greaves
Designer: David Shields

Musical Director and Supervisor:  Paul Schofield
Lighting Designer: Andrew Exeter

Sound Designer: Dan Samson
Information
Running Time: Two hours and 30 minutes with an interval
Closed on 7th December 2019
Theatre:
The Turbine Theatre
Arches Lane
Circus West
London SW11 8AB
Box Office: 020 7851 030
Website: theturbinetheatre.com
Riverboat or Bus: Battersea Power Station
Tube/Rail: Battersea Park
Reviewed by Lizzie Loveridge at the Turbine Theatre on 1st November 2019