The Show Goes On: Fanny and Stella in Heatwave London
"Will you be taking Mr Boulton up the kirk?"
Mrs Dixon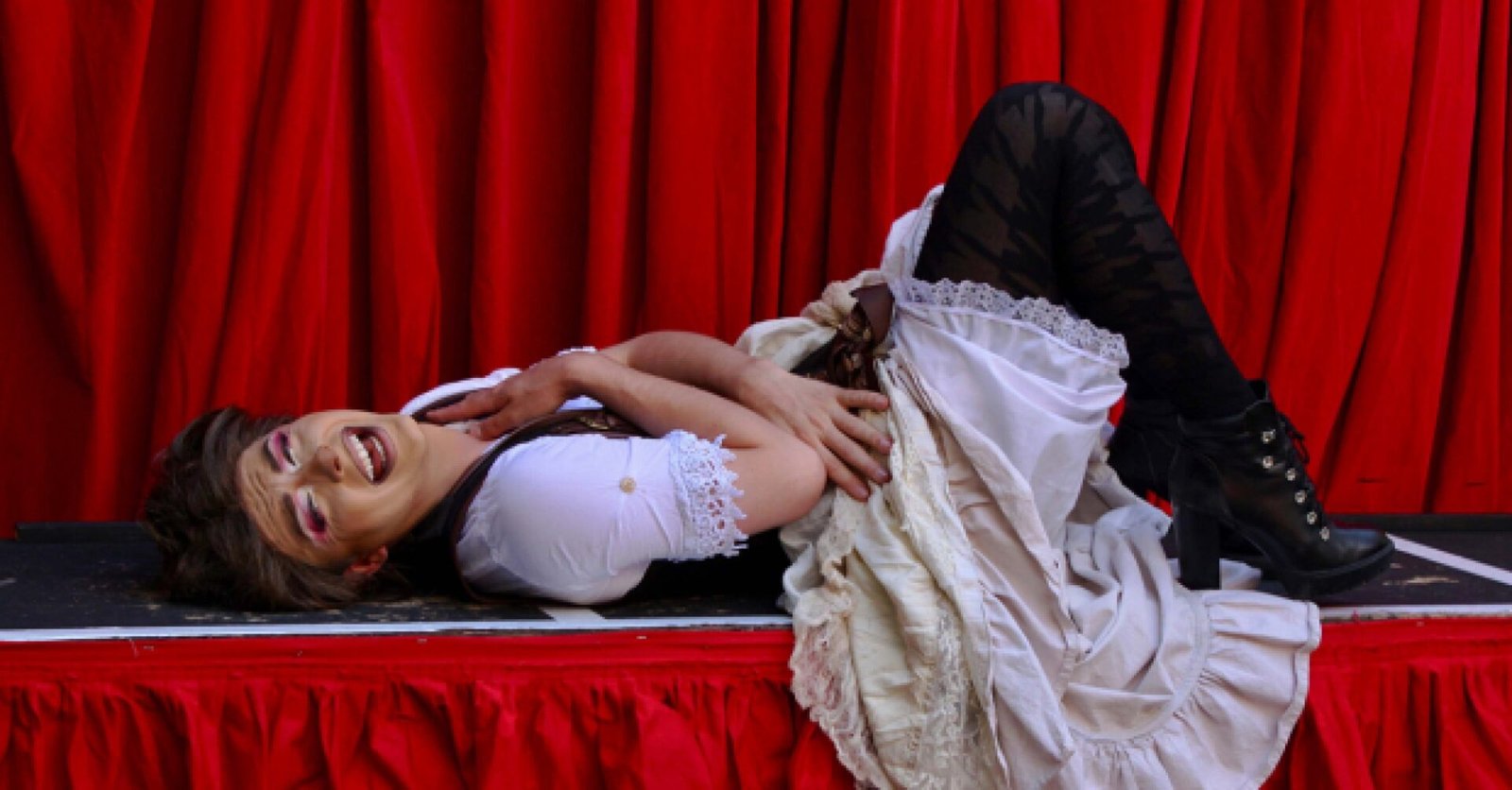 Oh joy! To be back in a theatre after a hiatus of almost six months. The show at the new Garden Theatre at the Eagle Pub in Vauxhall is the perfect vehicle to revive theatrical nostalgia and longing in a song and dance show about the lives of two real people, Ernest Boulton also known as Stella (Jed Berry), who is stellar and Frederick William Park also known as Fanny (Kane Verrall), who is flamboyant.
Worry not about Covid precautions. The Eagle front of house staff will take your temperature (though not anally! I am entering into the spirit of the show, whose first number is "Sodomy on the Strand"), offer you hand sanitiser and escort you to a distanced table for the number in your bubble. I found them so courteous, I was impressed. I wore my new silk mask as masks are required, except of course when you are actually drinking.  
Frederick William Park and Ernest Boulton were Victorian cross dressers who in the early days of photography can be seen in silk crinolines, lace, hair pieces and all the frippery of Victorian ladies. Of course in order not to blur their photo, they have to remain totally still and serious so we don't see their mischievous sense of humour.  
However, live theatre can rectify all that with Jed Berry's Stella flirtations and her agreement to plant a tree for each one of her lovers. I won't tell you which part of Greater London woodland was the result; you'll have to see the show. One of the press releases describes the musical play as a romp and I can't find a better word for this witty trip through the lives of Boulton and Park. With roots in vaudeville and dresses which are bodices and petticoats and the obligatory fishnets and wigs with hair piled up, there is high kicking dance and lots of fun as well as the songs with lyrics we can hear.
The show is as if Boulton and Park are presenting their life story to a Victorian audience. Red velvet forms the stage with a lone bandsman (Aaron Clingham) on keyboard. "Sodomy on the Strand" sets the scene. There is detailed biographical information, how they met and descriptions of Stella's lovers: her sponsor Lord Alfred Clinton (Kurt Kansley), and two rivals, Louis Charles Hurt (Alex Lodge) who wants Stella to dress as a man and grow a moustache, and an American, John Safford Fiske (Joaquin Pedro Valdes) who wants Stella to be his bit on the side. They are all the loves of Stella's life!
Mark Pearce sparkles as the actor picking up the small but comic roles, the theatre manager Mr Grimes, notably the Scots landlady Mrs Dixon hiding his wonderful hair in a tartan rug headscarf, and as a High Court Judge but with a wig that rivals his own hair. "Will you be taking Mr Boulton up the kirk?" solicits Mrs Dixon.  
Glenn Chandler wrote the book and lyrics. In the song "On Making History" the cast speculate on differing outcomes with a homoerotic slant. "If Nelson had no Hamilton, would he have bought Hardy home?" The real tragedy of course was that Nelson never made it home and Emma was in penury. The story of Fanny and Stella builds nicely with the court case when the police prosecuted them for wearing women's clothing and committing unnatural acts after a detective trailed them to the Oxford and Cambridge boat race and followed them to the Strand Theatre.  
In court, the police list the luxury female clothing, numerous petticoats the cost of which for Stella has added to Lord Alfred's financial woes. Each court witness is introduced with an effective refrain, "Raise your right hand and Take the stand". There are love songs like Louis and Stella's "How could I forget you?", a pretty melody. "Has anyone seen my Fanny?" hits the comic music hall notes. After the legal plea of Certiorari succeeds on appeal, Fanny and Stella dance with ostrich feathers like high kicking chorus girls. "When Life Treats You Badly" is an outstanding tribute song to mothers everywhere.
Steven Dexter directs his cast of six men flawlessly and Nick Winston is responsible for the polished musical staging. David Shields designs.
I loved the costumes, men in frock coats and tight black trousers with a diamante brooch or ribbons, glamorous and with excellent makeup. Stella is really pretty – think Audrey Hepburn! So I hope you can see what pleasure the Garden Theatre at the Eagle is bringing in these dark days for theatre. This exemplar demonstration of the art of the possible needs to be tried by others. Thank you so much. 
Fanny and Stella
Based on the true story of Ernest Boulton and Frederick William Park
Book and Lyrics by Glenn Chandler
Music by Charles Miller
Directed by Steven Dexter
Cast
Starring:
Jed Berry
Kurt Kansley
Alex Lodge
Mark Pearce
Joaquin Pedro Valdes
Kane Verrall
Creatives
Director: Steven Dexter
Musical Staging: Nick Winston
Musical Director: Aaron Clingham
Designer: David Shields
Information
Running Time: One hour and 20 minutes without an interval
Closed on 4th September 2020
Theatre:
The Garden Theatre at The Eagle
349 Kennington Lane
London SE11 5QY
Rail/Tube: Vauxhall
Reviewed by Lizzie Loveridge at The Garden Theatre on 11th August 2020