Jersey Boys returns to celebrate 1960s tunes with show full song list
"Oh, oh, oh, oh, wah-ah-ah, oh, oh, oh, oh."
First line of lyric Earth Angel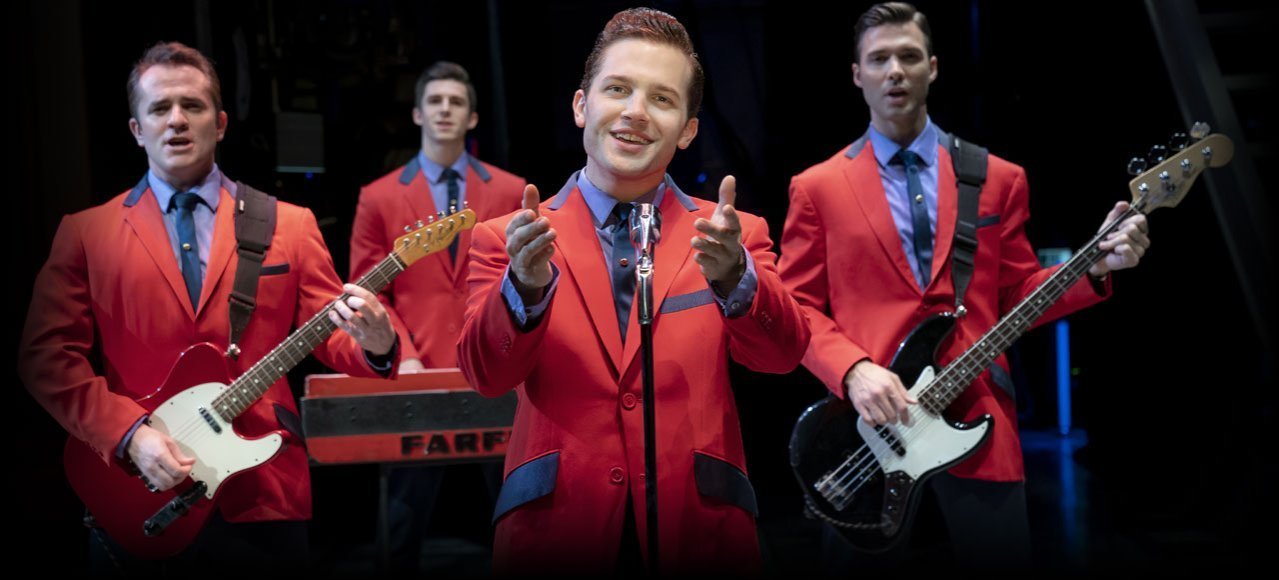 Review written in March 2008. In fact it ran for nine years with a transfer to the Piccadilly Theatre.
Much anticipated in London is Jersey Boys. the musical based on the lives of Frankie Valli and the Four Seasons. Before it opened it was selling well to October and is already guaranteed a successful run in London. As a musical it is unpretentious and has a genuine quality that some of the confections created around music hits of the 1960s do not achieve, despite their success.
The story of their background from blue collar workers of New Jersey, some with a record for small time crime to stardom is very different. The thing is that the real story of these New Jersey boys is interesting enough to form the book of a musical without resorting to unlikely story lines designed to "fit" existing lyrics. The downside of this approach is just that, the songs don't advance the plot in the musical tradition and you may be left asking what is the difference between this show and an excellent tribute concert?
The performances are of the first order. The British singer/actor/dancers have worked to achieve a fantastic sound and an authentic look. Ryan Molloy seems to have captured Frankie Valli's amazing falsettos and vocal range and it is a real pleasure to see him onstage singing those classic hits like "Rag Doll" and "Sherry". Glenn Carter who plays Tommy DeVito has a brilliant voice and his singing of "Earth Angel" is a triumph.
The choreographic moves are like the original but of course now seem a tad dated and will make us smile rather than wanting to join in to imitate them, but the foot tapping songs seem as fresh as they were in the 1960s. The repertoire is so extensive that, despite Britain being in the grip of Beatlemania, the other Liverpudlian groups and the Rolling Stones, Frankie Valli and the Four Seasons were regular visitors to the British Hit Parade Top Ten and their songs are well known here.
Act One
Ces Soirees-La (Oh What a Night)
Silhouettes
You're the Apple of My Eye
I Can't Give You Anything But Love
Earth Angel
Sunday Kind of Love
My Mother's Eyes
I Go Ape
(Who Wears) Short Shorts
I'm in the Mood for Love/Moody's Mood for Love
Cry for Me
An Angel Cried
I Still Care
Trance
Sherry
Big Girls Don't Cry
I Walk Like a Man
December, 1963 (Oh What a Night)
My Boyfriend's Back
My Eyes Adored You
Dawn (Go Away)
Walk Like a Man (reprise)
Act Two
Big Man in Town
Beggin'
Stay
Let's Hang On (To What We've Got)
Opus 17 (Don't You Worry 'Bout Me)
Bye Bye Baby
C'mon Marianne
Can't Take My Eyes Off of You
Working My Way Back to You
Fallen Angel
Rag Doll
Who Loves You
Jersey Boys

The Story of The Four Seasons
Book: Marshall Brickman and Rick Elice
Music: Bob Gaudio
Lyrics: Bob Crewe
Directed by Des McAnuff
Choreographer: Sergio Trujillo
Cast
Starring:
Ryan Molloy
Stephen Ashfield
Philip Bulcock
Glenn Carter
(Scott Monello will at certain performances play Frankie Valli);
With:
Simon Adkins
Paul Ayres
Suzy Bastone
Laura Brydon
Michelle Francis
Jye Frasca
Lucinda Gill
Mark Isherwood
Kieran Jae
Tee Jaye
Tom Lorcan
Stuart Milligan
Amy Pemberton
Joseph Prouse
Griffin Stevens
Graham Vick
Ben Wheeler 
Creatives
Director: Des McAnuff

Orchestrations: Steve Orich
Set Design: Klara Zieglerova
Costume Design: Jess Goldstein
Lighting Design: Howell Binkley
Sound Design: Steve Canyon Kennedy
Fight Director: Steve Rankin
Music Director: Ron Melrose

Wig & Hair Design: Charles La Ponte

Projection Design: Michael Clark

Dialect Coach: Steven Gabis
Information
Running Time: Two hours and 30 minutes with an interval
Booking from 28th July 2021
Address:
at The Trafalgar Theatre
14 Whitehall
London SW1A 2DY
Tube: Charing Cross
Reviewed by Lizzie Loveridge
at the Prince Edward Theatre 
on 19th March 2008