Who did it? THE MOUSETRAP returns to St Martin's Theatre
All-Star cast, including DANNY MAC, CASSIDY JANSON, CHARLIE CLEMENTS, DEREK GRIFFITHS & SUSAN PENHALIGON, announced as Agatha Christie's thriller returns to live theatre in London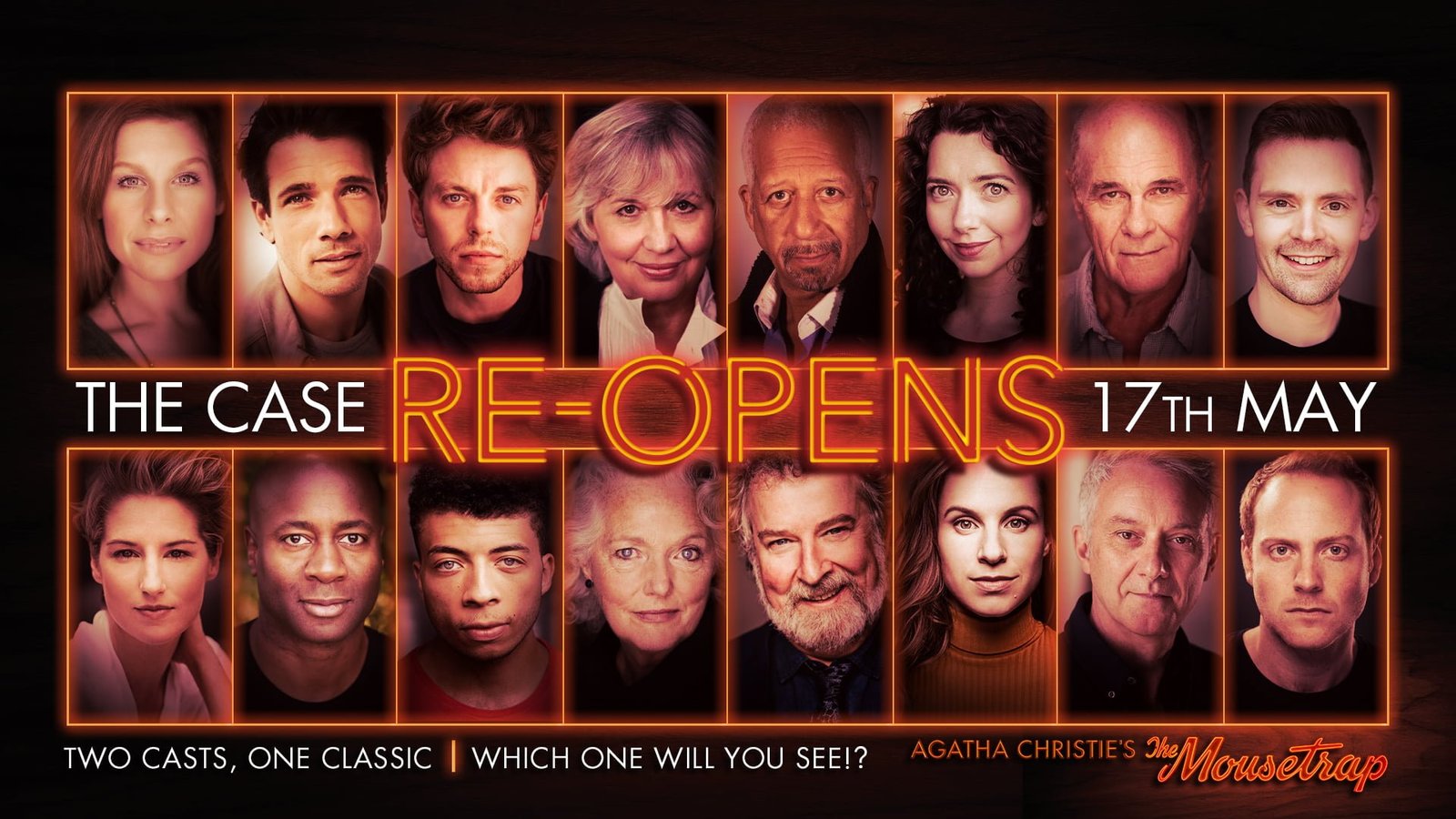 BRITISH STARS OF ENTERTAINMENT UNITE
AS THE WORLD'S LONGEST RUNNING PLAY
THE MOUSETRAP
PREPARES TO LEAD THE WEST END OUT OF LOCKDOWN
All-Star cast, including DANNY MAC, CASSIDY JANSON, CHARLIE CLEMENTS, DEREK GRIFFITHS & SUSAN PENHALIGON, announced as Agatha Christie's thriller returns to
The St Martin's Theatre, London
Iconic show to resume record-breaking run on 17 May, in accordance with Stage 3 of the Government's Road Map
website pending
Agatha Christie's The Mousetrap– the longest running show in the world, which has been suspended since the pandemic resulted in the closure of UK theatres in March 2020 – is to re-open in the West End on Monday 17 May 2021.
Two sets of casts – comprising Olivier Award winners and highly acclaimed stars of TV and film – will come together for the iconic thriller as it re-opens at the St. Martin's Theatre on the day that Stage 3 in the Government's "Road Map" to ease restrictions across society comes in to effect.
The new, all-star company includes:
Danny Mac– Strictly Come Dancing finalist, star role in the West End production of Pretty Woman The Musical
Cassidy Janson– Olivier Award winner in 2020 for her starring performance in the West End smash hit musical & Juliet, and an acclaimed performance of Carole King in Beautiful
Nicholas Bailey– long-running star role as Anthony Trueman in Eastenders
Derek Griffiths– the legendary star of various children's TV programmes from the 1970s and 1980s, and has recently starred in Steve McQueen's highly acclaimed TV series Small Axe
David Rintoul– who starred in the international smash hit TV series The Crown as Michael Adeane, and in Game of Thronesas Aerys Targaryen
Charlie Clements– instantly recognisable for his long-running role of Bradley Branning in EastEnders
Susan Penhaligon– the acclaimed actress known for her roles in Bouquet of Barbed Wire, A Fine Romance and as Jean Hope in Emmerdale
Paul Bradley– best known as Nigel Bates in EastEndersand Professor Elliot Hope in Holby City
Louise Jameson– whose many TV credits include Doctor Who, Bergerac and EastEnders
The casts are completed by Joshua Griffin, who will be making his West End debut in The Mousetrap, Paul Hilliar (UK Tours of Tabby McTat, Much Ado About Nothing and Richard III), Sarah Moss (theatre includes Noises Off at The Old Vic and The Lion in Winter at Theatre Royal Haymarket), Lizzie Muncey (Beauty and the Beast and Twelfth Night, both at the National Theatre), Tony Timberlake (Chicago, Hairspray, Cats, Les Miserables in the West End), Kate Tydman(Top Girls at the National Theatre and West End productions of Evita, Mary Poppins and Cats) and Alexander Wolfe(BBC's In the Club).
For full details of cast and roles, please see listings info at the end of the release.
Adam Spiegel, the producer of The Mousetrap, said:
"I am thrilled today to announce the award winning company of actors that have assembled to lead The Mousetrap back to the West End. The production is an enduring symbol of London theatre and I hope that its return signifies the first steps in the restoration of live theatre in London. I am so pleased that these hugely accomplished performers have chosen to participate in this historic moment."
Agatha Christie's The Mousetrap is the world's longest-running play. The West End production opened in 1952. It is the genre-defining murder mystery from the world's best-selling novelist of all time.
As news spreads of a murder in London, a group of seven strangers find themselves snowed in at Monkswell Manor, a stately countryside guesthouse. When a police sergeant arrives, the guests discover – to their horror – that a killer is in their midst. One by one, the suspicious characters reveal their sordid pasts. Which one is the murderer? Who will be their next victim?
The Mousetrap will celebrate 70 years in London in 2022. It has been performed 28,200 times in London and sold over 10 million tickets. To celebrate the 50thanniversary in 2002, The Queen and Duke of Edinburgh attended a special Gala performance.
The Mousetrap is produced by Adam Spiegel Productions.
For further information, see uk.the-mousetrap.co.uk
St Martin's Theatre
West Street
London
WC2H 9NZ
Performances
Tuesday to Saturday at 7.30pm
Matinees at 3.00pm on Thursday and Saturday
Sunday at 2pm and 6pm
Extra Performance on Monday 17 May 7.30pm 
Running Time
Approximately 2hr 20mins
Box Office 
020 7836 1443
Tickets from £19.52
Ticket are on sale to through to 30 January 2022.
Performances from 17 May – 4 July are on sale with social distancing, while we await further government guidance. Once government guidelines allow, The Mousetrap will play to a full capacity auditorium.  
Cast Lists
Mrs Boyle–  Louise Jameson, Susan Penhaligon
Giles Ralston– Danny Mac, Nicholas Bailey
Mollie Ralston– Cassidy Janson, Kate Tydman
Christopher Wren– Joshua Griffin, Alexander Wolfe, 
Major Metcalf– Paul Bradley, Derek Griffiths
Miss Casewell– Sarah Moss, Lizzie Muncey
Mr Paravicini– David Rintoul – Tony Timberlake
Detective Sgt Trotter– Charlie Clements, Paul Hilliar
Directed by Ian Talbot OBE
Please see uk.the-mousetrap.co.uk for details of which cast appear at which performances.