This new musical based on a real life story is heartwarming with a fabulous new star . . .
"You're not stupid Jamie, your brain is the wrong shape for school."
Priti Pasha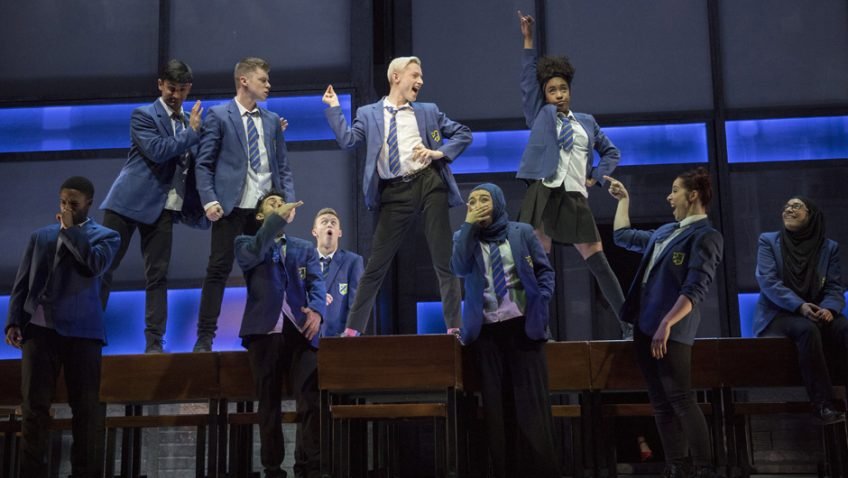 Rarely do we see such an immediate and exciting new talent as the wonderful John McCrea who has us in raptures from the first minute of the new musical Everybody's Talking About Jamie. Very rarely am I able to use expressions like heartwarming and unmissable about musicals with the sincerity and integrity that I apply to my critical reviews. Maybe because Everybody's Talking About Jamie is based on the true story of Jamie Campbell, a boy from County Durham (think the brutal, uncompromising North, not far from the scene of Billy Elliot) whose ambition is to be a drag queen.  
Jamie, now renamed Jamie New, has had his story relocated slightly farther south by director and co-writer Jonathan Buttrell, to Sheffield in Yorkshire, scene of The Full Monty. With Dan Gillespie Sells' music and Tom MacRae's Book and lyrics, these three convinced Daniel Evans then Artistic Director of the Crucible in Sheffield to commission it. So this is a story of a young gay man who is determined on his choice of future career in an uncompromising world. 
We first meet Jamie (John McCrea) in his classroom in a careers lesson led by teacher Miss Hedge (Tamsin Carroll). The psychometric test used to predict which occupation would suit the sixteen year old pupils has resulted in the incongruous "fork lift truck driver" or "prison guard" for the vivacious Jamie. John McCrea has given Jamie New an outstanding and charming otherness. His fellow pupils describe him as, "Away with the fairies, Miss". He has Icelandic blonde hair, pinky red socks and shoes with coloured beads on them but it's the flexibility of his wrists and dance moves that really impress in the joyous dancing on the school desks number, "And You Don't Even Know It". I suppose it is sadly inevitable that Jamie is subjected to bullying in school. 
We cut to Jamie's 16th birthday celebrations at home where his mother has bought him a pair of very high, red platform patent stilettos. Jamie is thrilled and manfully gets to grip with these imposing and difficult to walk in shoes. Single parent Margaret New (Josie Walker) is totally at home with her son's gender identity, despite Jamie saying to his mother, "Oh Mum, you know nothing about emergent gender identities!" Jamie's best friend, Priti Pasha (Lucie Shorthouse) is dressed in a hijab which I was finding incongruous with her Indian Hindu first name, when she expresses her confused identity as a Muslim girl with an Indian name. Priti sums up Jamie when she says, "You're not stupid Jamie, your brain is the wrong shape for school!" 
Jamie goes to a local second hand evening dress shop, Victor's Secret and meets drag artist Hugo Battersby (Phil Nichol) aka Loco Chanelle, to choose an outfit for him to pursue his onstage ambition. We meet Jamie's absentee father (Ken Christiansen) who is homophobia personified. Margaret New sings about her early life and hopes in the standout, beautiful ballad, "If I Met Myself Again". Act One closes with "Work of Art" with Jamie and pupils in the school setting and, at a drag club, "Over the Top" from Hugo and the "Legs Eleven Girls" Laika Virgin (Alex Ansty), Tray Sophisticay (James Gillan) and Sandra Bollock (Daniel Jacob). 
Act Two opens with the song "Everybody's Talking About Jamie" and we see why when Jamie comes in wearing dark glasses and a yellow scarf but under the shades are huge turquoise false eyelashes. There's a misunderstanding where Margaret tries to protect her son from knowing how his father really feels which goes badly wrong and Jamie sings "Ugly in This Ugly World". There's a teacher who tries to stop Jamie wearing a dress to the school prom but by the finale Jamie has learnt to be confident in himself and wears a beautiful frock to the prom which has nothing to do with over the top drag fashion. We are happy for the effervescent Jamie as "Out Of The Darkness (A Place Where We Belong)" expresses. 
As I write John McCrea has deservedly won a couple of Best Newcomer Awards and were this not the year that Hamilton launches in London, I am sure he would be eligible for some "Best Performance in a Musical" accolades as well. I was charmed by Jamie's winning personality, John's strong singing voice and expressive dance and when the (anticipated by me) Broadway transfer happens hopefully they will have the good commercial sense to take John McCrea with them, as this star is the winning factor in this show. 
Act One
And You Don't Even Know It
The Wall in My Head 
Spotlight 
Spotlight (Reprise) (Star of the Show) 
The Legend of Loco Chanelle (And The Blood Red Dress) 
The Legend of Loco Chanelle (And The Blood Red Dress)
(Reprise)
If I Met Myself Again 
Work of Art 
Over The Top 
Act Two
Everybody's Talking About Jamie 
Limited Edition Prom Night Special 
It Means Beautiful
It Means Beautiful (Reprise)
Ugly in this Ugly World 
He's My Boy 
And You Don't Even Know It (Bus Station Reprise) 
My Man, Your Boy 
The Prom Song 
Finale 
Out of the Darkness (A Place Where We Belong)
Everybody's Talking About Jamie

Book and Lyrics by Tom MacRae 
Music and Orchestrations by Dan Gillespie Sell 
Directed and co-written by Jonathan Butrell  
Cast
Starring:
John McCrea
Josie Walker
Mina Anwar
Lucie Shorthouse
Phil Nichol 
With:
Tamsin Carroll
Alex Anstey
James Gillan
Daniel Jacob
Ken Christiansen
Daniel Davids
Luke Baker
Courtenay Bowman
Jordan Cunningham
Ryan Hughes
Harriet Payne
Shiv Rabheru
Lauran Rae
Kirstie Skivington 
Creatives
Director: Jonathan Butrell

Music and Orchestrations: Dan Gillespie Sell
Design: Anna Fleischle

Choereographer: Kate Prince
Lighting Designer: Lucy Carter

Sound Designer: Paul Groothuis
Hair Design: Josh Marquette
Fight Director: Kev McCurdy and Jeremy Barlow
Musical Director: Theo Jamieson
Information
Running Time: Two hours and 40 minutes with one interval
Theatre:
Apollo Theatre
Shaftesbury Avenue
London W1D 7EZ
Tube: Piccadilly Circus
Booking from 12th December 2020 to 21st March 2021
Reviewed by Lizzie Loveridge at the Apollo Theatre
on 13th March 2018