Amélie: a charmingly imaginative European musical
"I am a mystery wrapped in an enigma, trapped in a paradox"
Amélie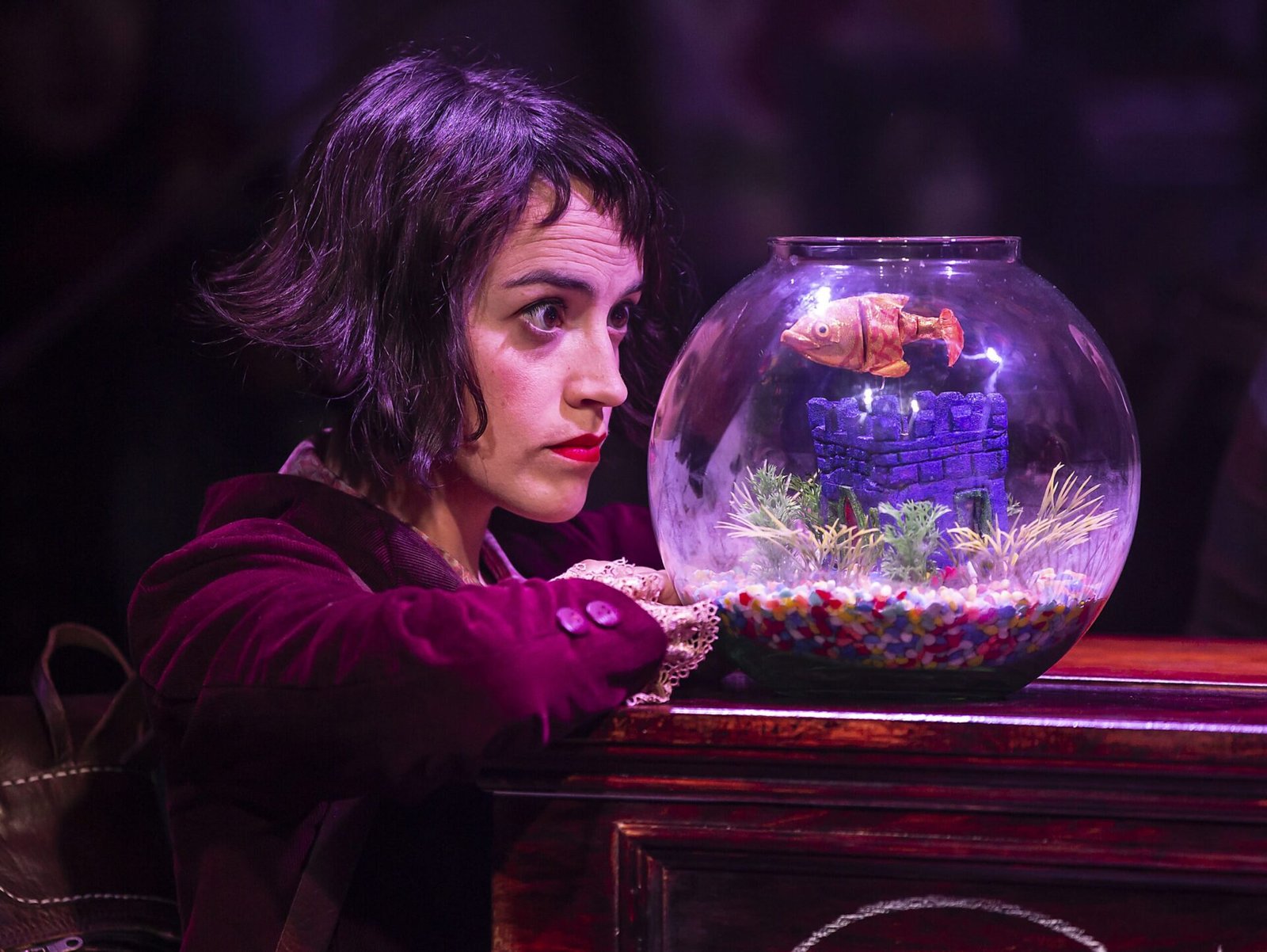 On a warm summer's day in London comes a delightful musical adaptation of the French film about Amélie Poulain, (the charming Audrey Brisson) a waitress in a Parisian café, who day dreams about making a positive difference to the people around her.  On a stage dominated by the station clock like the one from the Gare d'Orsay that is now part of the Musée d'Orsay, we are firmly in Montmatre with its café culture. 
Actor singer musicians will embody the many Parisians Amélie meets and the remarkable ensemble will convey the characterisation of their role while also playing an instrument.  This gives the production the vitality and verve of a kaleidoscope of rich personalities.  The musical is sung through to new music from Daniel Messé of the American soft rock and folk music band, Hem.  What isn't in the new musical is the pretty piano and accordion music written by Yann Tiersen for the 2001 film but Jack Quarton as the Blind Beggar will play the accordion which is so much a part of Parisian life. 
Amélie's childhood history is a sad one.  Played by a puppet doll with facial expressions, Amélie as a child is mis-diagnosed with a heart complaint and her childhood is restricted resulting in her over active imagination. Her sole friend is a goldfish as she was schooled at home.  Her mother Amandine (Rachel Dawson) meets a dramatic end in Notre Dame.  Her father Raphael (Jez Unwin) scatters Amandine's ashes but I won't tell you where!
I think if you haven't seen the film you might appreciate an outline of the story lines as there are copious threads to Amélie's story.  While watching on television from her apartment in Paris, the upstairs room opening up within the clock dial, Amélie sees news of the death of Princess Diana in Paris and is inspired by the praise for Diana's charity work.  She finds in her apartment a tin box of childhood treasures left by a former resident and resolves to find him and return it to him. This starts Amélie on her quixotic sleuthing. 
An Elton John (Caolan McCarthy) fantasy sequence has the distinctively clothed singer leading an angelic choir.  They will sing "Goodbye, Amélie" in a day dreaming parody.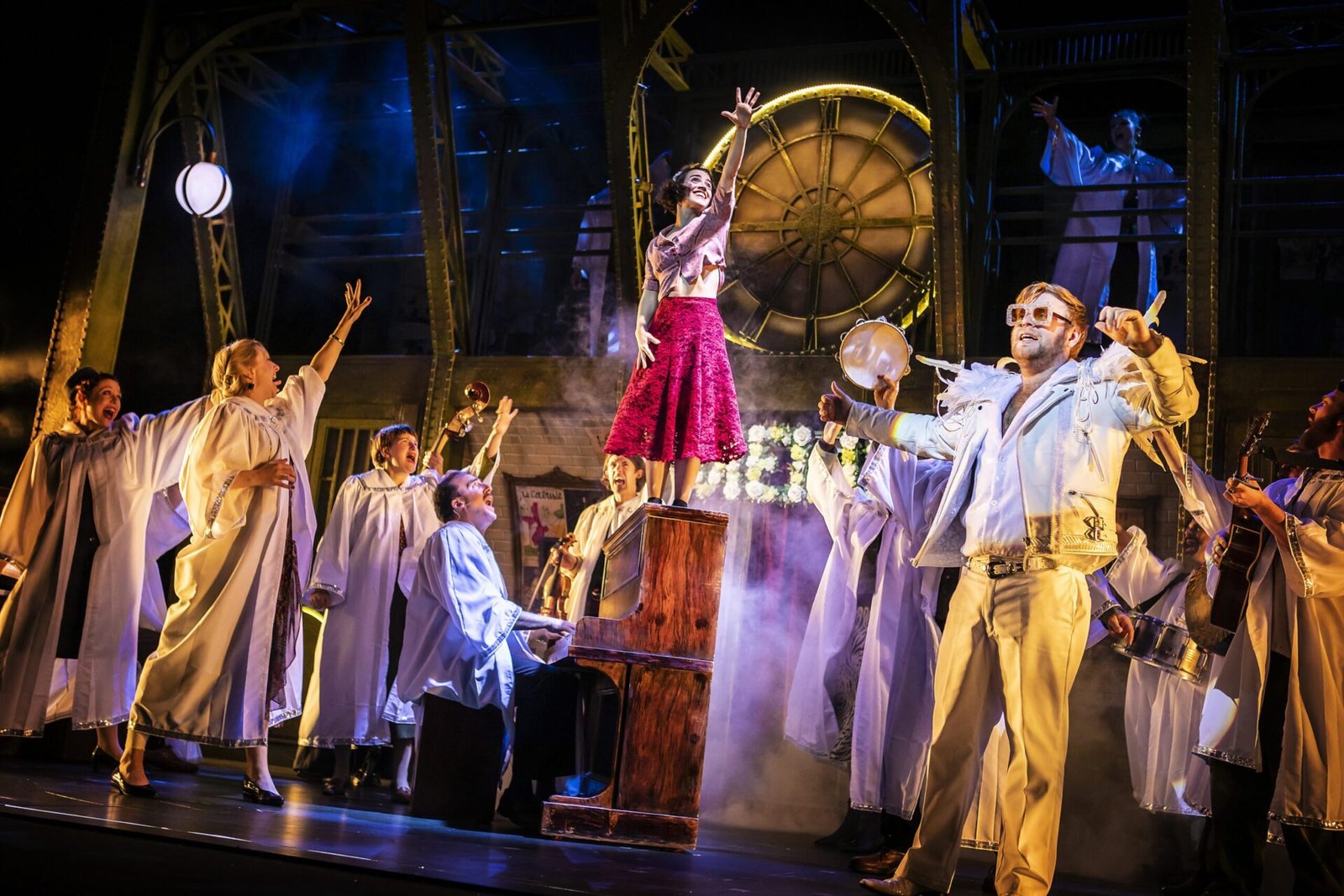 Having successfully contacted the owner of the tin box, Dominique Bretodeau (Jez Unwin) and inspired him to contact his estranged daughter and grandson, Amélie is encouraged to try other missions to bring happiness to those around her. 
These are quirky quests:  facilitating romance between Joseph the plumber (Samuel Morgan-Grahame) and Georgette (Flora Spencer-Longhurst) who also works in the café; befriending the artist Raymond (Matthew James Hinchliffe) on his recreation of Renoir's Luncheon of the Boating Party ; upbraiding the bad tempered greengrocer Colignon  (Johnson Willis) with a nightmare of giant figs, and freeing his bullied assistant Lucien (Oliver Grant) and meeting Nino (Chris Jared) who collects discarded picture strips from photo booths. 
Like many new musicals with original music, the songs will benefit from hearing them before the show but I immediately liked the topical "Times are Hard for Dreamers" and the ballad "Stay" which show off Audrey's Brisson's vocal clarity and Nathan Tysen and Daniel Messé's exceptional lyrics. 
French Canadian Audrey Brisson grew up with Cirque de Soleil  so she has acrobatic as well as singing skills. She will ascend to her attic apartment suspended from a fringed lampshade!   Coming from The Watermill Theatre in Newbury via The Other Palace and now into the Criterion Theatre in the West End, this musical is making a big impact. 
The set changes cleverly use the photo booth and revolving front doors and red gingham tablecloths adorn the café tables where cognac is poured.  Hippolito (Caolan McCarthy) says "If gods were trees, cognac would be the sap."  At the top of the stage Metropolitain is spelled out in those beautiful Art Nouveau letters which signify the older Parisian Metro stops.  There is even a phallic display at the Museum of Eroticism!
The question is whether Amélie can take a risk and show the same kindness to herself as she has shown to others.  What could be a better theme for this un Broadway musical than in the times of Covid to show kindness to others, and oneself!
Act One
The Flight of the Blue Fly
World's Best Papa
World's Best Friend 
World's Best Mama
Post Mortem
The Sound of Going Around in Circles
Nothing's Changed
When the Booth Goes Bright
Spyglass
The Bottle Drops (part one)
Three Figs 
The Hand of Destiny (part one)
The Bottle Drops (part two)
The Hand of Destiny (part two)
The Girl With the Glass
How to Tell Time 
Tour de France 
Goodbye, Amelie 
Act Two
Half Asleep
Backyard
The Hand of Destiny (part three)
Sister's Pickle
Halfway 
Window Seat
Thin Air
There's No Place Like Gnome 
Colignon's Nightmare
Times Are Hard for Dreamers
Writing on the Wall
Blue Arrow Suite
The Late Nino Quincampoix
The Hand of Destiny (part four)
A Better Haircut 
Stay
Halfway (Reprise) 
Where Do We Go From Here?/finale
Amélie the Musical
Book by Craig Lucas
Music by Daniel Messé
Lyrics by Nathan Tysen and Daniel Messé
Directed by Michael Fentiman
Cast
Starring:
Audrey Brisson
Chris Jared
Jez Unwin
Caolan McCarthy
With:
Ensemble: 
Creatives
Director: Michael Fentiman
Book by Craig Lucas
after the film written
by Jean-Pierre Jeunet and Guillaume Laurant
Musical Supervisor And Arrangements: Barnaby Race
Movement Director: Tom Jackson Greaves
Designer: Madeleine Girling
Musical Supervisor: Tom Deering
Lighting Designer: Elliot Griggs
Sound Designer: Tom Marshall
Puppet Design and Construction: Dik Downey
Information
Running Time: Two hours and 30 minutes with an interval
Booking to 25th September 2021
Address:

Criterion Theatre
Piccadilly Circus
218-223 Piccadilly
St. James's
London W1V 9LB
Box Office:  033 33 202 895
Tube: Piccadilly Circus
Reviewed by Lizzie Loveridge at the
Criterion Theatre on 2nd June 2021