Notting Hill's Carnival comes to the West End!
"Sweat, rubbing skin, trickles down our backs like rain on glass, like melting ice"
Nadine and Jade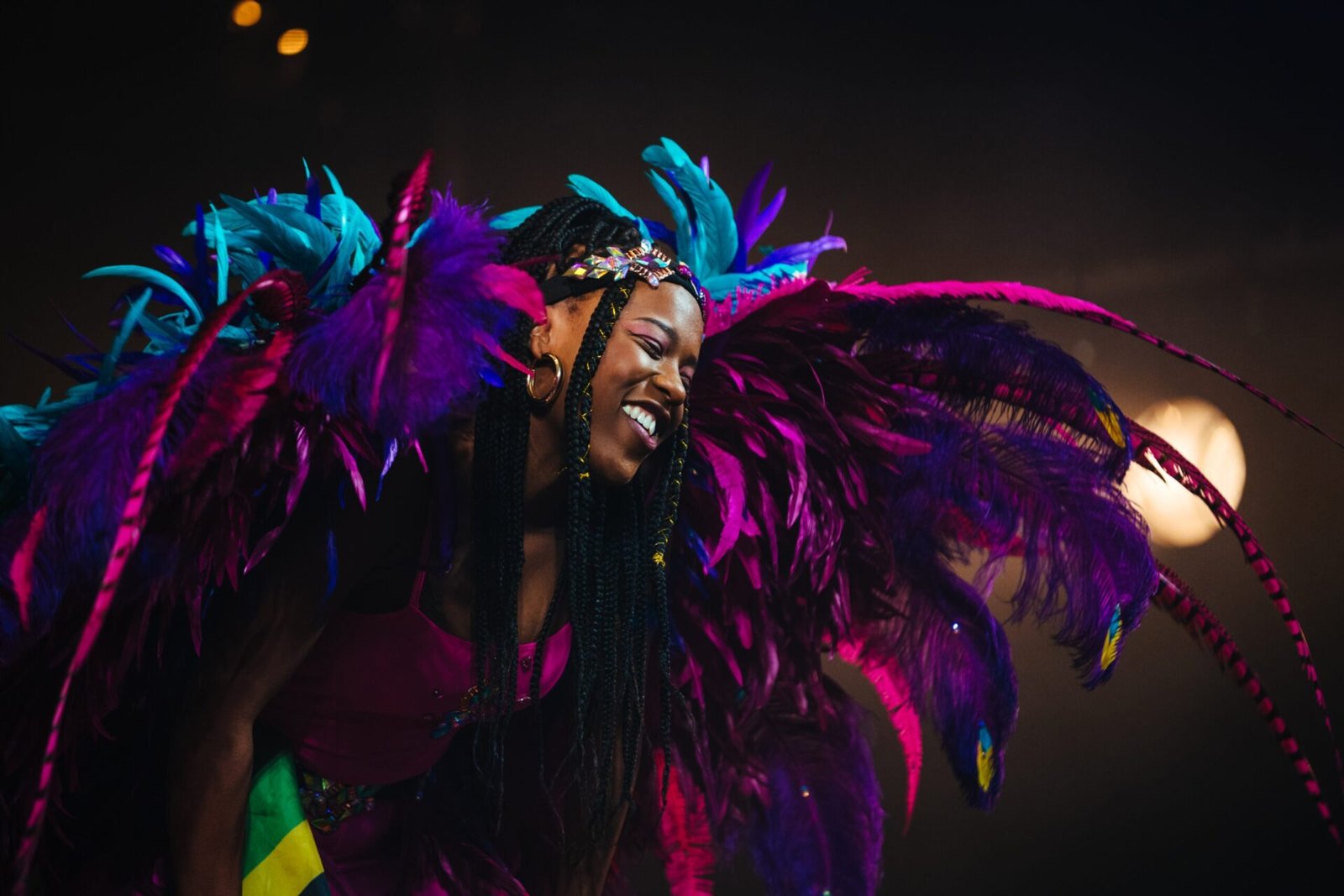 They have already announced that they are cancelling this year's Notting Hill Carnival so how better to make up for this gap in the calendar with  J'OUVERT at the Harold Pinter? 
J'OUVERT is the second of the Pinter's Re:Emerge season of plays highlighting the work of new writers with cut price tickets. 
Yasmin Joseph's play starts with the history of Carnival.  A journalist and political activist from Trinidad, Claudia Jones (born Claudia Vera Cumberbatch) held an indoor event at St Pancras Town Hall in January 1959. I remember the first few carnivals in Notting Hill underneath the Westway.  The infectious rhythm of steel bands and August sunshine were there but this was a static event rather than a procession.
It is Claudia Jones (played by Sapphire Joy) who is the inspiration for Nadine.  Gabrielle Brooks as Nadine is reminded of the history of Carnival and how symbolic this is for people with roots in the Caribbean. She and Jade (Sapphire Joy) are dancers to the soca rhythms, decked out in giant frames of feathers, pink lycra and sequins, twerking. 
The play is set on August Bank Holiday 2017, two months after the Grenfell fire in nearby Latimer Road which is alluded to.  When the Carnival takes place again there will be a silence for the victims of the disaster.  Nadine wants to win the Island Vogue Face of the Fête competition, the prize of which is a cover photo and an all expenses trip to St Lucia.  There will be a scout for the magazine in the crowd. 
Sandra Falase's set has a plethora of signs, street signs, masks and Carnival ephemera and a revolving circular sloping stage for the Soca Rebels to dance on.  There is a bar which will sell food and drinks. 
In a remarkable feat of energy and exertion, the girls will dance and speak commenting on whom they meet. "Mashing the Grove" with their arousing dance moves. "Breasts bouncing, hair flicking, coiling, knees trembling." 
Some men "one tall one and one short one: both ugly" will chat them up and buy them a meal under protest.  Brooks and Joy will imitate the accents and mannerisms of the men, giving them nicknames like Glitter Boy, Block Face and MiniMe.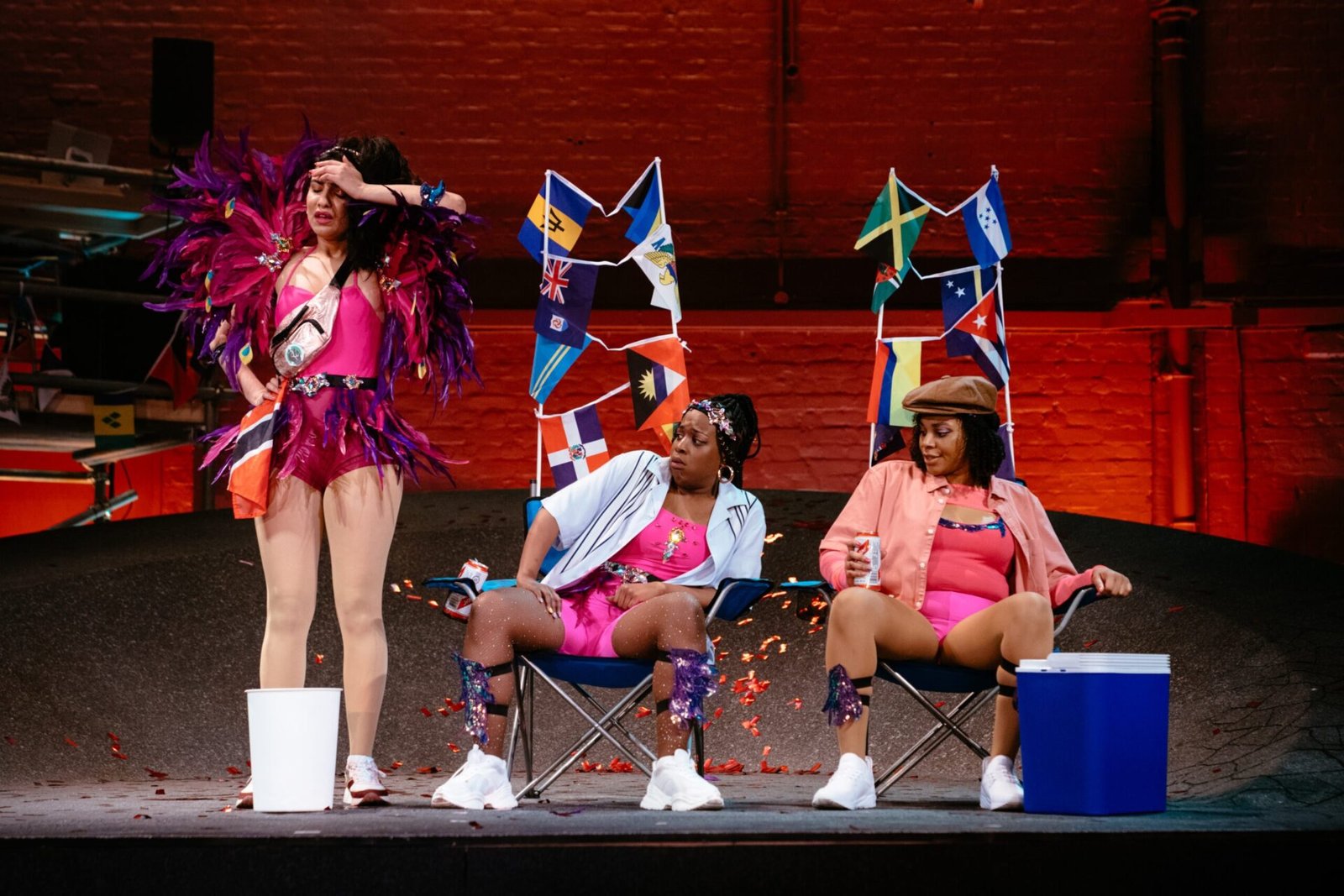 Two old men are acted by the two women with great characterisation and fun.  They are Charles and Hubert, sat in deckchairs with cans of Red Stripe beer, recalling when they first came to Notting Hill.  They are selling beer and whistles.  
A third dancer will join them.  An incongruous figure of cultural appropriation is Nisha (Annice Boparai). Neesh is Asian, a political activist promoting a local meeting for West London Rises at which she wants Jade to make a speech on decolonising local policies.  Middle class with a refined accent, the product of living in, and schooling at, Holland Park, Neesh is rather unsettling comedy. 
Nadine has a strict, religious aunt Marlene and she is spooked by the idea that her aunt will see her provocative dancing and report back to her mother. 
Yasmin Joseph's play has a kaleidoscope of themes.  Zuyane Russell will DJ the show onstage from a sound deck set above, but I feel the urgency of the dance and music can distract from the delivery and strength of the play's words.    
The girls will get into a difficult situation with the younger men who react in an entitled way to the girls' costumes and dancing.  They will be caught in the crush that Carnival is known for. Jade will make a stirring speech defending the rights of women and girls. 
J'OUVERT
Written by Yasmin Joseph
Directed by Rebekah Murrell
Cast
Starring:
Gabrielle Brooks
Sapphire Joy
Annice Boparia
Zuyane Russell
Creatives
Director: Rebekah Murrell
Designers: Sandra Falase in collaboration with Chloe Lamford
Movement: Shelley Maxwell
Lighting Designer: Simisola Majekodunmi
Sound Designer: Beth Duke 
Re:Emerge Season /Artistic Director: Ian Rickson
Information
Running Time: One hour 35 minutes without an interval
Booking to 3rd July 2021
Address:

Harold Pinter Theatre
Panton Street
London SW1Y 4DN
Tube : Piccadilly Circus
Reviewed by Lizzie Loveridge at the
Harold Pinter Theatre on 22nd June 2021