Big Hair, Big Girls and Big Applause 1962 style
"Right now, as we speak, your daughter has entered a hotbed of moral… turpentine."
Amber von Tussle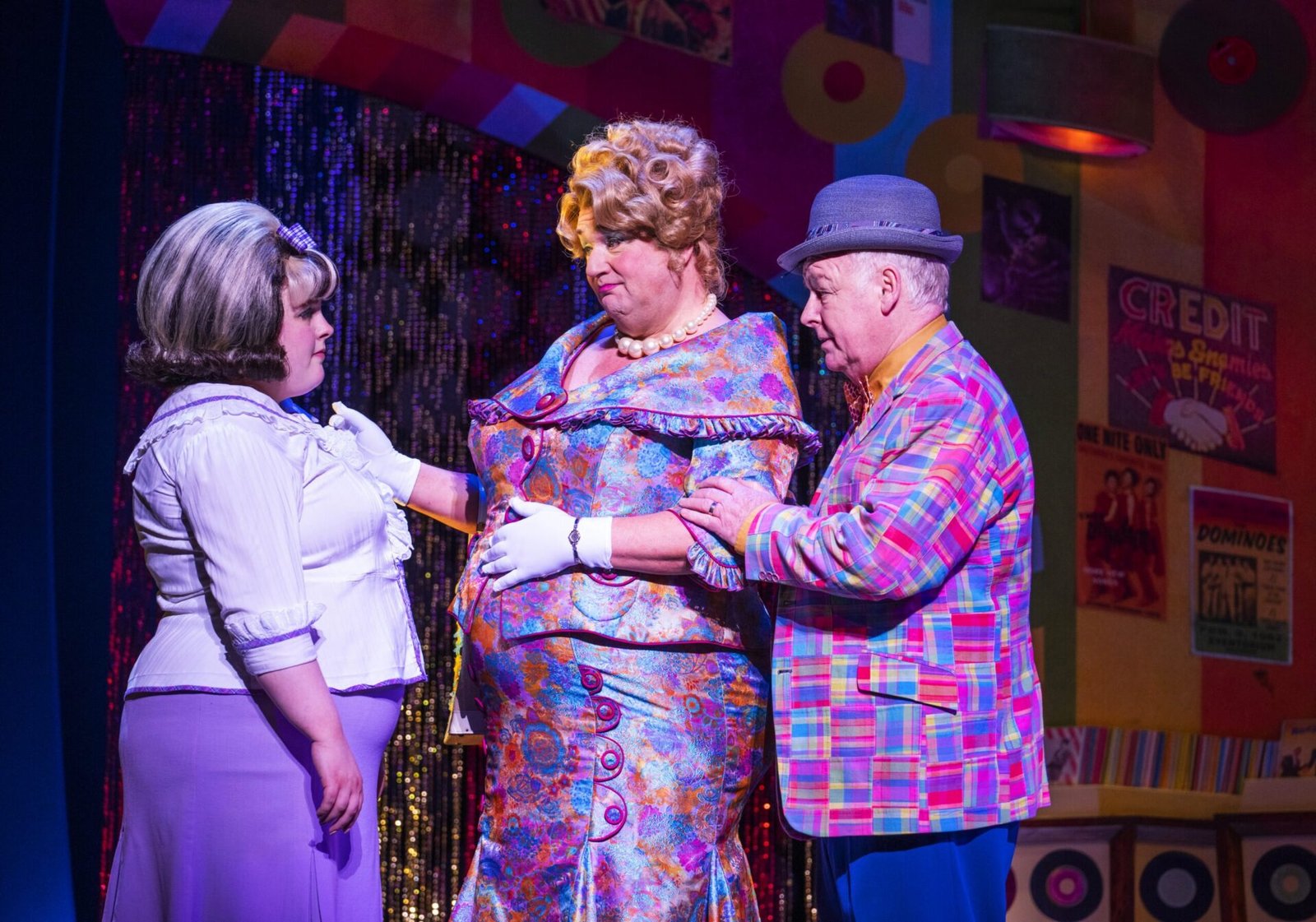 Into the Coliseum, the home of English National Opera to celebrate the opening of London Theatreland comes a popular musical which ran in London from 2007 to 2010.  Hairspray is set in 1962 in Baltimore, Maryland before the civil rights movement and before concern about the CFCs from aerosols damaging the atmosphere. 
Another musical set in Baltimore was Kiss Me Kate with its beautiful song "It's Too Darn Hot" not advancing the plot and so preventing that show being defined as one of the first musicals. 
Hairspray is a feel good tale about a lovely and plump girl and her transsexual mother.  No!  Wrong! Michael Ball is playing Edna Turnblad and she/he isn't trans, just a chap in drag, whose voice dips deliciously, every now and again.  Could he be auditioning for Mrs Doubtfire, if and when, it comes to London?  
In the programme for Hairspray, Michael Ball says he played Javert in Les Miserables last year but "was a little bit sad that I wasn't asked to reprise Marius – I'm sure I could still play a juvenile lead with good lighting!"  I'm positive that was one of Mr Ball's jokes but as a reality check, like all of us who have put weight on over the years, Jean Valjean couldn't be expected to carry the present day Michael Ball through the Parisian sewers without an Auchan shopping trolley!
But entering into the spirit of Hairspray, convincing us that big girls with big hair can be sexy, I can report that the pounds are falling off Lizzie Bea since she was cast as Tracy Turnblad and photographed for the promotional material.  The producers will need to get dozens of doughnuts delivered a day to keep up her chunky image. 
Lizzie Bea has a lovely voice and the first song of the show "Good Morning Baltimore" is sheer joy.  TV host Corny Collins (Michael Vinsen)'s television show only features white singers and dancers apart from designated Negro Day on the last Tuesday of every month. Tracy will try to introduce her black friends from detention at school, to the programme competition.   Tracy's Nemesis is Amber von Tussle (Georgia Anderson) and Amber's mother Velma von Tussle (Rita Simons) is a producer doing everything to promote her daughter.  These two are the nearest Hairspray gets to villains. 
Link Larkin (Jonny Amies), partially based on Elvis Presley, is the object of affection for both Tracy and Amber although I couldn't quite see why?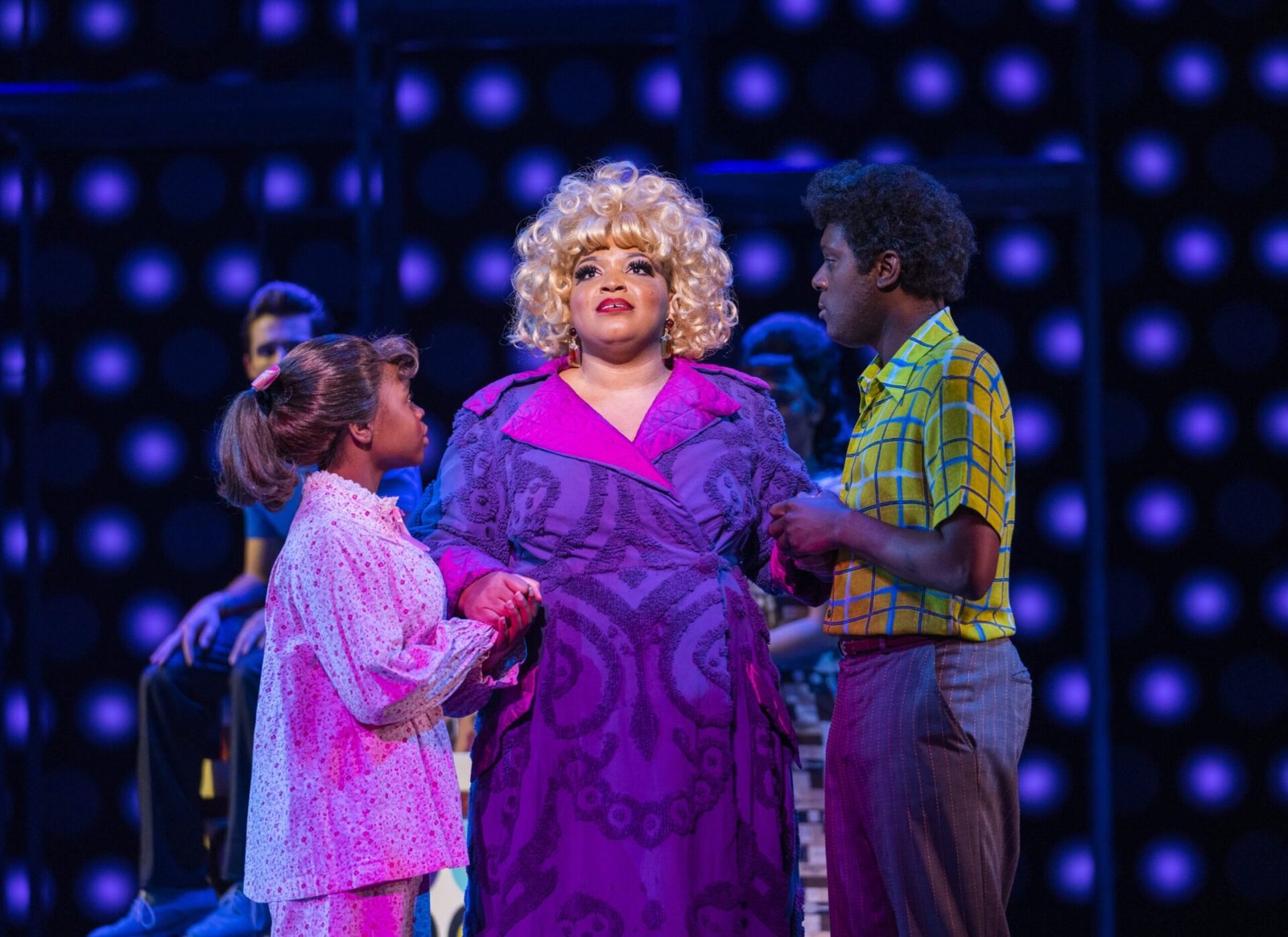 Marisha Wallace is Motormouth Maybelle, mother to two of the black kids,  Little Inez (Kimani Arthur) and Seaweed J Stubbs (Ashley Samuels).  Marisha Wallace has the ability to earn a standing ovation midshow, a rare event in London with her song "I Know Where I've Been", as she did in the show Dreamgirls.
The chronology of Hairspray is fascinating.  1988 was the original film with Ricki Lake as Tracy and Divine as Edna, Debbie Harry as Velma and Sonny Bono as Velma's husband Franklin von Tussle. 2002 sees the Broadway production with Harvey Fierstein as Edna and 2007 brings the second film, with John Travolta as Edna, Christopher Walken as Edna's husband Wilbur, Michelle Pfeiffer as Velma and Queen Latifah as Motormouth Maybelle.  Amanda Bynes plays Tracy's best friend Penny Pingleton and her mother Prudy Pingleton was Allison Janney.  Zac Efron was a dishy Link Larkin. 
Michael Ball's personality shines through his apron in Hairspray; he won an Olivier for Best Actor. The show also won Best New Musical and Leanne Jones Best Actress in a musical. They all trumped my favourite that year Parade at the Donmar.  Lizzie Bea is a great find with a super voice and Les Dennis has all the quirkiness of Wilbur.  Ball and Dennis's duet "Timeless to Me" is a huge hit with the audience.  The best song in the show "You Can't Stop the Beat" is leaving the best to last and has everyone except the arthritic on their feet. 
The production credits are the same as they were in London in 2007 so don't expect innovation, instead people will have fun onstage as well as in the audience with some gloriously energetic group choreography. 
Act One
Prologue: Good Morning Baltimore
The Nicest Kids in Town
Mama, I'm a Big Girl Now
I Can Hear the Bells
(The Legend of) Miss Baltimore Crabs
The Madison
The Nicest Kids in Town (Reprise)
It Takes Two
Velma's Revenge
Welcome to the '60s
Run and Tell That!
Big, Blonde and Beautiful
Act Two
The Big Dollhouse
Good Morning Baltimore (Reprise)
Timeless to Me
Without Love
I Know Where I've Been
Hairspray
Cooties
You Can't Stop the Beat
Hairspray
Book by Mark O'Donnell and Thomas Meehan 
Music by Marc Shaiman 
Lyrics by Scott Wittman and Marc Shaiman 
Based on the New Line Cinema film written and directed by John Waters 
Directed by Jack O'Brien
Cast
Starring:
Michael Ball
Les Dennis
Lizzie Bea
Jonny Amies
Marisha Wallace
Rita Simons
Georgia Anderson
Kimani Arthur
Mari McGinlay
Ashley Samuels
Michael Vinsen
With:
Dermot Canavan
Lori Haley Fox
Imogen Bailey
Pearce Barron
Jordan Benjamin
Joel Cooper
Luke George
Christopher Gopaul
Sharlene Hector
Bradley Judge
Lily Laight
Madeleine Lawton
Holly Liburd
Mireia Mambo
Kody Mortimer
Robyn Rose
Rachel Warwick-Clarke
Rico Bakker
Annie Guy
Winny Herbert
Will Luckett
Jochebel Ohene MacCarthy
Tinovimbanashe Sibanda
Bradley Trevethan
Amy West
Christopher Howell
Natalie Woods
Creatives
Director: Jack O'Brien
Choreographer: Jerry Mitchell
Set Designer: David Rockwell
Costume Designer: William Ivey Long
Music Supervisor: Alan Williams
Lighting Designer: Kenneth Posner
Sound Designer: Steve C Kennedy
Musical Director: Alan Berry
Information
Running Time: Two hours and 30 minutes with an interval
Booking to 29th September 2021
Closed due to Covid.  Back 14th July 2021.
Address:

London Coliseum
St Martin's Lane
London WC2N 4ES
Rail/Tube : Charing Cross
Reviewed by Lizzie Loveridge at the
London Coliseum on 29th June 2021