Simon Russell Beale in Bach & Sons
creates a living composer
"You're sounding like St Bernards, try to be Italian greyhounds if you can"
JS Bach to his choristers
At last a play about a famous artist or musician which doesn't use shameful biographical detail which serves to diminish our view of him.  I wish it had been so with Alan Bennett's The Habit of Art, like Bach & Sons, directed by Nicholas Hytner.  Having seen that play, instead of thinking about WH Auden as the wonderful poet of works like Stop All the Clocks or Funeral Blues, I forever will see him peeing into his kitchen sink and welcoming rent boys into his home. 
At least a play about a famous composer can include his music whereas it is much more difficult to show artistic work, although it was done well in the Menier Chocolate Factory's production Sunday in the Park with George by actually recreating the work on the painting onstage.  Too often instead of writing about the art, a play is entirely biography.
Nina Raine's picture of Johann Sebastian Bach (Simon Russell Beale) doesn't have any huge family history shocks.  JS Bach has a dedication to musical talent which results in favouritism towards one son over another but that attention and extra teaching doesn't necessarily lead to greater musical achievement.
JS Bach wasn't the first musician in his family but he is the most famous.  With two wives he had 20 children but only seven survived.  JS Bach was something of a family historian and drew up his own genealogy when he was 50 years old. 
In the opening scene, JS Bach is repeatedly playing "Sheep May Safely Graze" stopping at one phrase and repeating it until he gets the ornamentation right.  Everyone else in the house is asleep or trying to sleep including his infant son Gottfried.  Bach's first wife Barbara (Pandora Colin) is explaining to her husband why Gottfried can't sleep. 
We hear about the precarious life of a musician dependent on patronage and the whims of the German nobility.  We hear Bach's acerbic wit and cut to his conducting a choir where we realise he is not just a perfectionist, he has low levels of tolerance.  We see he has a bad temper and is stubborn, so will fall out with those he depends on financially and get into petty quarrels.  We also appreciate the humour of Bach's witty lines and put downs.
But Nina Raine's play is based on his relationship with his three surviving sons from his first marriage.  His eldest son Wilhelm self medicates with alcohol while Carl throws himself into music and tries hard but isn't valued by his father.  When Barbara dies, JS Bach continues a relationship with Anna Magdalena Wilke (Racheal Ofori) an opera singer and he marries her as they move to Leipzig.  Carl, loyal to his mother, finds his father's shift in affection hard to stomach. 
Simon Russell Beale's distinctive voice is thrilling and every word can be heard in the Bridge's auditorium.  I could listen to him all night, vowels rounded like a 'cello.  As a child he was a chorister in St Paul's Cathedral School and Nicholas Hytner had asked him to play Bach's harpsichord music live on stage but Russell Beale was too modest. 
I don't have to say anything about how he inhabits the part of this musician focussed on his music and the future of his music rather than pleasing his patrons and getting on with people.
I found Act Two somewhat less interesting than the First Act.  Some of it takes place at the court of King Frederick the Great (Pravessh Rana) a very affected monarch who employs Carl.  Frederick's confiding in Carl about his own brutal father trying to smother any effeminate interests his eldest son has, contrasts nicely with Carl's own differences with his father and underlines Carl's subservience to his patron. It is interesting that despite having no contact with his father for years, Carl continues to bring attention to his father's composition with its baroque emphasis on counterpoint. 
Differing harpsichords are wheeled in to change place and hanging from the flies are odd assorted black piano structures.  Vicki Mortimer's Prussian palace set has sparkling chandeliers, like those shown in the contemporary prints of the palace.  Carl and his son dress identically with white wigs and velvet coats trimmed with brass button and gold braid and embroidery. And Jon Clark's beautiful lighting changes mood and place. 
What a thrill to be back in The Bridge where the performances are well shaped with great sight lines, enough leg room and the sound perfect.  For my choice I would have liked to hear more of Bach's sung work from his second wife the opera singer, Anna Magalena and more of the Cello Suites but of course you can come home and listen to these while picturing Bach and his sons.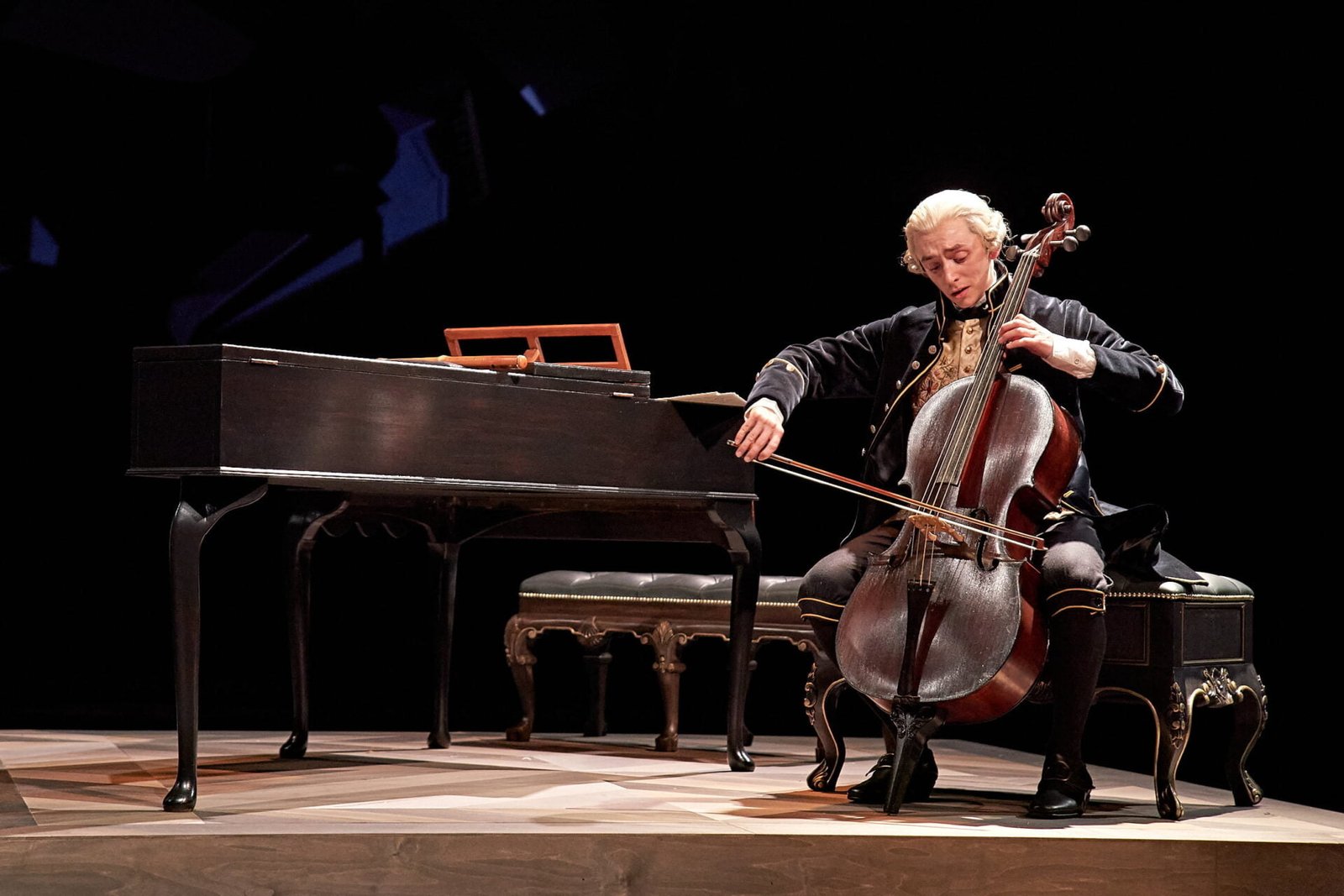 Bach & Sons
Written by Nina Raine
Directed by Nicholas Hytner
Cast
Starring:
Simon Russell Beale
Pandora Colin
Racheal Ofori
Samuel Blenkin
Douggie McMeekin
Ruth Lass 
Prevessh Rana
With:
William Barker
Teddy Button
Ardan Hennelly
Harry Weston
Creatives
Director: Nicholas Hytner
Set Designer: Vicki Mortimer
Costume Designer: Khadija Raza
Music Supervised by: George Fenton
Lighting Designer: Jon Clark
Sound Designer: Gareth Fry
Information
Running Time: Two hours 30 minutes with one interval
Booking to 11th September 2021
Address:

The Bridge Theatre
3 Potters Fields Park
London, SE1 2SG
Phone: 0333 320 0051
Website: The Bridge Theatre
Rail/Tube: London Bridge
Reviewed by Lizzie Loveridge at the Bridge Theatre
on 2nd July 2021