April De Angelis's thrilling new musical about gin drinking Hogarthian women
"I am a mother, that's what I am . . . . What else can I do but inebriate you?   "
Mary  Lyric from "I Am a Mother"
Following up her plays The Life and Times of Fanny Hill, Playhouse Creatures  about the first women actresses in the 16th century, and A Laughing Matter, about 18th century actresses, April De Angelis has written another costume drama, but this time it's a musical developed with China Plate and English Touring Theatre and opening at the Royal and Derngate in Northampton.  Lucy Rivers has composed the music. 
In 1751, William Hogarth published two prints, Gin Lane and Beer Street.  Whereas Beer Street showed the well nourished, well clothed and well behaved inhabitants, Gin Lane was the centre of depravity and moral degeneration.  Hogarth's friend was Henry Fielding, the magistrate, and novelist known for Tom Jones.  Henry Fielding (Alex Mugnaioni) together with his brother John (Peter Pearson), concerned about the level of crime in gin soaked parts of London, campaigned for people to drink beer instead of gin, for the water then carried disease like cholera.   The Fielding brothers went on to form the first police force, the Bow Street Runners in 1749.
Three years after the death of his first wife, Henry Fielding caused gossip when he married her maid, Mary Daniel (Aruhan Galieva) who was pregnant.  Samuel Richardson novelist and author of Pamela said, "Only a congenital idiot would marry his servant."
It is Mary's backstory which forms the narrative of Gin Craze!  We see her at, maybe 19, pregnant by the hypocritical Reverend Thomas Wilson (Peter Pearson) and cast out from her post as a servant by her mistress (Paula James).  She gives her baby to Suki (Rosalind Ford) to care for, promising to return when she has earned £4 the equivalent to a year's wages. 
She and her friend, a herbalist Lydia (Paksie Vernon) set to making gin and Lydia disguises herself as a man, Jack, to give their business more clout.  By way of context we have the marvellously comic Debbie Chazen as both Moll, a drunken prostitute and as Queen Caroline of Ansbach (isn't that a rather good brandy?) wife of George II who finds London streets frighteningly full of crime. 
The inhabitants of Gin Lane are brought to life, full of bawdy humour (a warning of Anglo Saxon words for anatomical parts if you are thinking of taking children), almost all of them also playing a musical instrument as well as singing and acting.  Director Michael Oakley has assembled a brilliant company of talented actors, six women and two men. 
This musical is a celebration of feminism, there is a Lesbian romance and everything is seen from the feminine perspective.  There are also social comments: we learn that in Southwark in 1736/7, 9000 children died from gin poisoning.  It seems that the 18th century equivalent of "gin on the dummy" was even more prevalent than in the twentieth century.  We hear about the terrible fate of babies given away by their mothers and the outcome for those that survive babyhood without their mothers, like Lydia/Jack.   
Mary is arrested for selling gin without paying the exorbitant gin taxes but meets Sarah Fielding (Rachel Winters) John and Henry's sister, eventually ending up as maid to Henry's sick wife.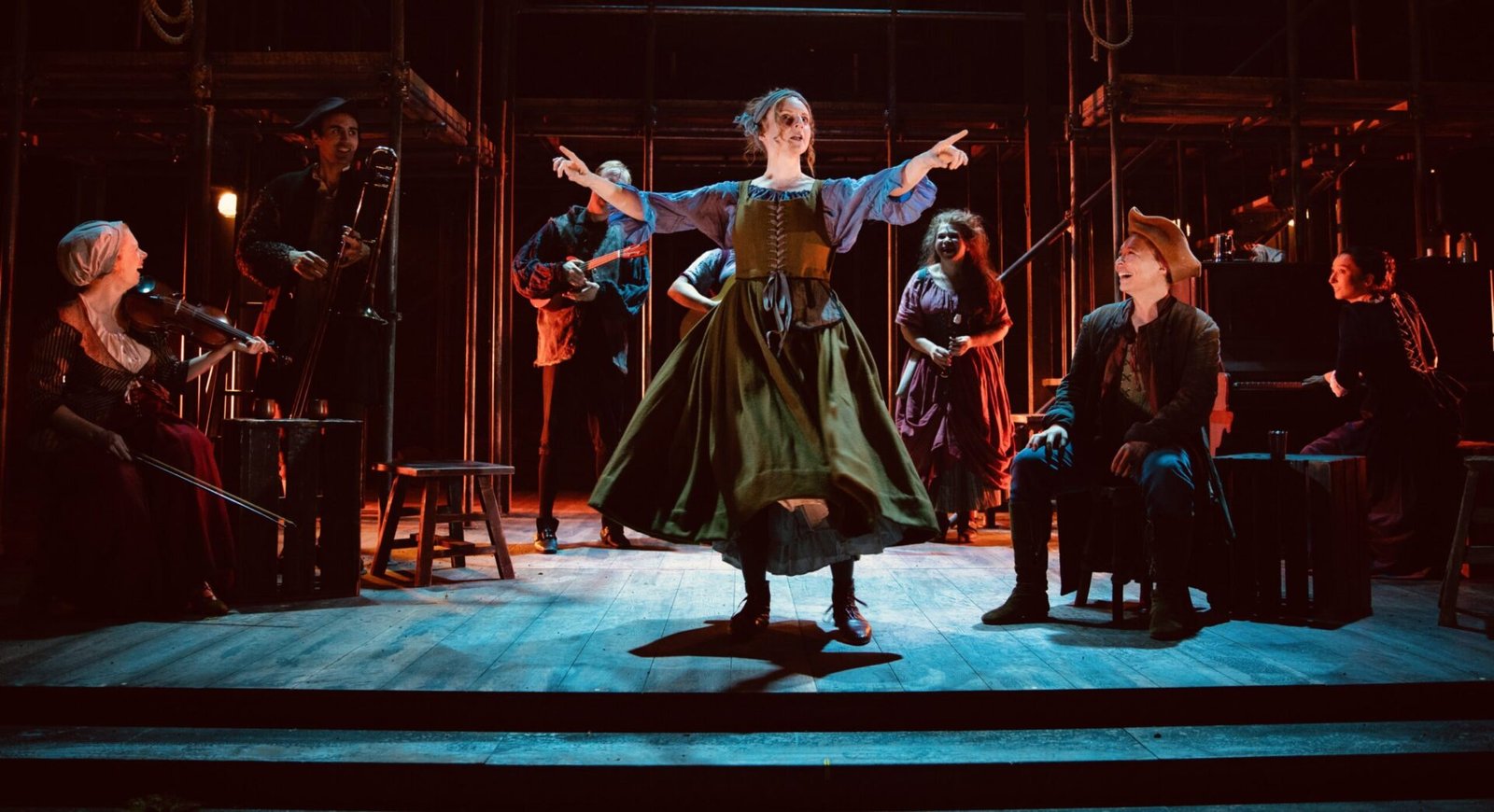 The music is gentle rock, easy listening, good rhythm and quite folksy with many songs for wonderful soprano voices like Paksie Vernon and Aruhan Galieva to mention just two of this formidable cast, and of course you can hear every one of the lyrics.  The dance is lively and full of verve with many of the dancers playing instruments like a fiddle.   
There is plenty of humour, some of it dark or physical, like when we see Queen Charlotte get into her own coffin; or a model cat which dispenses gin out of his derriere when you pump on his tail, but we also laugh at the quick witted repartee.  You can tell the months of development work put into the finished Gin Craze!  The set is like a galleried Tudor theatre using scaffolding wood and some stools on stage and the costumes scruffy as they would have been in the 1750s.  A backdrop changes to put the scene in the context of the tapestry coat of arms of the royal palace, or the velvet drapes with braid and tassels of the Fielding house or the banners of the Courts of Justice.  Lighting too serves to vary changes and set mood.   
I am so excited by all the theatrical talent that has been awaiting the re-opening of theatres and Gin Craze! is another highly recommended show.   It should tour under the auspices of English Touring Theatre and I hope to see it again. 
Act One
Gin Lane Versus Beer Street
What Does a Woman Have to Do
I am a Mother
Gin Dive
One More for the Road Lydia's song
It's the Law
We Could Have it All
Got Here Without You 
The Informers' Song
Look at Me Jack
Divine Gineva
Act Two
The Problem of (Not) Having a Cock
What Does a Woman Have to Do
Got Here Without You (reprise)
We Could Have it All (reprise)
This World Stinks Gin Lane
Gin Craze! 

Book and Lyrics by April De Angelis
Music and Lyrics by Lucy Rivers
Directed by Michael Oakley
Cast
Starring:
Debbie Chazen
Rosalind Ford
Aruhan Galieva
Paula James
Alex Mugnaioni
Peter Pearson
Paksie Vernon
Rachel Winters
Creatives
Director: Michael Oakley
Designer: Hayley Grindle
Choreographer: Paul Isaiah Isles
Music Supervisor and Arranger: Tamara Saringer
Lighting Designer:  Jack Knowles
Sound Designer: Tony Gayle
Fight Director: Alison de Burgh
Assistant Director: Tian Brown-Sampson
Dramaturg: Victoria Saxton
A Royal and Derngate Northampton and China Plate co-
production in partnership with English Touring Theatre
Information
Running Time: Two hours 30 minutes with an interval
Booking until 31st July 2021 but should tour
Address:
Royal and Derngate Northampton
Box Office: 01604 624811
Train: Northampton
Reviewed by Lizzie Loveridge
at the Royal and Derngate, Northampton on 21st July 2021