Kevin Elyot's masterpiece at the Turbine Theatre
"He enjoyed the sound of his own vice"
Benny
Kevin Elyot's play My Night With Reg won an Olivier and the Evening Standard Award for Best Comedy in 1995.  He was a very interesting playwright and script writer for television, especially for Agatha Christie novels.  He grew up in Handsworth, Birmingham and, in 1961 aged 13, his father took Kevin and his sister Pauline to Stratford to see Christopher Plummer and Eric Porter in Richard III.  From then on Elyot grew his love for theatre, travelling on the top deck of the 150 bus to Stratford upon Avon and buying a standing seat at the theatres to see everything.
After school at King Edward's School Birmingham, the alma mater of legendary critic, Kenneth Tynan, where Elyot played Desdemona, he naturally went to the University of Bristol to read Theatre Studies.  He became an actor and through his association with the fledgling west London, Bush Theatre, he wrote his first play Coming Clean.  Jenny Topper was then director at the Bush and she moved to Hampstead Theatre as Artistic Director in 1988. 
Kevin Elyot was commissioned to write a new play for Hampstead which was My Night With Reg which was turned down, presumably by, the then, Artistic Director at Hampstead, Jenny Topper.  Not something you want to put on your cv!  Stephen Daldry had just taken over as Artistic Director at the Royal Court and he snapped up My Night With Reg, asked Roger Michell to direct and cast David Bamber as Guy, Anthony Calf as John, the ebullient John Sessions as Daniel, and Joe Duttine as Eric.
The play was a huge hit at the Court and transferred to the Criterion with Hugh Bonneville replacing Sessions as Daniel (something I find hard to imagine) and then to the Playhouse winning the 1995 Olivier for Best New Comedy.
I saw an excellent production of My Night With Reg twice in 2014/15, the year of Kevin Elyot's death, at the Donmar, and on transfer to Shaftesbury Avenue's Apollo Theatre.  My Night With Reg  is about gay men, love and loss, in the AIDS epidemic which is never mentioned in the play.  The love and loss felt isn't exclusive to homoeroticism but is something all sexual preferences can identify with.
Paul Taylor-Mills's Turbine Theatre has been reliably thrilling but somehow this remarkable comedy lost its way.  I've been trying to nail exactly why the cast seemed not to have the intimacy we would expect of three main characters who have known each other at university two decades earlier.  I think it may be down to the casting and what was missing was sexual chemistry between the men in the first two acts .  Act Three is the exception, where we see Eric (James Bradwell) and John (Edward M Corrie) getting together.  Maybe lockdown prevented the kind of meeting that would have identified the issue of credible relationships. 
From Paul Keating as Guy we get his gauche nervousness, anxious to be a good host in his housewarming party.  Guy cooks for everyone but he is the one they are merely fond of, not in love with.  It is a tragic moment as he gets a present of yet another "cooking for one" cook book. This is full of pathos and yet wasn't lingered over in this production. I long to see Paul Keating in another musical after his lovely performances in Little Shop of Horrors and La Cava.  
Gerard McCarthy starts well as Daniel in the first act with his lively entrance but maybe the fact that he is at his lover's funeral in the second act overly dampened his spirits.  Edward M Corrie as John is very self contained carrying his secret passion.  Stephen K Amos as Benny and Alan Turkington as Bernie never appeared to me to be a pair.  I know Bernie has to be yawningly boring and Turkington is a good actor.  Bernie and Benny are meant to bicker but also to be inseparable until we hear about them in the final act.  Act Three between John and Eric (James Bradwell) works better as they reflect on the earlier parts of the play. 
As I think about the individual performances they were fine but they didn't gel together and I think this is down to direction and casting.   The very detailed set is incredibly ornate and stuffed full of house plants for somewhere that Guy has just moved into, but I longed for more human connection from the cast.  Might it come as the run progresses?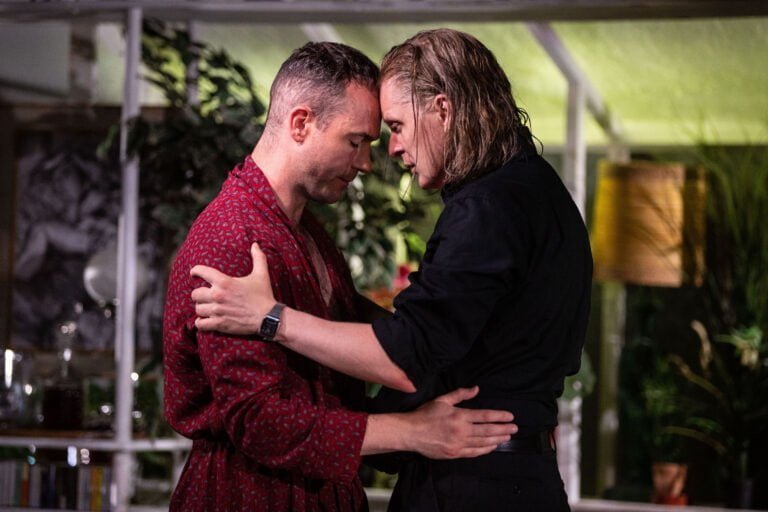 My Night With Reg
Written by Kevin Elyot
Directed by Matt Ryan
Cast
Starring:
Paul Keating
Gerard McCarthy
Edward M Corrie
James Bradwell
Stephen K Amos
Alan Turkington
Creatives
Director: Matt Ryan
Designer: Lee Newby
Information
Running Time: Two hours 15 minutes with an interval 
Booking to 11th September 2021
with a gala night on 18th August in aid of
the Terence Higgins Trust
Theatre: 
Turbine Theatre
Arches Lane
Circus West
London, SW11 8AB
Phone: 020 7851 0300
Tube: Victoria or Sloane Square and Bus
or Riverboat to Battersea Power Station
Reviewed by Lizzie Loveridge
at the Turbine
on 23rd June 2021