Carousel: Rogers and Hammerstein's foray into gritty reality
I've never seen it yet to fail
I'll never see it fail
A girl who's in love with a virtuous man
Is doomed to weep and wail
Stonecutters cut it on stone
Woodpeckers peck it on wood
There's nothin' so bad for a woman
As a man who thinks he's good!
Jigger
I've never seen it yet to fail
I'll never see it fail
A girl who's in love with any man
Is doomed to weep and wail.
Carrie and the Girls
The clock just takes your life away
There's no relief in sight
It's cookin' an' it's scrubbin' 
An' it's sewin' all day
An' God knows what in all night!
Carrie
In his production of Carousel at The Open Air, Timothy Sheader has decided to revert to the 1945 ending which Rodgers and Hammerstein rewrote.  Since then Carousel's harsh plot has been prettified. 
It is a brave and stark decision to put domestic violence centre stage and to deny Billy Bigelow any redemptive quality.  It is partly a response to the increase in domestic violence incidents which occurred during the pandemic lockdowns.  In Carousel the underlying reasons for Billy Bigelow are excessive alcohol, unemployment and lack of money. 
The original short story was by Hungarian Ferenc Molnar who extended his story to create the stage play Liliom in 1909.  Molnar turned down Puccini's offer to turn Liliom into an opera because he wanted his play to be seen as a play. 
Liliom was set around Hell where a fairground barker kills himself after a failed robbery and after 16 years in Purgatory is allowed to return to Earth in order to do a good deed for his now teenage daughter.  If he fails he will go to Hell but if he succeeds he will enter Heaven.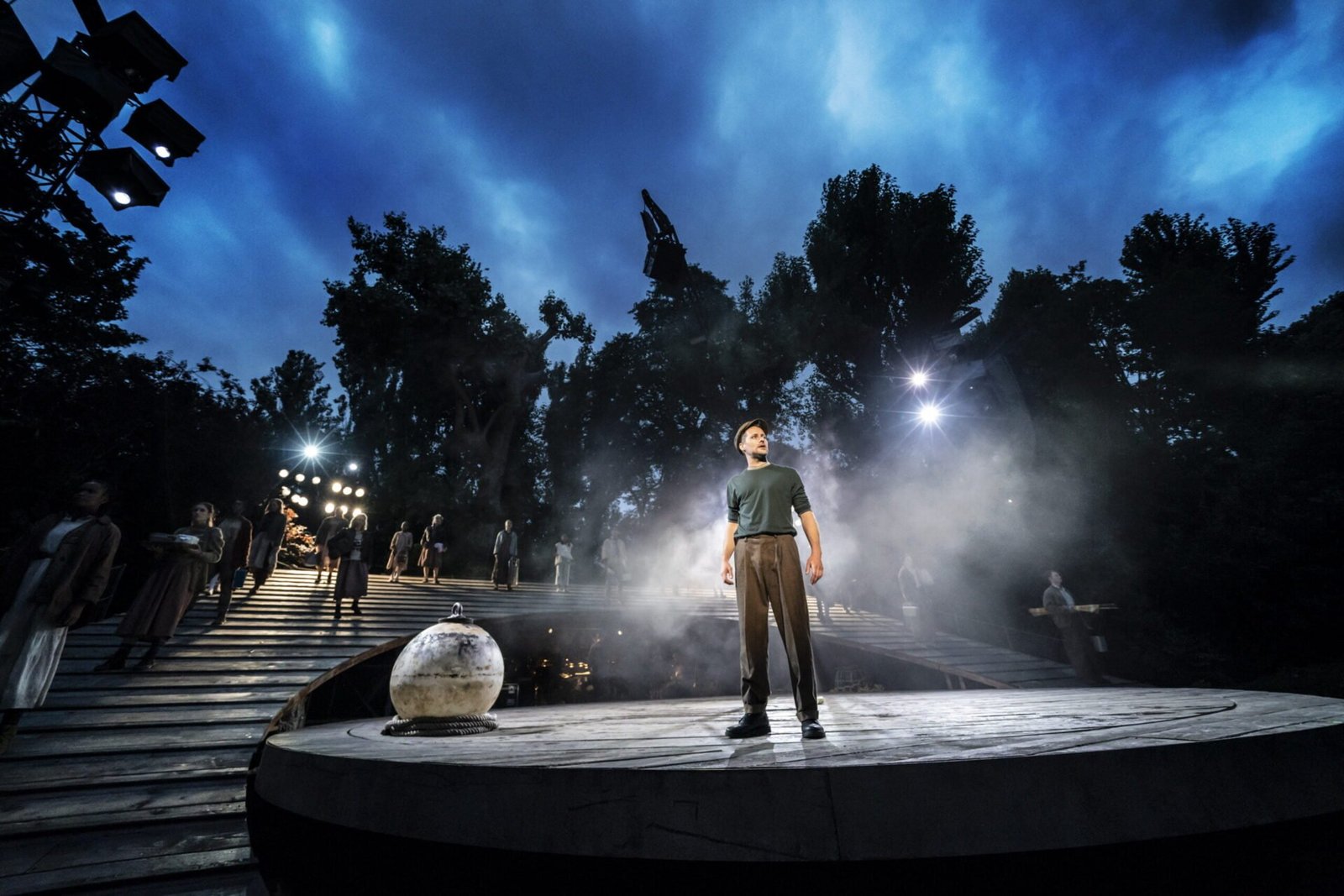 Rodgers and Hammerstein set their musical in 1870s New England's whaling community with the characters mostly mill or factory workers and whaler fishermen.  At the Open Air the cast are allowed to use their normal English accents but if we are to be in a whaling community, and eat a clam bake, we are firmly still in New England, although the idea was to set the musical in a place and time closer to the current audience.  Surely this has to be a good decision rather than saddling the cast with American accents as well as having to sing, dance and act?  Could this be called accent blind?
The plot aside, there are three outstanding reasons for seeing this gritty production of Carousel.  Top has to be the fabulous tunes one of which will be known by everyone in the UK, Liverpool Football Club's stirring anthem "You'll Never Walk Alone" sung here by the excellent Joanna Riding.  The other really well known songs are the "Carousel Waltz" heard at every fairground, the duet "If I Loved You", "When The Children Are Asleep" and the celebratory "June Is Busting Out All Over."
Secondly are the new orchestrations for the score with their emphasis on the Northern community brass bands, and electric guitars, from Tom Deering who also orchestrated Jesus Christ Superstar for the Open Air.  These are very different from the soaring strings of the film of Carousel and have validity in this labouring community.
Thirdly, and almost most importantly, there is Drew McOnie's astounding and meaningful choreography.  He has taken on board the occupations of these whalers and labourers and his dance is full of muscular exertion and hard work, amazing leaps and jaw dropping pirouettes.  The women haul laundry baskets but dance in pairs with the men controlling them.  The men dance earthily to "Blow High, Blow Low" with water droplets thrown over each other, and picked up by the lights in an image I shall never forget.  Johan Persson's production photographs capture this exceptional dance.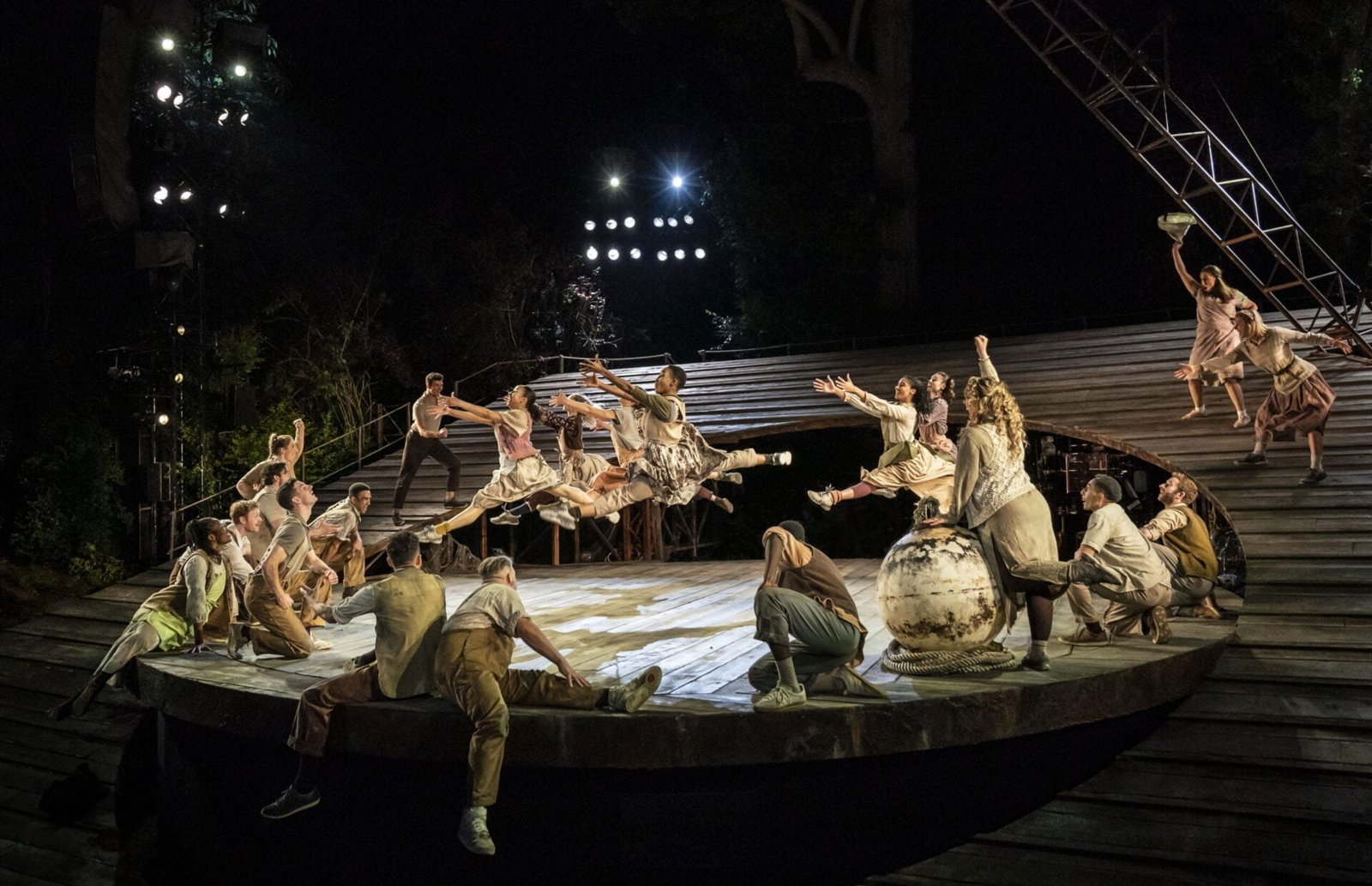 Tom Scutt's colour palette is soft hues of muted, dulled pastels, greys, greens and fawns which has a real impact compared to the fairground brights of usual Carousels.  The carousel here is imaginary, twisting poles standing in series on the turntable stage.   Declan Bennett as Billy Bigelow sings and plays his banjo and we can believe why Julie Jordan (Carly Bawden)'s family feel he isn't a good match for their daughter.  We long for him to swallow his pride and go back to work on the Carousel but he shocks us when he hits out at his wife, striking her in the face.  It is a shocking moment.  Julie's excuses for Billy's wife beating don't convince in the 21st century nor should they have in the 19th century! Carly Bawden and Declan Bennett as Billy and Julie sing beautifully in the duet "If I Loved You" a pretty tune but decidedly from the 1940s.  You'd have trouble finding lyrics as sexist as Billy's "Solilioquy" when he plans what he would do with his son and then thinks the baby might be a girl,
"You can have fun with a son
But you gotta be a father to a girl
She mightn't be so bad at that
A kid with ribbons in her hair!
A kind o' sweet and petite
Little tin-type of her mother!"
But sexism was rife in 1870. 
I liked Julie's interaction with her friend Carrie Pipperidge (Christina Modestou) and Carrie's boyfriend, later husband and father of many Enoch Snow (John Pfumojena) as they lead the comedy. 
SPOILER ALERT
After the failed robbery, rather than go to prison Billy kills himself and is given the opportunity to repair the damage he's done by one good deed. However we are told that each minute in this waiting place is the equivalent of one year on earth.  Billy returns after 16 years which presumably is a wait of 16 minutes and hardly long enough to reflect on what he has done wrong!
His actions back on earth are cataclysmic for him and for the audience. 
Bravo! Timothy Sheader for trying something different with Carousel and please can we see more from Drew McOnie's heart grabbing dance!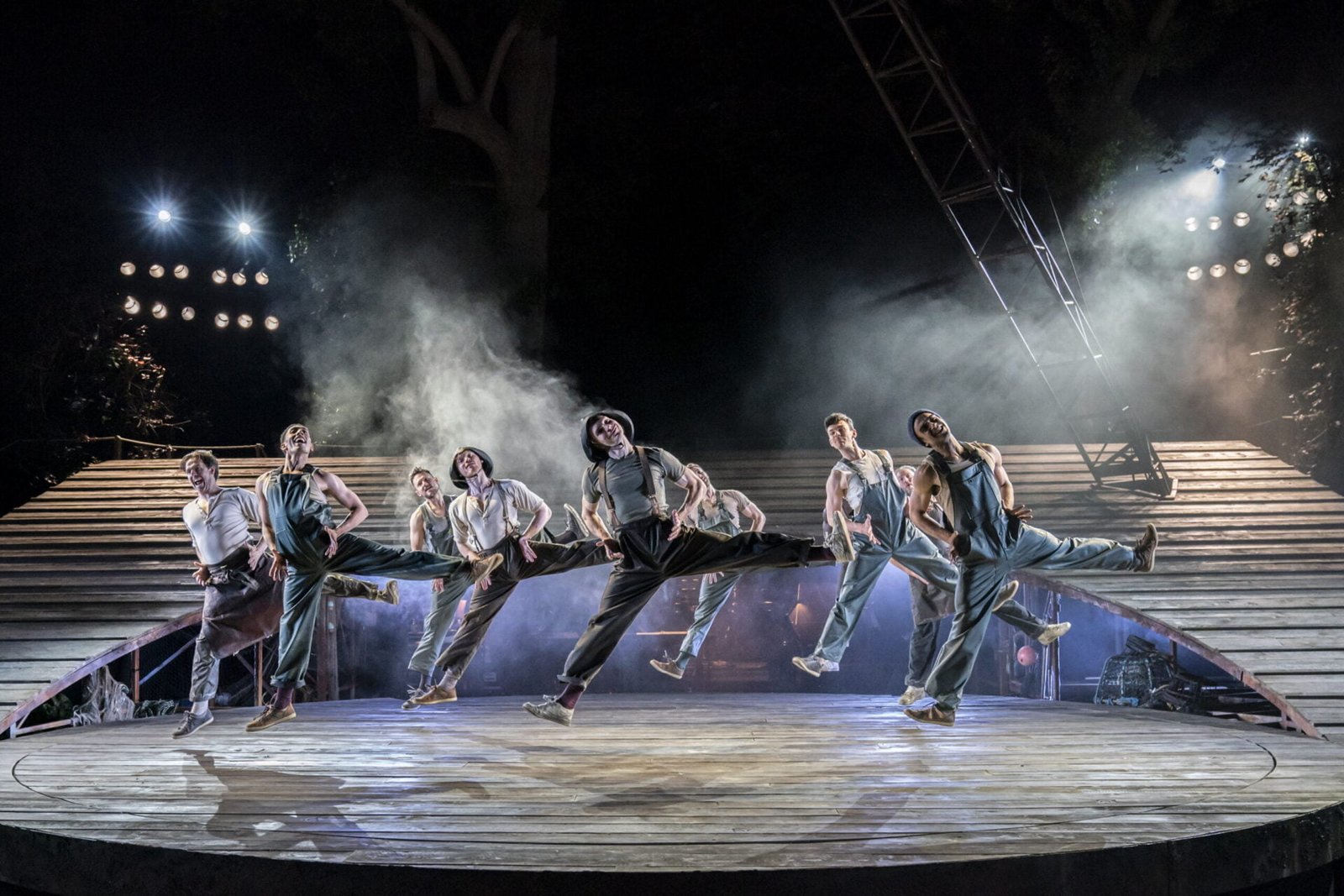 Act One
 Prologue – Carousel Waltz  
Mister Snow
If I Loved You
June is Bustin' Out All Over
When the Children are Asleep
Blow High, Blow Low
Soliloquy
Finale Act 1
Act Two
A Real Nice Clam Bake
Geraniums in the Winter/Stonecutters Cut It on Stone
What's the Use of Wond'ring
You'll Never Walk Alone
If I Loved You (reprise)
Finale
Carousel 
Music by Richard Rodgers
Book and Lyrics by Oscar Hammerstein II
Directed by Timothy Sheader
Choreographed by Drew McOnie
Cast
Starring:
Declan Bennett
Joanna Riding
Carly Bawden
Brendan Charleson
Jo Eaton-Kent
Sam Mackay
Craig Armstrong
Charlotte Riby
Chrissy Brooke
Christopher Tendai
Ediz Mahmut
Natasha May-Thomas
Christina Modestou
John Pfumojena
Ensemble: 
Chanelle Jasmine Anthony
Craig Armstrong
William Atkinson
Shay Barclay
Sarah Benbelaid
Madeleine Charlemagne
Freya Field
Matthew McKenna
Jack Mitchell
Charlotte Riby
Lisa Ritchie
Daisy West
Emily Langham
Jack Butterworth
Children:
Raphael Baron Cohen
Olivia Bart-Plange
Desmond Cole
Siahra Edmonson
Skye Hall
Matilda Hamilton
Jonah Herron
Isa Jones
Elliot Langley-Aybar
Maia
Jasmine Nyenya
Kelly Orbase
Jude O'Sullivan-Whiting
Nooh Rauf
Albie Salter
Creatives
Director: Timothy Sheader
Choreographer: Drew McOnie
Set Designer: Tom Scutt
Musical Supervisor, Arrangements and Orchestrations:
Tom Deering
Lighting Designer:  Aideen Malone
Costume Designers:  Molly Einchcomb and Tom Scutt
Sound Designer: Nick Lidster for Autograph
Associate Choreographer: Ebony Molina
Fight Director: Kate Waters
Information
Running Time:
Two hours 35 minutes with an interval
Booking until 25th September 2021 
Theatre:
Open Air Theatre
Regent's Park
Inner Circle
London NW1 4NU
Tube: Baker Street
Reviewed by Lizzie Loveridge at the Open Air
on 9th August 2021