Reach for the Big Big Sky at Hampstead Theatre
"Bit risky though isn't it? Just sort of turning up to an isolated peninsula in the North Sea without any sandwiches…"
Ed
Tom Wells grew up in Kilnsea, the area of East Yorkshire near Kingston upon Hull, the birthplace of playwright Richard Bean. Alan Plater was born in Jarrow, although he moved to Hull aged three, and John Godber who was born in the West Riding but founded the Hull Truck Theatre Company. So it must be something about vast expanses of coastline with little development that inspires playwriting.
Big Big Sky is set in a seaside café only open for half the year for locals, tourists and twitchers, those passionate about bird watching. Café owner, Angie (Jennifer Daley) has once seen an albatross, the ominous but magnificent bird from Coleridge's The Ancient Mariner. She is helped at the café by Lauren (Jessica Jolleys) whose widowed father Dennis (Matt Sutton) will often call at the café at closing time to help out by eating up the left overs of pasty and beans.
Lauren has moved out of her father's house into a place of her own and Dennis has advertised her room on Air B'n'B. A very nervous and shy young man, Ed (Sam Newton) has taken the room for the weekend prior to an interview on Monday for a post as a conservation assistant looking after a small colony of little terns. The Little Tern spends the winter in West Africa but migrates to Britain to breed, often found on the Northumberland and Norfolk coastline.
Dennis is suffering from the loss of his wife and Lauren from the loss of her mother. Angie too has had a distressing loss. Although Ed is scared stiff of his own shadow, in the second scene, a day later, Angie coaxes him out of his shell by inviting him to learn some of the steps she had just mastered at a line dancing class. Not encumbered by having to hold a partner, Ed throws himself into the line dancing steps and gains everyone's respect.
Dennis is trying to enter a local competition for the best photograph of a bird taken locally and we hear about, but never see, an affluent retiree who owns a very expensive digital camera, while Dennis struggles with one that takes film.
Tom Wells's play has a beautiful sense of place in this coastal area with the east wind straight from Russia but with a wealth of birdlife and a human community to match.
The performances are lovely and Bob Bailey's café set is perfect with its table and chairs and glass covers for the ideal vegan brownie. Who could fail to warm to these characters? The boy from the Midlands, thrilled by the coastline and the ornithology. The soundscape which has the cries of gulls. The passing of time illustrated by the wheeling in and out of the Café Open sign. And the new life that Ed and Lauren start together with none of the painful loss from the previous generation. Director Tessa Walker has crafted a heart warming production.
Big Big Sky has a slow and tender burn set close to the open expanse, the joy of which many of us discovered in lockdown.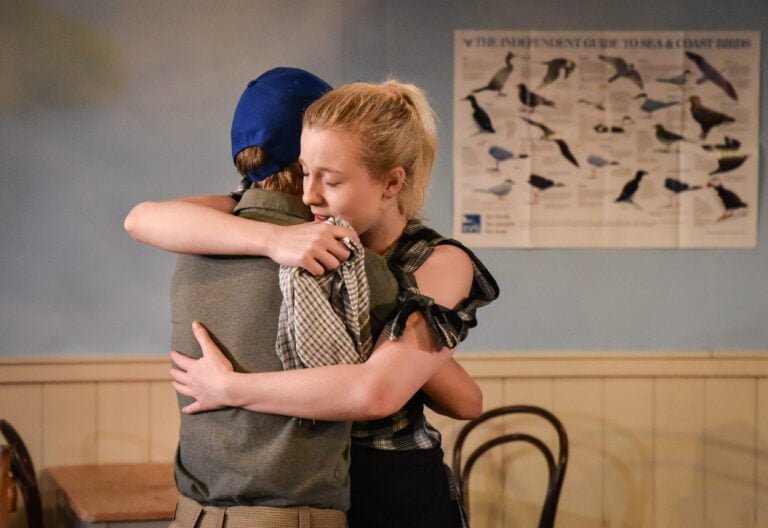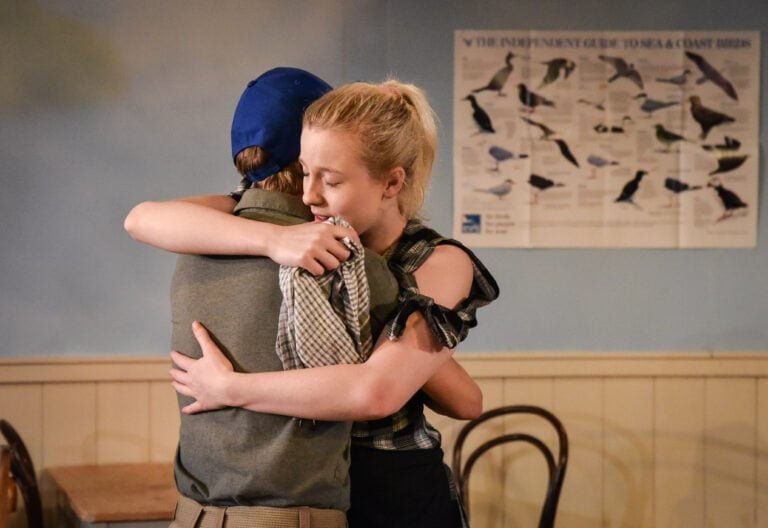 Big Big Sky
Written by Tom Wells
Directed by Tessa Walker
Cast
Starring:
Jessica Jolleys
Jennifer Daley
Sam Newton
Matt Sutton
Creatives
Director: Tessa Walker
Designer: Bob Bailey
Lighting Designer: Jay Morjaria
Sound Designer: Laura Howard
Movement Director: Val McCann
Movement: Ingrid Mackinnon
Design Associate:  Roisin Martindale
Information
Running Time: One hour 35 minutes without an interval
Booking to 11th September 2021
Theatre: 
Hampstead Theatre Downstairs
Eton Avenue
Swiss Cottage
Tube: Swiss Cottage
Reviewed by Lizzie Loveridge at
Hampstead Theatre Downstairs
on 10th August 2021