Fun at the Palace, um er . . . the Prince of Wales
with The Windsors Endgame
"It's like the end ofThe Railway Children except if the daddy had been a kiddie fiddler! "
Eugenie and Beatrice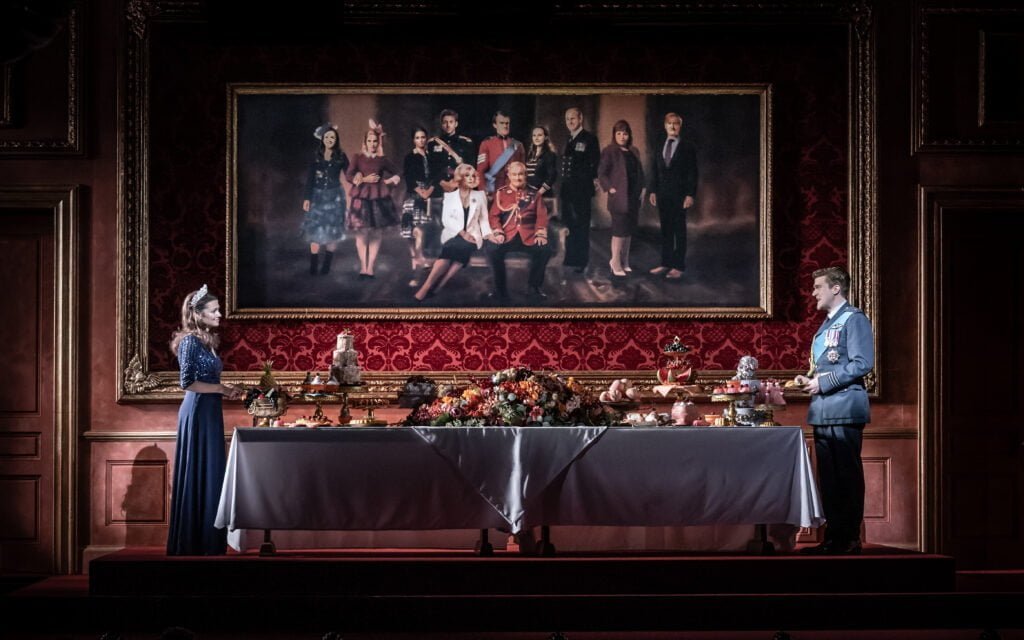 Hands up those of you who can remember satire!  Comedy where nobody worried about giving offence or political correctness?  No-one?  Ok well it seems that the Royal Family are fair game, in fact the theatre programme for The Windsors Endgame describes them as, "The Royals – The Joke That Keeps On Giving."
Adapted from his Channel 4 television series written with the late George Jeffries, Bert Tyler-Moore has adapted this comedy programme for the stage with a cast of well known actors and singers.  Harry Enfield plays King Charles III after the present day queen abdicates.  Royalists (and I think I count myself as one as I couldn't stomach the idea of Queen Thatcher!) can be reassured that the Queen and Prince Philip are not lampooned. 
This comedy has King Charles (Harry Enfield) and Queen Camilla (Tracy-Ann Oberman) the dominatrix in charge.  Camilla has a cigarette on the go and issues bitchy remarks.  Kate (Kara Tointon) gets excited about the new Boden catalogue, as Camilla castigates Kate for shopping at high street stores.  Muggin (Crystal Condie) and Harry (Tom Durant-Pritchard) practise their yoga poses and meditate in California and Harry declares his love for Gladys his rescued battery chicken. I might have misremembered the chicken's name.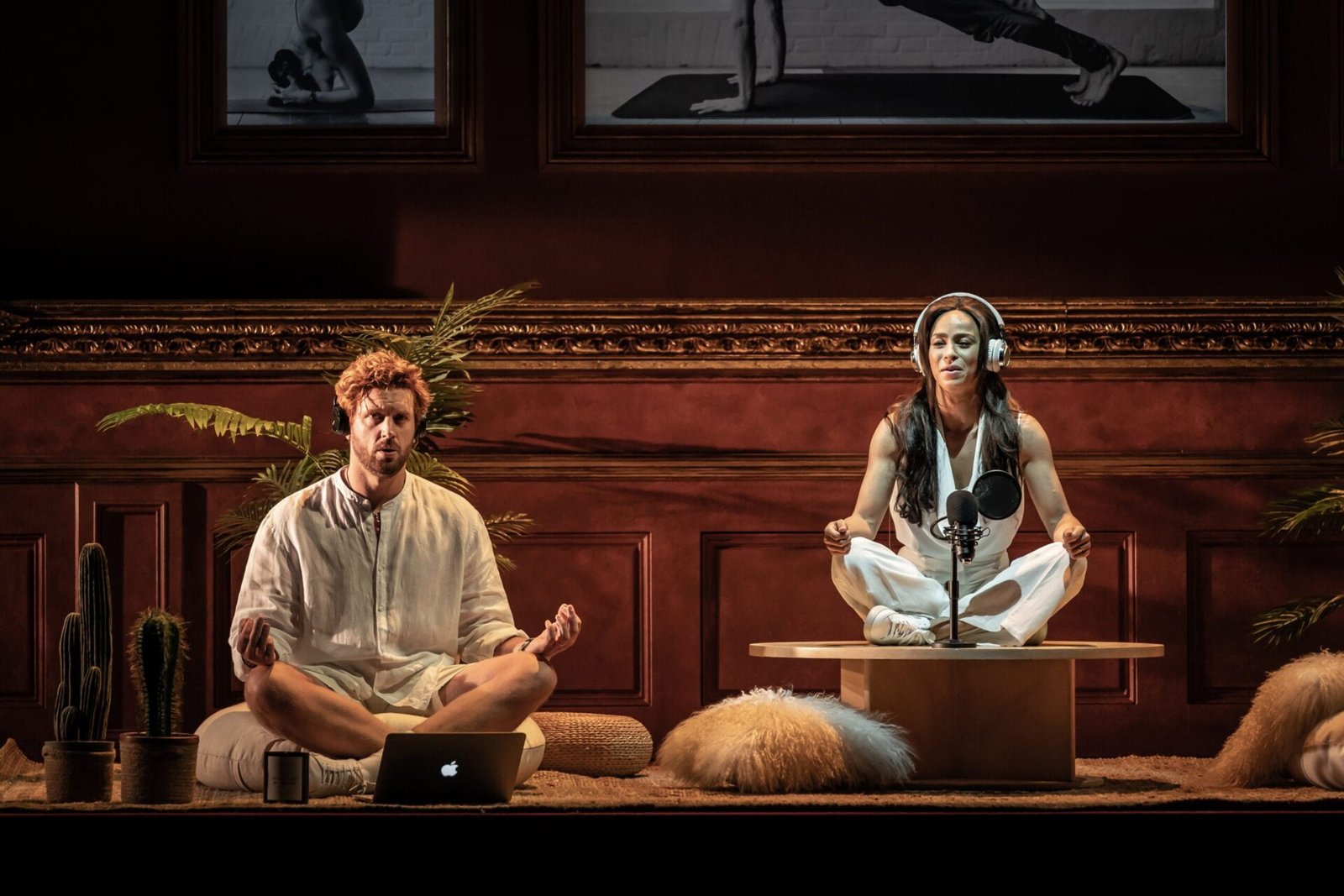 The two daughters of the Duke of York (Tim Wallers), Eugenie (Eliza Butterworth) and Beatrice (Jenny Rainsford) are trying to help their daddy, Andrew, out of the situation called Noncegate here.  Toe sucking Fergie is played by the magnificent Sophie-Louise Dann, working in America as a maid for Harry and Mahgen (no-one can get her name right). 
The scriptwriters obviously update the play daily as the night I saw, news of Andrew being sued in America had only just hit the headlines.  Acting as narrator is Prince Edward (Matthew Cottle) who also pops up as assorted footmen and butlers.  He encourages us to heckle Camilla with shouting the line,  "You've only Got One O Level".  Sadly no-one has recorded what subject this was in, I long to find out if it was PE, Embroidery or Metal work.  If you don't understand O Level it's GCSE grade A to C for anyone born after 1970.
Charles decides that he wants to be an absolute monarch and takes the country back to 1173. That is when he isn't doing a Gollum impression with the authentic looking crown.  Wills and Kate are exiled or sent on a world song and dance tour while Camilla gets 1173 wrong and instead of a wimple, dresses as the 1573 Virgin Queen, Elizabeth I.  Meanwhile Harry and Moggin practise chanting her mantra. 
Act One closes with a magnificently sung number from the whole cast. 
Act Two opens with Mogan strapped to a medieval torture wheel presumably by power hungry Camilla. We see Harry and Wills unite to rescue Maggin and Kate and she puts their differences aside about who made whom cry over the bridesmaid's dress.
The Windsors is more low comedy than high but the royal accents and curiously sounding vowels are a delight. Harry and Mogan have real lookalikes here. Forget that Kate Middleton shops at John Lewis and Waitrose rather than Asda and enjoy the joke.  Tracy Ann Oberman has all the haughtiness of Charles' demanding and conniving wife.  I particularly liked the actors playing Eugenie and Beatrice and of course, as Fergie, Sophie-Louise Dann's singing is to die for.
It was so good to be back in the Prince of Wales for the first time since lockdown and laughing, knowing we can soon see Book of Mormon again!  It is no accident that writer Bert Tyler-Moore has writing credits for Spitting Image, The Kumars and Armstrong and Miller.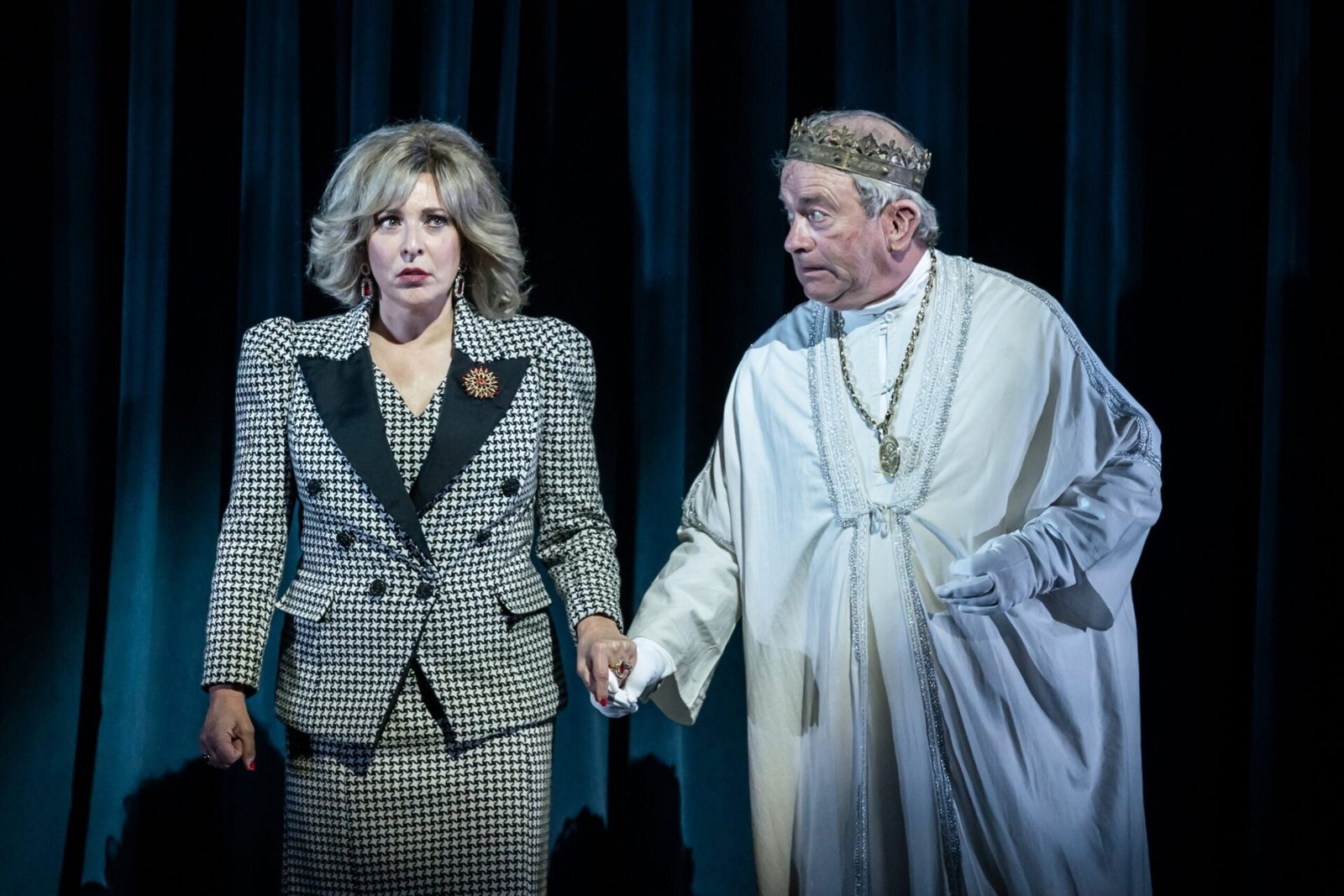 The Windsors Endgame
Written by George Jeffrie and Bert Tyler-Moore
Directed by Michael Fentiman
Cast
Starring:
Harry Enfield
Eliza Butterworth
Crystal Condie
Matthew Cottle
Sophie-Louise Dann
Tom Durant-Pritchard
Tracy-Ann Oberman
Ciaran Owens
Jenny Rainsford
Kara Tointon
Tim Wallers
With:
Emma Barclay
Joelle Dyson
Olivia Fines
Shaun McCourt
Mark McGee
Creatives
Director: Michael Fentiman
Based on the original television show produced by Noho Film
& Television and commissioned by Channel 4 Television
Set Designer:  Madeleine Girling
Costume Designer: Hilary Lewis
Movement Director: Tash Holloway
Musical Supervisor: Chris Poon
Lighting Designer: Jack Knowles
Sound Designer: George Dennis
Fight Director: Kate Waters
Flying: John Maddox for Suspended Illusions
Information
Running Time: One hour and 55 minutes with an interval
Booking to 9th October 2021
Theatre: 
Prince of Wales Theatre
Coventry St
London W1D 6AS
Tube : Piccadilly Circus
Telephone: 0844 4825138
Website: princeofwalestheatre.co.uk
Reviewed by Lizzie Loveridge at the
Prince of Wales  Theatre
on 12th August 2021