Kae Tempest rewrites Greek Tragedy
"This man is not our friend.  He is our weapon."
Odysseus
Poet Kae Tempest's work for the National Theatre is their (Tempest's) version  of Sophocles's lesser known tragedy Philoctetes here renamed Paradise.
The essence of Greek tragedy is a debatable balance between right and wrong.  In Sophocles' Philoctetes it is the rights of an individual as opposed to the greater good, often with the gods intervening to provide direction.  In the same way as to why Clytemnestra could not forgive the sacrifice of her daughter Iphigenia to provide the Greek fleet with a favourable wind, the issue in Philoctetes is whether Neoptolemus (Gloria Obianyo) should lie, breaking a code of honour, in order to secure Philoctetes (Lesley Sharp) and his bow's return to the war against Troy to fulfil the prophecy. 
When you start to look at Sophocles' plot in detail, there are enough issues to constitute a moral maze.  At the death of Heracles, his friend Philoctetes was the only one to come forward to light the funeral pyre.  In return Philoctetes was given Heracles' magical bow and arrows.  In the middle of the Trojan wars which went on for decades, Philoctetes was bitten by a snake and his leg turned rancid.   The smell was so dreadful and noxious to the other sailors and soldiers that Odysseus abandoned Philoctetes on the island of Lemnos and set sail without him.  Ten years later Odysseus returns and this is where Kae Tempest's play begins. 
The soundscape is of the ocean waves crashing on the beach with the distant beat of war drums.  A group of New Age looking women are assembled on the beach.  They talk of the helicopters and the wind. 
The Chorus here speak individually which helps clarity and Aunty (the musician ESKA) provides some song as is traditional.  They exchange herbal recipes and advice on taking turmeric with green peppercorns and Aloe Vera. 
We're told that this island was once a city but was destroyed by war.
Rae Smith's beach set is dominated by driftwood and twin structures, one the cave, the other the cliff.  They have tried to leave many times but they just can't get the visas.  Aunty, who is the one with visionary powers, foresees two strangers coming. 
Odysseus (a convincing Anastasia Hille with a British military officer's accent) arrives with a younger soldier Neoptolemus (Gloria Obianyo) and explains that they are here to fulfil a prophecy.  Odysseus in camouflage uniform and with a manly gait explains that they need Heracles' bow in order to win the war.  Neoptolemus is the son of the famous warrior Achilles and the ruse is that he will have to pretend to Philoctetes that he hates Odysseus.  This is to trick him to agree to leave the island and join the vessel sailing towards Troy.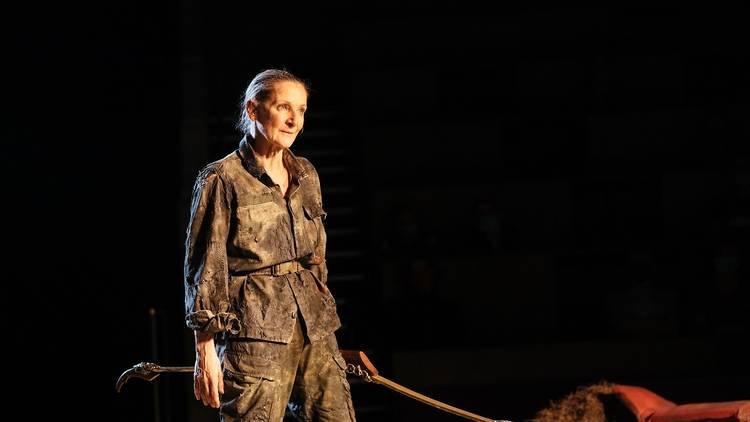 Enter Philoctetes, Lesley Sharp with blokeish stance and a gruff Cockney accent several registers deeper than her normal speaking voice as she talks of her rotting left leg.  All credit to the islanders as herbalists that she still has two legs.   I was very impressed by Gloria Obianyo's Neoptolemus.  Her super stage presence and basic honesty saw us root for her to succeed.  Lesley Sharp stays in character but the gender switch often doesn't allow enough room for other acting nuance.
Neoptolemus starts by playing his family card as the son of Achilles, to try to convince Philoctetes to leave with him.  Then, he tries flattery, then homesickness by reminding him of his wife and son.  The chorus judge Neoptolemus for lying and Philoctetes passes out in an epileptic fit.  Odysseus reappears and as he hugs Philoctetes, the islander struggles to fight him but Odysseus holds him. 
With Neoptolemus exposed as a liar Odysseus takes over the argument of persuasion offering him "aftercare" for his leg.  They place a hood on Philoctetes and bind him.  (Note: Starting to wish they were called N, O and P.)  N is called upon by O to demonstrate his contempt for P by urinating on him. 
One of the chorus, Tayir (Kayla Meikle) expresses a desire to get back to Starbucks in a Kae Tempest addition.  O has been hurt and the women dress his wound with raw garlic and oregano to enable Odysseus to say "Garlic, oregano?  I'm not a fucking pizza."   Yes we laugh but I doubt Sophocles would have.  Yasmeen (Naomi Wirthner) powers some conclusions and P offers to take Yasmeen with him.
The ending would change Greek classical history as Odysseus would not get back to the war or home but is left to rot in Philoctetes' cave on the island.  This simplistic tit for tat ending is a bad idea.
Paradise
Written by Kae Tempest
Directed by ian Rickson
Cast
Starring:
Anastasia Hille
Gloria Obianyo
Lesley Sharp
The Chorus: 
Claire-Louise Cordwell
ESKA
Amie Francis
Sutara Gayle
Jennifer Joseph
Sarah Lam
Penny Layden
Kayla Meikle
Naomi Wirthner
Creatives
Director: Ian Rickson
Designer: Rae Smith
Movement: Coral Messam
Music: ESKA and Stephen Warbeck
Lighting Designer: Mark Henderson
Sound Designer: Christopher Shutt
Fight Director: Terry King
Literal Translator and Classical Advisor:  Dr Helen Eastman
Information
Running Time: One hour and 50 minutes without an interval
Booking to 11th September 2021
Theatre: 
Olivier Theatre 
National Theatre
South Bank
London SE1 9PX
Tube/Rail : Waterloo
Website: nationaltheatre.org.uk
Reviewed by Lizzie Loveridge at the
Olivier Theatre at a matinée performance
on 14th August 2021