Escape to and from Tunisia
"Spain was our home until it wasn't,
Russia was our home until it wasn't,
Germany was our home until it wasn't,
France was our home until it wasn't,
Tunisia was our home.."
Loys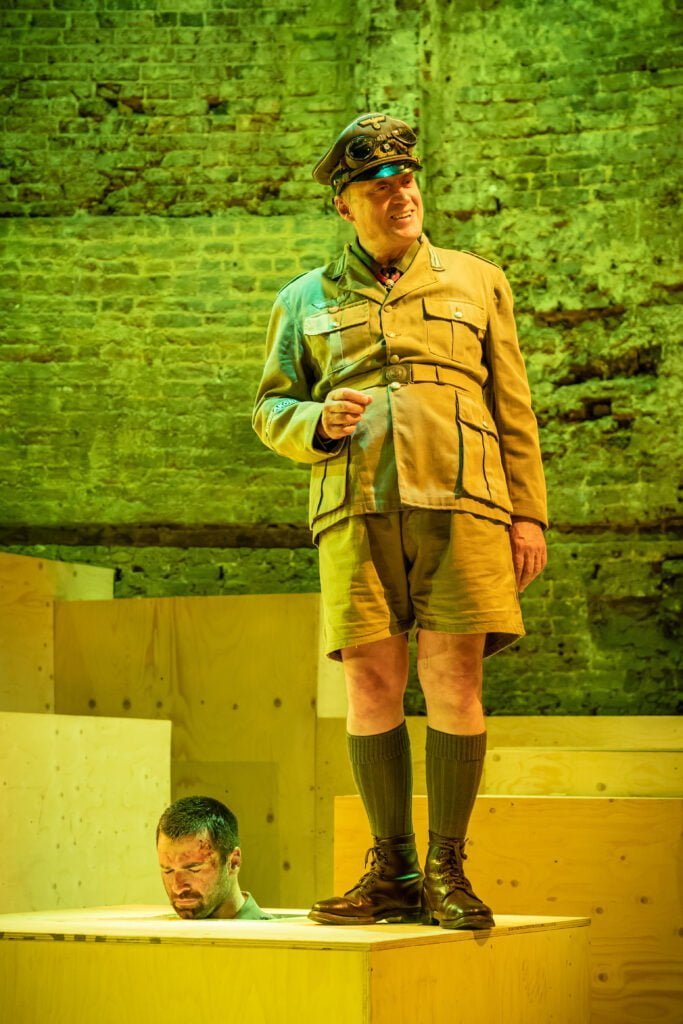 You can rely on Snapdragon Productions to present a play full of intrigue and dark humour. Written by Josh Azouz, Once Upon a Time Under Nazi Occupation in Tunisia receives its world premiere at the Almeida directed by Snapdragon's Eleanor Rhode. 
Max John's set is dominated by a sweltering hot sun with unvarnished, stepped wooden boxes representing the desertscape.  Here we first meet Victor (Pierro Niel-Mee) a newish Jewish resident of Tunis, imprisoned under Nazi occupation.  His jailer is Youssef (Ethan Kai) a Tunisian Arab. Some of the Jews in Tunisia have escaped to North Africa from the German invasion of Europe. 
We hear that one of Victor's Jewish friends has gone to Cape Town and this is met with hollow laughter.  I remember a Jewish witness against the man accused of being Adolf Eichmann in Robert Shaw's 1967 play The Man in the Glass Booth being asked where he lived now, and was he doing well?  Cape Town and Yes were his answers, cynically received.
Youssef and Victor knew each other before Victor was incarcerated and Youssef continues to try to help Victor although as an employee of the Nazis, he is a collaborator.  Youssef is under orders from a puny but vicious German called Little Fella (Daniel Rainford) and the commanding officer (Adrian Edmondson).
It appears that the German commanding officers in Tunisia were known only by nicknames, "Grandma", "Memento" and "The Killer".   Could it be that these officers "following orders" were aware as to the severity of the war crimes that would be levelled against them in the event of their losing the war, and, deliberately chose anonymity?
Adrian Edmondson's chilling and slyly humorous, camp (no, not the concentration camp but a camp manner) commandant is called Grandma because he sits in a corner knitting in the evenings.  His real name is unknown.  Edmondson's performance, full of easy patter, is sinister and makes you shudder as you laugh, a not entirely comfortable feeling.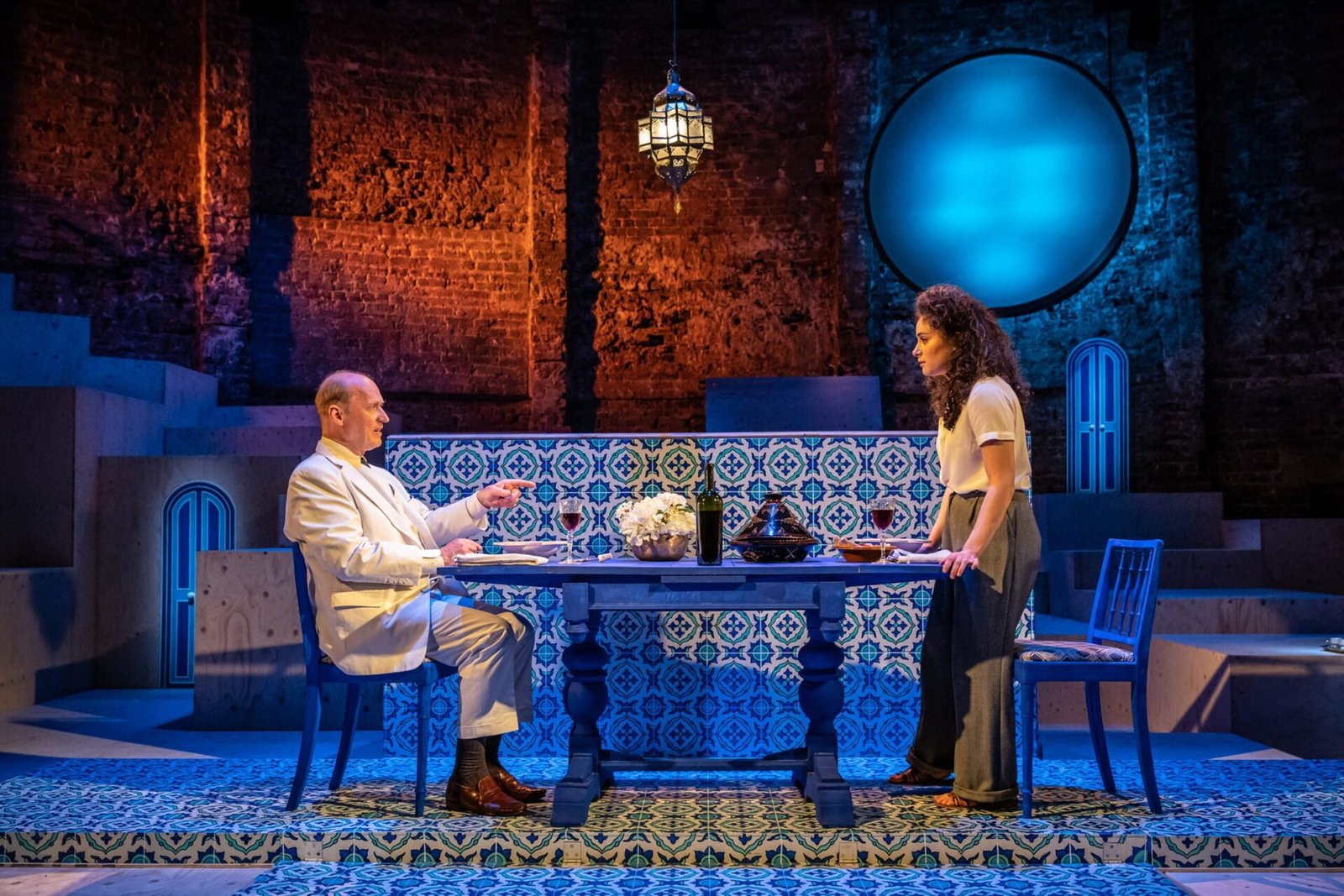 Youssef's wife Faiza (Laura Hanna) and Victor's wife Loys (Yasmin Paige) are friends, their conversation on intimacy, fashionable smoking and American movies.  They show the similarities between Jewish and Arabic women. As the men discuss, Victor quotes some verse and Youssef says, "Don't quote the Koran at me!"  Victor says, "It's the Talmud."  
Grandma is trying to find out Victor's wife's name and where she lives so that he can torment Victor with a plan to visit her for supper and implied …. dalliance is too gentle a word for what Victor imagines might happen.  In the countryside Jewish women are hiding down wells from the Germans. 
Victor comes back and they discuss where to escape to and Youssef points out that Palestine already has Palestinian inhabitants but Loys says they can all live together.  We have the benefit of hindsight.
There are several layers to Josh Azouz's play, the Tunisian Arabs hope the Germans will be liberators, they call them the blondes.  The Jews have already escaped from elsewhere and need a homeland, Loys delivers a litany of those countries which were home until they weren't. Grandma onstage is a menace waiting to pounce.  Loys has a guilty secret.   The German threat is not just the concentration camps but on an individual level as Grandma gets to Loys' house and demands supper. 
The set is beautifully lit by Jess Bernberg so we get an idea of the colours of Tunisia and Victor and Loys's house is coolly blue and white tiles. Eleanor Rhode gets good performances from all.  Adrian Edmondson is the one you don't want to invite himself to supper!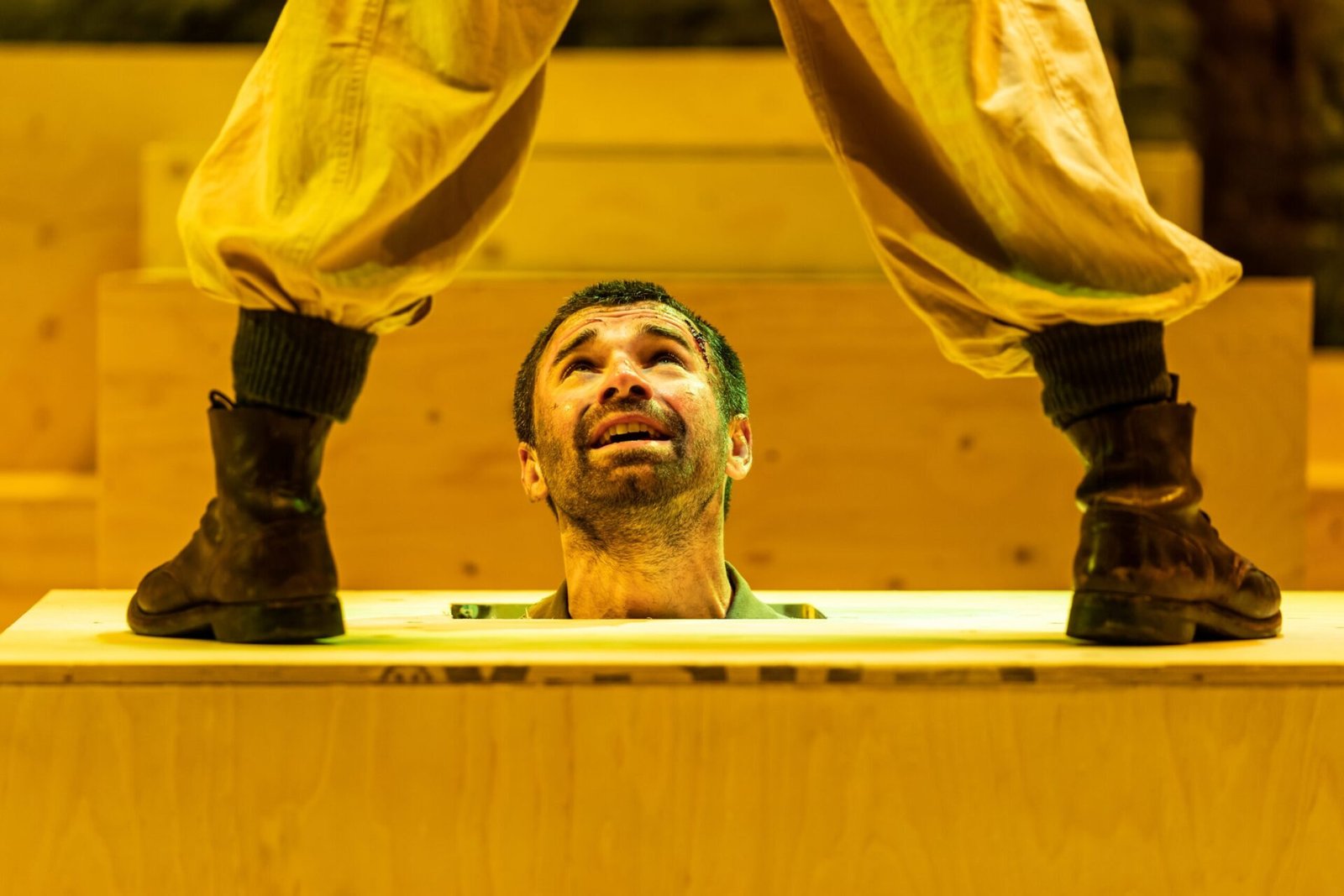 Once Upon a Time in German Occupied Tunisia

Written by Josh Azouz
Directed by Eleanor Rhode
Cast
Starring:
Adrian Edmondson
Ethan Kai
Yasmin Paige
Laura Hanna
Pierro Niel-Mee
Daniel Rainford
Creatives
Director: Eleanor Rhode
Designer: Max Johns
Lighting Designer: Jess Bernberg
Sound Designer: David Gregory
Fight Director: RC Annie Ltd
Information
Running Time: Two hours and 30 minutes with an interval
Booking to 18th September 2021
Theatre: 
Almeida Theatre
Almeida Street
Islington
London N1 1TA
Tube : The Angel
Telephone: 020 7359 4404
Website: almeida.co.uk
Reviewed by Lizzie Loveridge at the
Almeida Theatre 
on 27th August 2021