Frozen exceeds expectations in an icy fairyland
'Cause for the first time in forever
There'll be music, there'll be light
For the first time in forever
I'll be dancing through the night
Lyric from "For the First Time in Forever" sung by Anna 
Frozen the West End Musical, is the most anticipated musical for girls aged 4 to 10 years old.  They tend to be familiar with both Disney films of Frozen and if you want to know the characters and the plot ask any five year old.  Set in Norway in the kingdom of Arendelle, talented Michael Grandage directs and Christopher Oram designs magical sets and costumes on the icy theme.
We open in summer with the residents of Arendelle dancing round a maypole but they don't do the ribbon plaiting which is so hard to achieve when you're trying to organise child maypole dancers.  The song is "Vuelie", sung in Norwegian.  To give you an idea here is the first verse,
"Na na na heyana
Hahiyaha naha
Naheya heya na yanuwa
Hanahe yunuwana."    
I don't think I'll be rushing out for my Babbel online Norwegian language course any time soon!  I have Quora to thank for this explanation, " The song "Vuelie" is meant to be a combination of Sami yoiking and a more shortened rendition of the Sami choral song "Eatenemn Vuelie", written and composed by the Norwegian Sami musician Frode Fjellheim."  Sami is a Norwegian dialect and the effect of Vuelie is a chant in the spirit of "Sanctus" from the Congolese Missa Luba sung in Lindsay Anderson's  film If…   The Sami yoik is a kind of Shamen chant associated in Frozen with the Mountain men, the trolls.  The lyric is "Beware the frozen heart."  I suspect I may have lost my six year old readers at this point if they are not hiding behind the sofa at the mention of trolls!
Scene two is a delight in the royal princesses' bedroom where Young Elsa (Sasha Watson-Lobo) and her naughty little sister Anna (Summer Betson) are playing to "Let the Sun Shine On".  Serious Elsa is already preparing herself for the responsibility of being a future queen but Anna is loads of fun, cute and cheeky.  Together they build a snowman in the bedroom out of cotton and wool, a carrot for a nose, with sticks for arms and big eyes, which will become the lovable character Olaf (driven by Craig Gallivan).  The song is "A Little Bit of You and a little bit of me," where Elsa sings about her hidden magical and dangerous powers as they put together Olaf. 
Anna is hurt accidentally as Elsa's magic knocks her out.  The mountain men with eerie yellow eyes and green collar lights come to the rescue and explain that they can help because ice has been lodged in her head but they can't help frozen hearts.  Pabbie (Joshua St Clair) and Bulda (Emily Mae) ensure Anna thankfully recovers and she is seen later riding around on a penny and two farthings tricycle (or would that be krone coins?)
The song "Do You Want to Build a Snowman?" sees the girls grow up and the adult actors take over, Samantha Barks as Elsa and Stephanie McKeon as Anna. Their parents have been lost at sea in a violent storm scene and now there has to be a coronation.   
The gates of the palace open and we see the adult sisters together in winter clothes with dark panelled walls, Scandinavian painted flowers on wood, and purple banners with gold insignia. The reawakening song "For the First Time in Forever" features here as the palace welcomes people in.  I think this is the first time we meet Sven the reindeer (Ashley Birchall and Mikayla Jade), who for me is the star of the show in another design coup but more of Sven later.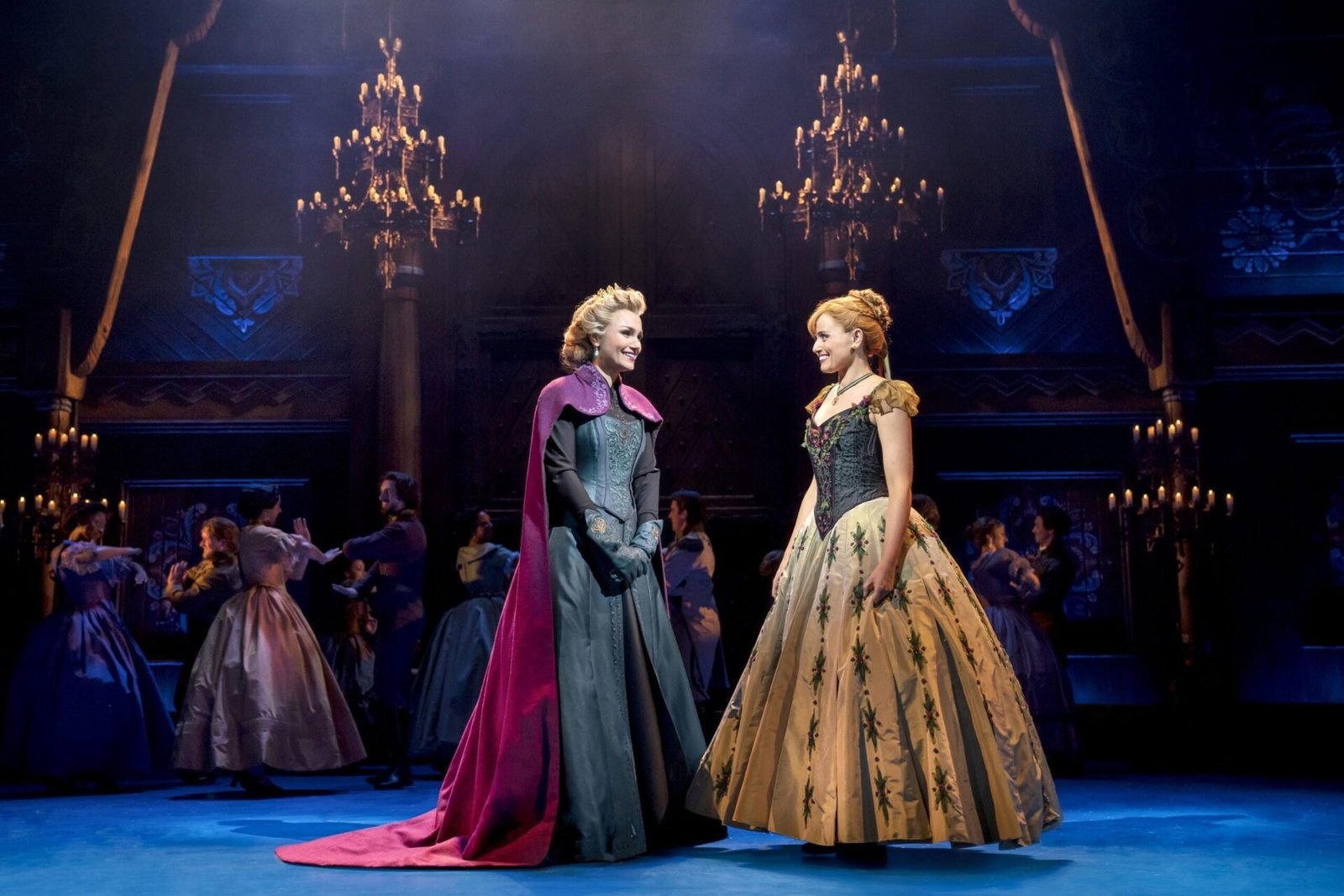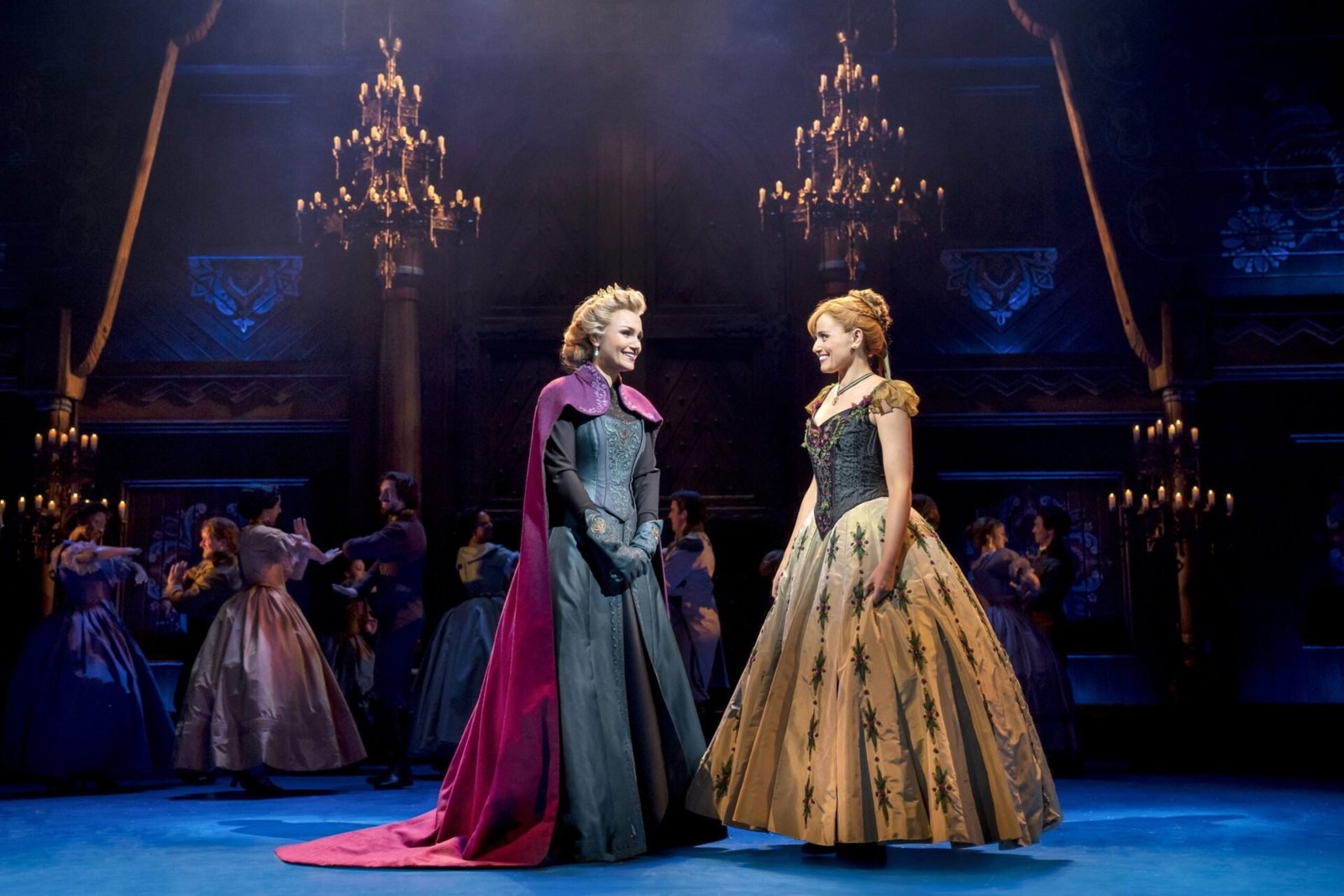 Anna is looking for a prince and as we all cringe as the Duke of Weaseltown, he corrects us to the pronunciation Weselton (Richard Frame), says to Anna to let him tempt her to a tango.  We meet Hans (Oliver Ormson) the 13th son of the King of the Southern Isles whom Anna falls for.  A beautiful dance scene takes place between them on a terrace lit by lanterns. 
Elsa's soaring song "Dangerous to Dream" when she explains her secrecy is really sad and moving.  She must wear gloves as her touch turns everything to ice.  Anna asks for her sister's blessing to marry Hans which is refused but Anna still doesn't know why Elsa is so distant.  Elsa unleashes her powers accidentally and is called a monster by Weselton.  Elsa leaves Arendelle, running away to live the life of a hermit in her ice palace.Anna sets out to find Elsa leaving Hans in charge of the Arendelle Palace. 
On Anna's journey she gets lost but at Wandering Oaken's outpost store she meets ice man Kristoff (Obioma Ugoala) and Sven the cuddly reindeer.  Kristoff sings "Reindeers are better than People" and Christpher Oram fills his design with reindeer. In "What Do You Know about Love?" Kristoff warns Anna about Getting Married at First Sight (Norway). 
There is a huge reception for Olaf as he shares his "In Summer" fantasy with flying bees on rods in a contrasting sunshine beach scene.  The First Act closes with Elsa's magnificent showstopper "Let It Go" with snowflakes exploding like giant fireworks and a costume change in a flash of magic and she appears in her crystal blue frock.  It is a jaw dropping design moment!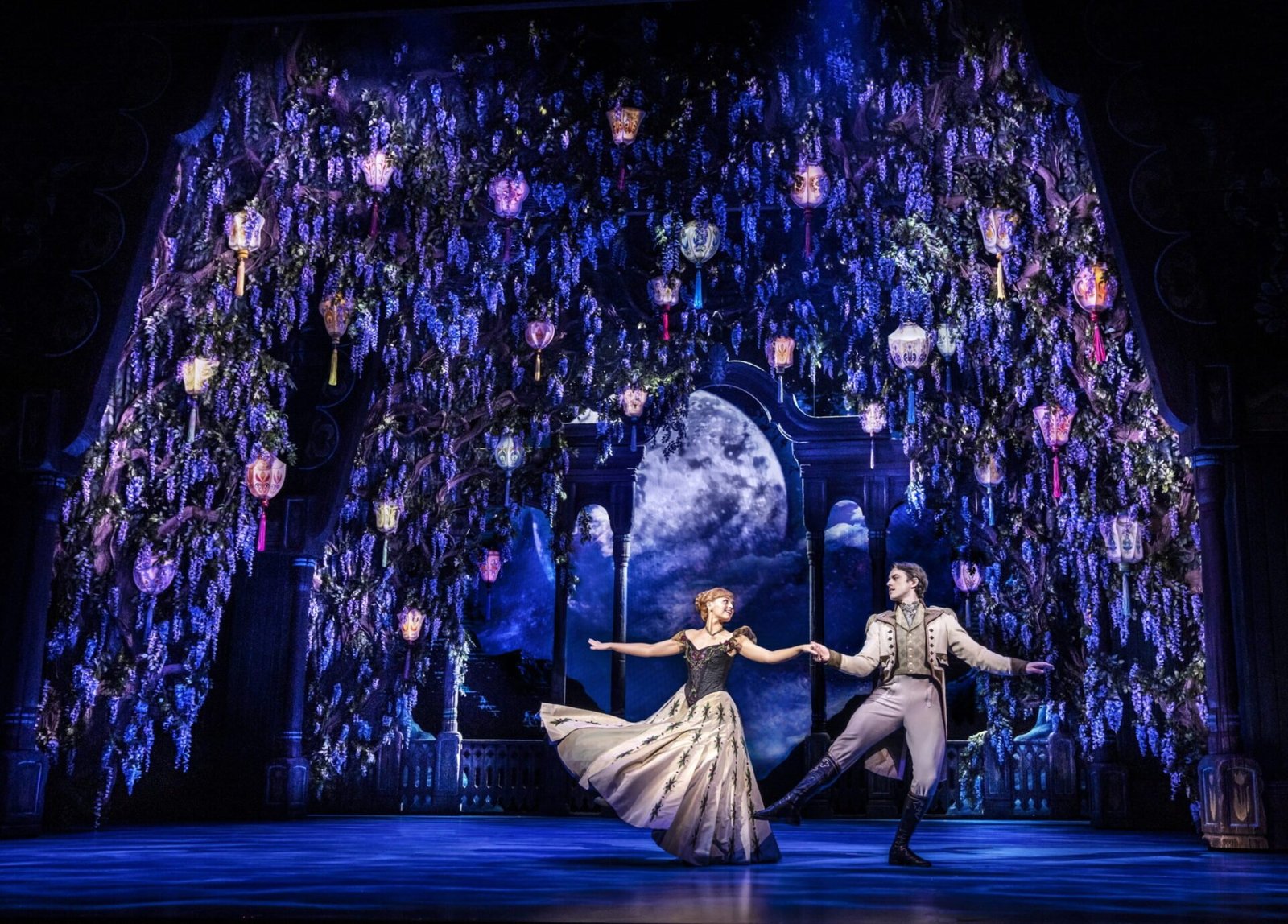 Act Two goes back to the story's Norwegian roots with "Hygge" (prounced Hoog-ah) which is almost untranslatable but is a sense of well being, like the feeling you get from a hug but without the physical touch.  Olaf is welcomed as the little boy in the snowman costume!  Out of the sauna come the locals using the birch brooms to cover their naughty bits in the vaudeville tradition of a balloon dance.  Hilarious!  This energetic dance was a highlight of the show for me with some well deserved humour. 
Anna and Elsa reprise "Let It Go" but Anna suffers from Elsa's icy touch but this time the ice is in her heart.  The Mountain people say the only cure is true love and Anna rushes back to Arendelle to find Hans.  He is a great disappointment and has never recovered from having 12 heirs ahead of him to a very small kingdom on a very small island in the Southern Isles.  Elsa was unaware that she had cast Arendelle into perpetual winter but the love between the sisters thaws every snow scene and down come the icicles.
How refreshing to have a Disney film that doesn't end with a marriage! There is much to entertain and please adults in this show but your six year olds may need the stamina for a two and a half hour spectacle with brilliant singing and performances.  However many will be pleased that the scary Marshmallow monster does not figure in the UK musical.  Casting Samantha Barks and Stephanie McKeon with their acting ability and contrasting singing voices is a master stroke.  Rob Ashcroft's choreography is fun and Norwegian but not especially innovative but I did enjoy the sauna dancers.
The Theatre Royal Drury Lane has had a magical makeover from Andrew Lloyd Webber with more leg room, with magnificent interior paintings and the ability to stage a show completely in the round.  
I was privileged to see Frozen on Gala night and as if there wasn't enough excitement, when we came out of the theatre it was snowing, in early September!  Little girls were there with yummy mummies holding up their Elsa dresses to stop them tripping over.  Well done Cameron Mackintosh!  
Michael Grandage and Christopher Oram are a magical pair!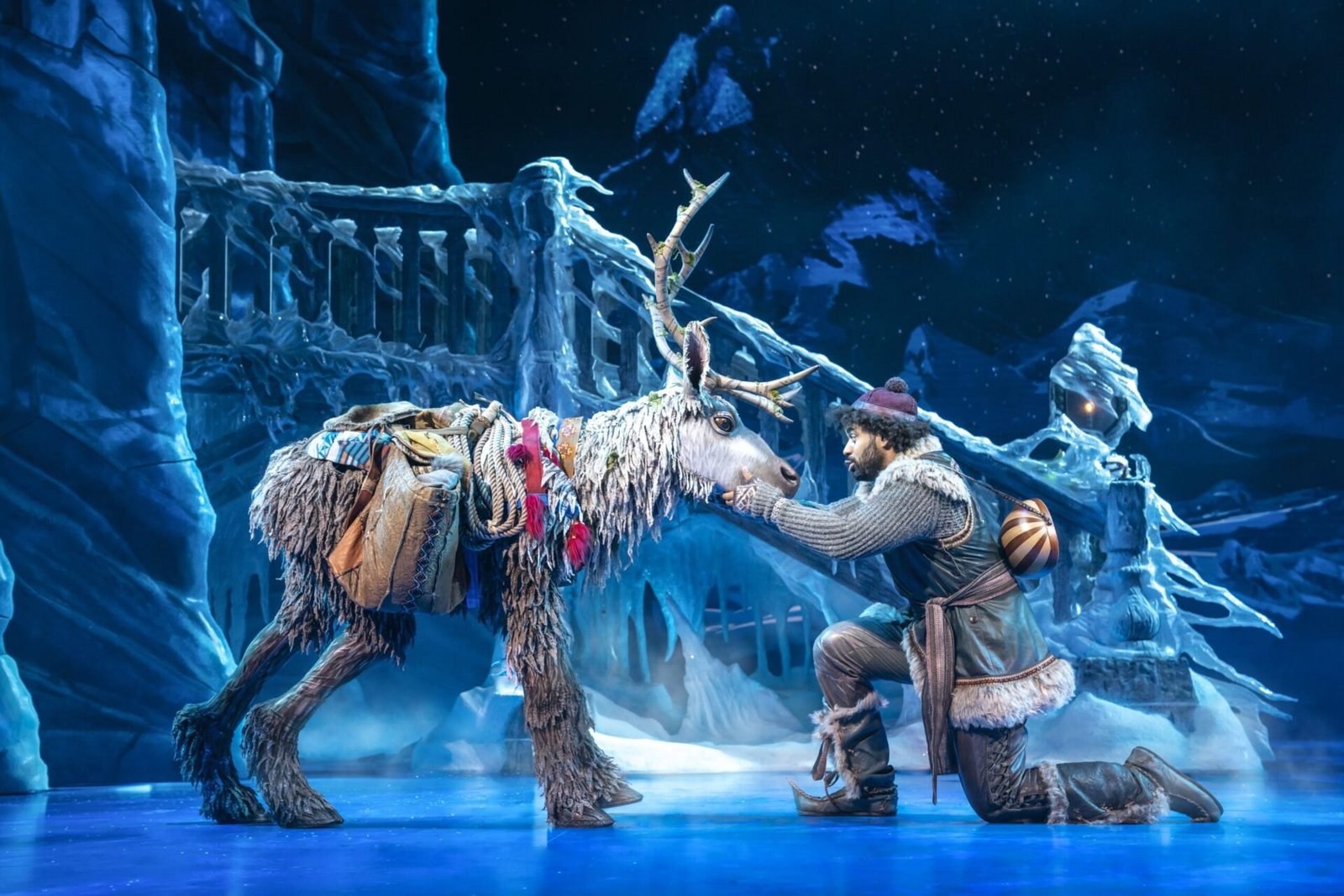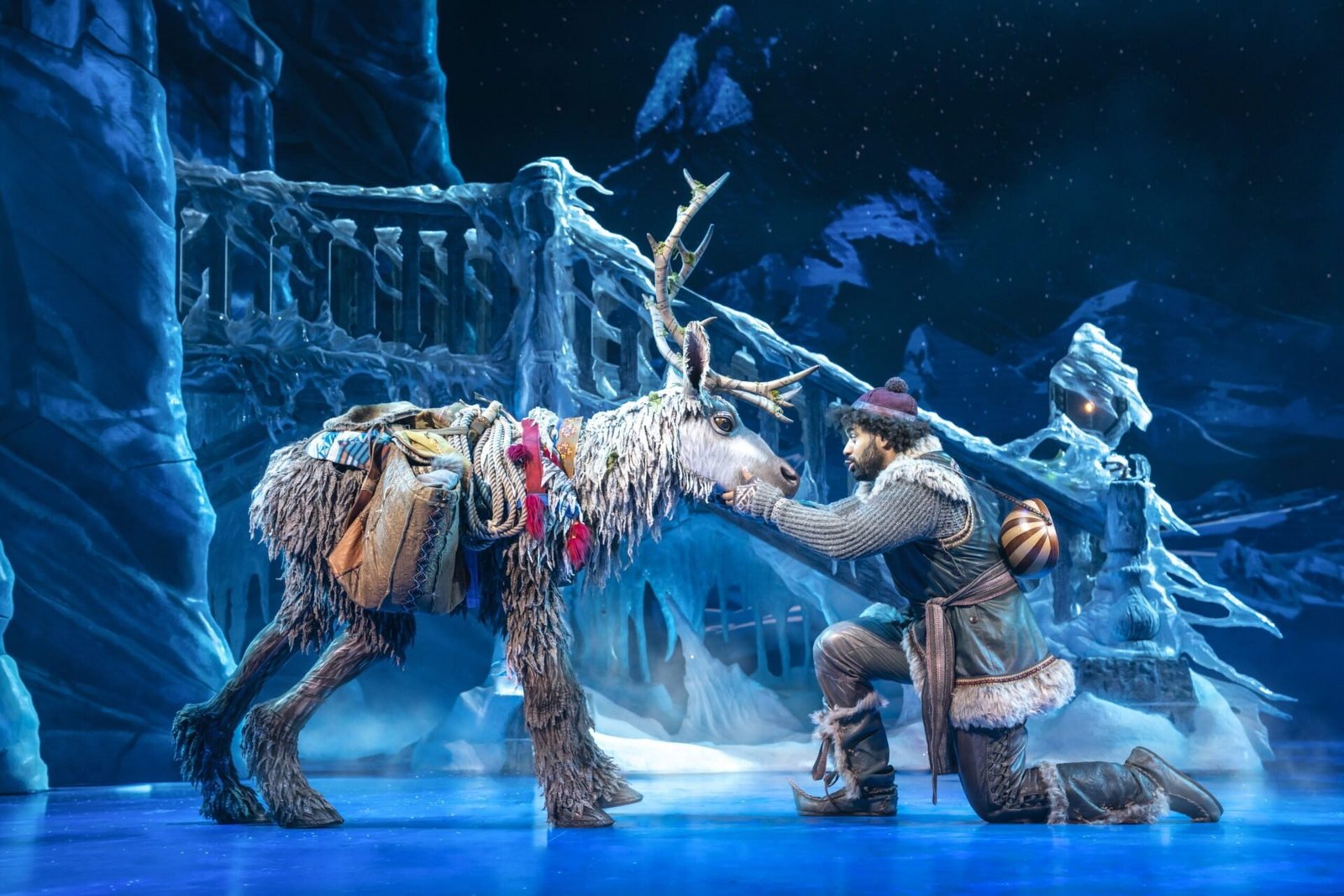 Act One
Opening/Vuelie
Let the Sun Shine On
A Little Bit of You/Northern Lights
Do You Want to Build a Snowman?
For the First Time in Forever
Hans of the Southern Isles
Dangerous to Dream
Love Is an Open Door
Reindeer(s) Are Better Than People
What Do You Know About Love?
In Summer
Hans of the Southern Isles (Reprise)
Let It Go
Act Two
Hygge
Let It Go (Reprise)
I Can't Love You
Fixer Upper
Kristoff Lullaby
Monster
Colder by the Minute
Finale
Frozen 
Music and Lyrics Kristen Anderson-Lopez and Robert Lopez
Book: Jennifer Lee
Based on the Disney film written by Jennifer Lee and directed by Chris Buck and Jennifer Lee
Directed by Michael Grandage
Designed by Christopher Oram
Choreographed by Rob Ashton
Cast
Starring:
Obioma Ugoala
Richard Frame
Ashley Birchall
Mikayla Jade
Minaii.K
Freya Scott
Sasha Watson-Lobo
Young Anna
Summer Betson
Asanda Abbie Masike
Karon Narumi
Ellie Shenker
With: 
Emily Mae
Gabriel Mokake
Joshua St.Clair
Jacqui Sanchez
Jak Skelly
Jason Leigh Winter
Anna Woodside
Ensemble:
Cameron Burt
Hannah Fairclough
Danielle Fiamanya
Chris Fung
Joe Griffiths-Brown
Emily Lane
Jacob Maynard
Leisha Mollyneaux
Sarah O'Connor
Jake Small
Isabel Snaas
Monica Swayne
Swing
Jeremy Batt
Lauren Chia
Laura Emmitt
Matt Gillett
Justin-Lee Jones
Jemma Revell
Kerry Spark
Creatives
Director: Michael Grandage 
Choreographer: Rob Ashton
Scenic and Costume  Designer: Christopher Oram
Musical Supervisor and Arrangements: Stephen Oremus
Lighting Designer:  Neil Austin
Sound Designer:  Peter Hylenski
Video Design: Finn Ross
Puppet Design: Michael Curry
Hair Design: David Brian Brown
Make-Up Design: Ann Ford-Coates
Orchestrations: Dave Metzger
Musical Director: Adam Rowe
Vuelie song written by Frode Fjellheim and Christophe Beck
Information
Running Time:
Two hours 30 minutes with an interval
Booking until 26th June 2022 
Theatre:
Theatre Royal Drury Lane 
Catherine Street
London WC2B 5JF
Box Office:  
Website: Frozen the Musical
Tube: Covent Garden
Reviewed by Lizzie Loveridge
at the Gala performance  
at the Theatre Royal Drury Lane
on 8th September  2021