Astonishing production at the Menier of Indecent
"I believe the purpose of theatre is to wound our memory so we can remember."
Playwright Paula Vogel writing about her play Indecent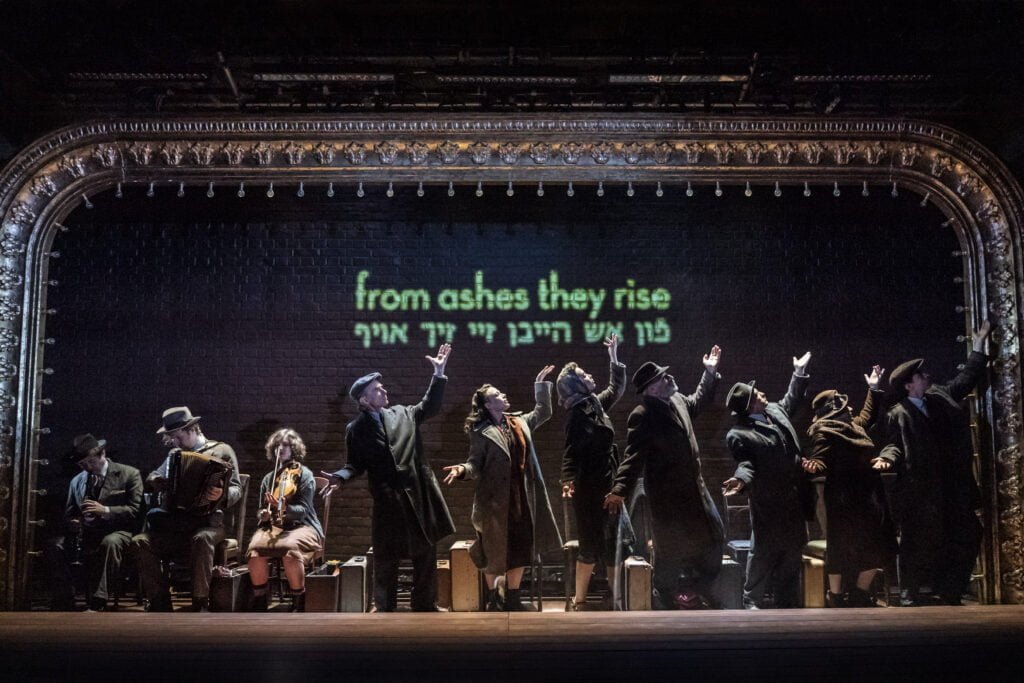 Seated in overcoats in a line of chairs along the back of the stage is the cast of Indecent.  As they are introduced by the narrator Lemml (Finbar Lynch), they raise their closed hands which are full of sand, which falls to the floor catching the light and creating an unforgettable image of change and time elapsing. Is the sand ashes? They start to dance with sand still falling from their clothes to the band of three, an accordion, a bass clarinet and a violin.    
Indecent  is written by Paula Vogel detailing the many true events that occurred around the real life play, God of Vengeance.  Indecent takes place over half a century.
The klezmer music and choreography take this involving production to another level of emotional impact.  It is 1907, we are in Warsaw and playwright Sholem Asch has arranged a reading of his play God of Vengeance (Got Fun Nekome in Yiddish) in the presence of the founding father of modern Yiddish literature, I L Peretz (Peter Polycarpou). 
The plot of Asch's play God of Vengeance was interpreted by Peretz as misrepresenting Jewish piety and he advises Asch to burn it.  The problem is this, the play's characters, Yankl Tshaptshovitsh (Peter Polycarpou) and his wife Soreh (Beverley Klein) run a brothel and his virgin daughter Rivkele (Molly Osbourne) is Yankl's most precious possession.  He wants a good marriage for his daughter and commissions a scroll of the Torah to watch over her and recruits a matchmaker. 
His daughter is seduced by Manke (Alexandra Silber), his most attractive prostitute and biggest draw for customers, into a Lesbian relationship in a remarkably lyrical scene set in the rain.  When Yankl asks Rivkele whether she is a virgin, she says " I do not know".  In a furious rage, Yankl casts out his wife and daughter throwing the huge Torah scroll after them.  So we have a dual problem here of Jewish image in Yankl's brothel keeping and the then outrageous, physical Lesbian love story.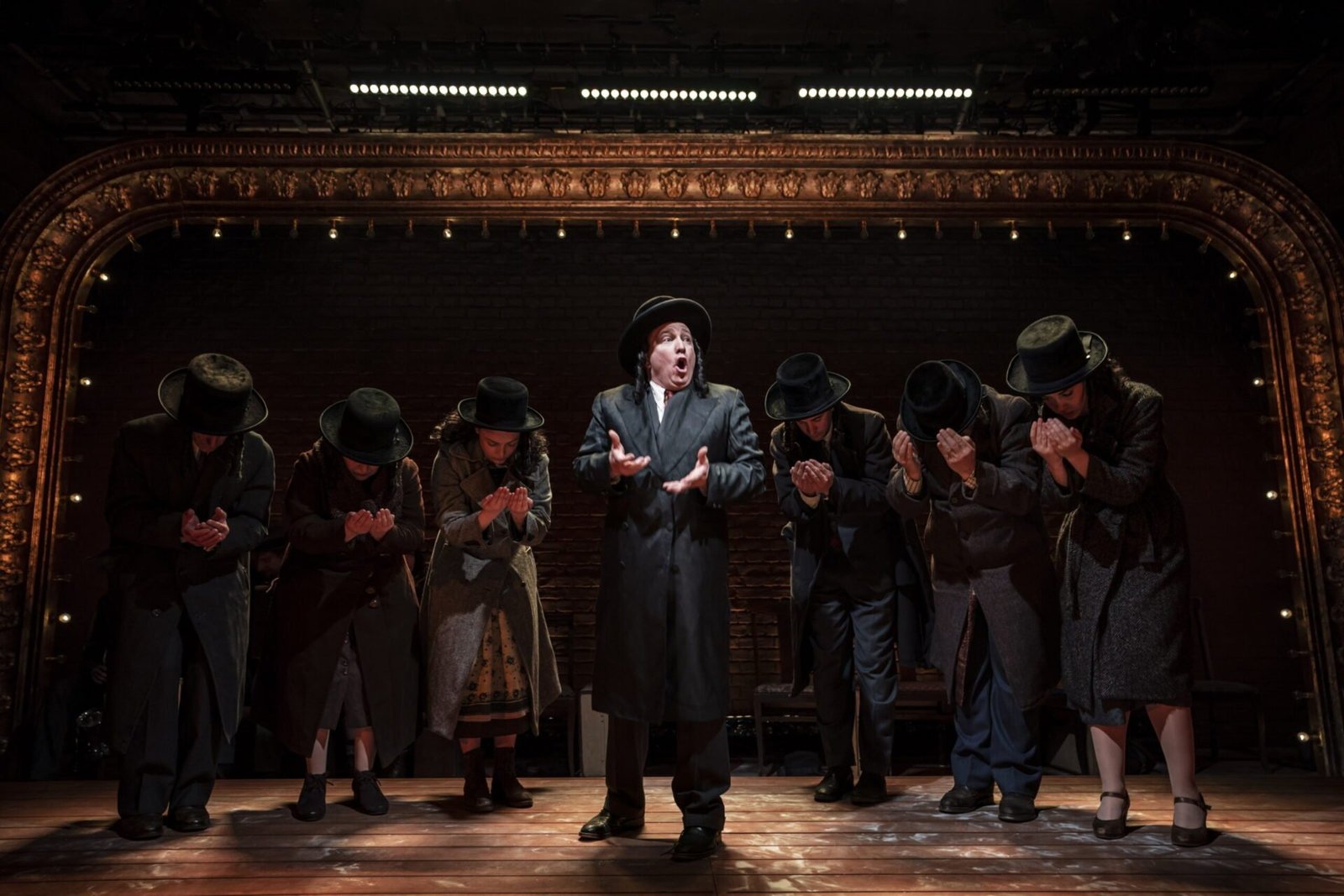 Scenes of the play Indecent dip in and out of Sholem Asch's story with his wife Magda (Molly Osbourne), and often incorporating the same repeated scene from God of Vengeance  as it is performed across Europe.  Someone suggests, "Like the kosher from the traif, keep the two worlds apart!"  We go on a thrilling tour of Europe to 1907 Berlin with its licentious Cabaret decadence, to St Petersburg in 1911 to Constantinople in 1914 with God of Vengeance.
In 1920, the scene changes to American immigration controls at Ellis Island, New York, people wearing labels with an identification number.  Later, the whole cast in Hasidic male dress kick dance and tear off their payos or ringlets and shave their beards to fit in with Americans.   Asch's play is produced in Yiddish at The Bowery in New York.  In 1922 there is a transfer of the play but this time in English, opening at Provincetown Playhouse. 
The rain scene is censored by the US producers.  Asch goes back to Europe in 1923 and witnesses the pogroms but refuses to talk about this.  In New York the play's producers and cast are prosecuted for obscenity and they are found guilty, but the verdict is later overturned on appeal.   In a most effective staging in this very visual piece, the words of the guilty verdict are reproduced on a slide, white letters on black and projected across the full height and width of the stage and the row of defendants.  Later in the play a similar projection is used with Yiddish script.  Asch is the first Yiddish writer to be nominated for the Nobel Prize. God of Vengeance plays in the Warsaw Ghetto and we see two women escape from the concentration camp transport.   The Aschs move to London in 1952 after the House Un-American Activities Committee digs up Sholem Asch's brief flirtation with communism many years before.
Finally we get to see the rain scene where Manke and Rivkele come together in their nightdresses in the pouring rain, real rain and real puddles flooding the stage.  
Indecent had me on the edge of my seat with its whirling choreography and historical events.  The ensemble performances are stellar and Rebecca Taichman's direction is full of clarity. 
Highly recommended.
Indecent
Written by Paula Vogel
Directed by Rebecca Taichman
Cast
Starring:
Finbar Lynch
Cory English
Beverley Klein
Molly Osborne
Peter Polycarpou
Alexandra Silber
Joseph Timms
The Musicians:
Merlin Shepherd
Anna Lowenstein
Josh Middleton
Creatives
Director: Rebecca Taichman
Choreographer: David Dorfman
Set Designer: Riccardo Hernandez
Costume Designer:  Emily Rebholz
Lighting Designer: Christopher Akerlind
Sound Designer UK: Jonathan Everett
Sound Designer US: Matt Hubbs
Musical Supervisor: Lisa Gutkin
Musical Director: Merlin Shepherd
Projection Designer:  Tal Yarden
Music: Lisa Gutkin and Aaron Halva
Fight Direction: Kevin McCurdy
Indecent was produced
by the Vinyard Theatre
New York City Spring 2016
Information
Running Time: One hour 50 minutes without an interval
Booking to 27th November 2021
Theatre: 
Reviewed by Lizzie Loveridge at the
Chocolate Factory on 15th September 2021