NW Trilogy - Three plays set in North West London looking at communities from Ireland, the Caribbean and East Africa
"Crows will peck my liver and in the morning the bin men will heave me away."  
Sean Boyce
All three plays feature people coming to live in or near the London Borough of Brent in North West London.
Together they tell us about the diversity of today's demographic in this part of London.
The set, a telephone box with a poster about Enoch Powell and his " Rivers of Hate" speech ties all three plays together.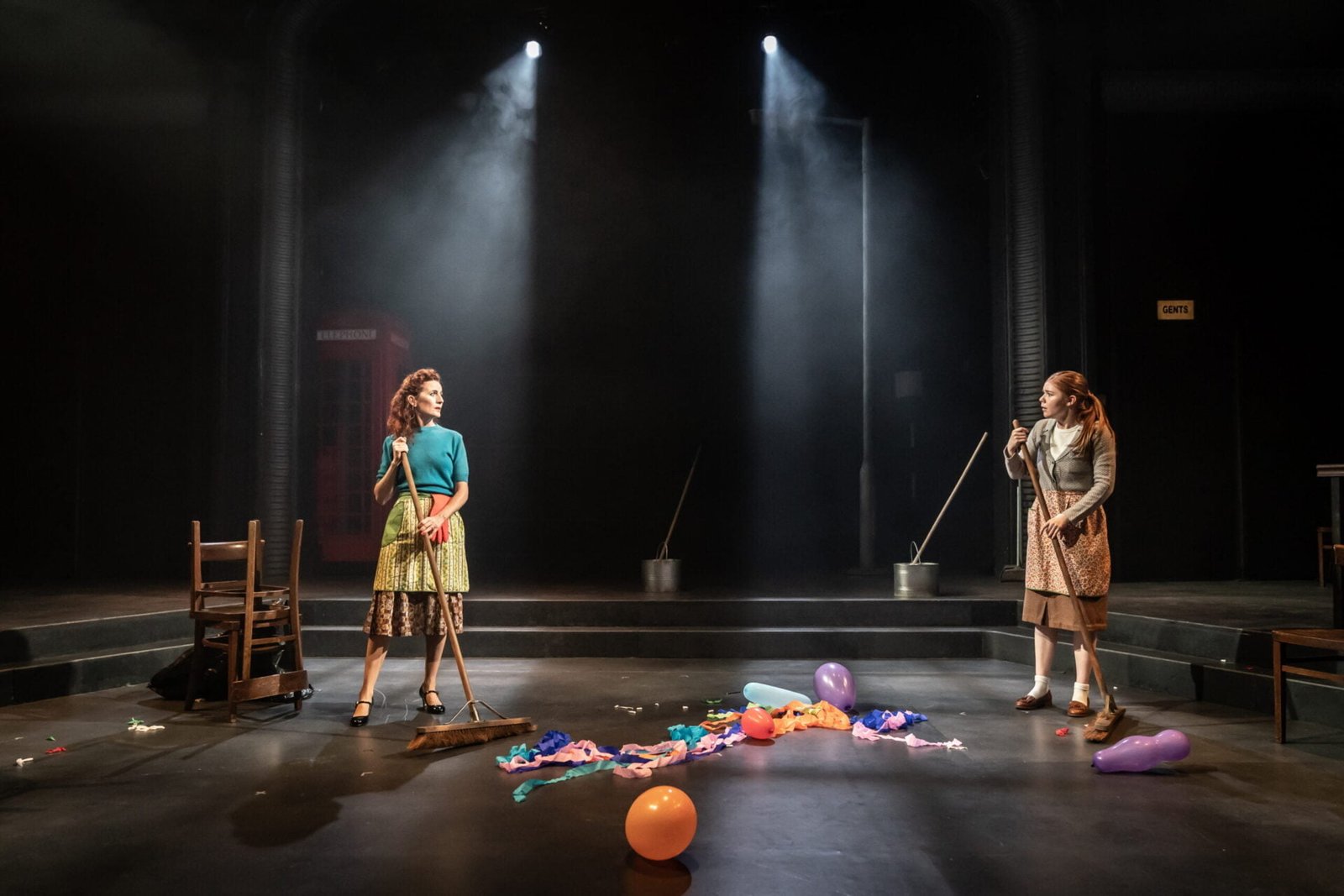 Dance Floor
In Dance Floor by Moira Buffini Aoife (Claire Keenan) has just arrived from Ireland and is desperate for a job.  Cleaner Katie Reardon (Aoife McMahon) is trialling her for a job cleaning the local dance hall in Cricklewood. Both Katie and Aoife are from Southern Ireland.  Katie's description of cleaning the men's toilets is gruesome but she stresses wearing rubber gloves! 
Katie talks about the acts who perform at the hall and Aoife is thrilled to think that the Irish crooner Val Doonican was there.  Aoife expresses the racism of one who has never before seen a black person and Katie freezes her out.  Katie guesses why Aoife, eldest of nine,  has come to England without telling her family, and Aoife describes the laundry she was sent to work in, in Ireland.  Those Catholic run homes for "fallen girls" have been exposed in the media as cruel and exploitative as babies were sold to prospective adopting parents, regardless of their mother's wishes. 
Katie's daughter Veronica (Harmony Rose Bremner) will call to tell her mother that it's Parents' Evening at the school.  We see Veronica is mixed race and for a moment question whether this is colour blind casting?  We understand why education for Veronica is so important for her mother.  
Sean Boyce (Emmet Byrne) will come into the hall looking for something he lost the night before.  He was very, very drunk and has lost something very valuable and tempting for anyone short of money.  Sean is also from Ireland and I was moved by the burgeoning connection  between Aoife and him.  
An energetic music and dance scene marks the interval between the first two plays but Enoch Powell's racist speeches are full of venom and foreboding.  
Life of Riley
"I'm not saying it's right.  It's just what we do."
Riley
In Roy Williams' play Life of Riley  Riley, a man in his forties from the Caribbean is meeting with his daughter Paulette whom he hasn't seen since she was three and a half.  She is now 19 and lives with her white mother in Amersham, a country town 21 miles from Kilburn. 
Riley is a musician with an anthropomorphic guitar called Barbara.  Barbara is the love of his life.  He is waiting next to the telephone box for a phone call about playing at the Notting Hill Carnival.  He has no appreciation as to what his daughter might need and Chris Tummings puts in a blinding performance of a feckless and irresponsible father.  
This is not the happy ending the Long Lost Family producers might hope for.  Paulette tells us about her experience growing up and not being dark enough to fit in with black friends and too dark for white friends.  Bremner's performance is edgy and damaged.  
Eventually Paulette sings and Riley realises they do have something in common.  They almost argue again as she asks him why he left her and her mother. He wants to put himself in the best possible light which means blaming her mother but Paulette doesn't let him disrespect her mother.  
Riley plays the guitar and Paulette sings Jimmy Cliff's " The Harder They Come".  Riley eventually talks fondly about her mother and they start to bond and sing "Young Gifted and Black".  
The ending has hope for the future of these two lost souls with a pair of outstanding performances interpreting the sensitive writing.  There is a truly poignant moment when Riley reaches out his hand to stroke his daughter's hair ….but then decides not to.  Paulette is writing her phone number on his hand.  In that moment hangs their future.  
"They will all get the bloody sack and new women hired in their place.  There's always someone willing to work for less than you, remember that Meera."
Deepak
Two plays here by Suhayla El-Bushra feature the journey made by Anjali Lakani, an Asian woman who was made homeless by the Asians in East Africa being dispossessed by the African governments of Kenya, Uganda and Tanzania in the 1960s. Many of them were business owners but had to live in reduced circumstances on arrival in the UK. This play takes place in 1976.
Deepak Lakani (Ronny Jhutti) is the conventional, controlling father figure of the family with much of his pontificating about life being humorous. Anjali's friend and work colleague Susheela Parekh (Rina Fatania) visits and describes how the conditions at work are getting worse for the women workers. Susheela too is a figure of fun asking for a tea and no biscuits and then taking three. Deepak as usual defends the bosses describing the jobs the woman had in Africa, "Back home you women had your little typing jobs or whatever, you didn't know the meaning of hard labour." Deepak has to be top of the list to be "cancelled".
The irony here is that Deepak wants to be the sole bread winner but employment is too precarious for him with racism in the workplace. Where Anjali is forced to work is at the Grunwick Factory, owned by an Anglo Indian called George Ward. His plant processed photographic film more cheaply than local chemists. Under brand names like Tru Print, people would be encouraged to send in their films to be developed and turned into photographs returned by post. Later Ward links up with the McWhirter Brothers promoting his interests as being about Freedom.
The strike at Grunwick started in 1976 but by 1978, other trade unions had mobilised pickets to harang at the factory gates to intimidate those still turning up for work. The average pay at Grunwick was £28 a week whereas the national average was £72. In August 1976 a woman was sacked for not working fast enough. Three others walked out with her. An Asian woman Jayaben Desai put her coat on to leave and was sacked. The union APEX got involved and management sacked all the workers who had joined the union.
The dispute rumbled on with the Postal Workers Union refusing to deliver mail to the factory but Grunwick stayed in business by collecting it from the Sorting Office. In 1978 doing a project on this strike as part of a PGCE, I went several times to join the Grunwick Picket Line and watched the police being heavy handed with the protesters. The mining unions then a force to be reckoned with, came by the coachload from Yorkshire, and Durham and Wales to join the picket line. They called it the "Ascot of the Left" because so many in the trade union movement were there. It was the last dispute that allowed secondary picketing, people on the picket line from unions other than in this case APEX, a comparatively moderate and weak union, as Margaret Thatcher ended that in 1979.
In fairness due to time constraints, Suhayla El-Bushra's play rather skips over the dispute but concentrates on the impact on Anjali. Some months earlier she had lost a baby and the Asian women in the community had rallied round helping her recover and caring for her, her house and family. In Walking set in 1977, in a monologue Anjali reflects on her situation and observes the picket line from inside the factory where she is still working. What we are clear about is that the prospects for Meera, Deepak and Anjali's daughter will be improved through education. Meera has a white friend Niamh and Anjali expresses how proud she is that they went on an anti-racism march. An interesting outcome was that white working class men learnt what they had in common with the Asian women workers of Grunwick led by Mrs Desai.
NW Trilogy
Dance Floor
Written by Moia Buffin
Life of Riley
Written by Roy Williams
Waking/Walking
Written by Suhayla El-Bushra
Directed by Taio Lawson and Susie McKenna
Cast
Starring:
Harmony Rose Bremner
Emmet Byrne
Anoushka Chadha
Rina Fatania
Natasha Jayetileke
Ronny Jhutti
Claire Keenan
Aoife McMahon
Chris Tummidge
Creatives
Directors: Taio Lawson and Siusie McKenna
Designer: Sadeysa Greenaway-Bailey
Lighting Designer: Richard Howell
Composers and Sound Designer: Ben and Max Ringham
Movement, Fight and Intimacy Director: Yarit Dor
Musical Director: Abdul Shyllon
Information
Running Time: Two hours 20 minutes with an interval
Booking to 9th October 2021
Theatre: 
 The Kiln
 269 Kilburn High Road
 Kilburn
 London NW6 7JR
Rail/Tube: Brondesbury,
Kilburn
Reviewed by
Lizzie Loveridge
at the Kiln Theatre
on 14th September 2021