Jennifer Saunders is a brilliant Madame Arcati!
"If you're trying to compile an inventory of my sex life, I feel it only fair to warn you that you've omitted several episodes. I shall consult my diary and give you a complete list after lunch"
Charles Condomine
After a long-interrupted delay from March 2020 due to Covid closures, Blithe Spirt has reopened at the Harold Pinter Theatre, known as The Comedy Theatre until 2011.  When Harold Pinter was lobbying to have London's Comedy Theatre renamed the Pinter Theatre, Tom Stoppard wrote back: "Have you thought, instead, of changing your name to Harold Comedy?"
Blithe Spirit  by Noël Coward was written in six days in May 1941 and went on stage some five weeks later at the Piccadilly Theatre in London. Until The Mousetrap came along it held the honours as being the longest running non-musical play with 1,997 performances.  Some will remember the 1945 film directed by David Lean staring Rex Harrison as Charles and Margaret Rutherford as Madam Arcati, which is considered to be a classic.  Others will remember Angela Lansbury coming to play Madame Arcati in London in 2014 with, now fêted, Patsy Ferran making her debut as Edith the maid. The play's story and humour have not waned over the years, located in a country house in Kent pre-Second World War.  Anthony Ward's set is a comfortable sitting room with a library at mezzanine level reached via a wooden staircase. Charles Condomine (Geoffrey Streatfield) and his second wife, Ruth (Lisa Dillon) live here; his first wife Elvira (Madeleine Mantock) having died in the house some seven years prior.
They decide to have a dinner party with their friends Dr Bradman (Simon Coats) and Mrs Bradman (Lucy Robinson) with a special guest Madame Arcati (Jennifer Saunders) a spiritualist.  Surreptitiously Madame Arcati has been invited as research for Charles's novel to fill out his interpretation of the character and antics of a spiritual medium.   Edith (Rose Wardlaw) is the Condomine's quixotic maid whose antics are the first to make us laugh as she either races to the door or when told not to run, moves at a snail's pace.
The central character to the play, and the main draw, is Madame Arcati.  This part could have been written for Jennifer Saunders, it gives her plenty of opportunity to display her excellent comic talent and she does not disappoint.  She has us all laughing with her sitting knees akimbo in the most unladylike posture, showing the inside of her thighs.  Not exactly Sharon Stone!  We love it when she arrives after a long bike ride, flapping her dress at the neckline and then hemline to cool off. She wears sensible brown lace up shoes and scratches her legs in a very unselfconscious way. 
After supper the séance is set up.  Madame Arcati warns everybody that she may dance around or lie down on the floor as she tries to get into contact with Daphne her spirit guide.  When the lights come back on, she is on the floor with both legs up, a yard apart, on the sofa. 
The séance having taken place, Charles's ex-wife Elvira (Madeleine Mantock looking like another MM, Marilyn Monroe) has materialised but only seen by him.  As he talks back to Elvira whom no-one else can hear, he greatly confuses Ruth.  Elvira is both flirtatious and jealous of Charles's new wife. 
Elvira castigates him, "Nobody but a monumental bore would have thought of having a honeymoon in Budleigh Salterton. I was an eager young bride Charles, I wanted glamour and music and romance. What I got, was potted palms, seven hours of every day on a damp golf-course and a three piece orchestra playing Merry England."  Ruth on the other hand is prepared to accept that aspect of Charles's character.
Charles finds himself caught between two wives but Ruth has a plan.  The minor characters come into play in the last act.  Richard Eyre gets fine performances from his experienced cast.  Geoffrey Streatfeild is outstanding as stuff shirt Charles and Lisa Dillon is most sympathetic as Ruth, displaced by an ethereal ex-wife. Noël Coward's play is sprinkled with delightful witticisms but the real scene stealer on this occasion is Jennifer Saunders's physical comedy.  This show is only booking to 6th November so don't leave it too late!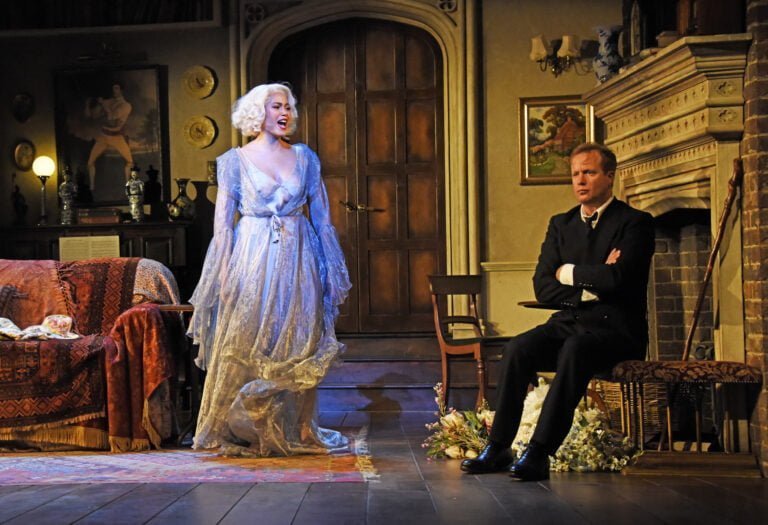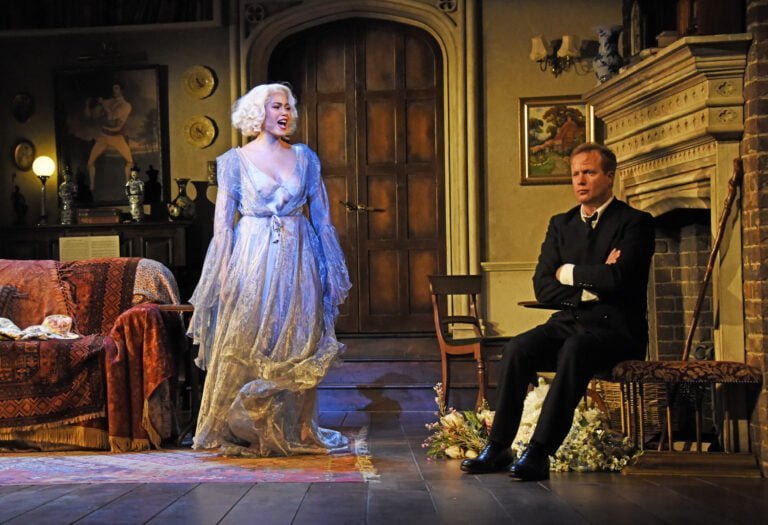 Blithe Spirit

Written by Noël Coward
Directed by Richard Eyre
Cast
Starring:
Geoffrey Streatfeild
Jennifer Saunders
Lisa Dillon
Simon Coates
Rose Wardlaw
Lucy Robinson
Madeleine Mantock
Creatives
Director: Richard Eyre
Designer: Anthony Ward
Lighting Designer: Howard Harrison
Sound Designer: John Leonard
Illusion Consultant:  Paul Kieve
Information
Running Time: Two hours 45 minutes with an interval
Booking to 6th November 2021
Theatre: 
Harold Pinter
Panton Street
London SW1Y 4SW
Tube : Piccadilly Circus
Telephone: 03330 096 690
Website: haroldpintertheatre.co.uk
Reviewed by Lizzie Loveridge
at the Harold Pinter Theatre
on 21st September 2021