A Fascist Camp in Long Island in 1938
"When and if fascism comes to America it will not be labelled 'made in Germany'; it will not be marked with a swastika.  It will not even be called fascism; it will be called, of course, 'Americanism.' "
Henry Wallace, US Vice President, in 1944.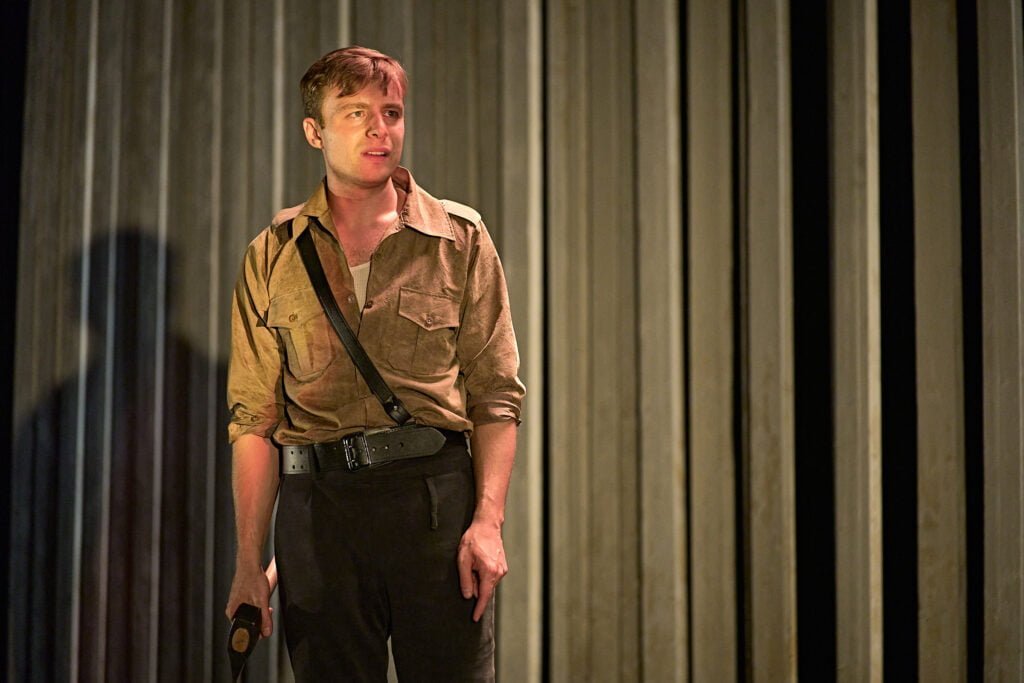 There really was a Camp Siegfried in New York State in 1938. American teenagers of German descent spent their summer there, doing boy scoutish things while absorbing racist ideology through their pores, and it really did have a Hitler Street running through it.
That's the factual underpinning of Bess Wohl's thoughtful, sensitive and fiercely political play now running at the Old Vic.
There are just two characters.  He is 17, all noisy, hearty masculinity.  She is 16, all gawky, precious self-loathing: "I'm just a caterpillar. One day I'll be a butterfly, if I don't get stamped on first." They meet, they fall in love, they hear the Fuehrer's call to populate the world with Aryan babies, and they set to work to do his bidding.
She sees the politics behind the camp, and likes it. He doesn't see it: he thinks all the singing and discipline is just about camp spirit. She is picked as the leader to make the big speech to the camp which is the turning point of the play, and in which she says: "America can be great again."  This is much more than a facile nod to the era of Trump. It's a summoning up of the demons that made Nazi Germany, an invitation to them to remake America.
After that speech they go home, and it would be a spoiler to tell you what happens to their relationship.  But I will tell you that along the way, she meets a kindly doctor and his wife.  We are not told that the couple are Jewish, but one of their kindnesses is that the doctor's wife feeds her chicken soup with some dumplings in it.  "Is this love?" our heroine wants to know.
For all its many virtues, the script is wordy and has a slightly preachy quality to it, and with just two actors, they both have to be very, very good if the thing is not to drag.  Fortunately, they are. Patsy Ferran and Luke Thallon, two British actors playing two American teenagers, are magnificent individually and create a chemistry between them that works.  We care what happens to them even when we hate what they are saying.
Ferran has the harder task – the girl turns out, despite appearances at the beginning, to be the leader, the thinker, the more complex figure at the heart of the play. Ferran is a wonderful actor.  I wish I had seen her Portia in A Merchant of Venice at the RSC – she apparently made something different of the part.
I had some reservations about Katy Rudd's direction.  She handles her two actors brilliantly, but her sets often have little to offer but drabness, and she relies heavily on a complicated lighting plot. This serves her well a lot of the time, though at one point she suddenly shines a light into the audience's eyes, and personally I would rather she didn't do that.
But these are small complaints. This is a clever and sometimes a surprisingly, amusing night in the theatre.  It's a straight through 90 minutes, which works well – I preferred not to be taken out of the world of the play for an interval.  And it has something new and interesting to say about Nazis and dictatorship.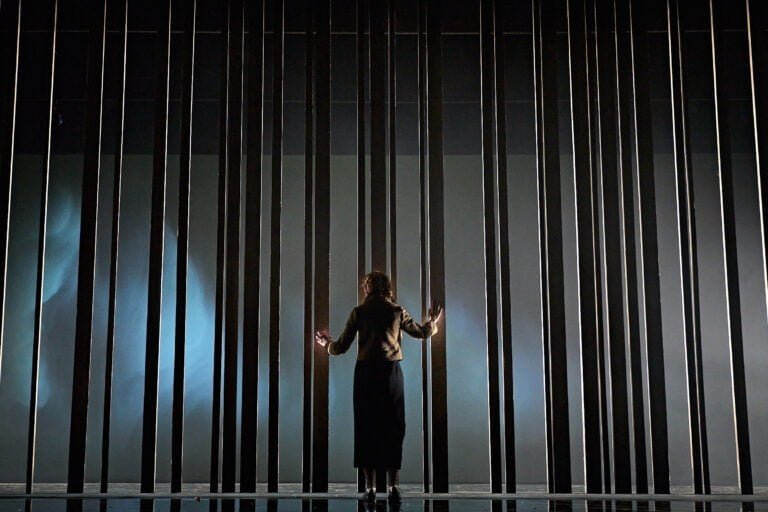 Camp Siegfried

Written by Bess Wohl
Directed by Katy Rudd
Cast
Starring:
Patsy Ferran
Luke Thallon
Creatives
Director: Katy Rudd
Designer: Rosanna Vize
Choreographer: Ann Yee
Lighting Designer: Rob Casey
Sound Designer: Ian Dickinson for Autograph
Video Designer:  Tal Rosner
Movement: Rachel-Leah Hosker
Information
Running Time: One hour 30 minutes without an interval
Booking to 30th October 2021
Theatre: 
Old Vic
The Cut
Waterloo
London SE1 8NB
Tube/Rail : Waterloo
Telephone: 0344 871 7628
Website: oldvictheatre.com
Reviewed by Francis Beckett
at the Old Vic
on 21st September 2021