Conor McPherson's ghost story
"I know. I know. Don't worry. You're not on your own now, okay?  We'll sort it out."
Ian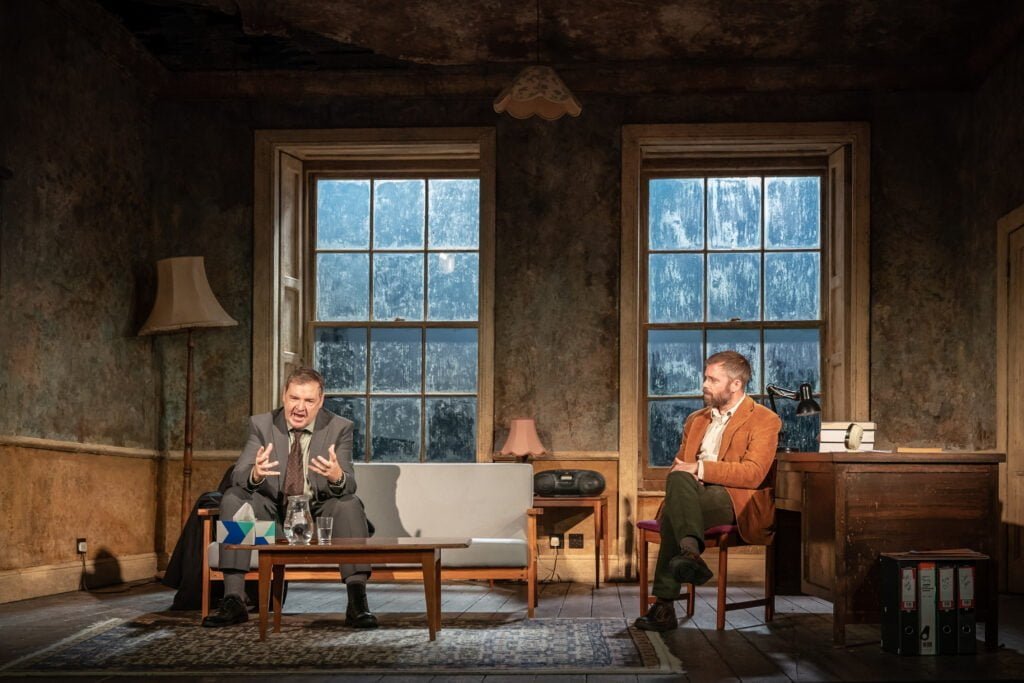 Conor McPherson made his name as a playwright in his twenties and his hit play The Weir travelled from the Royal Court to New York.  In that original production of that play, as the owner of Brendan's Bar, was Brendan Coyle who is also in Shining City as John, a man seeking therapy after the loss of his wife in a horrific accident. 
Rory Keenan is Ian, the therapist so new to counselling that he doesn't know a counsellor's room has two identical height chairs set apart for counsellor and the person seeking counselling with a low coffee table in between.  In fact for the first few minutes of the session, he is standing behind a large desk.  Of course, the problems for drama with this prescribed arrangement of chairs is that the audience can only ever see static profiles of the actors.  He does get the box of tissues right, left for the client to help himself. 
Despite his background as a business man, John opens up quite readily to discussing what is upsetting him.  It seems that he has seen the ghost of his dead wife Mari in his house, "she was standing there behind the door looking at me. . . . . I could only see half of her behind the door, looking out at me  . . . .her hair was soaking wet, and all plastered to her face." 
This has so terrified John that he has opted not to go back to his house but instead stay at a Bed and Breakfast.  Brendan Coyle is completely believable as this man who has seen a ghost.  He is shaken to his core.  Rory Keenan actively listens with a repetitive "I know", his way of reassuring the client and mirroring the number of times John says, "You know."   In this first scene we learn only about John's issues and Ian's professional side. 
In Scene Two, Ian is confronted by his pregnant girlfriend Neasa (Michelle Fox).  Not at a B and B but staying at his office, Ian has not communicated with his girlfriend for four days, leaving her and the baby living with his brother and sister in law. We find out that Ian has voluntarily left the priesthood and like John his troubled life is full of questions and guilt. 
In Scene Three, John returns and gives a fuller explanation of his own guilt and is listened to by Ian.  Scene Four has a new character Laurence (Curtis-Lee Ashqar) whom Ian has met.  The final scene has some resolution and some unfinished mystery.
Conor McPherson has the clichéd but real gift of the Blarney Stone, his storytelling sounds lyrical and is involving and occasionally shocking.  Nadia Fall directs her cast with assurance.  Peter McKintosh's set is a dilapidated flat, in a house with high ceilings and large windows.  The ceiling shows extensive gaps in the plaster, there is a large desk, a sofa and a few office accessories like filing boxes are stacked on the floor.  As the scenes progress, the office and the book case fills up, a plant and more files arrive until it is moving out day. 
Brendan Coyle has the depth of acting ability to make you empathise with his situation and worry for him.  Rory Keenan with a full beard looks less like Brad Pitt and, as Ian, the question marks in his life's direction rumble mostly below the surface as he gives up the Church.  Both these actors are worth following.  Neasa's father has a telling comment, "An ex-priest? Forget it – he said anyone who goes next or near the priests is a fucking headcase to begin with." 
The title Shining City is an allusion to Christianity and hope, hope that all of Conor McPherson's Dublin characters will find redemption. 
Shining City
Written by Conor McPherson
Directed by Nadia Fall
Cast
Starring:
Brendan Coyle
Rory Keenan
Michelle Fox
Curtis Lee Ashqar
Creatives
Director: Nadia Fall
Designer: Peter McKintosh
Lighting Designer: Howard Harrison
Composer and Sound Designer: Alexandra Faye Braithwaite
Movement: Jack Murphy
Information
Running Time: One hour 50 minutes
without an interval
but ran longer on opening night
Booking to 23rd October 2021
Theatre: 
Theatre Royal Stratford East
Gerry Raffles Square
Stratford
London E15 1BN
Tube: Stratford
Reviewed by Lizzie Loveridge
at Stratford East
on 23rd September  2021