Back to the Fabulous Future, a spectacular show
"I guess you guys aren't ready for that yet, but your kids are going to love it."
Marty McFly
It's been a long wait for Back to the Future the musical as the pandemic put paid to anything other than previews at Manchester's Opera House in March 2020 but Great Scott! has it been worth it. 
The last car I saw fly was Chitty Chitty Bang Bang which failed to fly on an opening night and we all had to go back to the Palladium for a re-run.  Something similar happened to Back to the Future when one of its stars Roger Bart as Doc Brown tested positive for covid and an understudy, the redoubtable Mark Oxtoby (now as Strickland), took over for the press performance.  But last night we got to see the producers' choice Roger Bart as the quirky Doc and he was stupendous.  The DeLorean however worked perfectly and was very impressive with great lighting effects and accessories, including those iconic gull wing doors which open upwards.
Some of the film music is there although many songs have been specially composed by Alan Silvestri, the film's composer, and Glen Ballard, but the whole show feels to be more of a specialist, spectacular entertainment than a conventional musical.  The song, "It's Only a Matter of Time" by Alan Silvestri has been set to the film's original orchestral theme with its stirring chords and Star Wars type inspirational crescendo dominated tune. 
The story sticks pretty much to the film and only Einstein the dog is the missing element but any pooch would have been scared out of its doggy mind by Chris Fisher's special illusions with sound effects from Gareth Owen.  The show opens with Marty McFly (Olly Dobson) being rejected in an audition but his girlfriend Jennifer (Courtney-Mae Briggs) supports and encourages him in song.  We meet Marty's father, the feeble and flaky George McFly (Hugh Coles) and realise why the McFly family has its reputation for spineless ineptitude.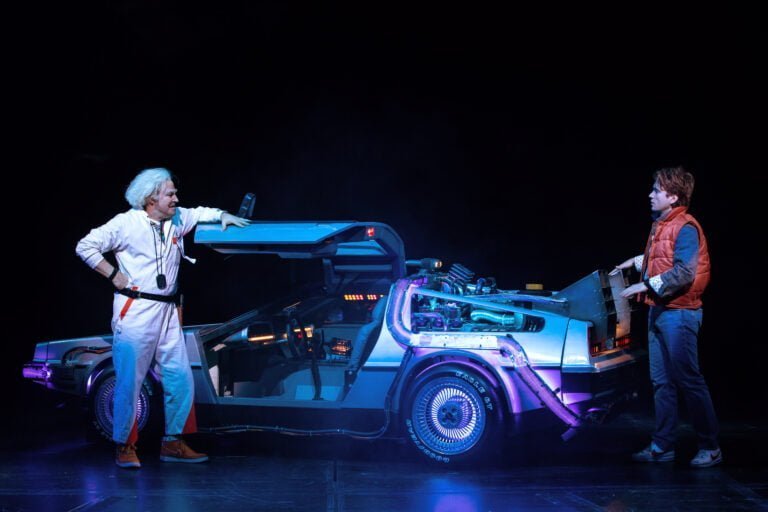 The mood is instantly lifted with the entry of the magnificent DeLorean car and Roger Bart as the Doc who has that mischievous way of making the audience laugh as did Christopher Lloyd with his looks aside.  We are introduced to Doc's invention the flux capacitor and the car doesn't just start, sparks, lights, fireworks and flashes add to its powerful impact. 
Marty is taken back to 1955 where we see Biff the Bully (Aiden Cutler) tormenting George McFly.   We meet Goldie Wilson (a brilliant Cedric Neal who doubles as Marvin Berry) in a choreographed scene as the man in overalls working clearing tables in a café.  Neal's singing voice is special.  Marty follows his father and meets his mother Lorraine (Rosanna Hyland) who in an Oedipal moment falls for her own son.  The song "Pretty Baby" takes place in the bedroom assigned to Marty with three Lorraine lookalikes appearing in the window while his mother stands there. Act One closes with the school fight scene but much happening in this act is setting up for the second act sensation. 
The number and variety of Tim Hatley's sets are magnificent and the opening song of the second act "21st Century" is set in Doc Brown's laboratory with white coated assistants with lit up headdress helmets and so many lighting colour shifts from Hugh Vanstone and Tim Lutkin, it is really exciting.  The printed circuit board lighting comes right out into the sides of the auditorium, surrounding the proscenium stage. "For the Dreamers" is a pretty song.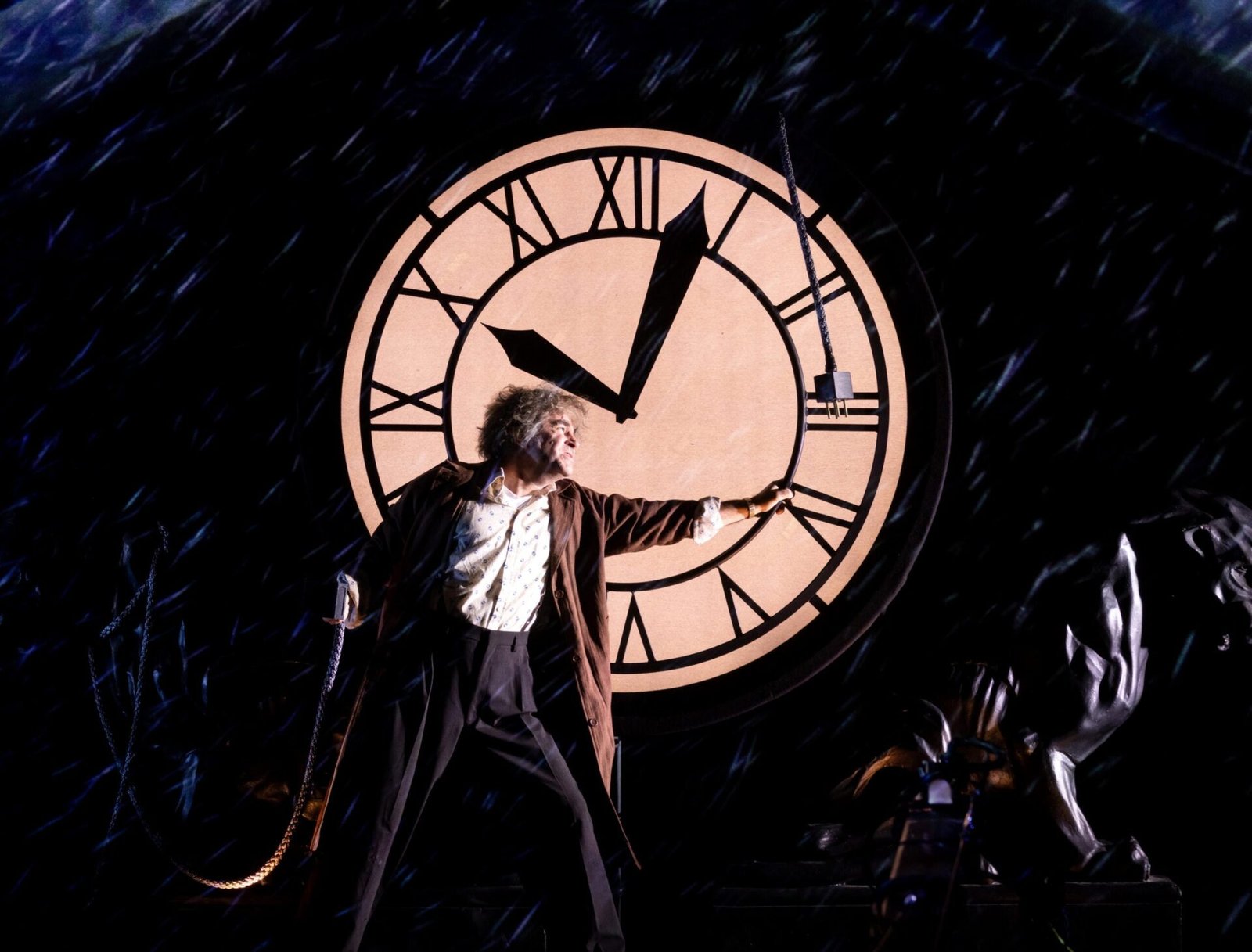 Marty will try to teach his father some Mick Jagger dance moves in a scene of comic choreography.  Olly Dobson has the boyish qualities of Michael J Fox and presents a good characterisation of the 17 year old tasked with ensuring his own and his siblings' future existence. 
The storm climax is handled really well, using video to achieve a filmic quality with magical illusions and Doc will hang from the clock.  This show will not disappoint with its tremendous visual memories, lashings of comedy and with all the excitement of a live stage performance.  I loved Roger Bart's quixotic Doc injecting delicious humour into his performance.  Well done to director John Rando and the producers for realising a five star show.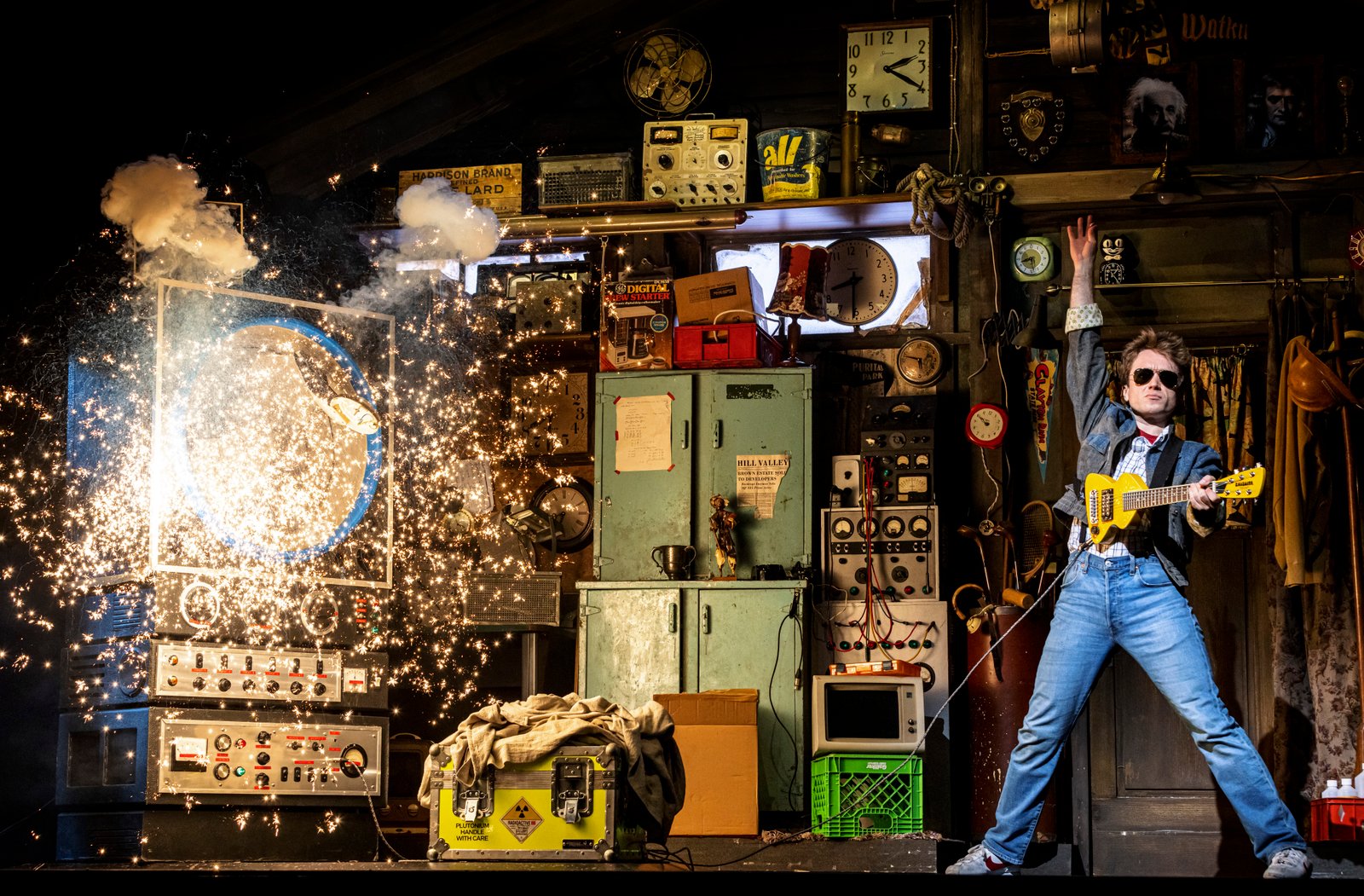 Act One
It's Only a Matter of Time
 Got No Future
 Wherever We're Going
 Hello – Is Anybody Home?
 It Works
 Cake
 Got No Future (Reprise)
 Gotta Start Somewhere
 My Myopia
 Pretty Baby
 Future Boy
 Hill Valley High School Fight Song
 Something About That Boy
Act Two
21st Century
 Something About That Boy
(Reprise)
 Put Your Mind To It
 For the Dreamers
 Teach Him a Lesson
 It's Only a Matter of Time
(Reprise)
 Deep Divin'
 Pretty Baby (Reprise)
 Earth Angel (Dootsie Williams)
 Johnny B. Goode (Chuck Berry)
 For the Dreamers
(Reprise)
 The Power of Love
(Huey Lewis ASCAP)
 Back In Time
(Bedaah Music ASCAP)
Back to the Future – the musical
Book by Bob Gale
Music and Lyrics by Alan Silvestri and Glen Ballard
Based on the Universal Pictures/Amblin Entertainment Film written by Robert Zemeckis and Bob Gale
New Book Timothy Crouse and John Weidman
Directed by John Rando
Cast
Starring:
Olly Dobson
Roger Bart
Hugh Coles
Rosanna Hyland
Cedric Neal
Aidan Cutler
Courtney-Mae Briggs
Mark Oxtoby
Will Haswell
Emma Lloyd
Ensemble: 
Rhianne Alleyne
Joshua Clemetson
Jamal Kane Crawford
Ryan Heenan
Cameron McAllister (Fight Captain)
Alessia McDermott
Laura Mullowney (Dance Captain)
Nic Myers
Shane O'Riordan
Katharine Pearson
Justin Thomas
Swing:
Amy Baker
Matthew Barrow
Bessy Ewa
Morgan Gregory
Oliver Tester
Tavio Wright
Emily Ormiston
Liam Wrate
Jack Wilcox
Creatives
Director: John Rando
Designer: Tim Hatley
Musical Director: Jim Henson
Lighting Designer:  Tim Lutkin
Lighting Consultant: Hugh Vanstone
Choreographer:  Chris Bailey
Sound Designer: Gareth Owen
Illusion Designer: Chris Fisher
Video Design: Finn Ross
Fight Director: Maurice Chan
Musical Supervisor,
Vocal and Musical Arrangements:  Nick Finlow
Orchestrations: Ethan Popp and Bryan Cook
Information
Running Time:
Two hours 45 minutes with an interval
Extended and Booking until 1st July 2022
Theatre:
Adelphi Theatre
409-412 The Strand
London WC2R 0NS
Box Office: 0844 412 4651
Website: https://www.backtothefuturemusical.com
Tube: Charing Cross
Reviewed by Lizzie Loveridge
at the Adelphi Theatre on 27th September  2022