The Downfall of Thomas Cromwell:
concluding part of Hilary Mantel's Wolf Hall
"When the king remarried, I had it repainted, just the eyes, brown to blue. "
Thomas Cromwell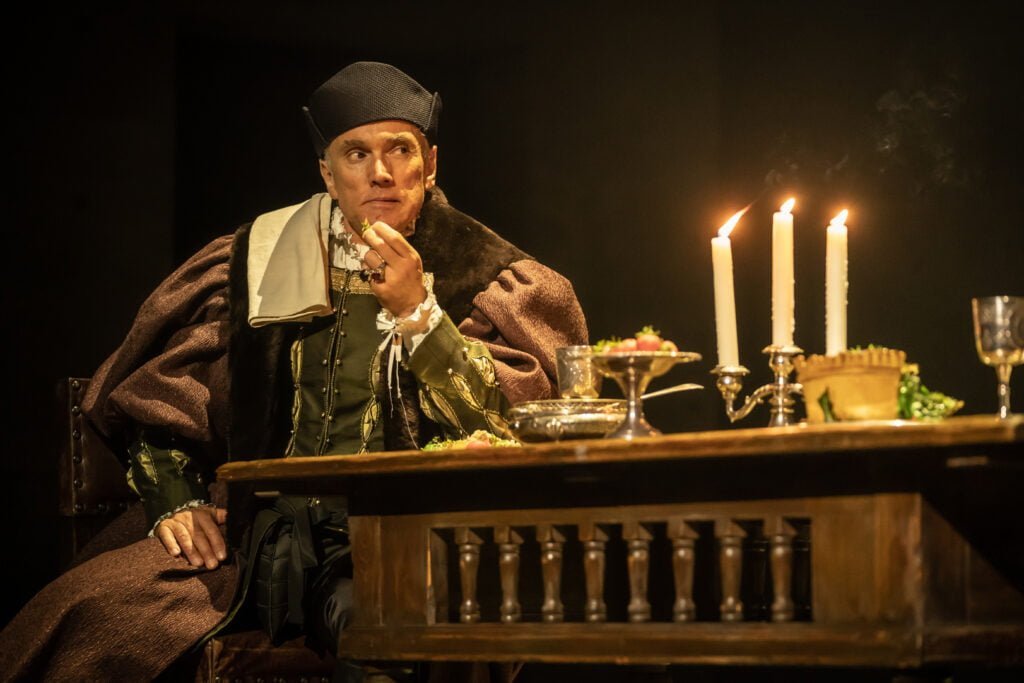 Concluding her trilogy which started with Wolf Hall and Bring Up the Bodies, Hilary Mantel, with Ben Miles, has adapted this final part The Mirror and the Light.   Ask not where Mike Poulton is, the award winning author/adaptor of so many RSC conversions from page to stage and indeed the adaptor of the first two novels.  He was unavailable.
However Jeremy Herrin the director, and many of the actors replay their roles from 2014.  I missed Nicholas Day whose Thomas Howard, Duke of Norfolk part is now in the hands of Nicholas Woodeson.  I don't suppose reminding everybody that the Wolf Hall Trilogy is historical fiction will be heard by those engrossed with Hilary Mantel's prize winning storytelling, but storytelling it is.  As I said in my original review of the first two plays, Mantel might as well be Thomas Cromwell's PR agent such is the sympathy with which his biography is told. 
The play opens in the Tower of London with Christopher Oram's concrete plain set with open boxes suspended above which occasionally light up in parts at moments of high drama.  I did feel the design budget was spent on the magnificent clothing and regalia rather than furniture and tapestries.  
The Tower was of course a palace as well as a royal prison and the year is 1540 and Cromwell has been accused of treason.  He was arraigned (accused) under a bill of attainder whereby someone can be declared guilty with due process or a trial.  In this initial scene, the accusations relate to Cromwell's choice of clothing, wearing the royal purple or the fur sable thought to be unsuitable for someone with origins in the then despised Putney!  Mantel will often use references to present day London as it was then for quick one liner laugh.
In this first scene Thomas is visited by the ghost of his father, a blacksmith. cloth merchant, brewer and inn keeper, Walter Cromwell (Liam Smith) who is aggressive and nasty towards his son.  Also visiting is Gregory Cromwell (Terique Jarrett), Thomas's own son who was married in 1537 to the younger sister of the queen, Jane Seymour.
With the framing of his time in the Tower and his death comes the story of Thomas Cromwell under first Jane Seymour, and then the disastrous marriage of Anne of Cleves (Rosanna Adams) to Henry VIII, which was secured by Cromwell.  We return on the clothes theme to a marriage where Cromwell wore the particularly orange outfit.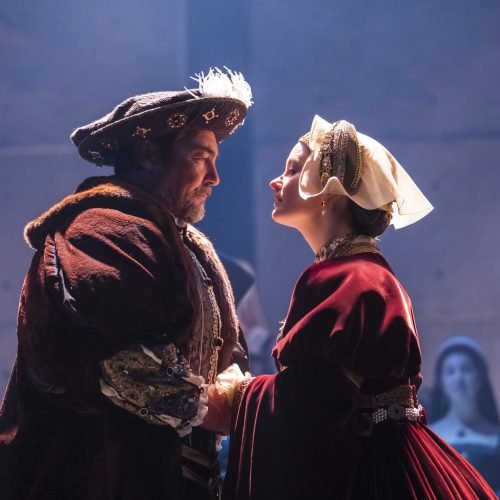 Thomas Cromwell negotiates a reconciliation between Henry and his elder daughter Mary Tudor (Melissa Allan), the rather dour and devout Catholic daughter of Catherine of Aragon. We see Cromwell's manipulation of both Mary and the king, with the Holy Roman Empire Ambassador Eustace Champuys (Matthew Pidgeon) reminding everyone as to why Catherine of Aragon was allowed to live on due to her being the aunt of Charles V, the Holy Roman Emperor.
The ghost of Cromwell's former employer Thomas Wolsey (Tony Turner) is also seen and Thomas Visits Wolsey's daughter Dorothea (Rosanna Adams) in her convent to propose marriage to her. After all Cromwell is privy to the knowledge that she soon will be homeless as the Dissolution of the Monasteries included the less observed Nunneries. The revolt that followed was The Pilgrimage of Grace based in Yorkshire and causing Henry to describe the participants in the language of some English state leaders as "rural pisswits".
The death of Jane Seymour (Olivia Marcus) in childbirth with a sickly but live son, breaks open the rivalries as to those proposing candidates for the fourth wife. Cromwell backs Anna of Cleves and his enemies support in Thomas's words, "some Howard girl lurking".
Act Two sees that the wifely candidates from Europe are all Papists but the King settles on Anna after seeing the Hans Holbein (Liam Smith) portrait, surprises her in Kent before she can meet him officially on Blackheath. We all know the apocryphal Flanders Mare story and the annulment of the marriage six months later.
The performances are true to Mantel's imaginings with Ben Miles as Cromwell, the sincere, well meaning politician with almost no overt ambition on show and Nathaniel Parker's Henry as capricious and moody. I found Rosanna Adams as Anne of Cleves really pretty. Maybe I was seeing her through Holbein's eyes?
It is a word heavy piece but there are a couple of Tudor inspired dances and I have no idea whether I was watching a Pavane, a Cinque Pas, a Sinkapace or a Galliard until these feature in "Strictly", which I confess I watch only erratically. But the dancing adds nicely to the beautifully dressed and courtly atmosphere and I really enjoyed the all male dance.
Cromwell's armoury is quite an extensive shock for those who are convinced of his loyalty to the king. I do need to pinch myself and be reminded it is historical fiction!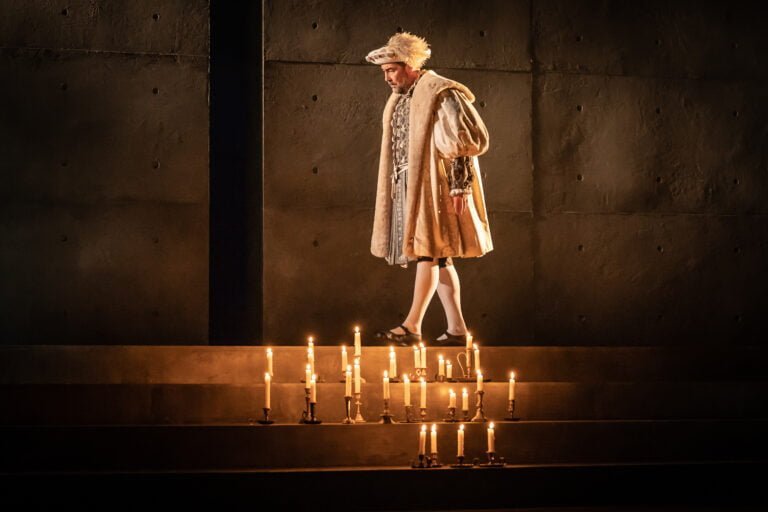 The Mirror and the Light

Novelist: Hilary Mantel
Adapted by Hilary Mantel and Ben Miles
Directed by Jeremy Herrin
Cast
Starring:
Ben Miles
Terique Jarrett
Paul Adeyefa
Nathaniel Parker
Melissa Allan
Olivia Marcus
Rosanna Adams
Nicholas Woodeson
Matthew Pidgeon
Giles Taylor
Nicholas Boulton
Jo Herbert
Leo Wan
Tony Turner
Liam Smith
With:
Aurora Dawson-Hunt
Geoffrey Lumb
Jordan Kouamé
Umi Myers
Mark Extance
Samuel Awoyo
Ian Drysdale
Creatives
Director: Jeremy Herrin
Designer: Christopher Oram
Music: Stephen Warbeck
Lighting Designer: Jessica Hung Han Yun
Sound Designer: Nick Powell
Movement Director: Emily Jane Boyle
Fight Director: Rachid Sabitri for True Edge Ltd
A joint production from Playful Productions and the RSC
Information
Running Time: Two hours 30 minutes with an interval
Booking to 28th November  2021
Theatre: 
Gielgud Theatre
Shaftesbury Avenue
London W1D 6AR
Tube : Piccadilly Circus
Telephone: 0844 482 5151 (7p per minute +)
Website: themirrorandthelight.co.uk
Reviewed by Lizzie Loveridge 
at the Gielgud Theatre
on 7th October 2021