Cush Jumbo - a most excellent Hamlet
"Tis now the very witching time of night
When churchyards yawn and hell itself breathes out
Contagion to this world. Now could I drink hot blood
And do such bitter business as the day
Would quake to look on. "
Hamlet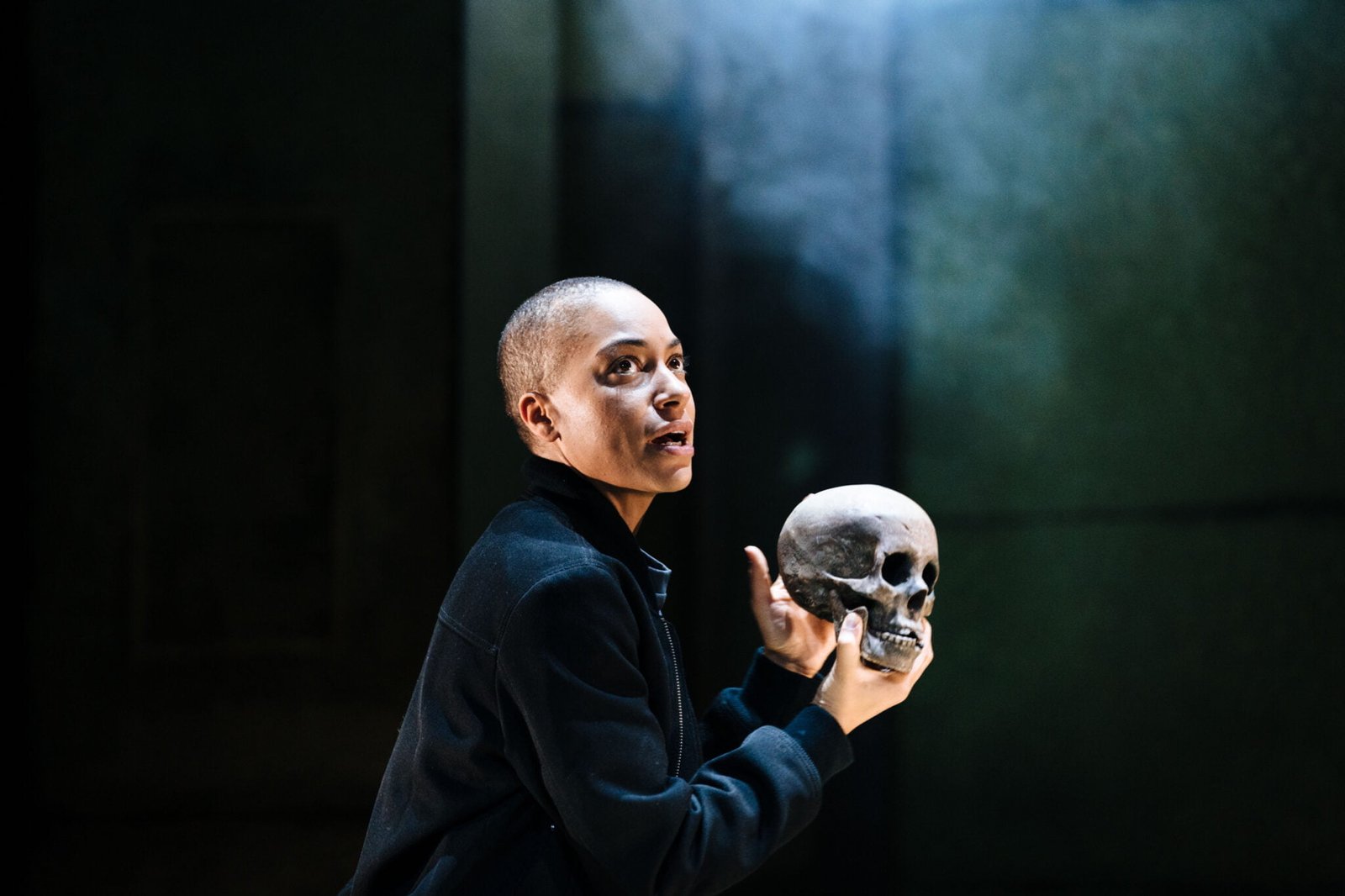 Cush Jumbo is memorable as Hamlet.  She struck me less as the prince who hesitates and procrastinates but as one who is strong and angry from the off. 
The only cut in Greg Hersov's production is of young Fortinbras so often left on the cutting room floor but denying us the sight of the new regime where a fresh start can be given to Denmark as none of the reigning family are left alive.  Fortinbras's importance in the play is less fashionable – going to war over the principle of a small strip of land. 
Opening on the battlements of Anna Fleischle's plain but imposing set of three hefty blocks of stone which later can turn transparent, as if they are of foxed glass, or of a darkened net, we see Horatio (Jonathan Livingstone) witness the ghost of the late king.  We switch to the court where Claudius (Adrian Dunbar) is demonstrating his benign nature and where his queen Gertrude (Tara Fitzgerald) seems in a dream.  Contrast Cush Jumbo's Hamlet full of anger and resentment and this before Hamlet knows the full extent of the crime against his father. 
I was excited at the prospect of seeing Norah Lopez Holden's Ophelia after her childlike Desdemona in Othello.  I wasn't disappointed by her opening scene with Hamlet where she dances alone to a Latin American rhythm, her arms circling above her head. 
Polonius (Joseph Marcel) seems to have been blessed with two deserving children, Jonathan Ajayi as Laertes tries to listen to the old man.  Joseph Marcel's Polonius is fussy and tedious but I did like his handing over the Gold American Express card to Laertes! 
The columns work well for the scenes on the cold ramparts of Elsinore, with swirling smoke, as Hamlet meets the ghost of his father but it isn't terrifying. 
I wasn't able to work out which one was Rosencrantz (Taz Skylar) and which Guildenstern (Josna Borja) until I looked at the pictures in the programme but their being sent for is an issue for Hamlet from the beginning of their entrance.  Mysteriously Taz Skylar is listed in the programme as playing Fortinbras too but I also missed that!  
The Mousetrap, the play within a play is a disaster in lingerie and writhing ecstasy as is the length of the Player King's audition speech.    
The closet scene is limited by the space it has to take part in.  With just a chair and no bed and the arras these large cuboid columns, it isn't intimate.  Tara Fitzgerald as Gertrude is memorable for her collection of silk pantaloons and matching turbans and for not rejecting Claudius at all, as if she is left unconvinced by her son's pleas.  Neither does she seem particularly attached to Claudius but there are definite problems with Adrian Dunbar's wooden charlatan.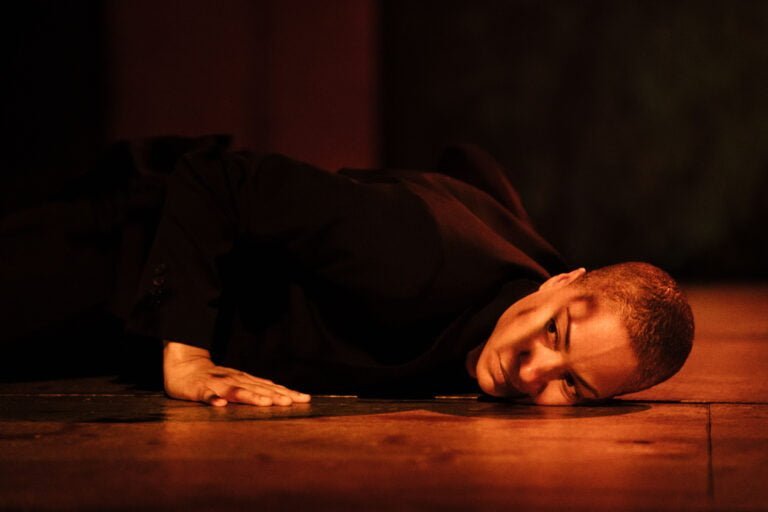 Ophelia is a difficult part and her cries for her dead father are truly heart breaking.  To her scene with the herbs she brings Hamlet's hoodie that she tried to return to him and lays on it all her remembrances from him and her precious possessions.  These are symbolic of her life collapsing with the death of her father and without the support of her brother or Hamlet.  I liked Tara Fitzgerald most in Gertrude's beautiful speech about Ophelia's drowning.
Laertes returns and Jonathan Ajayi is full of strength and there are lines I do not remember hearing before when Claudius lists the skills Laertes has acquired in France, maybe from a less used quarto.  I also do not remember before Laertes's knife being pointed at Gertrude. 
In the graveyard scene, often tedious but done well here with Leo Wringer's Gravedigger, Hamlet is at his most relaxed and shows us what a wonderful and witty young man he can be when untroubled.  Jonathan Livingstone's Horatio is solid support for the prince but I doubt his beanie would be acceptable wear at court. 
The duel between Laertes and Hamlet is a knife fight which makes more sense than guns but again is a strange directorial choice. 
Cush Jumbo's soliloquies are deep and thoughtful, every word heard as they should be.  This is the third time I recall the Young Vic choosing an excellent Hamlet but giving him a problematic production.  There was Peter Brook's curtailing Adrian Lester's Hamlet to just Hamlet's lines in the play.  There was Ian Rickson's setting of Michael Sheen as Hamlet in a psychiatric ward with Gertrude as a fellow patient and Claudius as the consultant psychiatrist.  We walked through an installation of the back of a hospital with a dispensary before seeing the play.  The last really successful, all round Hamlet I remember at the Young Vic was Paul Rhys's 1930s European royalty in 1999.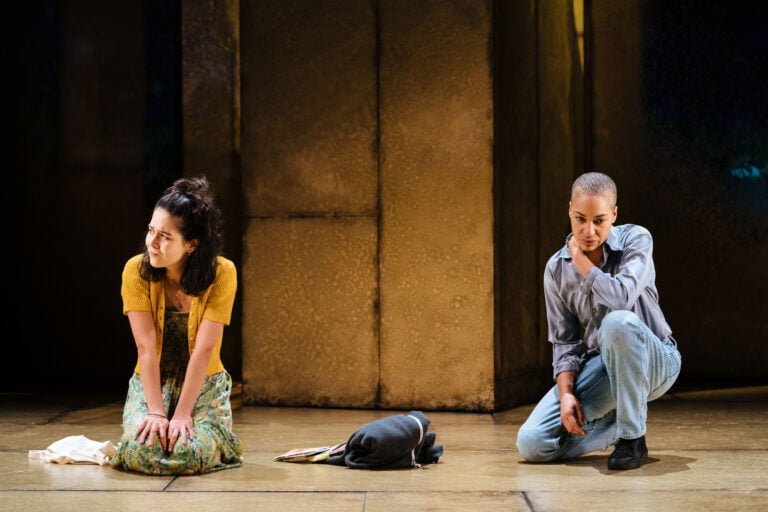 Hamlet

Written by William Shakespeare
Directed by Greg Hersov
Cast
Starring:
Cush Jumbo
Norah Lopez Holden
Adrian Dunbar
Tara Fitzgerald
Joseph Marcel
Leo Wringer
Jonathan Ajayi
Jonathan Livingstone
With: 
Taz Skylar
Joana Borja
Adesuwa Oni
Creatives
Director: Greg Hersov
Designer: Anna Fleischle
Lighting Designer: Aideen Malone
Sound Designer: Emma Laxton
Video Designer:  Nina Dunn
Movement: Lucy Hind
Fight Director: Kev McCurdy
Information
Running Time: Three hours 10 minutes with an interval
Booking to 13th November 2021
Theatre: 
Young Vic
66 The Cut
Waterloo
London SE1 8LZ
Tube/Rail : Waterloo/Southwark
Telephone: 020 7922 2922
Website: youngvic.org
Reviewed by Lizzie Loveridge
at the Young Vic
on 8th October 2021