The Beauty Queen of Leenane...
comes on like a village Romeo and Juliet.
"Me? A whore? I dream."
Maureen
Boy (40+) meets Girl (40). They more than click. Love looks set fair…
But this is a village in remote rain-lashed western Ireland and we enter the auditorium to the ominous sound of thunder and running water. And it is the Girl's Mother, rather than the stars, that will cross these lovers. 70 year old Mag depends on her daughter's care. She will scheme and cheat to keep Maureen an embittered virgin drudge in the grubby cottage they share. Where the day starts with Mag's chamberpot being emptied down the sink.
We see the women bicker, sometimes fiercely, but however spirited and spiteful Maureen's words, her actions are obedient and submissive. Why? And why do they stare so intensely at each other when the flow of words stops? Clearly they are not struggling to hide their feelings. Tension rises when local boy Pato returns from work in London and declares a strong interest in Maureen. She buys a stylish black dress to go to his party. "£40 for a dress!"  Whether thanks to the dress or not, Pato stays the night in the cottage and Maureen flaunts him at her mother in the morning. This is her chance to break free and leave Leenane. "That's Ireland: always someone leaving."
But not if Mag has anything to do with it. So, despite the lighter tone of the opening scenes, we are in for a tragedy. At the very least, the frustration of a woman's one chance to escape an unfulfilled life. 
Martin McDonagh's play has been very well received since its first production in 1996. It is intense and uncompromising and not for those of a nervous disposition.  Some of the humour and the plotting seem to be misjudged, but perhaps this is intentional.
Two of the biggest laughs of the evening come from repeating the not irresistibly comic phrase – "Urinary Infection". The banter between the women and Pato's brother Ray has lines such as, "Why do we speak English when we live in Ireland?"   "What use are fat girls?" which get close to old school Oirish mockery. And some of the audience groan when they realise that the action will turn on the fate of a single Letter.  (Tess Durbeyfield eat your heart out…)
This Leenane may have one foot in the past but the other is in an uncertain present. The Church is barely mentioned. Characters watch Australian shows on a television. There is a radio, though that does seem tuned to the past. Maureen flaunts her new-found sexuality by ostentatiously reading what looks like a Jilly Cooper novel. An elegant Ercol dining chair sits shyly by the side of the room. But strangely this cottage has no telephone, and this makes the Letter crucial to the plot.
More seriously, Leenane is presented as a small tightly-knit community where, presumably, everyone knows everyone else's business. Wouldn't the locals be aware of the late revelations that suggest an alternative reading of the tragedy? In its ferocious violence the climax and its aftermath are more Hitchcock than Shakespeare. Was it the intention all along to make us realise how easily we make false assumptions about characters on a stage?
However one reads the play, Director Rachel O'Riordan and Orla Fitzgerald's rebellious Maureen achieve an almost unbearable poignancy in its closing moments. Ingrid Craigie's Mag is not the overbearing bully she might be, suggesting a more complex character. And respect to any actor who can hold that position for so long. Adam Best's Pato almost steals the show with his monologue, whose strong clear writing stands out. Kwaku Fortune's laddish Ray blusters through, unaware of the drama swirling round him. Good Teeth Theatre's set is a character in its own right.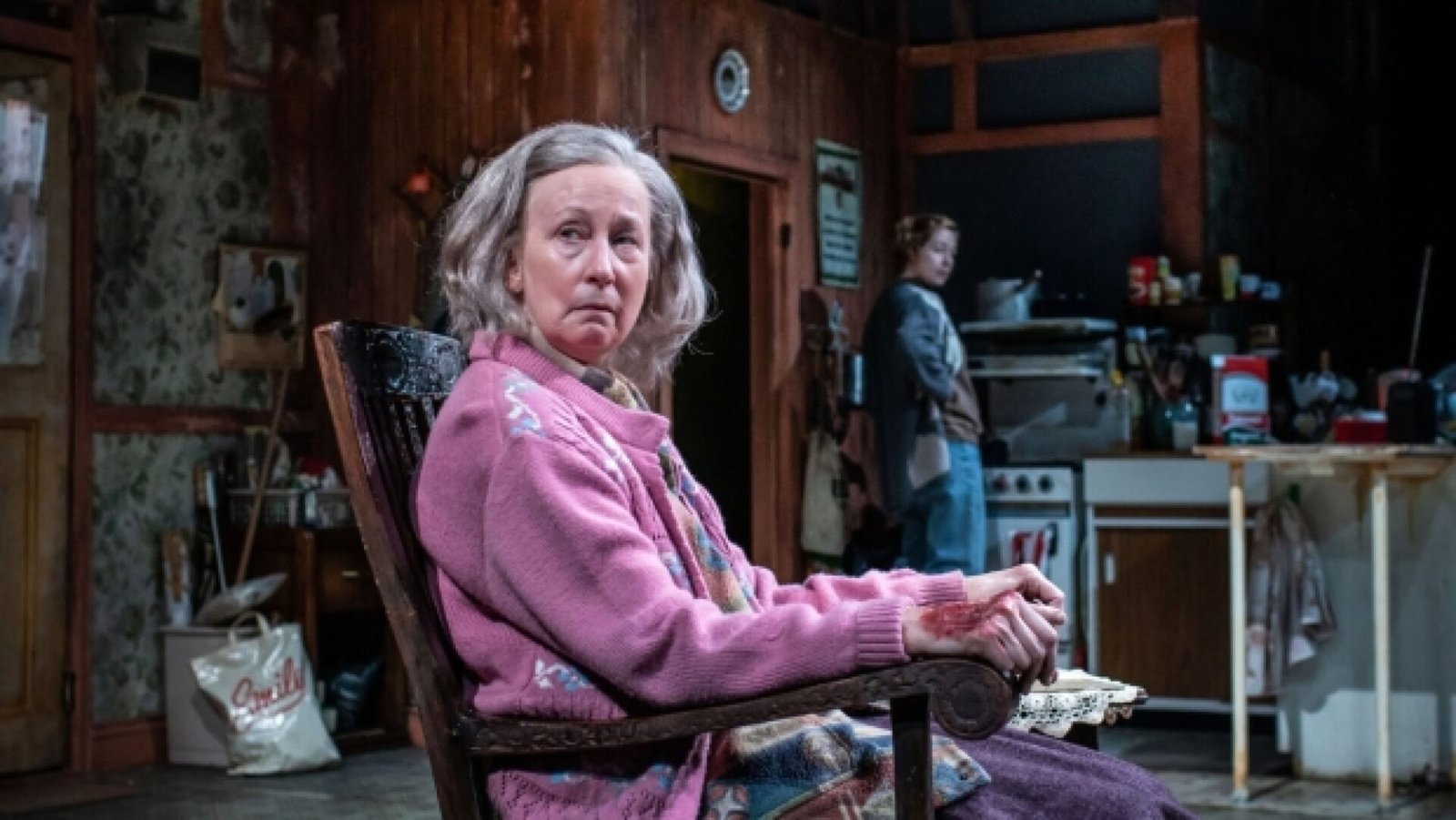 The Beauty Queen of Leenane
Written by Martin McDonagh

Directed by Rachel O'Riordan
Cast
Starring:
Adam Best
Orla Fitzgerald
Ingrid Craigie
Kwaku Fortune
Creatives
Director: Rachel O'Riordan
Designer: Good Teeth Theatre
Lighting Designer: Kevin Treacy
Composer and Sound Designer: Anna Clock
Fight Director: Kev McCurdy
A Joint Production between
the Minerva Theatre Chichester
and the Lyric Theatre Hammersmith
Information
Running Time: Two hours including an interval
Booking to 6th November 2021
Address: 
Lyric Theatre
King Street
Hammersmith
London W6 0QL
Box Office: 020 8741 6850 
Website: lyric.co.uk
Tube: Hammersmith
Reviewed by Brian Clover at the Lyric Hammersmith 
on 13th October 2021