Is violence genetically transmitted?
"You see mine is also a history of disaster. My people a humiliated people."
Man
Is it possible that we carry memories of trauma from previous generations in our genes?  The very word generation has gene in it. 
The opening of Cordelia Lynn's play, Love and Other Acts of Violence resonates with me. Students are paying for their education and the Vice Chancellor is taking home a wage of £250,000.  The problem is that the university cleaners are outsourced to a company paying them on zero hours contracts.  A character called only HIM (Tom Mothersdale) is talking at a noisy party to another character called only HER (Abigail Weinstock).  HE is supporting the picketing while SHE is finding her scientific laboratory work disrupted. 
The laboratories being underground strikes HIM as a metaphor for scientific non-engagement with activism.  They sleep together and SHE gets ill, flu or a virus.  More than two weeks later HE turns up at her door at 5am, drunk and stoned on his birthday.  HE has told us that his mother came from Poland and worked as a cleaner, but HE was born here.  HE is a poet and when they meet HE describes the way in which society is toughening up on the activists accused of subversion.   
Where HE will talk and talk about his anti-Capitalist activities, SHE will recall how it feels to make love with him, in the text in bold, aside from their conversation.  We follow their relationship as they get closer and move in together.  SHE will explain that she is Jewish and her family came from Warsaw.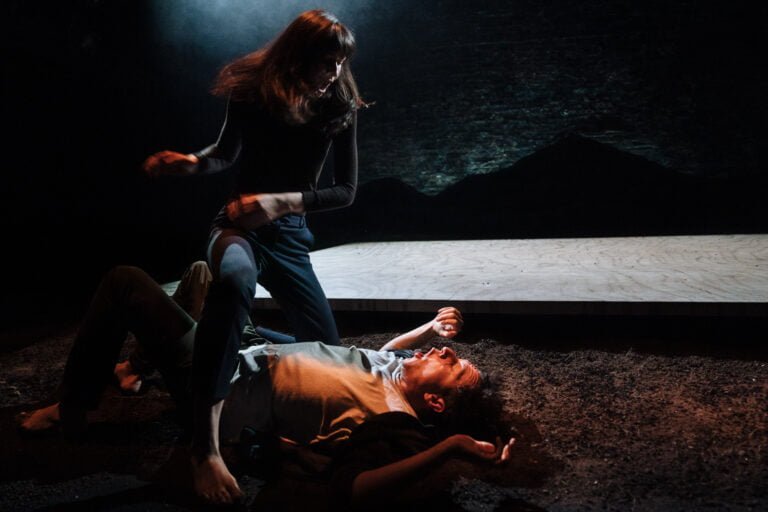 They argue when she sets an examination on a demonstration day so that her students cannot attend without failing their course.  They further argue when his published book of poems is dedicated to HER.  HE will get into debates about being an activist and imply that if the Jews has been more militant the Holocaust might not have happened and these arguments descend into shocking violence as they lash out at each other.
The Epilogue is set approaching 120 years before, during the Lemberg Pogrom in Poland where a Jewish carpenter Tatte (Richard Katz) is carving a child's toy ram watched by Baba (Abigail Weinstock).  The empty set of the future is now full of furniture and Jewish religious candlesticks as we see the kind of cataclysmic set collapse that Michael Longhurst is gaining a reputation for at the Donmar.  I have a Jewish friend who two years ago came back from a trip to Warsaw shocked at how little Jewish history was honoured or even recorded there. 
Tom Mothersdale as HIM is impassioned, very talkative as he defends the cause against increasing state control.  Abigail Weinstock as HER is quieter and more thoughtful, less impulsive.  Both convince, although for me the violence between them shocks rather than is wholly credible but then maybe that violence is a metaphor, a reminder of their genetic history? 
This is the second play I've seen directed by Elayce Ismail, the first was the magnificent Shedding a Skin and I can see a promising future for her.    
The last scene of the Epilogue is a moving description of a pogrom in Poland where HER ancestor meets HIS ancestor on separate sides of the divide.  The hurt and fear resonate over the hundred years and a chasm of incompatible difference opens.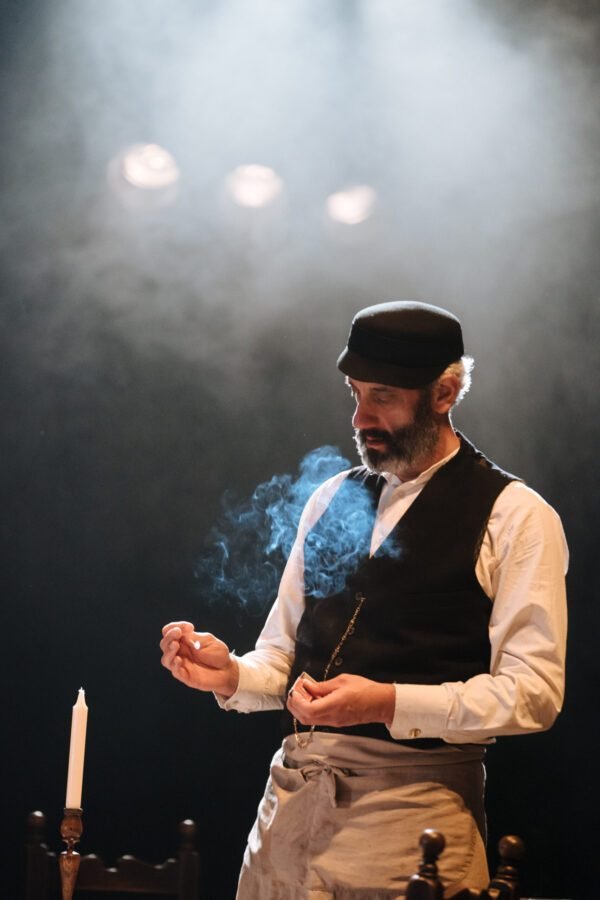 Love and Other Acts of Violence

By Cordelia Lynn
Directed by Elayce Ismail
Cast
Starring:
Abigail Weinstock
Tom Mothersdale
Richard Katz
Finley Glasgow/Daniel Lawson
Alexander Fitzgerald/
Charlie Tumbridge
Creatives
Director: Elayce Ismail
Designer: Basia Bińkowska
Lighting Designer: Joshua Pharo
Sound Designer: Richard Hammarton
Movement, Fight and Intimacy Director: Yarit Dor
Information
Running Time: Two hours and 45 minutes with an interval
Booking to 27th November 2021
Theatre: 
Donmar Warehouse
Earlham Street
Seven Dials
London WC2H 9LX
Tube Covent Garden/Leicester Square
Reviewed by Lizzie Loveridge at the 
at the Donmar Warehouse at the matinée 
on 16th October 2021