Get Up Stand Up! The Bob Marley Musical
packs a punch as delicious as any Jamaican rum punch
Get up, stand up (Oh yeah) stand up for your rights (Lord, Lord)
Get up, stand up (In the morning) stand up for your rights (Stand up for your rights)
Get up, stand up (Stand up for your life) stand up for your rights (Stand up for your life)
Get up, stand up (Stand up for your life) don't give up the fight!…
Lyric from Get Up Stand Up! sung by Bob Marley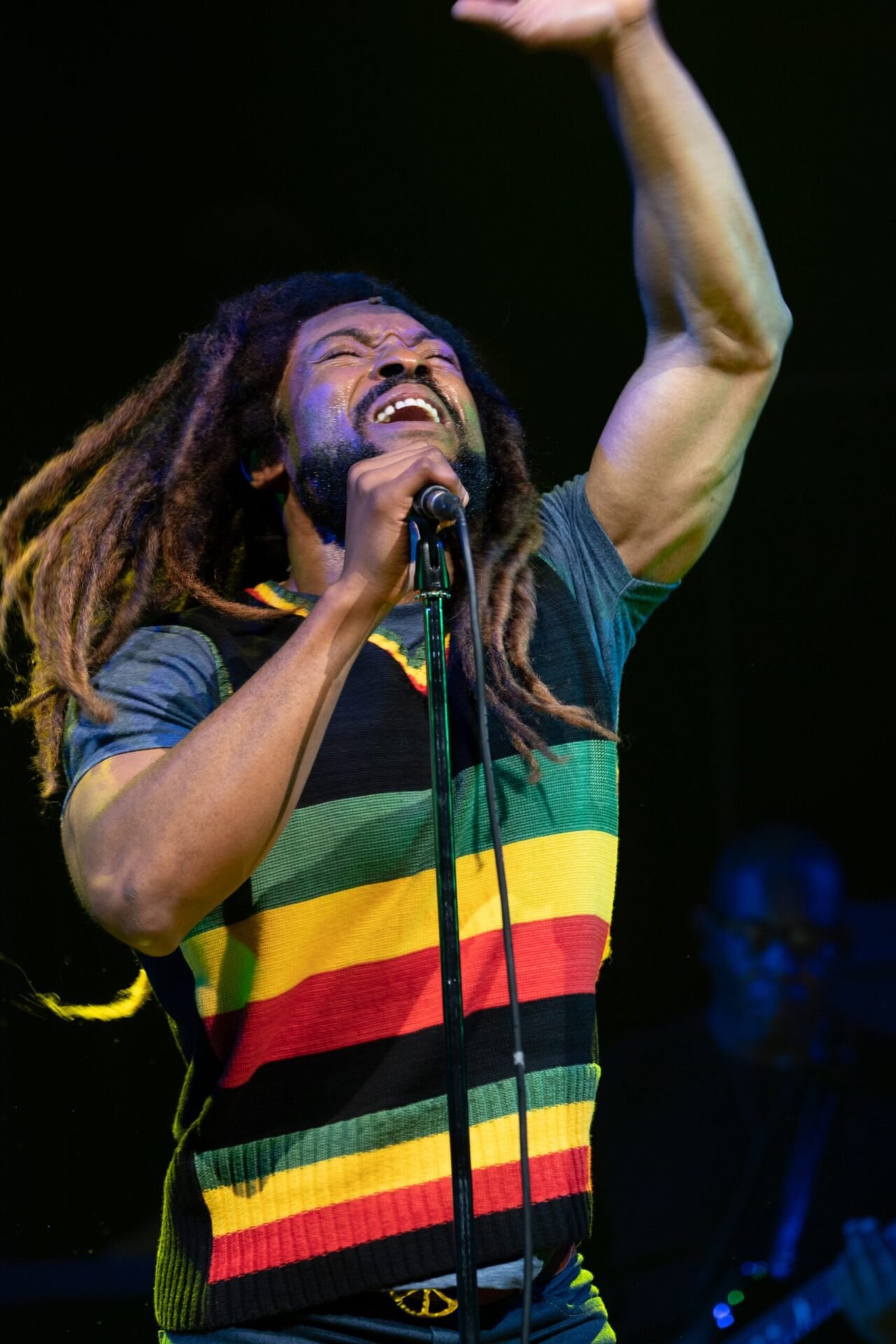 Get Up Stand Up! is the musical the reggae and rock steady fans have been waiting for and who better to recreate Bob Marley's singing voice and persona than Arinzé Kene, a proven actor, singer, poet and writer.
The musical opens with a DJ and the whole cast are introduced naming the character they are playing. We switch to the hills of Jamaica where Cedella Malcolm (Julene Robinson) is bringing up her son, Robert Nesta Marley but cannot afford to keep him after the payments stop from his English father so she sends him to his father's family in Kingston. Little Bob (Maxwell Cole/ Raphael Estavia/ Cannon Hay/ Archie Smith) grows up away from his mother for a couple of years but she brings him home when she discovers that he has been abandoned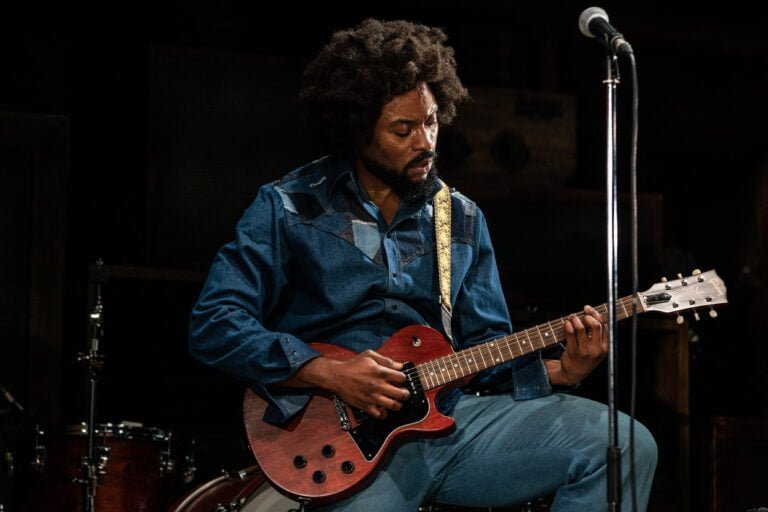 An early song is "Trench Town Rock" about a part of Kingston, the lyric "One good thing about music / When it hits you (You feel no pain)". We see a home made guitar with strings made out of electrical wiring. We learn about Bob Marley's role models, Marcus Garvey and Hailie Selassie, and Rastafarianism. Marley forms the group The Wailers and in 1965 they release their first album. In 1966 Bob Marley (Arinzé Kene) marries a soul singer Rita Anderson (Gabrielle Brooks). Lee Hall has written the book to this musical which follows the life story of Jamaica's most famous and loved singer. They come to London on a promotional tour in 1972 and destitute, find Chris Blackwell (Henry Faber) the founder of Island Records and he gives them money to make a new album. Although Marley says "I'm not interested in politics, I'm interested in people" the CIA have a file on him saying, "He is a Black Messiah and must be neutralised".
"Down Low" is sung three ways with Marley, his wife Rita and his girl friend Miss Jamaica, later Miss World, Cindy Breakspeare (Shanay Holmes). The first act closes with "Jamming" a total celebration with additional brass instruments adding to the beat.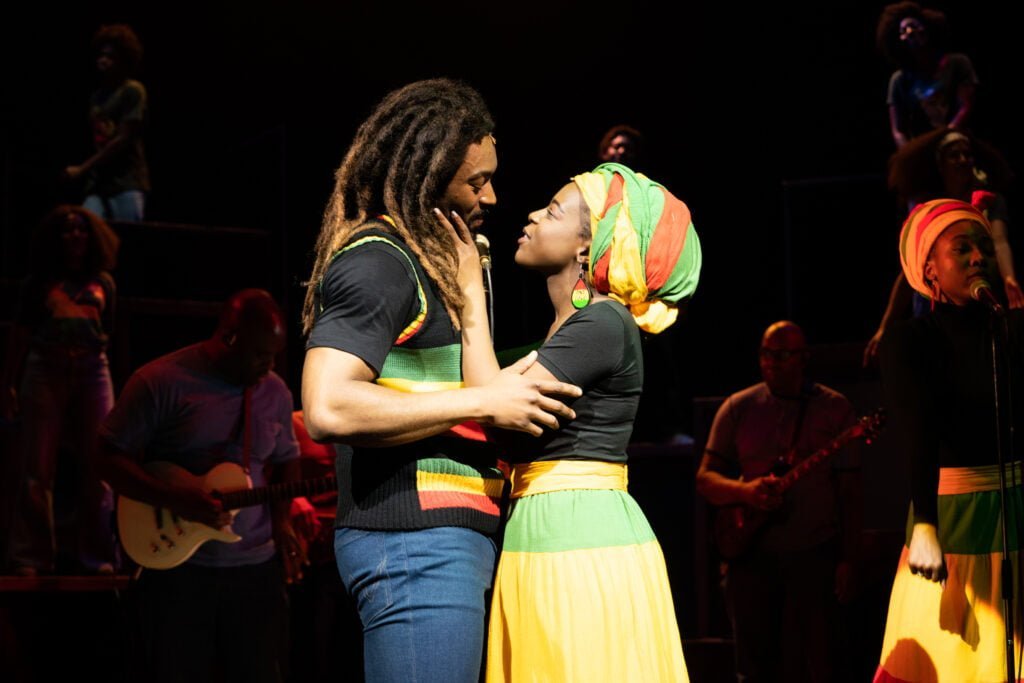 The second act opens with "Exodus", the scene full of smoke, excitingly lit and full stage choreography, my favourite dance number of the show. Clint Dyer has crafted a really professional musical and in Arinzé Kene he has chosen a sensational star, who sings and dances for the entirety of the show. The ensemble too are impressive and the girls have great voices as well.
"No Woman No Cry" sees Gabrielle Brooks perform a real show stopper and in the splendid final songs is "Redemption Song", the inspirational words of which the audience know "the songs of freedom" with its contrasting folk-based rhythm. The gentle "Three Little Birds" follows with "every little thing gonna be alright" and its "don't worry" message . "One Love" calls for peace, unity and inclusion. "Could You be Loved" has a magical and irresistible vibe. To close is the title song of the show Get Up Stand Up! and yes we got up and stood up as I suspect they will every night for some years to come.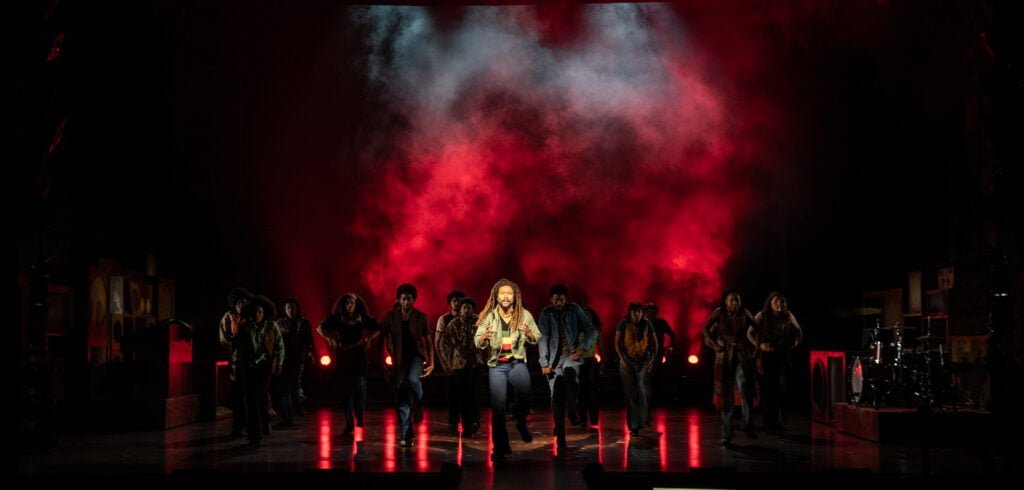 Musical Numbers
Act One
Lively Up Yourself
Could You Be Loved
Trench Town Rock
Duppy Conqueror
Stir it Up
Is this Love
Small Axe
Concrete Jungle
Talkin' Blues
Roots, Rock, Reggae
Turn Your Lights Down Low
Rebel Music
I Shot the Sherriff
War
Jamming
Act Two
Exodus
Punky Reggae Party
Waiting in Vain
Running Away
Jamming
No Woman No Cry
So Much Things to Say
Redemption Song
Three Little Birds
One Love
Could you be Loved
Get Up, Stand Up
Production Notes
Get Up Stand Up! The Bob Marley Musical
Music and Lyrics by Bob Marley
Book by Lee Hall
Directed by Clint Dyer
Cast
Starring:
Arinzé Kene
Daniel Bailey
Craig Blake
Charles Blyth
Gabrielle Brooks
Melissa Brown Taylor
Henry Faber
Shanay Holmes
Natey Jones
Sophia Mackay
Cleopatra Rey
Julene Robinson
Jacade Simpson
Nate Simpson
Michael Duke
Little Bob:
Maxwell Cole
Raphael Estavia
Cannon Hay
Archie Smith
Ensemble:
Kimmy Edwards
Declan Spaine
Jaime Tait
Swing:
Luke Buck
Athena Collins
Savanna Jeffrey
Rohan Pinnock-Hamilton
Amarra Smith
Teddy Willis
Creatives
Director: Clint Dyer
Choreographer: Shelley Maxwell
Set Designer: Chloe Lamford
Musical Director: Sean Green
Lighting Designer: Charles Balfour
Costume Designer: Lisa Duncan
Sound Designer: Tony Gayle
Sound Effects Designer: Benjamin Grant
Music Supervisor and Arranger: Phil Bateman
Creative Producer: Dominic Cooke
From an original concept by
Kwame Kwei-Armah
Orchestrator: Simon Hale
Video Design: Tal Yarden
Fight Director: Kate Waters
Information
Running Time: Two hours 40 minutes with an interval
Booking until 18th September 2022
Website: getupstandupthemusical.com
Theatre:
Lyric Theatre
29 Shaftesbury Avenue
London W1D 7ES
Box Office: 0330 333 4812
Tube: Piccadilly Circus
Reviewed by Lizzie Loveridge
at the Lyric Theatre on 20th October 2021