Every parent's nightmare!
"I didn't realise how tired it was possible to be without dying. "
Nina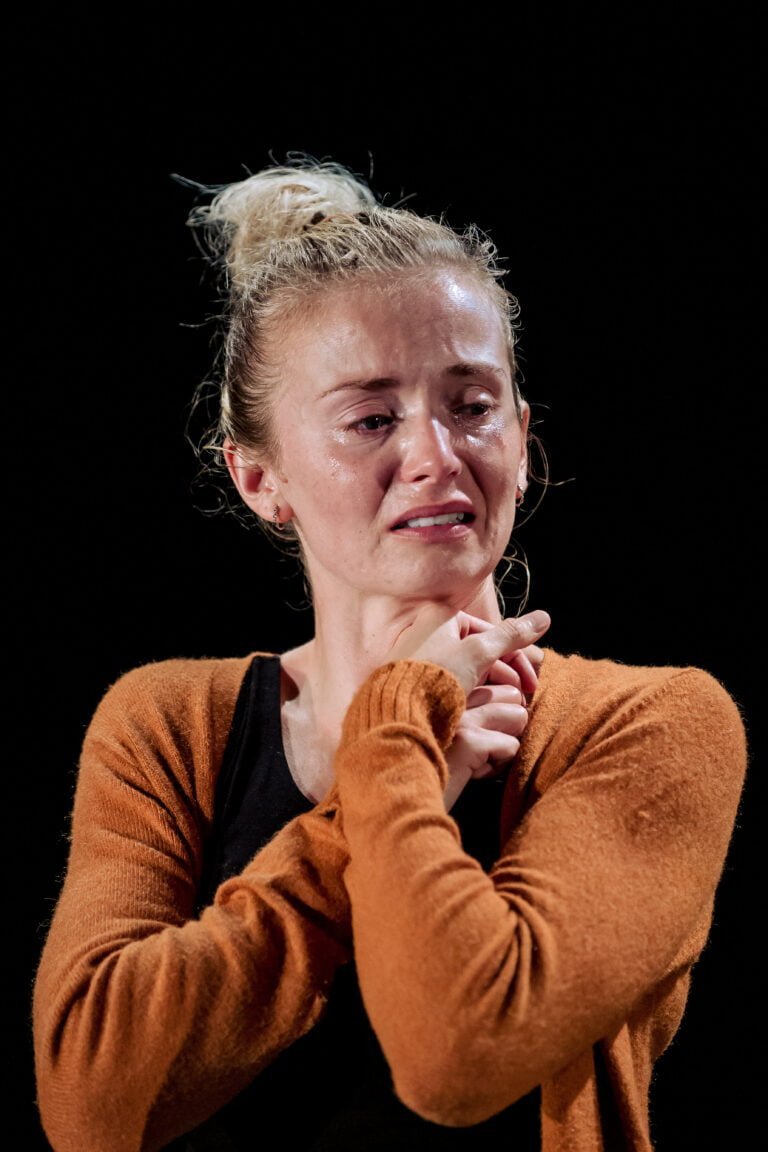 It is a distressing fact that too little support is afforded to new mothers, recovering from childbirth with complete sleep deprivation and with raised expectations about how happy they should be having given birth. 
Nina (Sophie Melville) has a three month old baby boy and she is exhausted.  She has not had sleep for more than three hours more than twice since the baby was born.  Her mother in law Pearl (Denise Black) and her husband are taking baby Ben for the night to Pearl's house to give Nina a break. 
Nina's evening off is to be spent with her friend Jackie (Cat Simmons) who works for the NHS probably as a midwife.  Nina pours out her anxieties to Jackie saying how she understands why people want to hurt screaming babies when you cannot find out what is wrong with them. 
Nina's own mother has died recently and although Pearl, her mother in law may be well meaning, she is suspicious of her daughter in law and focussed on her son, coming over in a negative way towards Nina.  There are massive amounts of judgmental behaviour doled out to new mothers who need to have their confidence boosted and to learn to trust their own judgment. 
This play is almost impossible to review without spoilers but suffice it to say that Jackie and her husband David will find themselves in conflict with hospital staff and are referred to social workers.  Jackie is torn between sticking up for her friend and reporting the truth.  Blame ricochets round this stage with Pearl acting in her son's interests and attacking Nina. 
Since the death of Maria Colwell at the hands of her stepfather almost fifty years ago, the authorities are hopefully more cautious about identifying potential cases of child abuse and I think we all agree that the interests of the child must come first.  But what happens if the authorities are over cautious or if they get it wrong?   
I remember when I had my babies, Dr John Cobb had written a book called Baby Shock about what happens to new mothers when faced with a new life style with adapting to breastfeeding and sleep deprivation and a day that has no coffee breaks or lunch hours in it. 
Sophie Melville gives a harrowing performance as Nina.  She is sympathetic whereas Denise Black as Pearl is scratchy and difficult.  Cat Simmons has a more problematic part as Jackie, torn between her loyalty towards her friend and her professional ethics.  What would you do in Jackie's place?  Denise Black doubles as flashbacks to Nina's mother but with the same clothes and a lower class accent which doesn't work well. 
The set is plain apart from the profusion of washed baby clothes which Jackie folds up to help Nina but three large Perspex mobiles hang from the ceiling and when caught by the lighting, throw shadows and hazy moving reflections throughout the play. 
There is nothing unbelievable about MUM  with Abigail Graham's sound direction but I do wonder how many new mothers will be able to find the time and the baby sitter to see it.  Thank goodness the Soho have a parent and baby performance on 6th November.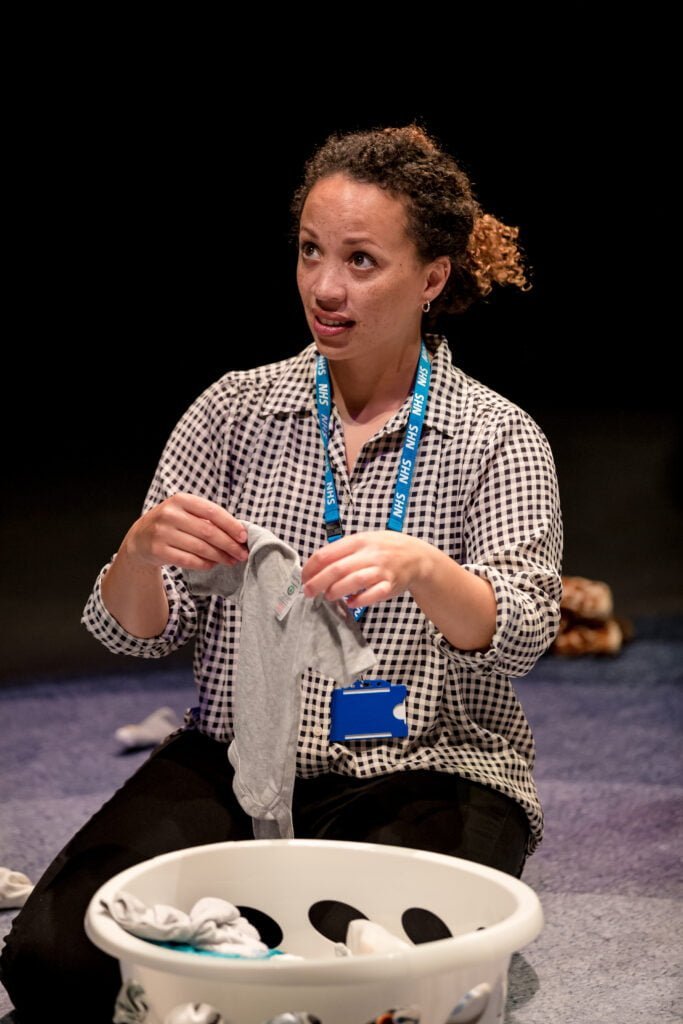 MUM
Written by Morgan Lloyd Malcolm
Directed by Abigail Graham
Cast
Starring:
Sophie Melville
Cat Simmons
Denise Black
Creatives
Director: Abigail Graham
Designer: Sarah Beaton
Lighting Designer: Sally Ferguson
Sound Designer: Anna Clock
Movement: Annie-Lunette Deakin-Foster
Information
Running Time: One hour 
without an interval
Booking to 20th November 2021
Theatre: 
The Soho Theatre
21 Dean Street
London W1D 3NE
Phone: 020 7478 0100
Website: Soho Theatre
Tube: Tottenham Court Road
Reviewed by Lizzie Loveridge
at Soho Theatre
on 25th September  2021