A Curious Incident is magical and compelling
"I always tell the truth "
Christopher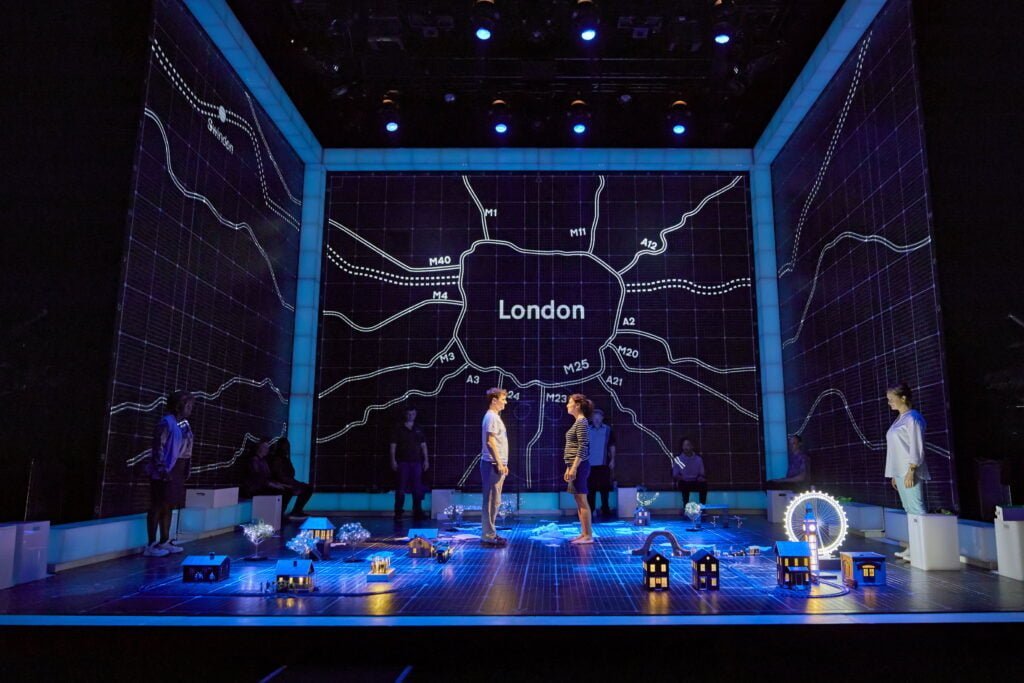 This is my review of Curious Incident from 2013 at the Apollo.  It has since been at the Gielgud and the Piccadilly Theatres and is at the Troubadour Wembley and on tour.
The Curious Incident of the Dog in the Night-time was a hit novel for Mark Haddon with its analysis of the adventures of a 15 year old boy who has a disorder in the autism spectrum, akin to Asperger's. Haddon says the novel is not a manual on autism but a book about otherness and how society at large reacts to what is different.
Marianne Elliott and Simon Stephens have turned the novel into a play which I found even more fascinating than the book. After selling out at the Cottesloe at the National Theatre, it has thankfully transferred to the Apollo in the West End. The play is charming and beautifully staged by Bunny Christie on a black and white grid on three sides and the floor, to draw on with chalk, or to illuminate with seemingly endless lighting possibilities.
Christopher Boone (Luke Treadaway) is visited and questioned by the police investigating the gruesome death by garden fork of the dog belonging to his next door neighbour. The police are patronising and long suffering when faced with Christopher's wonderful retention of strange facts and his insistence on precise detail. Christopher speaks his own words but his thoughts are usually voiced by Niamh Cusack as Siobhan, Christopher's teacher at the special school he attends. Christopher is candid and often unintentionally amusing as he describes truths that the rest of us shy away from because they might be tactless or hurtful or just too frank. We track back two years into the past and Christopher's recalls how his mother Judy (Holly Aird) "went into hospital" and later his father Ed (Seàn Gleeson) told him that "she had died".
Christopher is a talented mathematician and fascinated by theorems and prime numbers. The numbers and lights are projected to show Christopher's mental activity. There are situations which he finds difficult to handle, confusion and crowds, and all the other actors will physically convey Christopher's agitation in a choreographic cacophony. Two of Frantic Assembly's team, Scott Graham and Steven Hoggett are the movement directors and their imaginative physical work greatly adds to the complexity of interpretation. Christopher finds some unopened letters from his mother who he had thought was dead which throw him into a state of consternation, and while his mother reads her letters to him, Christopher single-mindedly builds a miniature train track layout while papers rain down and the letters are projected on the walls.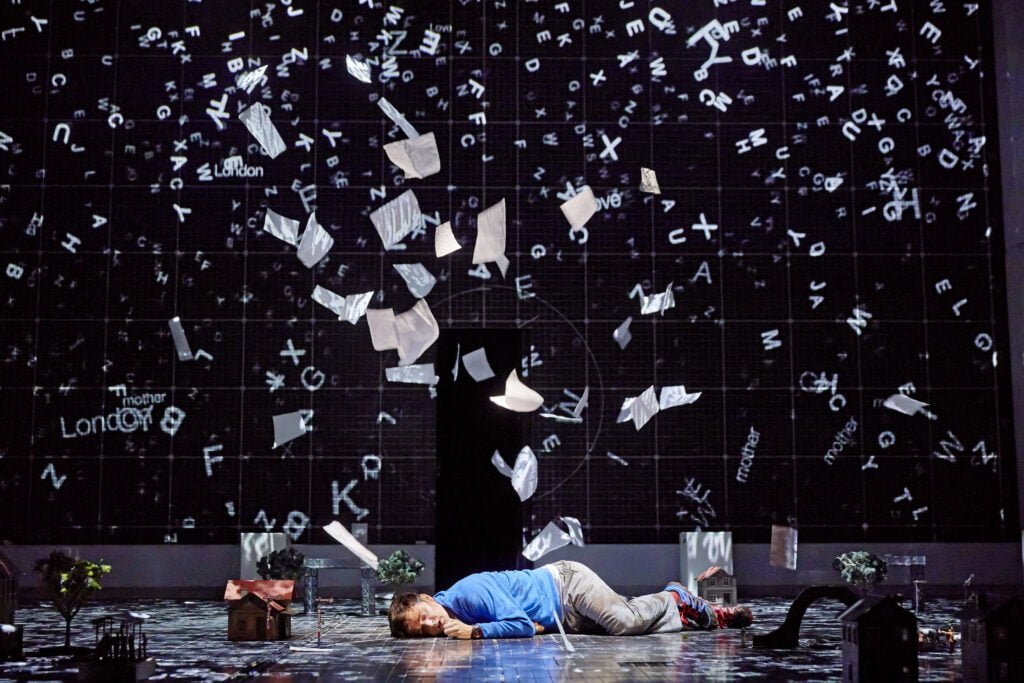 "I don't like acting," says Christopher, ". . . . pretending something is real when it's made up. It's a kind of lying." He sets off on an adventure to go to London with his father's credit card and Toby, his pet rat for company. The underground and the escalators will fascinate Christopher who has been brought up in Swindon in Wiltshire. The congestion of London is beautifully realised by Marianne Elliott with tramping people, projected sound bites, rap music and flashing lights. We see too Christopher's odd quirks. He doesn't like being hugged or kissed but instead, looking away, will put his hand palm facing you for you to match it with your hand.

Luke Treadaway creates Christopher's character with immense skill without ever being mawkish. It is a play which appeals to our inner child and Treadaway's performance allows us to see the world through his eyes. I never believed he was anything except 15. Niamh Cusack is very soft and kind as his teacher and recognises Christopher's mathematical potential. He is entered for A level Mathematics, something that has never before happened at his special school.
The 11 strong cast work very hard as the 37 plus characters who interact with Christopher on his quest to find out how the dog was murdered. Christopher onstage will prove a solution involving Pythagoras' Theorem for those who stay after the curtain call. Solving the murder will impact terribly on Christopher's sense of trust. The ending is just perfect and I won't spoil it here but there is a replacement for Christopher's pet rat which has the ahh factor.

I met someone in the interval on opening night who was unprepared for the simplicity of the story line through Christopher's black and white thoughts and who was under the impression that he was watching a children's play, and here I quote, until he heard "the F word." I would name The Curious Incident of the Dog in the Night-time as the number one must-see play on in London but research it before you go, so you know what to expect.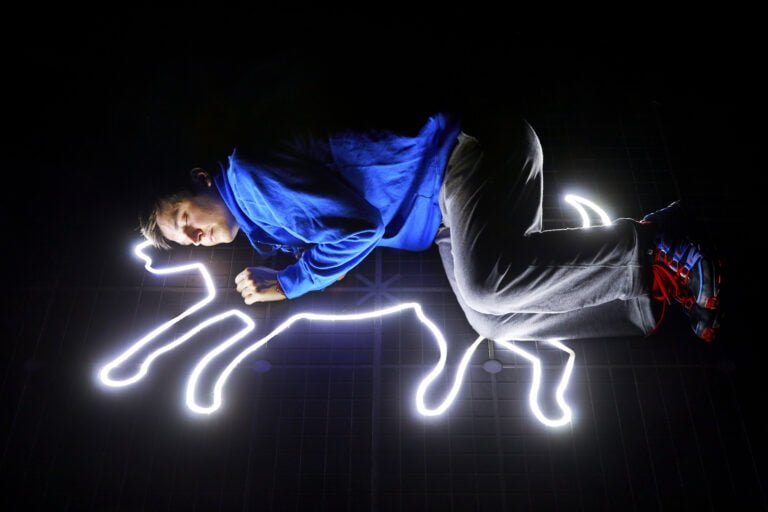 The Curious Incident of the Dog in the Night-time 
Based on the best selling novel by Mark Haddon 
Adapted for the stage by Simon Stephens 
Directed by Marianne Elliott
Cast
Starring:
Luke Treadaway
Niamh Cusack
Seàn Gleeson
Holly Aird
Howard Ward
Audrey/Marilyn as Toby 
With:
Tilly Tremayne
Sophie Duval
Matthew Barker
Rhiannon Harper-Rafferty 
Creatives
Director: Marianne Elliott
Designer: Bunny Christie
Movement: Scott Graham and Steve Hoggett
Music: Adrian Sutton
Lighting Designer: Paule Constable
Sound Designer: Ian Dickinson for Autograph
Video Designer: Finn Ross
Movement: Rachel-Leah Hosker
Information
Running Time: Two  hours 40 minutes with an interval
Closed at the Apollo Theatre 19th December 2013
Now booking 2021 Troubadour Wembley and on tour
Website: https://www.curiousonstage.com
Reviewed by Lizzie Loveridge
at the Apollo Theatre
on March 2013