Heathers the Musical wows them on tour!

Veronica:
 September 1st, 1989. Dear Diary: I believe I'm a good person. Ya know, I think there's good in everyone, but here we are first day of senior year. I look around at all these kids I've known all my life and I ask myself: What happened?
Kids
Freak! Slut! Burnout! Bug-Eyes! Poser! Lard-ass!
Just as the announcement comes that Bill Kenwright has bought The Other Palace from Andrew Lloyd Webber and that Heathers the Musical will return there on 25th November, I saw Heathers on tour in Wimbledon. 
Rebecca Wickes takes on the role of Veronica Sawyer fresh from Trinity Laban's Musical Theatre course in 2018, and playing Katherine Howard in Six on the Norwegian Cruise Line.  She can belt out Veronica's wonderful tunes starting with "Beautiful" and takes a cheekier more comic interpretation of Veronica than I saw from Christina Bennington at the Haymarket.  Rebecca Wickes has all the niceness of Veronica but we find it hard to believe that she could be mean to Martha (Mhairi Angus).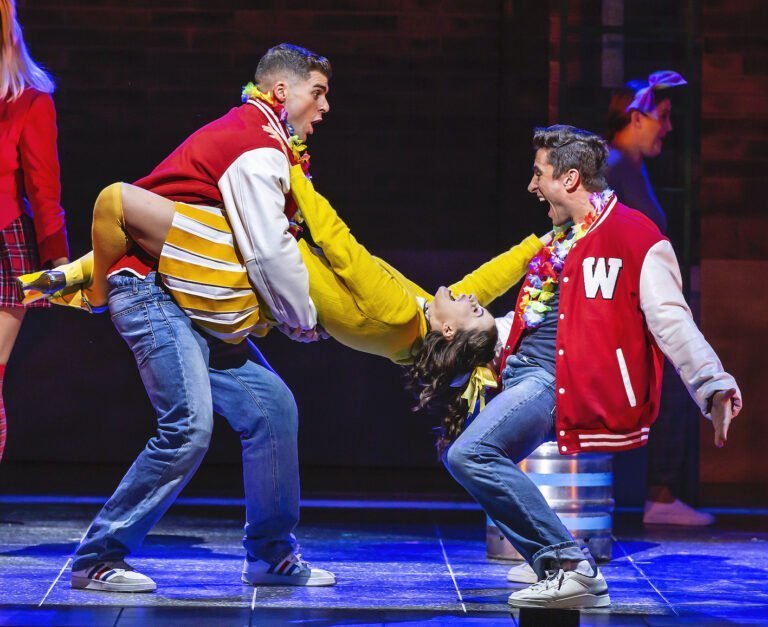 Simon Gordon plays JD, Veronica's boyfriend and also sings superbly.  His father Big Bug Dean (Kurt Kansley) is hideous and it is no surprise that JD has a death wish.  The three Heathers appear with the same aplomb in their iconic poses and dancing.  Heather Chandler (Maddison Firth) is strong acting and looks great but her voice can become a bit shrill.  Heather Duke is played by original London cast member (Merryl Ansah) and is a real all rounder and made me wonder whether she could play Heather Chandler.  Lizzy Parker plays Heather McNamara completing the trio of fashionistas.
Of course in a strange event as life imitates art, we see Veronica claiming, as does Alec Baldwin, that she thought the bullets were blanks but only clever Martha suspects what really happened.  However luckily for her Veronica misses her shot. 
The touring show of Heathers the Musical is not a pale imitation of the one I saw in the West End but the tour is bringing this ultra-popular musical to a wider audience than can get to London.  For the review at the Theatre Royal Haymarket scroll down after the touring cast.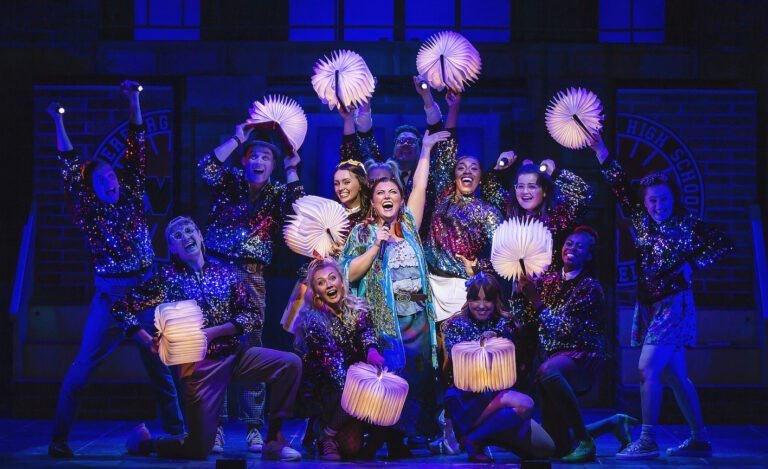 Act One
Beautiful
Candy Store
Fight For Me
Freeze Your Brain
Big Fun
Dead Girl Walking
The Me Inside of Me
You're Welcome
Never Shut Up Again
Our Love is God
Act Two
My Dead Gay Son
Seventeen
Shine A Light
Lifeboat
Shine A Light (Reprise)
I Say No
Hey Yo Westerburg
Kindergarten Boyfriend
Yo Girl
Meant To Bo Yours
Dead Girl Walking (Reprise)
Seventeen (Reprise)
Heathers the Musical
Book,  Music and Lyrics by Kevin Murphy and Laurence O'Keefe
Based on the film by Daniel Walters 
Directed by Andy Fickman
Choreographer/Associate Director: Gary Lloyd
Cast
Starring:
Rebecca Wickes
Simon Gordon
Maddison Firth
Marryl Ansah
Lizzy Parker
Andy Brady
Kurt Kansley
Georgina Hagen
Mhairi Angus
Liam Doyle
Rory Phelan
With:
Benjamin Karran
Sam Stones
Callum Connolly
Rhiane Drummond
Bayley Hart
Daisy Twells
MayTether
Creatives
Director: Andy Fickman
Designer: David Shields
Choreographer/Associate Director: Gary Lloyd
Lighting Designer: Ben Cracknell
Sound Designer: Dan Samson
Musical Director: Phil Cornwell
Arrangements and  Orchestration: Laurence O'Keefe
and Ben Green
Information
Running Time: Two hours and 30 minutes with an interval
Booking at Wimbledon to 6th November then on tour
Theatre:
New Theatre Wimbledon
93 The Broadway
Wimbledon
London SW19 1QG
Barbican Centre
Silk Street
London EC2Y 8DS
Box Office: 0844 871 7615
Tube: Wimbledon
Reviewed by Lizzie Loveridge
at the New Theatre Wimbledon on 2nd November 2021
Touring Venues
Bristol Hippodrome                                                   
09 November – 13 November 2021                           
Milton Keynes Theatre                                              
16 November – 20 November 2021                           
High Wycombe Swan Theatre                                   
23 November – 27 November 2021                           
Cardiff Wales Millennium Centre                              
30 November – 04 December 2021                           
Edinburgh Playhouse
07 December – 11 December 2021
Below is the review of Heathers the Musical at the Theatre Royal Haymarket from July 2021
Heathers the Musical,
a black comedy set in an American High School
"I've been through ten high schools
They start to get blurry
No point in planting your roots
'Cause you're gone in a hurry . . .
I don't learn the names
Don't bother with faces"
Lyrics to Freeze Your Brain sung by JD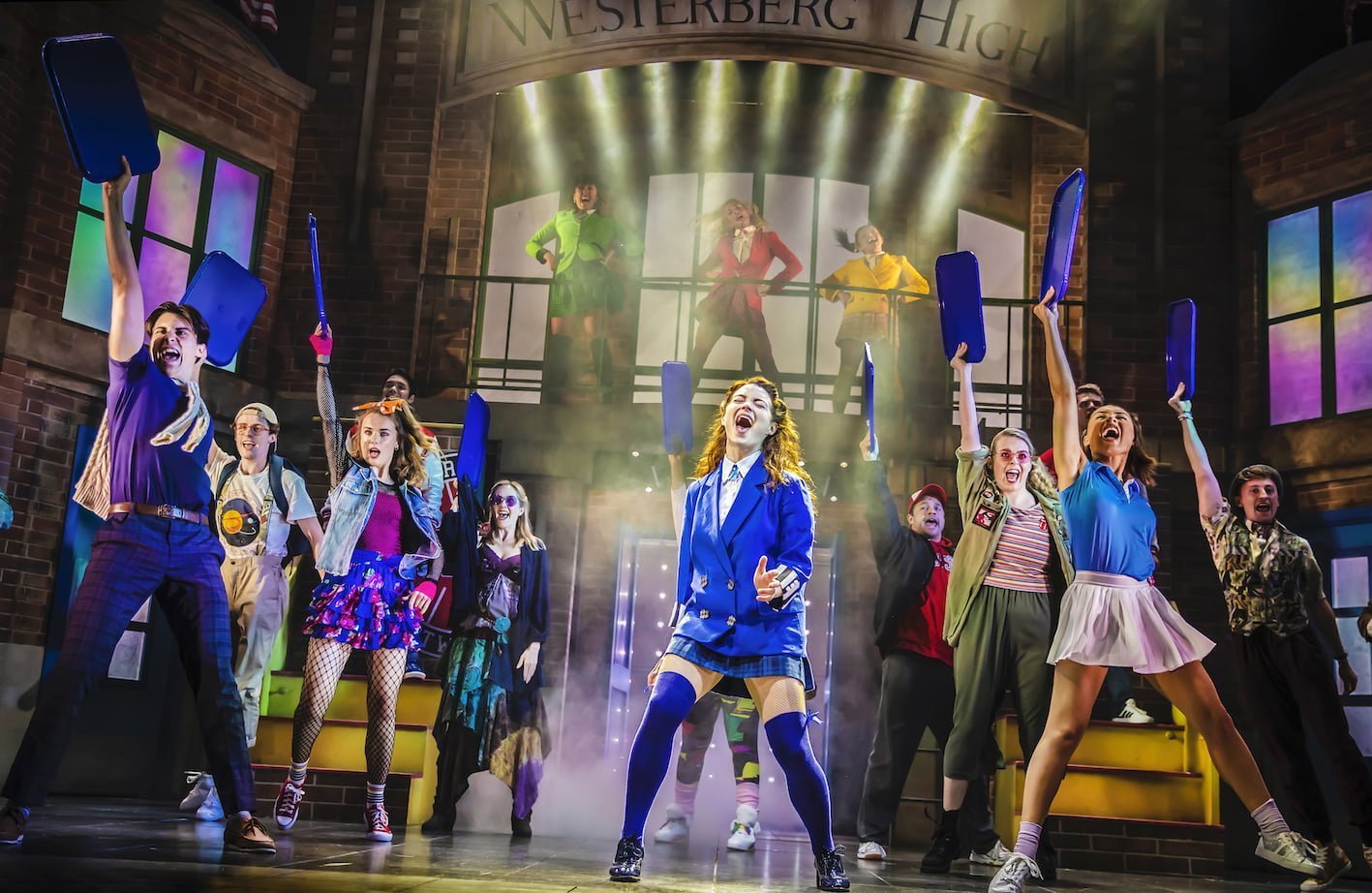 I had heard lots about Heathers the Musical with its cult following and huge fan base for the songs.  Also I heard some disapproval from some of the adults or critics who had seen it or of the 1989 movie, which wasn't a musical.  Heathers was projected as a counter to all the silly, romantic, air head high school stories with its dark themes and black comedy.  When I read the film plot, I was concerned at the attempted rapes, murders and suicide, although one of my favourite musicals is Parade which ends with a lynching.  So would Heathers the Musical be Marmite or Peanut Butter?  Would I hate it or love it? 
Heathers is about new girl 17 year old Veronica Sawyer (Christina Bennington)'s ability to survive at high school where she isn't one of the cool girls, The Heathers are liked by the cool boys, the jocks, Ram Sweeney (Joaquin Pedro Valdes) and Kurt Kelly (Ross Harmon).  Being clever Veronica develops a strategy to ingratiate herself with the three Heathers by using her ability to forge detention notes and the like.  Her acceptance by the Heathers means that the boys also stop abusing her.
The bullying culture at Westerberg High is quite toxic and Veronica's close friend Martha Dunnstock (Madison Swan) is picked on.  Veronica, though, is adopted by the Heathers, given a makeover and looks forward to an easier life at school in the song "Beautiful".  Veronica is attracted to a new boy Jason Dean or JD (Jordan Luke Gage) who can quote poetry by Baudelaire, but JD criticises her for dropping her best friend Martha. 
The leader of the Heathers, strikingly tall and blonde Heather Chandler (Jodie Steele) finds out Martha has a crush on Ram and gets Veronica to forge a love letter supposedly from Ram to Martha.  Chandler offers inducements to Veronica in the pretty song "Candy Store".  Veronica's parents (Lauren Ward and Steven Serlin) don't like her new friends and wish she was back with Martha.  JD starts to give Veronica an inkling of his disturbed past in "Freeze My Brain" when he uses the Slurpees from a 7-11 to numb his insecurity: "When the voice in your head says you're better off dead." 
After the Heathers humiliate Martha, Veronica resigns from their friendship group.  Veronica gets drunk at a party and throws up on Heather C and realises she will now be their enemy.  She goes to JS's house and sleeps with him, "Dead Girl Walking".  The sex scene is lit red.  Veronica tries to apologise to Heather C and makes a hangover cure for them both.  JD makes another with drain cleaner and, in a muddle, Heather C drinks it and dies.  The rapes from the film have been excluded in the West End version of Heathers.  JD makes Veronica compose a suicide note supposedly from Heather C "The Me Inside of Me" which when publicised makes Heather C even more iconic in death than she was in life. 
Veronica escapes the date rape set up by Kurt and Ram, but the two jocks tell lies about Veronica and badly beat up JD when he tries to defend her.  At JD's instigation Veronica lures them to the cemetery promising them the threesome they fantasize about with her.  JD gives Veronica a gun with a tranquiliser bullet and he will tranquilise Ram while she shoots Kurt also to knock him out.  Veronica forges a suicide note saying that Ram and Kurt were lovers and gay to destroy their reputation.  JD shoots Ram and Veronica misses.  Veronica realises with horror that Ram is dead and JD shoots Kurt dead as well.  The bullets were real.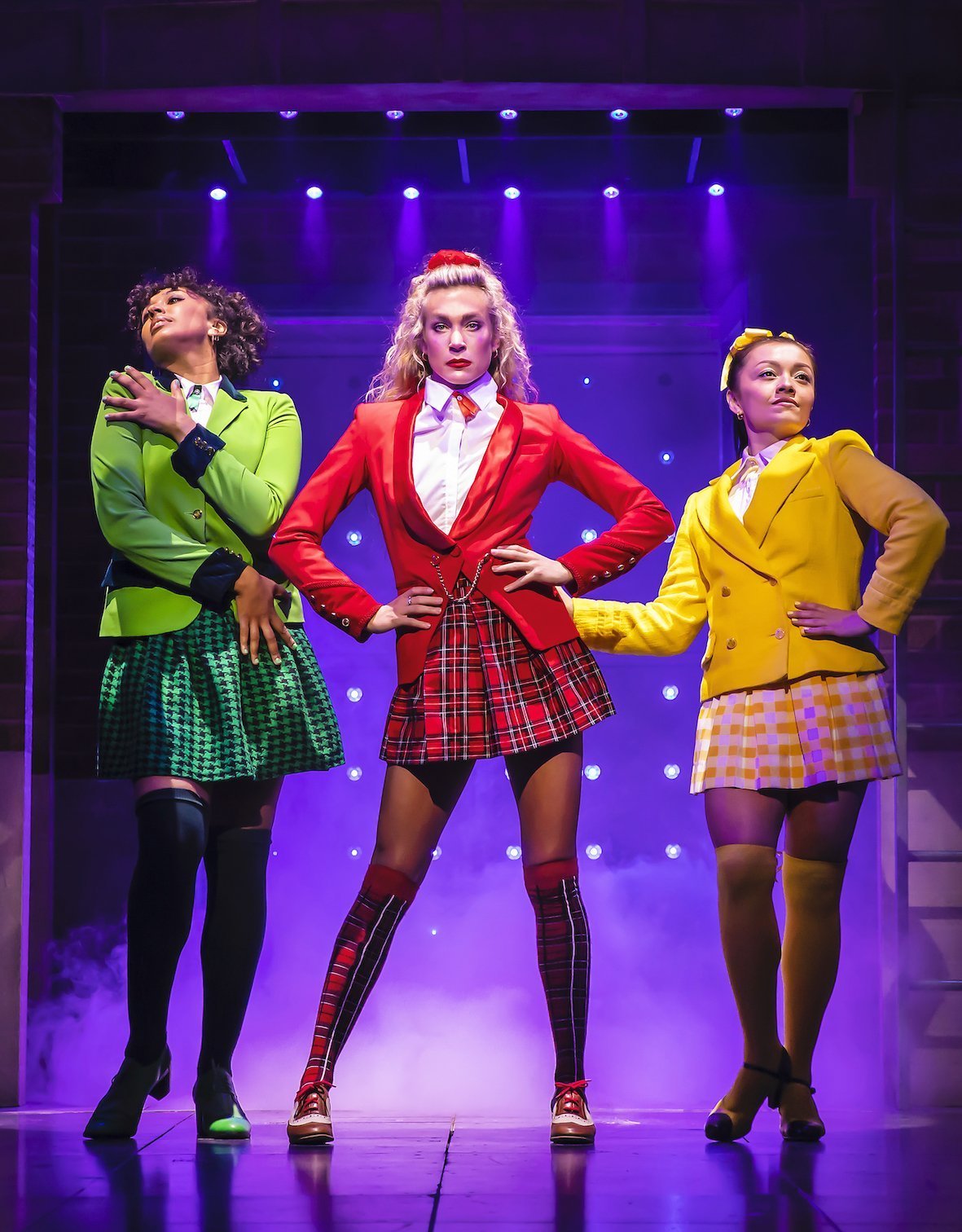 That is pretty much a summary of the First Act of Heathers.  It is a black comedy with a book that you will realise is more jokey revenge fantasy than reality.  You are not saying goodbye to these three dead characters as they continue to play a role as ghosts of themselves.  I kept thinking about Hamlet in Heathers, the essentials of a Jacobean revenge tragedy are in Heathers.  Veronica and JD want revenge, there are ghosts of murdered people, there is a graveyard scene in the church funeral for the two boys, Heather C drinks the poisoned chalice like Gertrude, JD contemplates suicide.
Act Two opens with the joint funeral for Ram and Kurt.  "My Dead Gay Son".  Ram's father (Simon Bailey) tells off Kurt's father (Steven Serlin) for being homophobic and in denial.  "Our boys were pansies," says Mr Sweeney.  Remember this is 1989.  At the funeral the congregation hand jive and dance while seated in the church. What a choreographed celebration it is!  The fathers wear rainbow ties and the scene gets great applause. 
JD tells Veronica about how he saw his mother's suicide and how he and his father continually move around.  In the beautiful duet, "Seventeen" Veronica tells JD to give up violence or lose her and he agrees.  JD had sung "Our Love is God" to her. 
A televised assembly is held at school by the Guidance Counsellor, Mrs Fleming (Lauren Ward) to talk about suicidal thoughts "Shine A Light".  I am not going to spoil any more of Heathers  by writing about how the ends are tied up. 
What I would say is that if all those people complaining about the lack of a young audience going to theatres were to put on more shows like Heathers  and Six  there would not be an ageing issue.  I saw lots of mothers taking their daughters and school friends at the Haymarket. The songs are beautifully sung.  Christina Bennington has a voice that is both powerful and sweet and I really liked Jordan Luke Gage's strong delivery with skilled attention to acting the lyrics. 
I liked Gary Lloyd's choreography.  Very slick set pieces of the whole ensemble creating visual memories.  I think I can detect producer Paul Taylor Mills' talent in the success and professionalism of this show.
There is good comedy.  A standout moment for me was when Veronica orders Ram to strip at gun point and taking off his trousers before his shoes, he gets his foot stuck and almost falls over.  If this was accidental, keep it in the show! Heathers is a very visual musical, always colourful with great lighting, costumes and sets and which is also on tour to the UK.  I wonder whether croquet will make a comeback? 
Act One
Beautiful
Candy Store
Fight For Me
Freeze Your Brain
Big Fun
Dead Girl Walking
The Me Inside of Me
You're Welcome
Never Shut Up Again
Our Love is God
Act Two
My Dead Gay Son
Seventeen
Shine A Light
Lifeboat
Shine A Light (Reprise)
I Say No
Hey Yo Westerburg
Kindergarten Boyfriend
Yo Girl
Meant To Bo Yours
Dead Girl Walking (Reprise)
Seventeen (Reprise)
Heathers the Musical

Book,  Music and Lyrics by Kevin Murphy and Laurence O'Keefe
Based on the film by Daniel Walters 
Directed by Andy Fickman
Choreographer/Associate Director: Gary Lloyd
Cast
Starring:
Christina Bennington
Jordan Luke Gage
Jodie Steele
Bobbie Little 
Frances Mayli McCann
Simon Bailey
Ross Harmon
Steven Serlin
Madison Swan
Joaquin Pedro Valdes
Lauren Ward
With:
Iván Fernández González
Aimée Hodnett
Teleri Hughes
Christopher Parkinson
Rumi Sutton
Rachel Rawlinson
Giles Surridge
Creatives
Director: Andy Fickman
Designer: David Shields
Choreographer/Associate Director: Gary Lloyd
Musical Supervisor: Nigel Lilley
Lighting Designer: Ben Cracknell
Sound Designer: Dan Samson
Musical Director/Keys: Mark Crossland
Associate Musical Director:  Phil Cornwell
Arrangements and  Orchestration: Laurence O'Keefe
and Ben Green
Information
Running Time: Two hours and 30 minutes with an interval
Closed at the Haymarket on 11th September 2021
but on tour in the UK
Theatre
Theatre Royal Haymarket
18 Suffolk Street
London SW1Y 4HT
Telephone: 020 7930 8800
Website: trh.co.uk
Reviewed by Lizzie Loveridge at the
Theatre Royal Haymarket performance
on 22nd July 2021