Bonkers Adaptation of Jane Austen
"Being a fucking smartarse is… unladylike!"
Mrs Bennett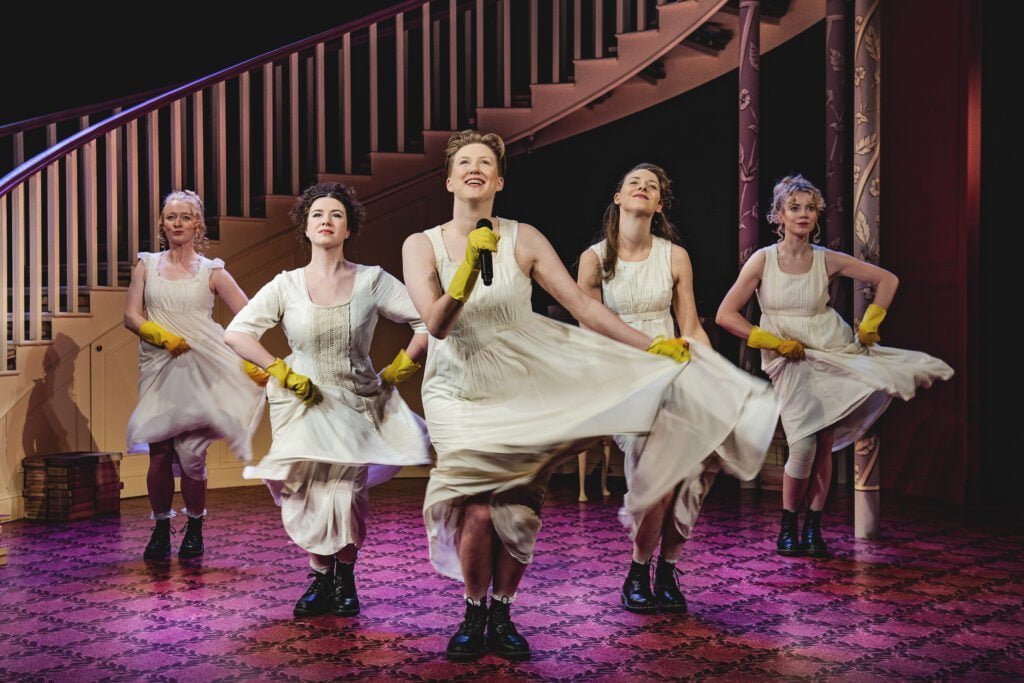 This show which first played in Glasgow at the Tron Theatre in 2018 has toured the UK before coming into the Criterion Theatre at Piccadilly Circus.  It is a silly retelling of Jane Austen's romantic novel of misplaced pride and irrational prejudice with an all female cast of five. 
Austen's satire sends up people like Caroline Bingley, a self seeking social climber but also shows how her heroine Elizabeth Bennett makes up her mind about people very quickly and doesn't budge from that prejudiced view. 
Isobel McArthur has written the playscript and takes on the oddly joint roles of Mrs Bennett and Fitzwilliam Darcy.  Kitty, Lydia's sidekick is the only Bennett girl not to feature in this retelling.  Most of the story elements in the original novel are in the play but bringing it in at two and a half hours makes it an hour overly long. 
Described as a musical is inaccurate as they are only a verse or two of popular music songs, so just as we get to enjoy Mr Darcy having "You're so Vain" addressed at him, it finishes.  Same too, with all five singing Bonnie Tyler's "Holding out for a Hero" but the cast produce microphones wittily concealed.
There is no doubt that Hannah Jarrett-Scott has strong comedic and singing talent playing the arrogant Miss Bingley in satin and feathers and her brother Charles,  Charlotte Lucas, in a masculine short back and sides haircut and plain brown gown, and even a trumpet.  It is Charlotte who ends up sadly married to the appalling clergyman Mr Collins (Tori Burgess) here given a terrible Essex accent, which grates rather than wheedles, for his toadying up to Lady Catherine de Bourgh (Christina Gordon). 
Christina Gordon is Jane, the beautiful pride of the Bennett sisters, in a hideous turquoise nylon nightdress, probably sold by British Home Stores in the 1970s.  Lizzie Bennet (Meghan Tyler: pronouns they and them) has an out of period Victorian lime green gown but they (have or has?) a nice delivery of some of Jane Austen's original wit for Miss Elizabeth Bennett.  Tori Burgess as the studious Mary is dressed as a pink meringue which doesn't feel in character.
You will have gathered that costume is not a strength here as the male characters wear jackets over their servant shift dresses and Dr Marten interpretative hobnail boots.  Lady Catherine's red outfit is hugely over the top.  Mr Bennet has ended up on the cutting room floor and is played by the back of an armchair with a newspaper fixed on it.
You could play the game of spotting the anachronisms of set and props if the play doesn't make you laugh as much as intended!  There are rubber gloves, spray cleaners and electric lamps for a start.  The spiral staircase is spectacular. 
This is essentially a skit of a show perfect for the Fringe but not in my opinion West End ready. 
The play derived from the works of Jane Austen that I really want to see again is The Watsons by Laura Wade and directed by Samuel West, which was first seen at the Menier Chocolate Factory, but which has a cast of 19, impossibly expensive in this age of tightening our theatrical belts.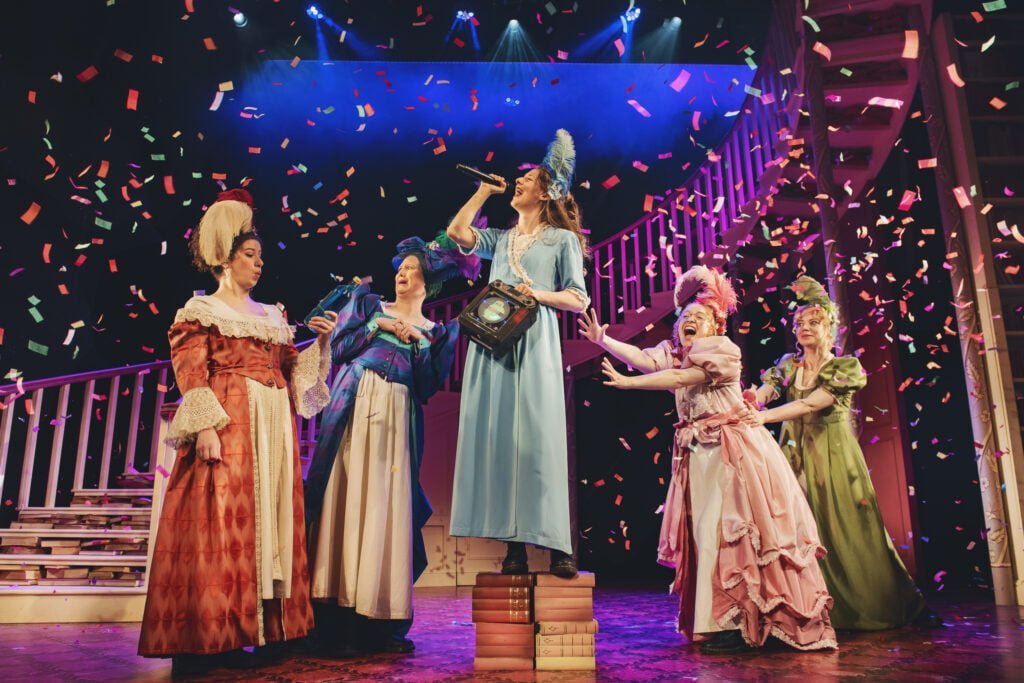 Pride and Prejudice
Written by Isobel McArthur
Directed by Isobel McArthur and Simon Harvey
Cast
Starring:
Hannah Jarrett-Scott
Isobel McArthur
Meghan Tyler
Christina Gordon
Tori Burgess
Creatives
Directors: Isobel McArthur and Simon Harvey
Designer: Ana Ines Jabares-Pita
Lighting Designer: Colin Grenfell
Sound Designers: Michael John McCarthy
and Luke Swaffield for Autograph
Choreographer: Emily Jane Boyle
Comedy Staging: Jos Houbes
Musical Supervisor: Michael John McCarthy
Fight Director: Claire Llewellyn
Information
Running Time: Two hours 30 minutes with an interval
Booking to 17th April 2022
Address: 
Criterion Theatre
218-223 Piccadilly
Piccadilly Circus
London W1V 9LB
Box Office:  033 33 202 895
Website: criterion-theatre.co.uk
Tube: Piccadilly Circus
Reviewed by Lizzie Loveridge at the Criterion
on 3rd November  2021