Childbirth and Political Distress: the reality!
"Facebook must know that I just gave birth, because I keep getting these ads for transvaginal mesh….. I'm surveying the damage."
Vera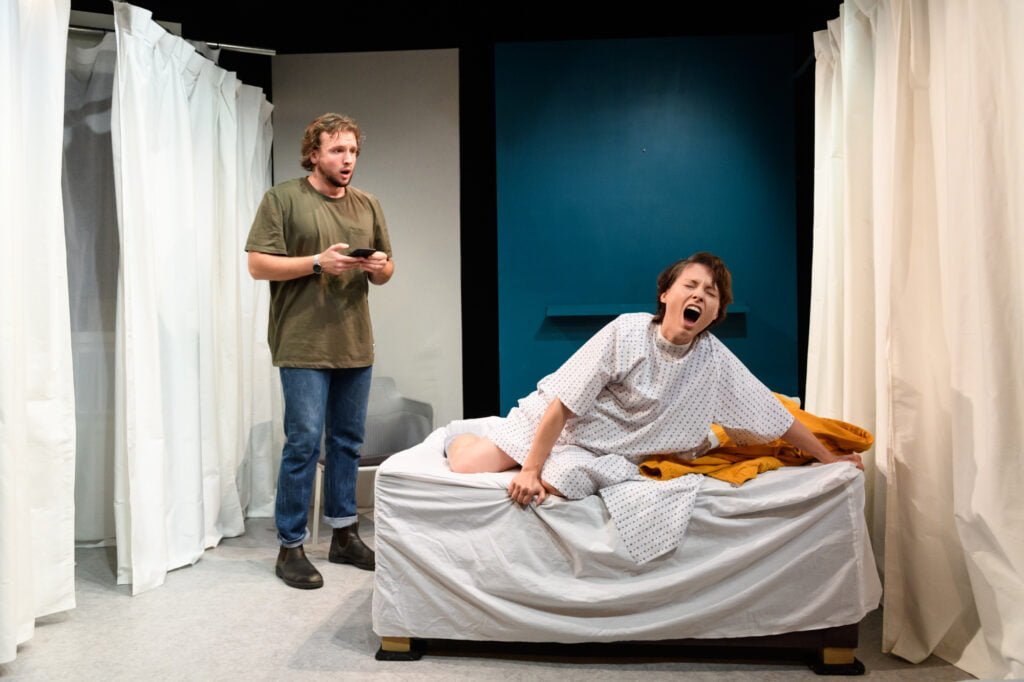 I misread the cast list for Milk and Gall and thought this was the first time I'd read of a Lactation Consultant being listed the way Intimacy Directors are popping up in the credits.  In fact, a Lactation Consultant, here played by Tracy-Anne Green, is American for a Breastfeeding Counsellor and she is a cast member not an advisor to the production!
This exceptional new play by Mathilde Dratwa, who was born in Belgium but who now lives in New York, juxtaposes the mega event regime change of the advent of the Trump presidency with the micro in world terms of the birth of Vera (MyAnna Buring)'s first child.  Of course for Vera, this birth is anything but micro as her life is turned upside down by the new arrival and responsibility for him. As Vera goes into labour with the supportive father of her child, Michael (Matt Whitchurch) in attendance, it is November 2016 and the states are being called either for Hillary Clinton or Donald Trump.  Vera thinks about calling her baby Clint, or Rod for Hillary's middle name and maiden name Rodham, so as not to be attributed to her husband Bill Clinton. 
Vera has a difficult labour ending up with the double whammy of an episiotomy and a C section.  However she doesn't know about the third whammy!  It is so difficult that Michael decides to deceive her about the declared election result with its devastating news for all those with tolerant, liberal views and tells her Clinton has won.   
The labour scenes are terribly painful for Vera, Ouch!  but there is so much for the audience to laugh at.  Vera says she's doesn't want an epidural but nine lines later she is saying "DON'T TOUCH ME. The drugs! I want the drugs!"  Enter the largest injection syringe and needle I've ever seen; of course that is what it feels like in Vera's mind.  Jenny Galloway makes a splendid obstetrician as well as playing Vera's mother and Michael's mother.  The nurse (Tracy-Anne Green) doesn't seem to have had any empathy training and puts her medical foot into every moment for hypersensitive Vera.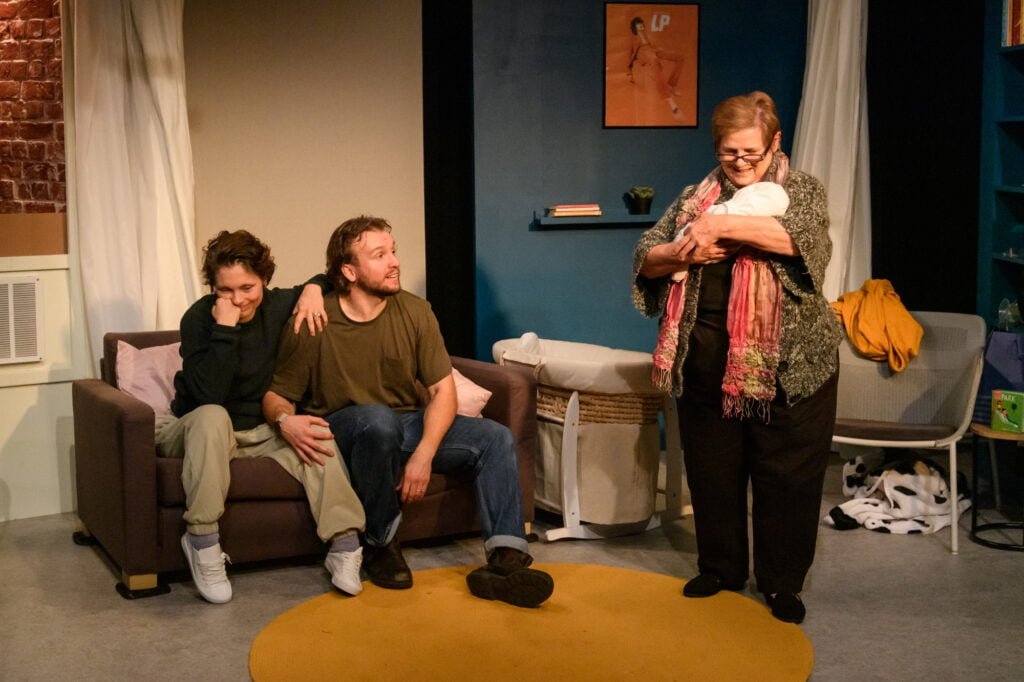 The play follows the steep learning curve for new mothers, professional educated women who have met all challenges in their education and careers but who are brought down by the trials of breast feeding and baby care.  Michael comes home and says to Vera, "What have you been doing all day?"  As if it weren't enough to cope with child care, the baby starts to look like Donald Trump. 
I love Mathilde Dratwa's writing and hope we can lure her away from writing for TV and back to the stage which needs her perspicacity and humour, injected from an oversize syringe. The ensemble performances here are stellar, MyAnna Buring, remember her in A Very Expensive Poison?  as Vera and all her complexities.  Who will ever forget Jenny Galloway's rendition of Piaf's "Je ne regrette rien!" or her Hillary Clinton impression?   Lisa Spirling directs with skill.
Milk and Gall and Mathilde Dratwa has to be a contender for Best Newcomer in the awards and I am awarding it Theatrevibe's rarity accolade of five stars.  
It is ridiculous isn't it, to have to travel to Battersea to see the best of British theatre?  But this trip is so worthwhile, you won't regret it and like me you'll be back to see other Theatre 503 productions! 
Milk and Gall

Written by Mathilde Dratwa
Directed by Lisa Spirling


Cast
Starring:
MyAnna Buring
Sherine Chalhie
Jenny Galloway
Tracy-Anne Green
Matt Whitlock
Creatives
Director: Lisa Spirling
Designer: Mona Camille
Movement Director: Chi-San Howard
Lighting Designer: Simeon Miller
Sound Designer: Roly Botha
Information
Running Time: One hour and 40 minutes without an interval
Booking to 27th November 2021
Livestream on 30th November 2021  
Theatre: 
503 Battersea Park Road
Battersea
London SW11 3BW
Reviewed by Lizzie Loveridge at Theatre 503
at a preview performance
on 8th November  2021