"What's God's plan?  Automating the tills in Sainsbury so I lost my job?"
Perry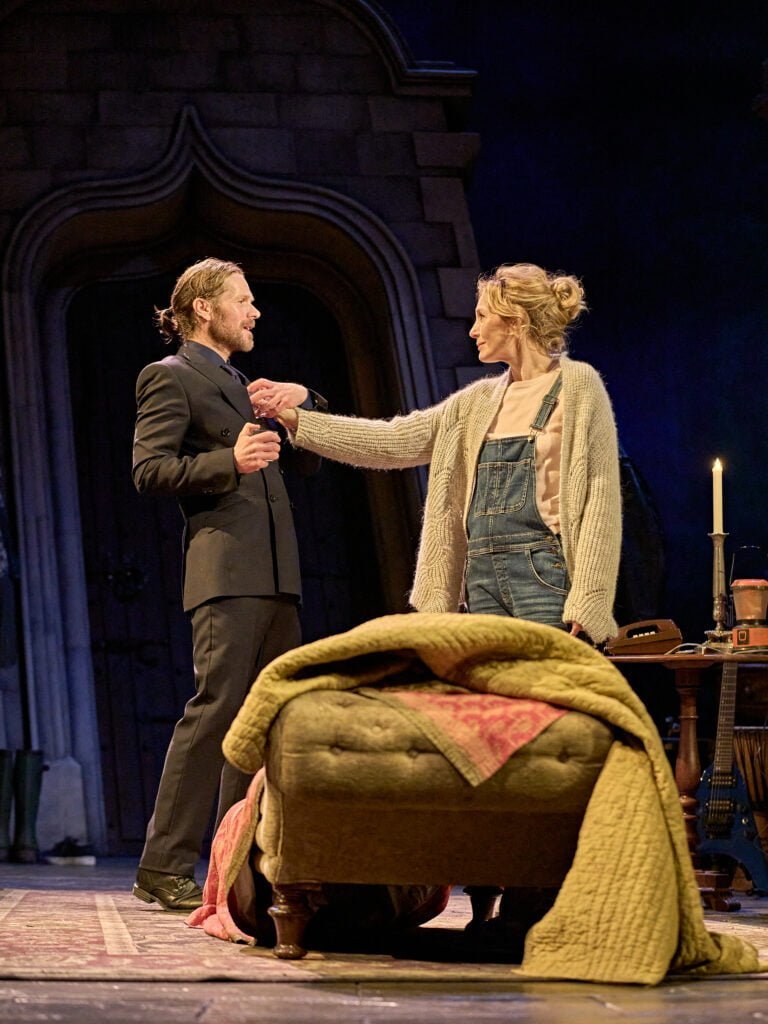 Moira Buffini's State of the Nation play was delayed by Covid from 2020 and is set in an old, falling apart manor house in the English countryside somewhere near a river.  The night sees an apocalyptic thunder storm with crashing thunder making several local residents homeless with flooded out cottages and floating away caravans, with a river breaking its banks. 
The lady of the manor Diana is Nancy Carroll who lives there with her husband Pete (Owen McDonnell), a wildly, unstable rock singer with a drink and drugs problem.  The teapot is full of stewed magic mushrooms! Their daughter is Isis (Liadan Dunlea) who has had the misfortune of seeing her name of an Egyptian goddess become an acronym for a terrorist organisation. 
In the opening scene, there is a power cut and Diana gets into a struggle on the stairs with Pete who is recklessly firing a shotgun.  She singes him with a candle and he falls downstairs and Diana and Isis find that the fall has killed him.
The local vicar Fiske (David Hargreaves) is on hand.  Two women from London, holidaymakers staying at one of the cottages Ripley (Michele Austin) and her daughter Isadora (Shaniqua Okwok) seek shelter at the manor house.  The comedy is getting darker by the minute with Pete's body laid out under a blanket on the kitchen dining table.
All are huddled around the fireplace in baronial hall and the power cut means no heating upstairs and Diana tells Isis that she hasn't paid the buildings insurance, as the storm threatens to make more parts of the roof leak with rainwater. 
Into this scene of cold and damp come two men, Ted Farrier (Shaun Evans) and Anton (Peter Bray).  They have left Ted's blind girl friend Ruth (Amy Forrest) in the car so an expedition sets out to bring her in and rescue a man they saw hanging on to a hedge.  Perry (Edward Judge) has left all his medication in his drowned caravan. 
Ted Farrier is the leader of a far right organisation called Albion.  The two alpha figures in this play are Ted and the capable nurse Ripley, who is training as a doctor.  Ted's organisation seems to have cult status with Ruth telling us that as a woman her role is to be a home maker.  Ted refers to his understanding of history which has large gaps in it from the Romans to Napoleon.  Ripley says to him, "So you're multi-cultural fascists.  What a broad appeal!" 
Ted's assertiveness is attractive to Diana who finds him charismatic and we sense a sexual attraction between them.  His politics offer her the restoration of her manor house and privilege. Historian Ruth has very strange ideas about history and Ripley sews up Ruth's wound trying to ignore what Ruth is saying about slavery and colonisation.  
It must be difficult to write a state of the nation play and then find a global pandemic has altered outcomes for so many.  The programme points us in the direction of right wing organisations denying climate change but I suspect there are many more denials necessary for a belief in Ted Farrier's Albion. 
While I found much to laugh at in this black comedy, I had trouble identifying the playwright's themes.  Lez Brotherston's magnificent set shows the manor house subsiding at odd angles in an exaggerated picture of pending demolition and collapse.  There is of course a reference to wedding venues, the supposed rescuer of delapidated country homes.  Make of that what you will.  It is interesting to see Shaun Evans onstage after his television series Endeavour and Vigil.  Nancy Carroll as Diana is suitably entitled.  In fact, the acting performances are excellent with Moira Buffini's oft collaborator, her sister Fiona directing.  Those with high expectations of Moira Buffini's writing may well be disappointed.  Jon Nicholls's sound and Jon Clark's lighting bring the realistic storm crashing around us.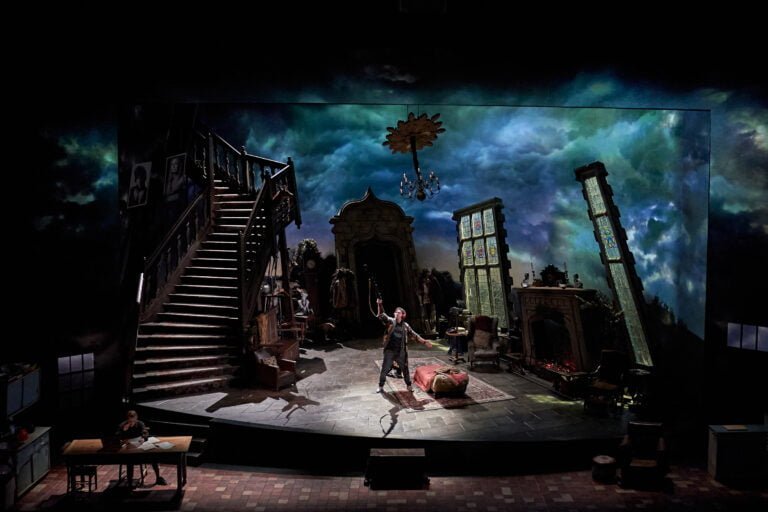 Manor
Written by Moira Buffini
Directed by Fiona Buffini
Cast
Starring:
Nancy Carroll
Shaun Evans
Michele Austin
David Hargreaves
Edward Judge
Peter Bray
Amy Forrest
Owen McDonnell
Shaniqua Okwok
Liadan Dunlea
Creatives
Director: Fiona Buffini
Designer: Lez Brotherston
Lighting Designer: Jon Clark
Composers and Sound Designer: Jon Nicholls
Intimacy Coordinator: : Ita O'Brien
Video Designer: Nina Dunn
Fight Director: Kate Waters
Information
Running Time: Two hours and 30 minutes with an interval
Booking to 1st January 2022
Theatre: 
Lyttelton Theatre
National Theatre
South Bank
London SE1 9PX
Tube/Rail : Waterloo
Website: nationaltheatre.org.uk
Reviewed by Lizzie Loveridge at the
Lyttelton Theatre  on 23rd November 2021