A brilliant and beautiful Christmas Carol
"These are the bricks that built ye."  
The Ghost of Christmas Past
We know we are in for a treat on entering the reconfigured Old Vic Theatre, ready to play in the round and with a large walkway creating an additional traverse playing space and it doesn't disappoint.  People in full length black coats and high black toppers gather and from the ceiling hang myriad candle lit lanterns.  There are musicians playing a violin, cello, an accordion, penny whistles and many with pairs of hand bells.  It is as though we have gone back two centuries. 
This version of A Christmas Carol is so refreshing with no mawkish children.  Scriptwriter Jack Thorne has returned to the evils of Victorian industrial society, that Dickens was concerned about, lived through and illustrated in his novels, to build this version. Through Scrooge's biography we see what made Ebenezer Scrooge (Stephen Mangan) into the miser and misanthrope he is at the start of the novella. 
Speaking alternately the company narrate while the actors play parts.  As Scrooge's territory is established, four doorways arise, lined in light and we meet his clerk Bob Cratchit (Jack Shalloo) and Scrooge's nephew Fred (Oli Higginson).  Scrooge grumbles about the carol singers at his door.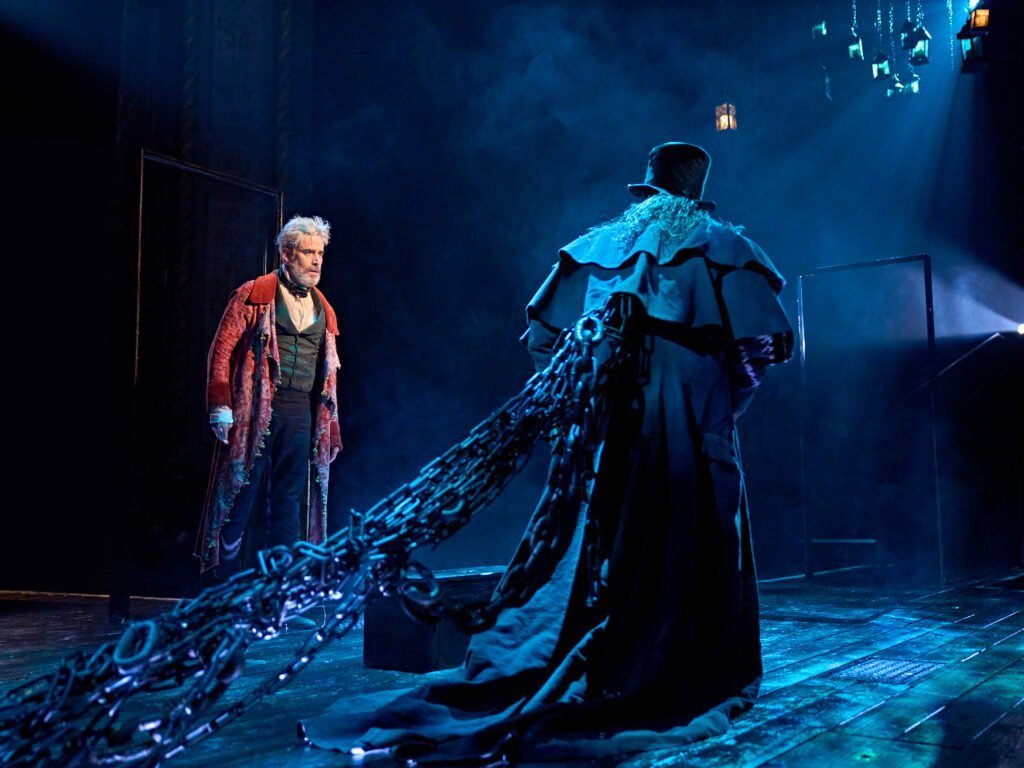 The ghost of Scrooge's dead partner Jacob Marley (Andrew Langtree) makes a spectacular entrance in a scene full of smoke, his body weighed down by the chains of Hell, in a train longer than Princess Diana's wedding dress.  The Ghost of Christmas Past (Amanda Hadingue) shows Scrooge deriving pleasure as a child in storybooks, Ali Baba and Robinson Crusoe.  We see him with his loving sister Little Nan (Rose Shalloo) but his father (Andrew Langtree) is brutal to the boy. The Ghost of Christmas Past brings with her a tiny pram for a doll.
The narration continues with Scrooge's first job as apprentice to a Funeral Director. Mr Fezziwig (James Staddon) is also a money lender but one with compassion who is kind to his employees. Scrooge meets Belle (Karen Fishwick) whom he hopes to marry.  There are pretty carols, "I Saw Three Ships" and "Wassail! Wassail!"
The Ghost of Christmas Present (Rachel John) brings a larger pram.  She shows him the Cratchit Family's Christmas and Fred's Christmas which closes Act One.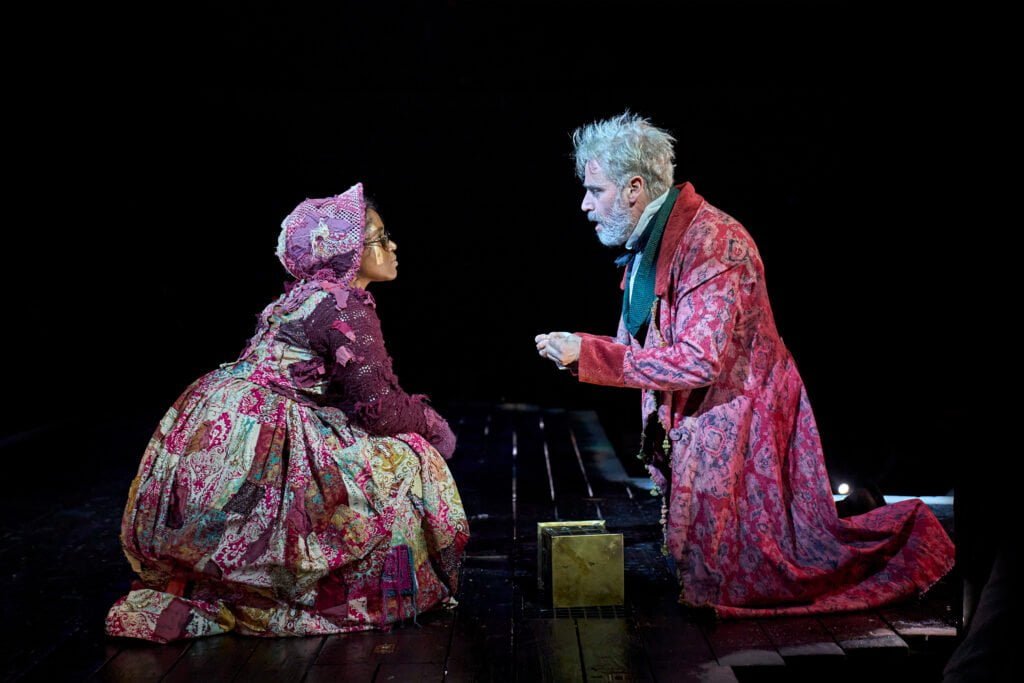 In Act Two, Scrooge sits at his desk while a mournful 'cello plays.  The two prams are succeeded by a funeral cart.  Scrooge's sister Nan encourages him to show generosity and he says, "It does give me happiness . . . I love it."  
Scrooge and his nephew Fred work on the feast delivery to the Cratchits with oranges and apples flying down silken chutes from the dress circle.  Brussel Sprouts are parachuted in and a child from the audience carries in the cake pudding.  Fred brings in the turkey.  Rayhaan Kufuor-Gray is an appealing Tiny Tim.  Andrew Langtree leads the cloggy dance and it snows inside the auditorium. 
Stephen Mangan even at his grumpiest is never really chilling and we understand the damage done to unloved children. Stephen Mangan's lovely personality is allowed to shine with redemption.  Matthew Warchus's direction allows full use to be made of the revised staging 
Jack Thorne has made a real difference to this well worn Christmas story bringing joy to the audience with a play with beautiful music, dance and bell ringing.  It is the fifth time Jack Thorne's version is on at the Old Vic but last year's was online only.  I hope to be back in 2022 for what is a five star seasonal experience!
God Rest Ye Merry, Gentlemen
It Came Upon the Midnight Clear
Il est né, le divin enfant
I Saw Three Ships
Wassail! Wassail! All Over the Town
O Holy Night
In the Bleak Midwinter
Ding Dong Merrily on High
Coventry Carol
See Amid the Winter's Snow
Joy to the World
Silent Night
A Christmas Carol
A version by Jack Thorne
Directed by Matthew Warchus
Cast
Starring:
Stephen Mangan
Bridgette Amofah
Geraint Downing
Nicola Espallardo
Karen Fishwick
Amanda Hadingue
Nick Hart
Oli Higginson
Rachel John
Andrew Langtree
Rachel Moran
Jack Shalloo
Rose Shalloo
James Staddon
Samuel Townsend
Tiny Tim
Casey-Indigo Blackwood-Lashley
Rayhaan Kufuor Gray
Eleanor Stollery
Suri White
Creatives
Director: Matthew Warchuss
Designer: Rob Howell
Lighting Designer: Hugh Vanstone
Composer and  Arranger: Christopher Nightingale
Sound Designer: Simon Baker
Movement: Lizzie Gee
Information
Running Time: Two hours 10 minutes with one interval
Booking to  8th January 2022
Theatre:
The Old Vic
The Cut
Waterloo
Reviewed by Lizzie Loveridge at the Old Vic  
on 23rd November 2021