Boisterous Farce or Erroneous Comedy?
"I to the world am like a drop of water that in the ocean seeks another drop, who, falling there to find his fellow forth, unseen, inquisitive, confounds himself: so I, to find a mother and a brother, in quest of them, unhappy, lose myself."
Antipholus of Syracuse
Now The Comedy of Errors  isn't the finest of Shakespeare's canon and it is certainly the weakest of those that are comedies but if like the RSC you are going to produce all of Shakespeare's plays, it has to be included.  I keep thinking I am a completist, that I have seen them all but then a new play emerges which might have had a few verses penned by Shakespeare. Then that has to be added to the list as well as 1727's Double Falsehood which might be based on Shakespeare's lost play Cardenio written with John Fletcher. 
The Roman playwright Plautus favoured twin themes with their potential for mistaken identity and comic misunderstanding.  The vein of Comedy of Errors is one of shipwrecks and twins.  Can you name two other of Shakespeare's plays with a ship wreck and a set of twins? 
Answers:The Tempest  has a shipwreck but no twins but a father separated from his son and neither knowing if his relative is alive.   Twelfth Night has both a shipwreck and twins Viola and Sebastian separated at sea.  
Our televisions are joining up Long Lost Families, those separated for tens of years with maybe unrealistic expectations of what reunion will bring.  All this is made easier with the resources of the internet.  In recent years even those abandoned at birth as babies, the foundlings  have been able to trace their genetic families using DNA databases.
The play opens in Ephesus where Egeon (Antony Bunsee) a merchant of Syracuse is seeking his long lost son but it is illegal for Syracusians to set foot in Ephesus and Egeon is arrested and sentenced to be beheaded.  Solinus the Duke (Nicholas Prasad) commutes the sentence until sunset.
Meanwhile the two sons both called Antipholus, one who lives in Ephesus (Rowan Polonski) and the other from Syracuse (Guy Lewis) cross paths in Ephesus with their twin servants the Dromios from Syracuse (Jonathan Broadbent) and from Ephesus (Greg Haiste).  Money and jewellery change hands in a twins mixup.  The Errors of the title are not mistakes but wanderings.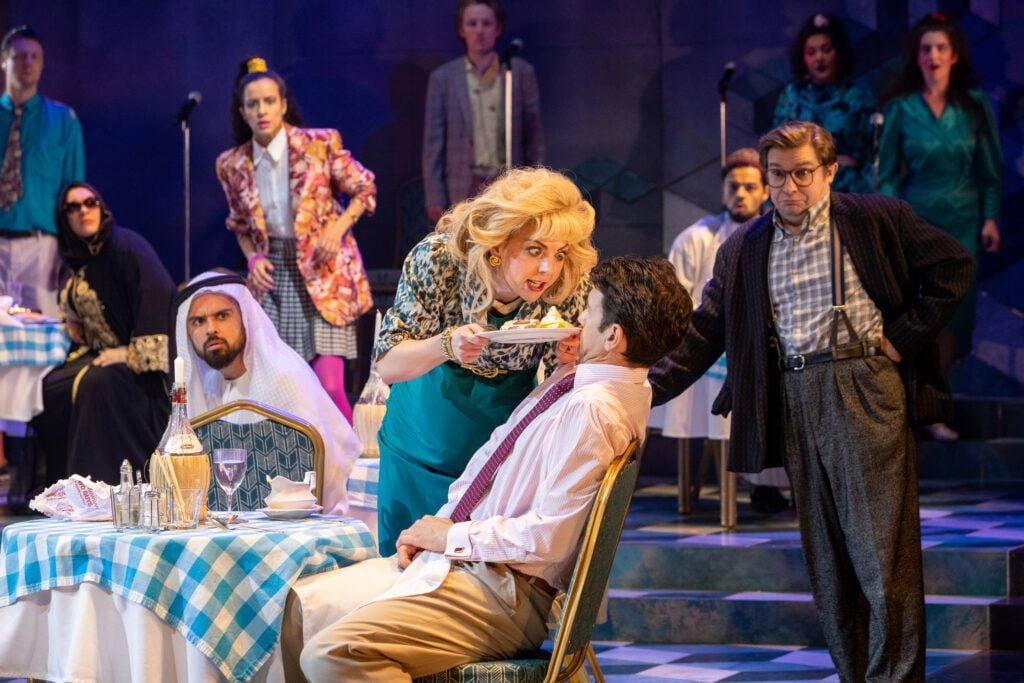 It is important that both sets of twins look alike and this is usually achieved with identical costumes but they are never as really identical as they would need to be to confuse each servant or master about who they are.  But hey it is a consequence of that issue that means the audience is always party to the joke! 
This is not a feminist play and the Ephesian wife Adriana (Naomi Sheldon) is both very pregnant and betrayed by her husband with a courtesan (Toyin Ayedun-Alase) for whom he buys a gold necklace. Nor does she see any comeuppance for her husband.  One hopes that she might end up, along the lines of Martin Guerre with the other Antipholus who seems less of a narcissist than his twin. 
The plot is what it is and this shallow but good natured romp has several super performances and I single out Jonathan Broadbent as Dromio of Syracuse for his talented physical comedy which is joyous.  Naomi Sheldon too is hysterically funny as she takes part in a yoga class with her sister Luciana (Avita Jay).  The music and song too is delightful.
Despite Phillip Breen's production's shortcomings – this isn't an easy play to find satisfying – the actors manage to convey at the revelatory ending a sense of wonderment of discovery of all these relatives!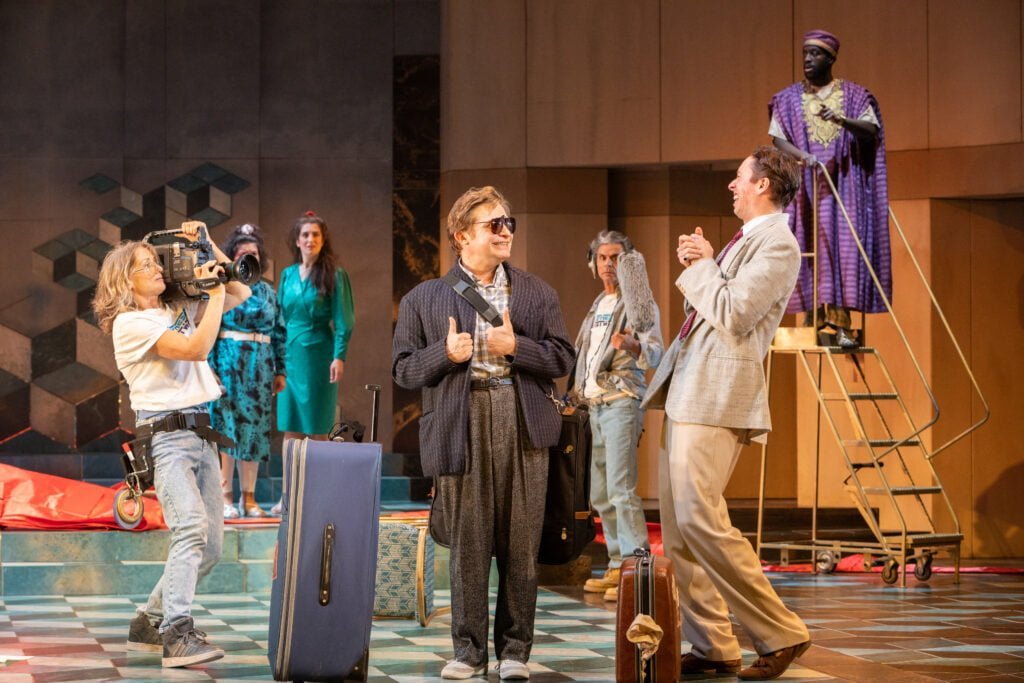 The Comedy of Errors
Written by William Shakespeare
Directed by Phillip Breen
Cast
Starring:
Toyin Ayedun-Alase
Jonathan Broadbent
Antony Bunsee
Greg Haiste
Avita Jay
Guy Lewis
Rowan Polonski
Nicholas Prasad
Naomi Sheldon
With:
Alfred Clay
William Grint
Zoe Lambert
Dyfrig Morris
Baker Mukasa
Patrick Osborne
Riad Richie
Sarah Saggari
Creatives
Director: Phillip Breen
Designer: Max Jones
Music Director:  Jack Hopkins
Movement Design: Charlotte Broom
Lighting Designer: Tina MacHugh
Composers: Paddy Cuneen
Sound Designer: Dyfan Jones
Fight Director: Renny Krupinski
Information
Running Time: Two hours and 45 minutes with an interval
Booking to 31st December 2021
Theatre: 
Barbican Theatre
Barbican Centre
Silk Street
London EC2Y 8DS
A Royal Shakespeare Company Production
Box Office: babican.org.uk
Tube: Barbican or Moorgate
Reviewed by Lizzie Loveridge
at the Barbican Theatre on 26th November 2021