The Drifters Girl Delivers the Thrills!
"You know it's cruel
Out here in this rat race
There's just one rule
Out here in this rat race

Out here in the jungle
You've got to fight from nine to five
In this steel and concrete jungle
You've gotta fight to stay alive

It's a rat race "
Lyric from Rat Race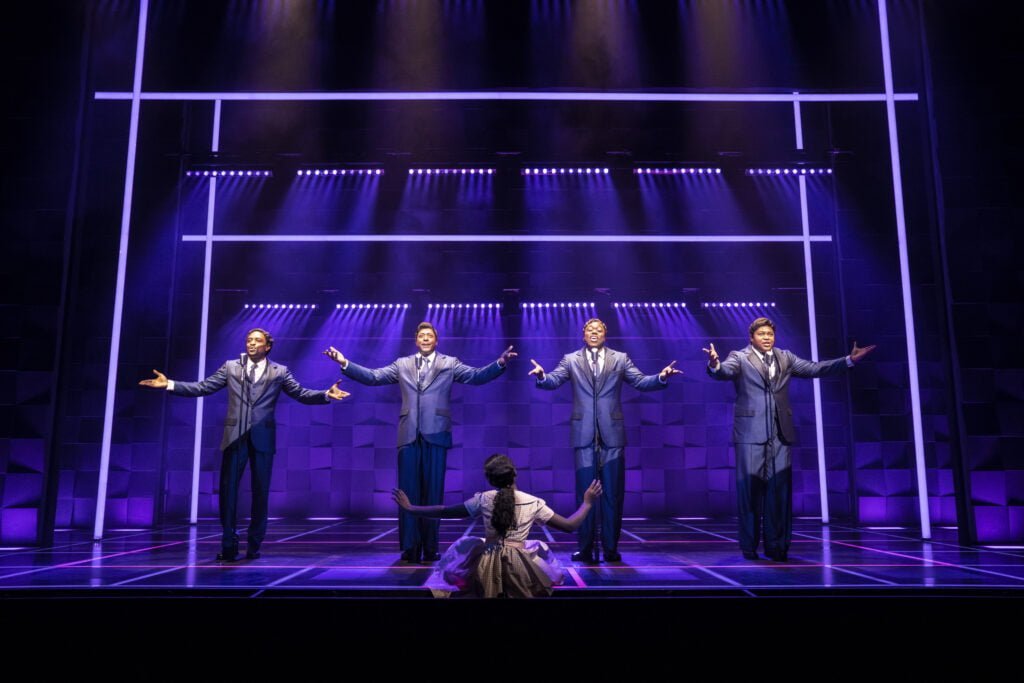 There is so much that is perfect about The Drifters Girl, the musical that tells the story of Faye Treadwell (Beverley Knight) a woman of colour who broke into a male controlled music industry more than 60 years ago.  So we have an inspirational story as Faye Treadwell, from Arkansas who managed, recruited and let go the 60 male singers who passed through the Drifters name. 
This show has been co-created by its performers which is also a kind of show biz democracy and the resulting production is so professional, so beautifully presented with singing voices that are to die for and song tunes with melodies we love.  Director Jonathan Church, well known for his shows coming out of Chichester, and now Bath, is happy to let these guys and gal take centre stage as creators.  We hope there'll be no legal battles the way there were over the Drifters name!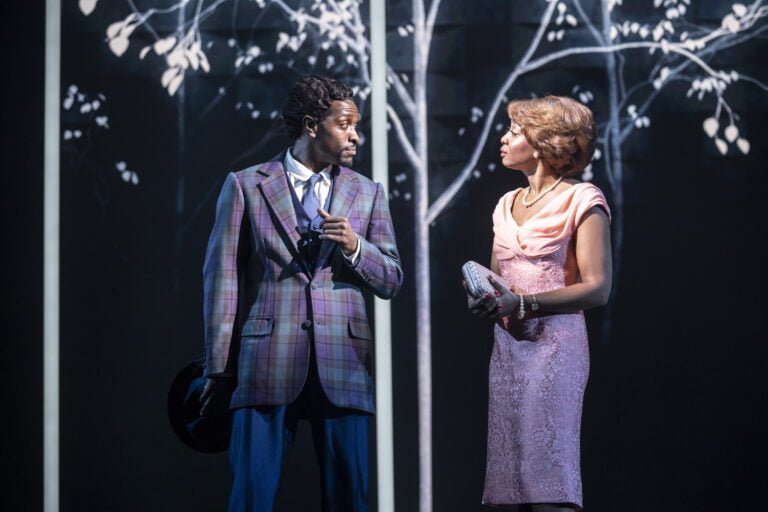 The five are Beverley Knight who is well known in British Musical Theatre and who created the lead role of Rachel Marron in The Bodyguard.   Matt Henry (who has legs up to his armpits, how did we miss him for the English rowing team or as a fast bowler?) was laden with awards for his role as Lola in Kinky Boots.  Adam J Bernard who plays Faye's husband George Treadwell, originated the role of Jimmy in Dreamgirls and, like Matt, won an Olivier award, for that show.  Tarinn Callender starred as Bob in Come From Away  and created the roles in Hamilton, London  of Hercules Mulligan and James Madison.  Tosh Wanogho-Maud is less well known apart of course from his role as the footman in Bridgerton but played Jimmy in Dreamgirls and takes on stand out singing roles in as Ben E King in "Stand By Me" and the Drifter who died so young, Rudy Lewis.
The Drifters songs are from several decades starting in the 1950s when Stephen Sondheim was writing the lyrics for West Side Story, through the 1960s when their tunes like "Under the Boardwalk", "On Broadway" and "Up on the Roof" competed in the charts with the Beatles and the Rolling Stones, to the 1970s, when there were fewer hit parade hits but Faye's Drifters continued to tour, some of the time in the UK.
The cast take on all the different roles, the wonderfully exaggerated British accents of Roger and Roger or the Brummees for the UK tour and with a giant leap of the imagination they play Peter, Paul and Mary.  I think that was Matt Henry in the long blonde wig!  Matt Henry also imitates Bruce Forsyth for the Sunday Night at the London Palladium show. 
So are we to condemn The Drifters Girl  because it is about exploited male singers or to commend it for giving its cast co-creation roles?  You do know the von Trapp singers caught the train out of Austria, they didn't flee over the mountains from the Nazis in The Sound of Music.
Faye Treadwell's daughter Tina had the original idea.  Her daughter, who is left in the US for the UK tours, is played alternately by Dara Ajagbe, Amari Brown, Arabel Harley and Savanna Musoni.
What is quite special is that they wear the waved wigs of the 1950s and 60s before Afros became the mode, stylised suits and their dance routines with exaggerated hand movements don't in any way cause any derogatory giggles as professionalism is rooted in this show.  Anthony Ward's set is simple, textured boards and moving apertures with great lighting so we can change location without clunky set changes.  Beverley's Knight's outfits are ageless.
Beverley Knight' songs are to do with the love for her husband, great ballads of love and loss. "Harlem Child", "There Goes My First Love", "I Don't Want To Go On Without You" and her singing is sublime. 
In my opinion The Drifters Girl is a Five Star show!  Enjoy!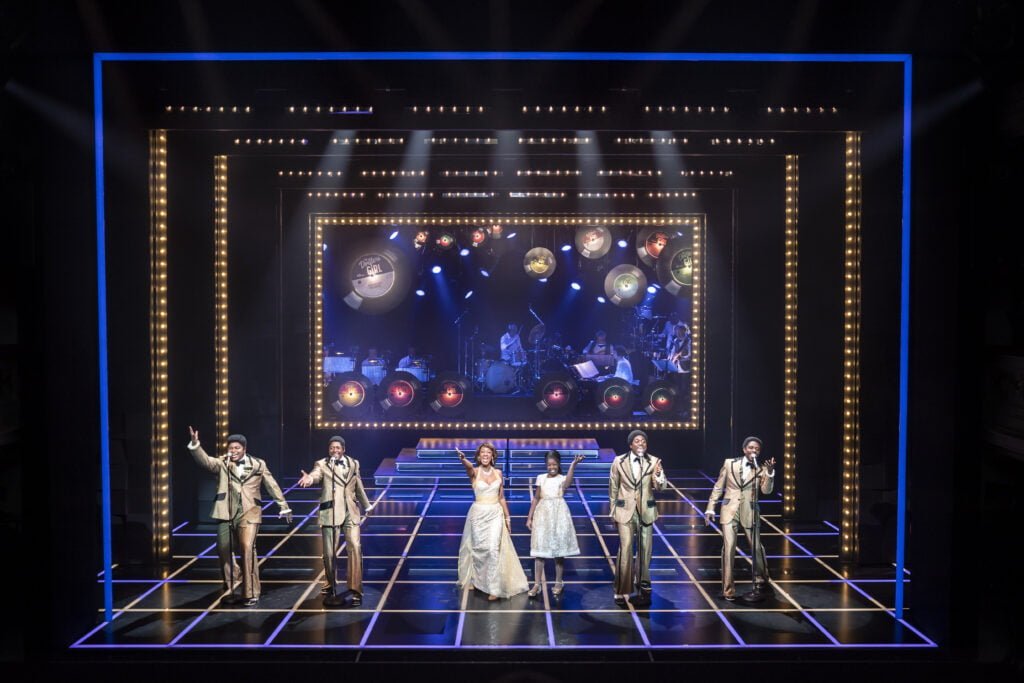 Come On Over To My Place
Dance with Me
Follow Me
Fools Fall In Love
Harlem Child
Hello, Happiness
I Don't Want To Go On
Without You
In the Land of Make Believe
If I Had A Hammer
Kissin' In The Back Row 
Of The Movies
Money, Honey
Nobody But Me
Rat Race
Saturday Night At The Movies.
Save The Last Dance For Me
Stand By Me
Sweets for my Sweet
There Goes My Baby
There Goes My First Love
This Magic Moment
Under The Boardwalk
Unforgettable
What'cha Gonna Do
When My Little Girl Is Smiling
You're More Than A Number 
in my Little Red Book
The Drifters Girl
Book Ed Curtis
Based on an idea by Tina Treadwell
Directed by Jonathan Church

Co-created by Adam J Bernard, Tarinn Callender, Matt Henry, Beverley Knight and Tosh Wanogho-Maud
Cast
Starring:
Beverley Knight
Matt Henry
Tosh Wanugho-Maud
Tarinn Callender
Adam J Bernard
Dara Ajagbe/Amari Brown
/Arabel Harley/Savanna Musoni. 
Creatives
Director: Jonathan Church
Assistant Director: Tyrone Huntley
Set Designer: Anthony Ward
Costume Design: Fay Fullerton
Choreographer: Karen Bruce
Musical Director and Vocal Arrangements:
Will Stuart
Musical Supervision and Orchestration:
Chris Egan
Sound Design: Tom Marshall
Lighting Designer: Ben Cracknell
Video Design: Andrzej Goulding
Information
Running Time: Two hours 20 minutes
with an interval
Closed in London 15th October 2022
TOURING DATES
2023 to 2024
Southampton, Mayflower Theatre
19th – 23rd September 2023
Norwich, Theatre Royal
26th to 30th September 2023
Sheffield, Lyceum Theatre
3rd to 7th October 2023
Bradford, Alhambra Theatre
14th to 18th October 2023
Manchester, Opera House
24th to 28th October 2023
31st October to 4th November 2023
Leicester, Curve
7th to 11th November 2023
Southend-on-Sea, Cliffs Pavilion
21st to 25th November 2023
Woking, New Victoria Theatre
28th November to 2nd December 2023
Dartford, Orchard Theatre
Website: thedriftersgirl.com
Address:
Garrick Theatre
2 Charing Cross Road
London WC2H 0HH
Phone: 0330 333 4811
Rail/Tube: Charing Cross
Reviewed by Lizzie Loveridge
at the Garrick Theatre, on 30th November 2021