1970s Measure for Measure at the Wanamaker
"To whom should I complain?…
Who would believe me?"          
Isabella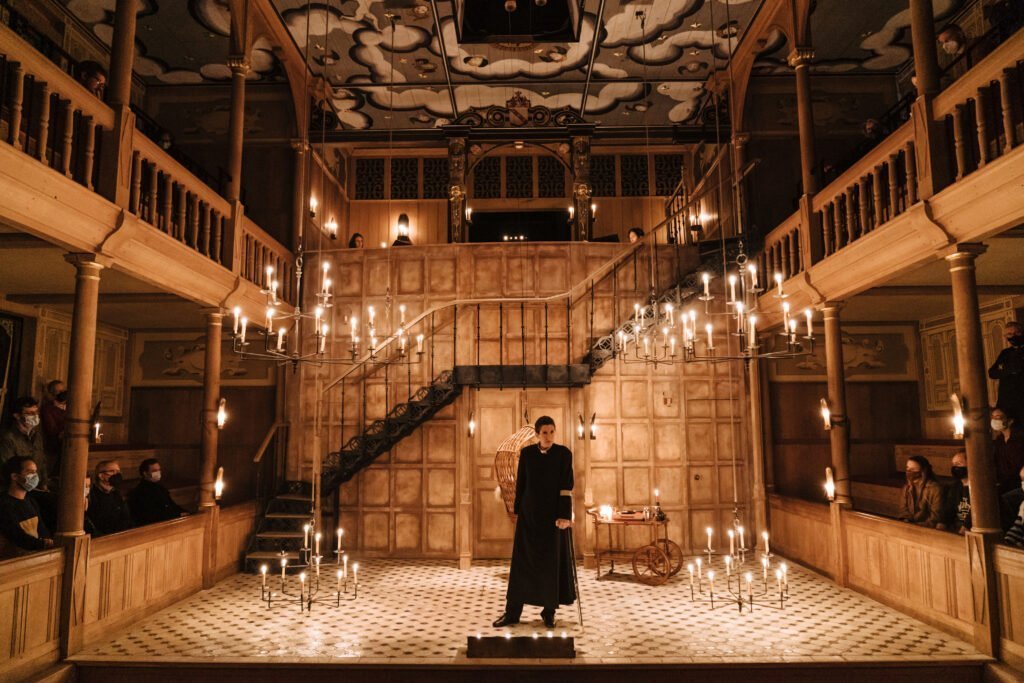 Measure for Measure  is one of Shakespeare's problem plays.  It defies categorisation, it is neither a comedy nor a tragedy nor a history.  It is beloved of lawyers because it is about the rule of law but more of that later.  Problems are a challenge to director Blanche McIntyre so she has set this play in 1975 in a degenerate society where government has lost control and lawlessness prevails.   
Knowing that her dukedom of Vienna is falling apart the duke (Hattie Ladbury) leaves hardliner Angelo (Ashley Zhangazha) in charge and disguises herself as a friar.  Nun Isabella (Georgia Landers) finds that her brother Claudio (Josh Zaré) is sentenced to death for immorality, sleeping with, and getting pregnant,  his intended wife Juliet (Eloise Secker) when paperwork or dowry issues hold up their nuptials.  
Within the first few minutes of the play, there is an apparent power cut so we get 1575 lighting, candles, and for the next few minutes watch as the candles are lit by helpers.  They sell discarded used candles in the Globe Shop of about five inches in length! 
My original seat was precariously on the end of a row with good sight lines but I opted to change for a back rest, where much of the time I was looking through candles or candle hanging rods and couldn't see anything at all on the top balcony.  This interference with sight was obviously my own fault.  The Sam Wanamaker is one of the prettiest theatres you could find, with its painted ceiling, but the seats are uncomfortable mostly without back rest and the leg room adequate for shorter folk. 
Pompey Bum, a pimp, is played by Eloise Secker and brings the news that Angelo has ordered all the brothels are to be demolished.  The Viennese men wear 1970s bad hair, bell bottomed suits with waisted jackets and kipper ties.  Topically Angelo says, "We must not make a scarecrow of the law." 
Isabella pleads for her brother's life with Angelo but is refused.  Angelo is turned on by the idea of sleeping with this nun and is beside himself with desire.  Isabella refuses and meets the duke disguised as the friar who comes up with a plan for a "bed switch". 
I am horrified each time Angelo breaks the bargain but this is indicative of how the truly corrupt and powerful behave.  Lawyers uphold Angelo's right to administer the law with its underused death penalty but ignore that Angelo himself should be executed for crimes against Mariana (Eloise Secker). 
The prison scenes with Elbow (Daniel Millar) and Barnadine (Ishla Bennison) are well done but not core to the play.  Gyuri Sarossy's Lucio is a typical self-serving wheeler dealer. 
I am always dissatisfied in this play by the outcome for Mariana which must be a nightmare marriage and warns women to be careful what they wish for.  The duke's intervention strikes me as meddling when her lack of rule has led to Vienna being in this poor state.  Her marriage proposal shows a complete lack of understanding of Isabella as a Bride of Christ and shows the duke to be another predator, as Angelo is. 
I don't feel that 1975 is successful as the setting for Measure for Measure despite having long been an admirer of Blanche McIntyre's work.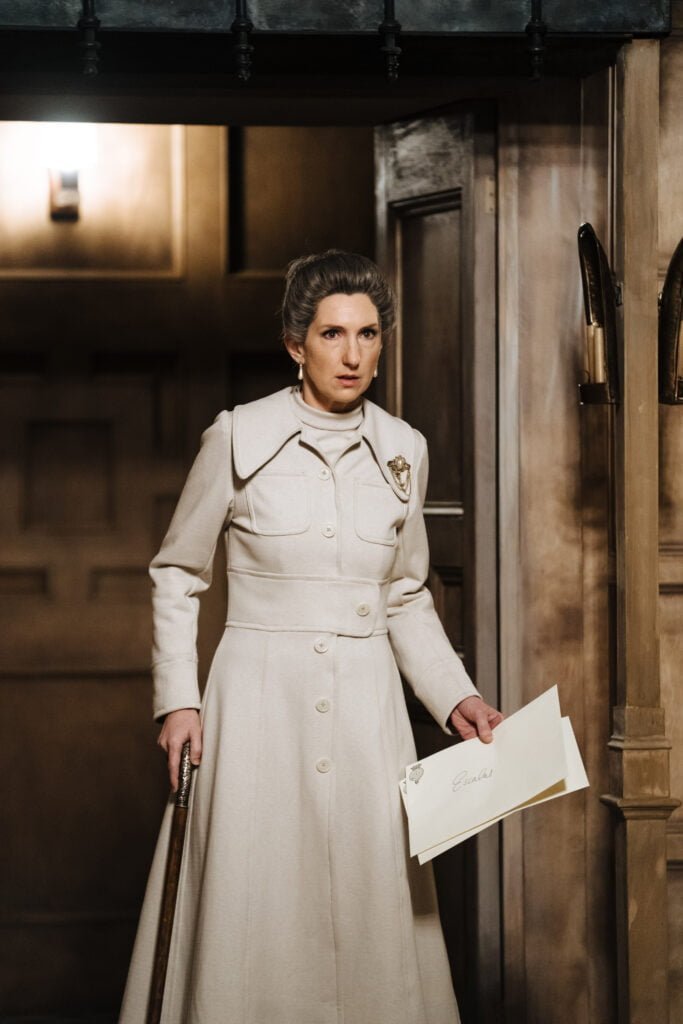 Measure for Measure
Written by William Shakespeare
Directed by Blanche McIntyre
Cast
Starring:
Hattie Ladbury
Ashley Zhangazha
Georgia Landers
Eloise Secker
Daniel Millar
Gyuri Sarossy
Ishla Bennison
Josh Zaré
Creatives
Director: Blanche McIntyre
Designer: James Cotterill
Choregrapher: Emily Jane Boyle
Candle Consultant: Malcolm Rippeth
Composer:  Tim Sutton
Fight Director: Philip d'Orléans
Piano and Vocals: Katherine Gillham
Percussion: Beth Higham-Edward
Guitar: Rob Updegraff
Violin and Vocals: Alice Barron
Information
Running Time: Two hours and 30 minutes with an interval
Booking to 15th January 2022
Theatre: