Red Riding Hood in Stratford East is charming!
"Grannies and Mums don't get on."
Red Riding Hood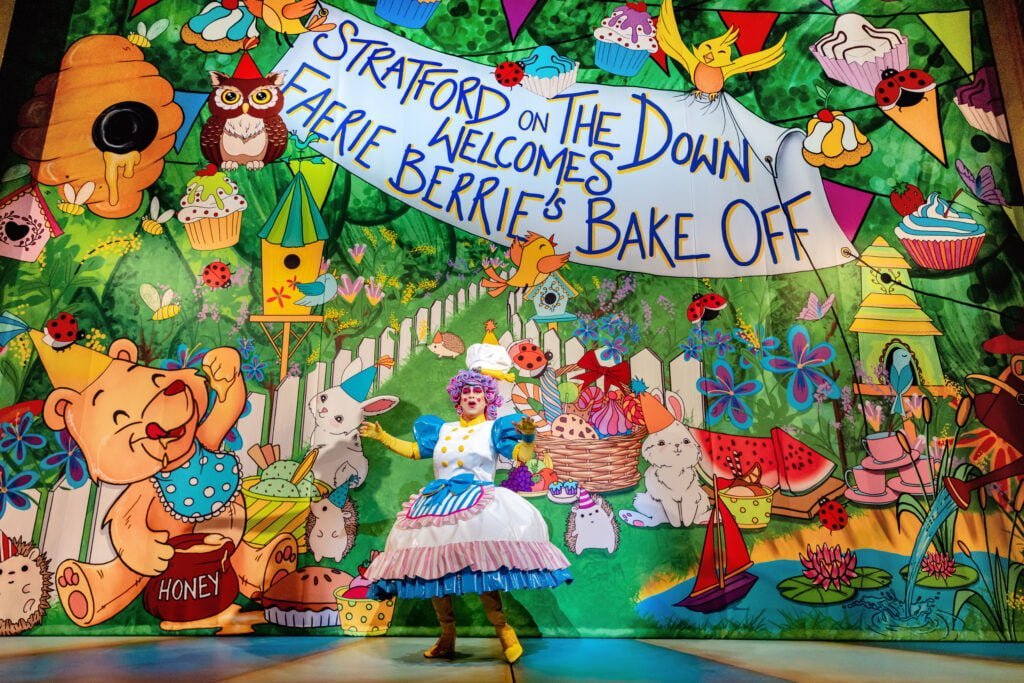 There are around five of London's off West End theatres which produce a traditional pantomime for families with original songs, laughter, painted backdrops with a pantomime dame and, if you are lucky, a principal boy.  Theatre Royal Stratford East's is always one of the best. 
This year it is Red Riding Hood set in Stratford on the Down, a rural idyll next to where in E3, Bow Peep (Ashley Goh) tends her sheep, among the rest of the Bow Peeps.  References to other local areas are always a pantomime staple.  Except that there is a problem, some of the sheep have disappeared.  Also missing are the bunnies and 101 dalmatians!
Our heroine Red (Elise Zavou) lives with her mother (Kirsty Whelan) who is a wannabe internet influencer and has numerous parcels of stuff to promote  arriving from River Lea Prime!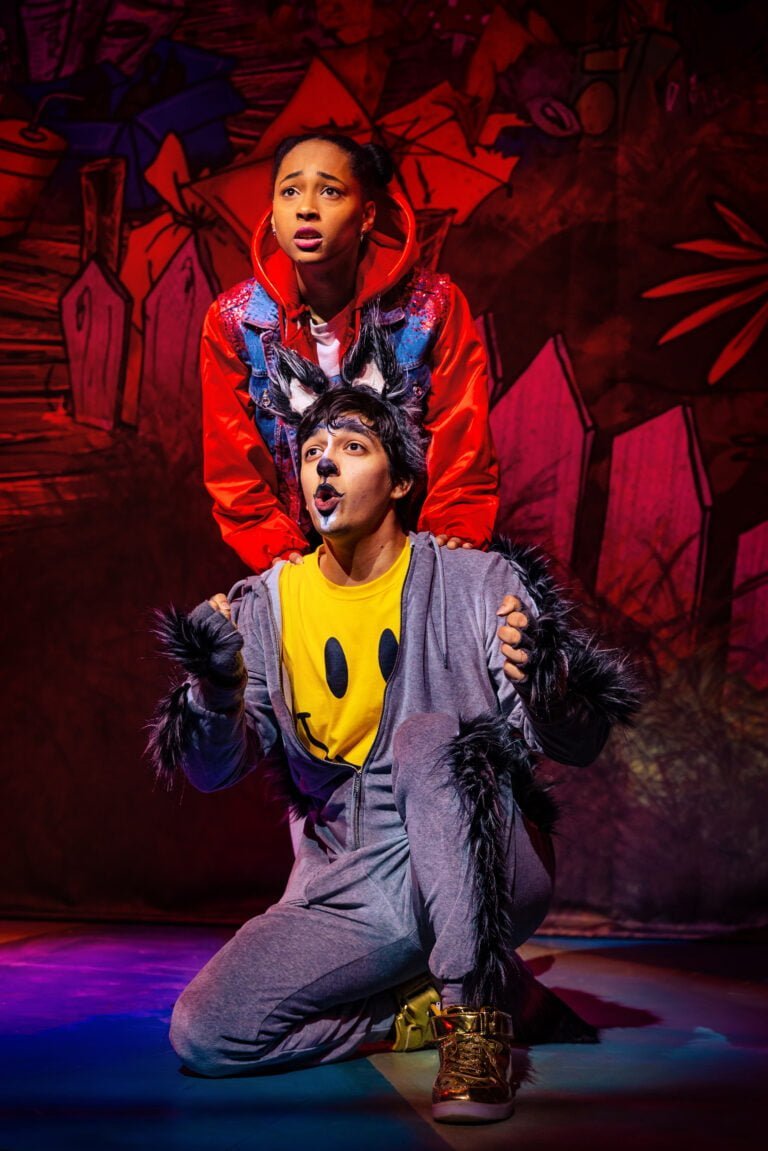 Granny (Phil Nichol) has wonderfully extravagant dress sense with a penchant for PVC and of course needs her basket of goodies. She is competing in a Bake Off type competition. Nearby lives handsome woodsman Woody (Jodie Jacobs) with his axe and thigh slapping dance.
The music is original, composed for the pantomime by Robert Hyman.  The Wolf (Raphael Bushay) is a magnificent specimen illustrating "munch, crunch or claw"  and bringing up young Wolfie (Luke Latchman).  Dressed up as Granny the Wolf wears a pink mob cap and wraps himself in Granny's satin dressing gown and eiderdown. 
As well as the lupine dangers Red has an ecological issue to solve with a dying Seasons Tree and of course she is up to the challenge.  The humour is not risqué or too blue for children and this colourful pantomime has characters we can love with happy endings.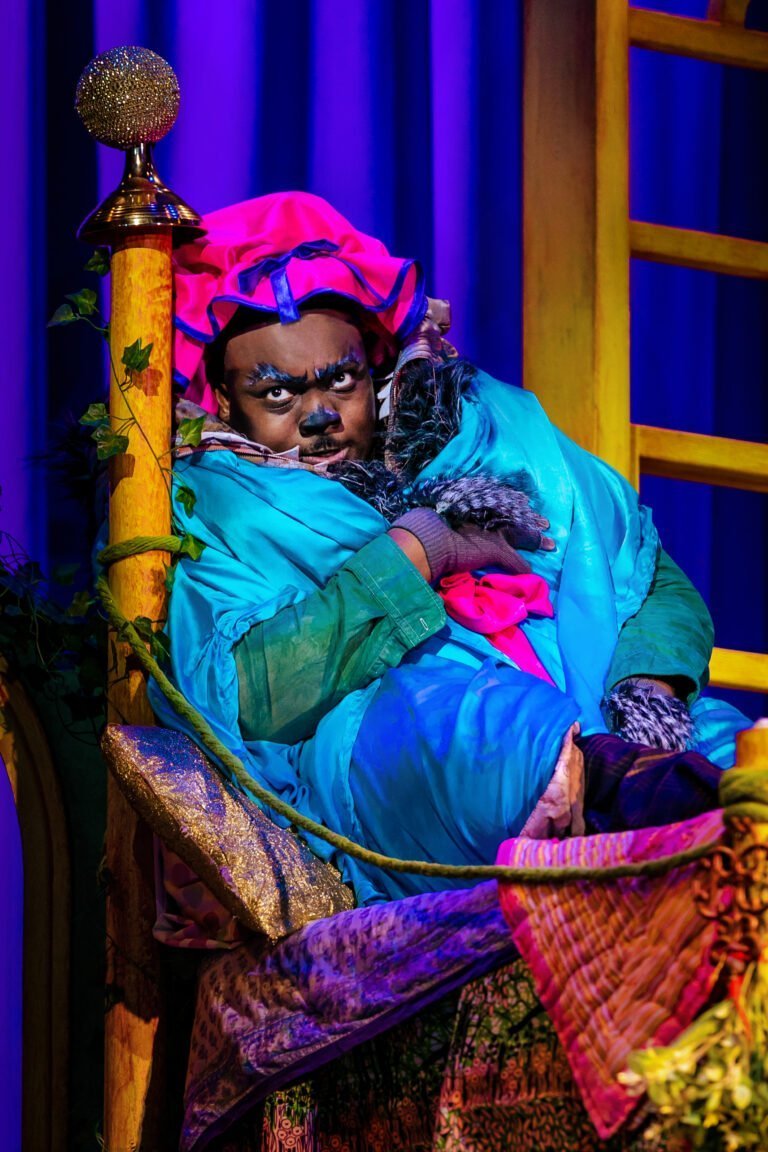 Red Riding Hood

Book and Lyrics by Carl Miller
Music and Lyrics by Robert Hyman
Directed by Robert Shaw Cameron
Cast
Starring:
Raphael Bushay
Elise Zavou
Phil Nichol
Kirsty Whelan
Jodie Jacobs
Luke Latchman
Ashley Goh
Band:
James Doughty
Sara Farina
Perry Melius
Creatives
Director: Robert Shaw Cameron
Designer: Jean Chan
Movement Design: Ingrid Mackinnon
Lighting Designer: Rick Fisher
Sound Designer: Helen Skiera
Musical Director: James Doughty
Information
Running Time: One hour and 45 minutes with an interval
Booking to 31st December 2021
Theatre: 
Theatre Royal Stratford East
Gerry Raffles Square
Stratford
London E15 1BN
Tube: Stratford
Reviewed by Lizzie Loveridge
at Stratford East