Peggy Ramsay, literary agent extraordinaire!
"Just make sure it's a pack of lies, dear! "
Peggy's advice to her authors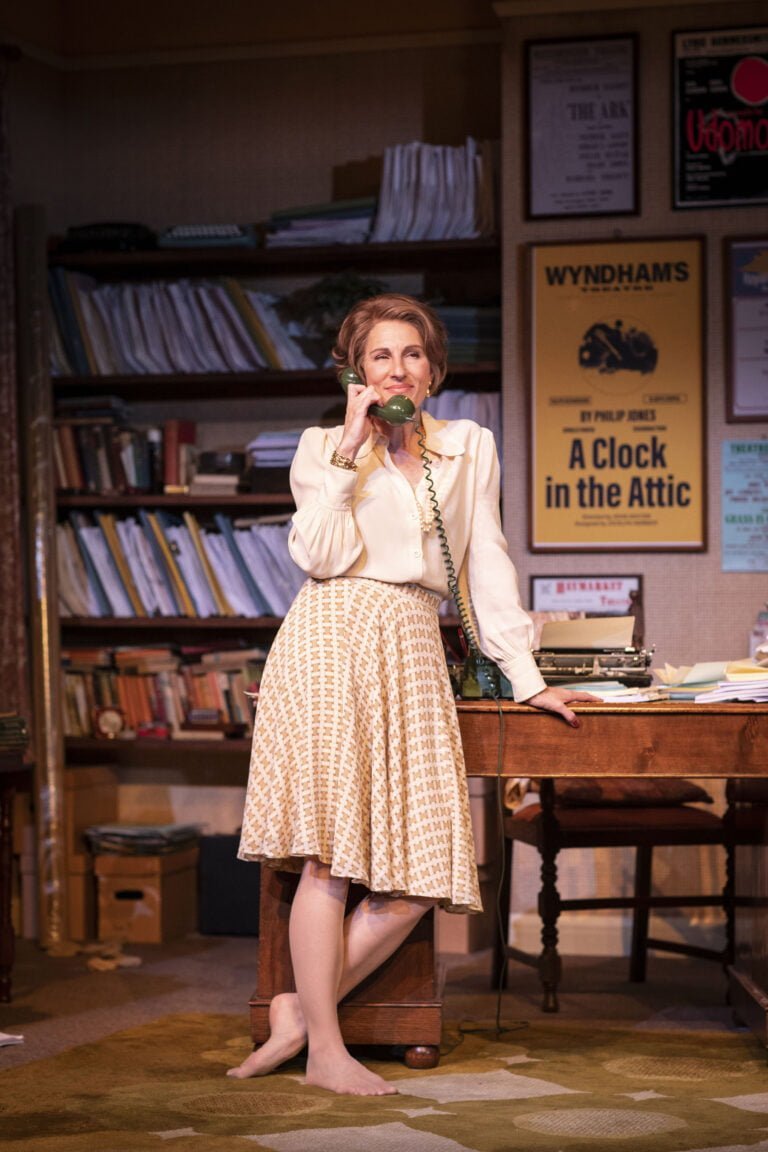 Hampstead Theatre is reviving plays originally produced there more than 50 years ago and into the mix comes Peggy For You about London's most famous literary agent Margaret Ramsay.  From the 1950s she dominated in the field of play agents from her small office at the top of Goodwin's Court, a small alley off St Martin's Lane which she told us had once been a brothel. 
Peggy Ramsay was born in Australia, lived in South Africa where she was unhappily married to Norman Ramsay but left him to come to England in 1929.  He was under investigation in South Africa.  She worked for an opera company and as an actress. 
She was famously witty and acerbic; her barbed wit was often at the expense of her clients but she had a magnetism which also attracted.  Alan Plater's play in two acts shows both her rapid fire wit and in the second half, another side of her which seemed harsh.
I saw the original production in 2000 after it transferred from Hampstead to the West End with Maureen Lipman in the role where she was very amusing in the first act but didn't have the malice to convey Peggy's more difficult side. 
Under Richard Wilson's direction, Tamsin Greig is superb.  She is the foxy lady stretched out on her chaise longue, often barefoot she crosses her legs provocatively and arches her foot so as to extend her legs.  This physical flirtation is there whenever there is a male playwright in the room. 
She liked difference and edginess: hence her taking on Caryl Churchill, Edward Bond and Joe Orton.  She famously fell out with Prick Up Your Ears playwright John Lahr about Orton.  In the opening scene she has been up all night to go to a police station, where she obtained bail for one of her authors. 
Author Alan Plater recalls an incident where she mixed up the cheques due to Alan Ayckbourn in Scarborough and Alan Plater in Hull.  Thank goodness Peggy didn't have to grapple with data protection laws! Both being north of Watford, with the arrogance of Southerners, Peggy thinks the Alans must live in adjoining streets.  Ayckbourn was shocked at the size of Plater's cheque from writing for television.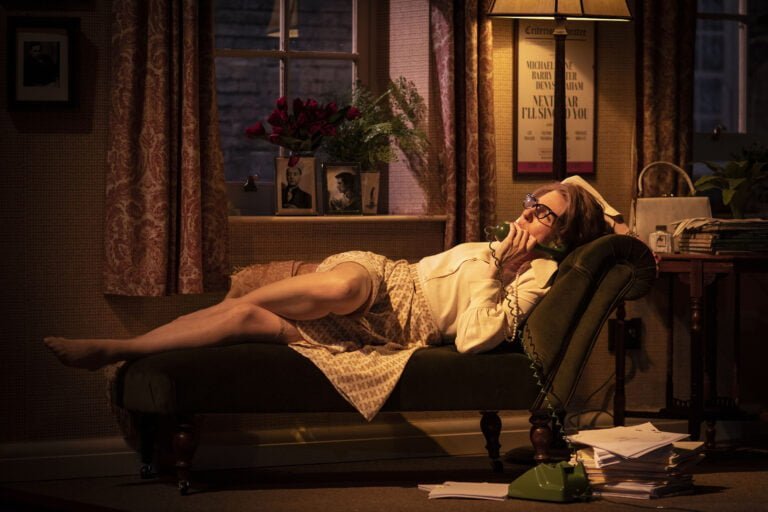 Part of her attraction is just how outrageous she could be.  Plater's play takes place over a single day with Peggy interacting with a new and young writer Simon (Josh Finan); a successful playwright who is the toast of London and Broadway, Philip (Jos Vantyler); and Henry (Trevor Fox) a disgruntled older playwright who feels Peggy has lost interest in him and his work. 
James Cotterill's set is detailed and authentic with kitchen plus filing cabinet to one side, and office/reception room to the left, dominated by posters advertising theatrical productions and Peggy's capacious desk.  Piles of submitted playscripts lie on the floor, some filed away by Tessa (Danusia Samal) one of a succession of Peggy's PAs who are often called by the name of the last one. 
I went to Tom Erhardt's funeral at the beginning of 2020.  He was a charming, sweet natured man who worked closely with Peggy Ramsay, bringing with him the rights in the UK to Tennessee Williams' plays.  I do wish I had asked him about Peggy Ramsay but I daresay he would only have had good things to say. Richard Wilson gets Peggy's personality spot on from Tamsin Greig with the right amount of spikiness and near indifference at an author's suicide.  In a masterstroke of expediency, Peggy gives Henry the job of writing the obituaries.
I laughed and laughed in Act One, laughed less so in Act Two but reflected on what makes not a play, but a successful agent.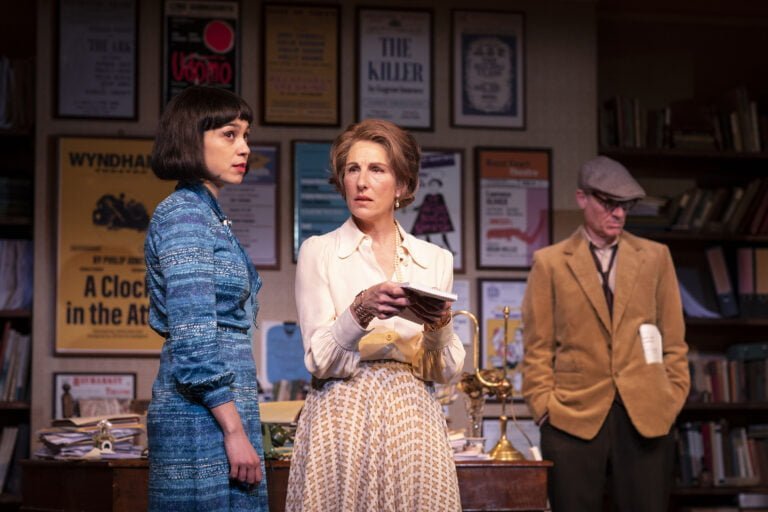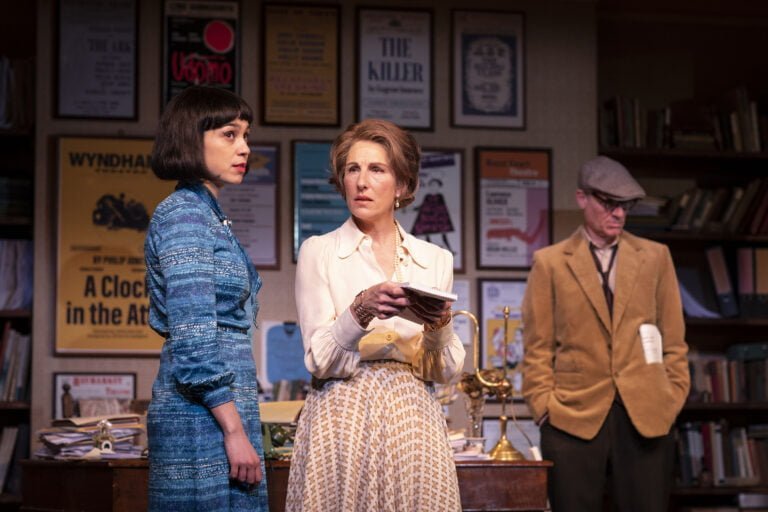 Peggy For You

Written by Alan Plater
Directed by Richard Wilson
Cast
Starring:
Tamsin Greig
Trevor Fox
Danusia Samal
Jos Vantyler
Josh Finan
Creatives
Director: Richard Wilson
Designer:James Cotterill
Lighting Designer: Johanna Town
Sound Designer: Tingying Dong
Information
Running Time: Two hours 15 minutes with an interval
Booking to 29th January 2022
Theatre: 
Hampstead Theatre
Eton Avenue
Swiss Cottage
London NW3 3EU
Tube: Swiss Cottage
Reviewed by Lizzie Loveridge at Hampstead Theatre
on 20th December 2021