Spike Milligan the original satirist!
"I thought I'd begin by reading a poem by Shakespeare, but then I thought, why should I? He never reads any of mine."
Spike Milligan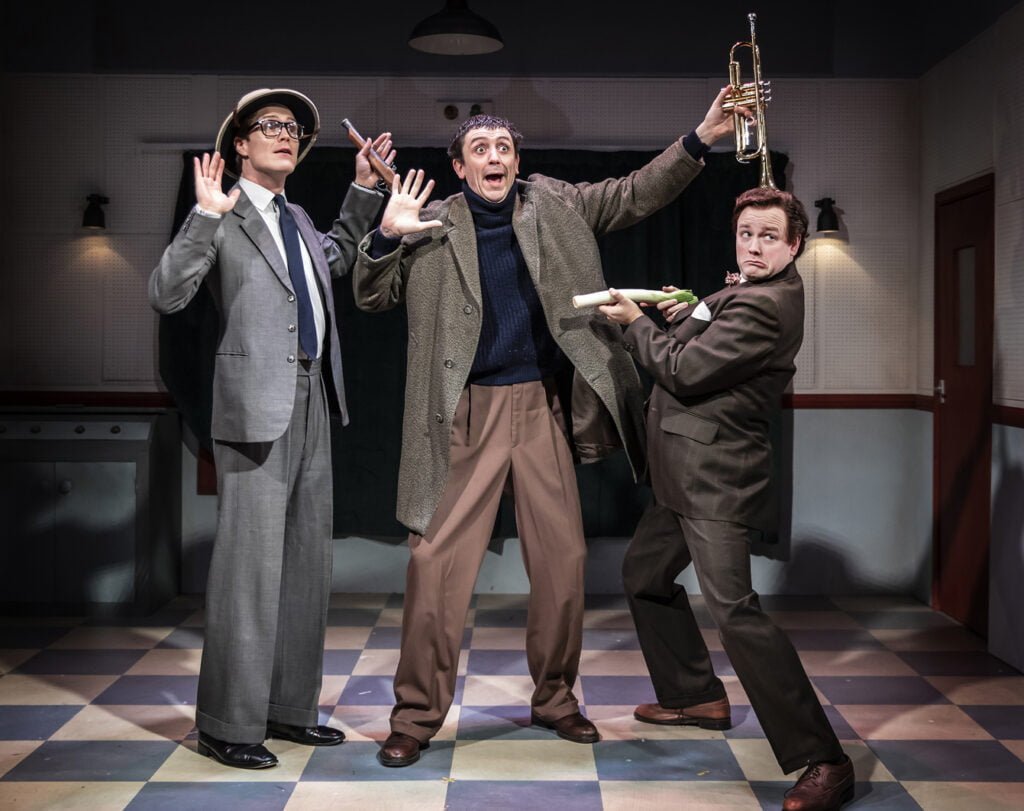 There is something very special about British humour: the rapid improvisation of people like Paul Merton and Lee Mack and the zany way a theme is developed.  What you may not be aware of is the origin of this stream of comic creativity lies not with Peter Cook and Dudley Moore and Beyond the Fringe  orThe Monty Python Show but with a 1950s BBC Radio programme called The Goons.  
The Goons originally starred Michael Bentine, a man with funny voices, a Welsh singer with an operatic voice, Harry Secombe (Jeremy Lloyd), the man who went on to star as Inspector Clouseau and, on film, to seduce Sophia Loren, Peter Sellers (George Kemp) and the writer and performer, the inimitable Spike Milligan (John Dagleish). It is Ian Hislop, long time editor of the magazine Private Eye  and head of one team on Have I Got News For You  who has penned this homage to Spike Milligan along with Nick Newman his  collaborator.  We saw The Wipers Times (2017), Hislop and Newman's earlier play set in the First World War about a satirical newspaper.  This play is very well researched and Spike Milligan has left an extensive written archive including seven volumes of war memoirs and letters to the BBC. 
Spike Milligan was a creative genius troubled by bouts of bipolar illness who found himself frequently at odds with the BBC management played by Robert Mountford.  As Mountford, the unnamed but generic BBC executive, complains about the latest episode of The Goon Show, his wife Mildred (Ellie Morris) is shown laughing her head off.  An incident when an angry Spike turned up at Sellers' flat in the middle of the night wielding a potato peeler is recreated in the play.  There was always pressure on Spike to produce the script despite being paid less than half what the other two earnt from the BBC.  A lovely scene lampoons the BBC as the Big Brother Corporation! 
This incredibly proficient and slick production with music and sound effects has lots of clever changes of scene and an entrance from a cupboard is original and barely gives you time to breathe between one laugh and the next.  It is so well put together.  Spike's sessions of creative writing see him typing away to the sound of the Flight of the Bumble Bee. 
The whole show is introduced by Margaret Cabourn-Smith as Janet the BBC Sound Assistant who demonstrates the various improvised and anarchic sound effect devices from the coconut shells for horses' hooves to a metal comb and a ribbed hot water bottle for a door opening. Each Goon episode ended with a large explosion with Spike remembering his war experience in Monte Cassino and with Janet working on perfecting the sound of a mortar explosion.  Janet presents her armoury with obvious delight! 
We loved the three pretentious critics with their black and white fringed scarves as they cogitated about the comedy programme.  The characterisation of the three Goons, Bentine was long gone onto other projects, is charming.  Secombe unruffled by anything sings and chuckles at his jokes, Sellers a tad more serious and allegedly very attractive to women will disagree with Spike.  I loved John Dagleish's Spike with such a range of facial expression.  I remember seeing him as Ray Davies in the musical about the Kinks, Sunny Afternoon. 
You don't need to have listened to The Goon Show to appreciate all that SPIKE  has to offer.  I didn't listen to the radio programme but knew the voices of the cast from other television programmes and of course the song "Ying Tong Ying Tong Yiddle  Eye Po!" which we'd sing at university.  So many of the play details are witty from the drawn backdrops for the various pubs the cast go to for their after show relaxation, to the windows at balcony level, which reveal cast members illustrating something being described onstage.  The radio studio too is perfectly fitted out. Complete of course with music, songs and Janet's sound effects, SPIKE can expect a visit from Prince Charles one of the biggest fans of the Goon Show and deserves to transfer to London.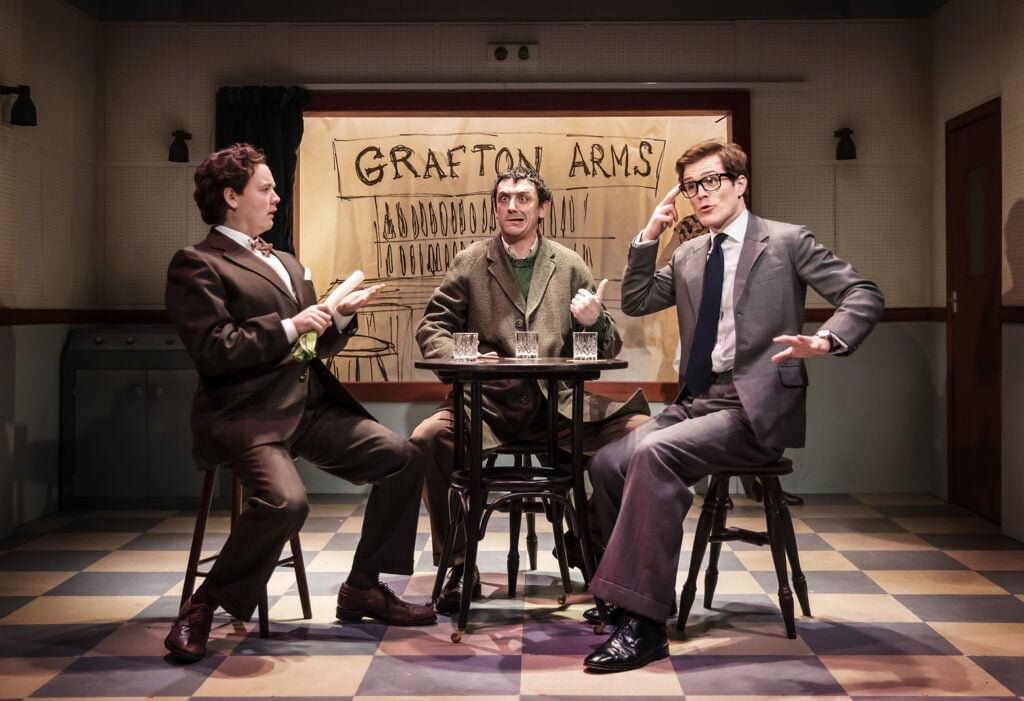 SPIKE
Written by Ian Hislop and Nick Newman
Directed by Paul Hart
Cast
Starring:
John Dagleish
Margaret Cabourn-Smith
George Kemp
Jeremy Lloyd
James Mack
Ellie Morris
Robert Mountford
Creatives
Director: Paul Hart
Designer:  Kate Lias
Composer:  Tayo Akinbode
Movement Design: Anjali Mehra
Lighting Designer: Rory Beaton
Sound Designer: Tom Marshall
Information
Running Time: Two hours 15 minutes with an interval
Booking to 5th March 2022
Theatre:  
Watermill Theatre
Bagnor,
Newbury
RG20 8AE
Box Office: 01635 46044
Website: watermill.org.uk
Reviewed by Lizzie Loveridge
at the Watermill Theatre
on 31st January 2022