The rapier wit of Cyrano de Bergerac!
"Only a hero, someone larger than life, can take us out of ordinary life and return us to it refreshed and invigorated."
Edmond Rostand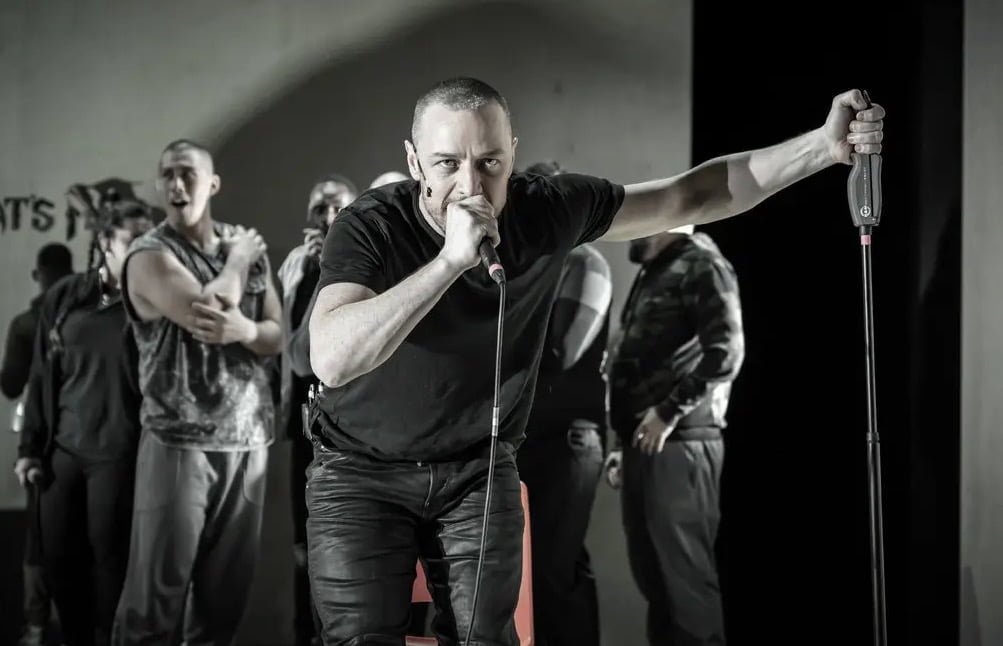 They talk about the power of three.  Three theatrical geniuses come together to make this new version of Cyrano de Bergerac one not to be missed.  After opening at the Playhouse in 2019, now the home of Cabaret,  this production returns, to the Harold Pinter, for a short run before going to Glasgow and BAM in New York. 
Firstly, credit must go to playwright Martin Crimp for his verse adaptation of the Edmond Rostand original.  It is witty and to the point and because it is in rhyming verse we can often finish the sentences for the players.  No one saw arsehole rhyming with castle coming!
Secondly, credit goes to the inspirational director Jamie Lloyd for bringing successful originality and charm to a classic story, casting it brilliantly and giving it emotional depth. 
And finally where would this production be without the acting skill of Jamie McAvoy?  I first saw him onstage in Out in the Open by Jonathan Harvey at Hampstead and at the Donmar Warehouse in Privates on Parade.  He was good then but his Cyrano has so much depth and humour incorporating that massive ego that comes with large noses.  It is remarkable that a French writer should equate a large nose with ugliness because we all know the reputed size of many French noses.  The Chinese call all Europeans "the big noses".  It's hard to believe that Gerard Depardieu needed a prosthetic proboscis! McAvoy has to act having a large nose.
Edmond Rostand was a late 19th century playwright, a contemporary of Chekhov although his play is set in the 1640s when France was at war with Spain.  The play opens in a Parisian theatre and the characters are introduced.  Madame Ragueneau (a strong performance from Michele Austin) runs a pastry shop and teaches a class for poets. 
Cyrano is an expert duellist and at the theatre fights the Viscount Valvert (Nari Blair-Mangat), who the Count de Guiche (a sinister Tom Edden) wants to sham marry Roxane (Evelyn Miller).  De Guiche wants Roxane as his mistress.  Roxane and Cyrano meet at the coffee shop and Roxane says she is in love with Christian (Eben Figueiredo).  Although Roxane talks about the power of romantic language, it is Christian's looks which have attracted her.
Jamie Lloyd's production is in modern dress with a minimalist set and little colour.  Actors stand with microphone stands.  Cyrano is besotted with Roxane, whom he has known since childhood, and agrees to protect Christian in the army division and bizarrely ends up coaching Christian in the art of courting.  It is the first stage show where I remember a Beat Boxer (Vaneeka Dadhira) being used and the show has this rhythmic beat often using rap.  One scene has jousting using a skipping rope and rap.  It feels fresh and clever.  
Cyrano (there was a real Cyrano de Bergerac) is a natural rebel and the play criticises the system where the rich sponsor some writers in 17th century France.  Roxane is seduced by the power of words which Cyrano has fed to Christian and when Christian is unable to deliver spontaneity, Cyrano manages an imitation of Christian's London accent.  So good!
Act Two is a serious affair with the war dead lining the stage, no man's land and one of our characters will lose a life.  We have warmed to these French people and the fine acting has made us believe in their predicaments.  The final scene is full of pathos. It is a tragedy.  The whole production goes at a fast, exciting pace and almost three hours flies by with us wishing for more.   This is a five star production. 
Cyrano de Bergerac
Written by Edmond Rostand
In a new version by Martin Crimp
Directed by Jamie Lloyd
Cast
Starring:
Jamie McAvoy
Michele Austin
Nari Blair-Mangat
Evelyn Miller
Adam Best
Sam Black
Adrian der Gregorian
Tom Edden
Eben Figueiredo
Carla Harrison-Hodge
Joseph Langdon
Sophie Mercell
Nima Taleghani
Brinsley Terence
With:
Vaneeka Dadhria
Jon Furlong
Tazmyn-May Gebbett
Mika Onyx Johnson
Creatives
Director: Jamie Lloyd
Designer:  Soutra Gilmour
Composers and Sound Design:  
Ben and Max Ringham
Fight Movement: Kate Waters
Additional Movement: Polly Bennett
Lighting Designer: Jon Clarke
Sound Designer: Tom Marshall
Information
Running Time: Two hours 55 minutes with an interval
Booking to  12th March 2022
Theatre: 
Harold Pinter
Panton Street
London SW1Y 4SW
Tube : Piccadilly Circus
Telephone: 03330 096 690
Website: haroldpintertheatre.co.uk
Tour
Theatre Royal Glasgow
18th to 26th March 2022
Harvey Theatre BAM Brooklyn USA
5th April to 22nd May 2022
Also streaming internationally
Reviewed by Lizzie Loveridge
at the Harold Pinter Theatre
on 4th February 2022