Moorish, Wild and Knotty: Wuthering Heights
"Heathcliff is more myself than I am"
Catherine Earnshaw.
"Wuthering Heights is rustic all through. It is moorish, wild, and knotty as a root of heath." 
Charlotte Bronte. 
Once the musicians have assembled at the back of the bare stage a Figure steps out and cracks a whip.  Loudly. Emma Rice has taken charge of the evening.  And we are off at high speed in a juggernaut of a play that can turn on a sixpence, thanks to its fine tuning and consummate stagecraft.
The figure with the whip is the West Yorkshire Moor itself, turned into a character in this powerful adaptation of Emily Bronte's masterpiece. But the hearts of people of Thrushcross Grange and Wuthering Heights are lashed as much by their own emotions as their bodies are by the tempest. Hell is all too readily other people. Love hurts, Hope deludes, Happiness is rare, Death is all around.
The audience is given a brief introduction to these doomed characters with their complex relationships and unhelpfully "similar names".
"CONCENTRATE!"  We are told. "No one said this was going to be easy."
The action begins: Nice but dim Mr Lockwood, new to the area and its ways, is caught in a ferocious storm. He knocks on the door of Mr Heathcliff's Wuthering Heights and begs plaintively for shelter and a cup of tea, oblivious to the dour owner's 1000 mile stare. Lockwood's buffeted uncomprehending distress and bathetic craving for tea, have something of a Monty Python sketch about them. Suggested by actor Sam Archer's possibly not coincidental resemblance to John Cleese himself.
But gaining shelter doesn't bring peace. The poor fellow's night is disturbed when Catherine, the love of Heathcliff's life, bangs on his window and the house is in uproar. Catherine, we soon learn, died many years ago, but is kept a ghostly prisoner on the moor by Heathcliff's undying love. Or is it hate? Or both?
Their story is told, not by Nelly Dean as in the novel, but by the Moor itself. It declaims, sings, and dances in various combinations of the cast, who never rest as the Moor itself never rests. Music from the on-stage band underlines the action and emotions in a range of styles from Folk to Rock.  The audience cheers when the live Catherine Earnshaw belts out an impassioned stadium anthem, complete with mic drop. This is extremely physical theatre, which doesn't recognise boundaries or genres. Nor does it shirk showing violence against the young and women. But perhaps the emotional violence is even more disturbing.
Emma Rice's production revels in the possibilities of the Lyttelton stage, which is mostly bare to allow the sometimes furious but tightly choreographed action to speak for itself. Twisted trees are made from light wooden chairs. A minimal section of wall – one door, one window – is wheeled in and reversed as required. Props are spare and ingenious: menacing dogs are snapping jaw bones on edging tools, birds are the fluttering pages of small books held aloft on poles.
Everyone works so hard to create the ensemble that it feels disrespectful to single out any one performance. But Lucy McCormick takes Catherine on her epic journey from 'difficult' Beryl Bainbridge-style girl through ecstatic lover to hollow-eyed wraith.  Ash Hunter's Heathcliff moves compellingly from boy to man to lover to monster.  Katy Owen gives Isabella Linton a charming butterfly lighter-than-air grace, and an innocence that belies her confession that she loves sliding down bannisters "to tickle my tuppence." This gets the best of the rare laughs of the evening. Although the actor's immediate re-appearance, as her own impossibly limp son Linton, is a little distracting.
Taking their bow at the end the cast rightly pay tribute to the invisible members of the company as well. They must all be exhausted. So too, I imagine, is the audience which has had Emily Bronte's bleak vision of human existence as the impossibility of happiness brought compellingly to life.
Wuthering Heights, like Mary Shelley's earlier Frankenstein, is an author's one-off success that has surpassed most of its contemporaries, that thrives today and has earned a place in popular as well as high culture. Both works ask questions that still matter: What is it to be human? What is love? How can it turn to a hatred of equal intensity?
Both stories have been adapted many times, but not always winning the approval of their loyal fans. Emma Rice writes movingly of her own relationship to Wuthering Heights.  But I wonder what the reaction of her younger self would be to this dynamic transformation of it.  She might well have enjoyed it, but there may be others who feel hurt that a dearly-loved text has been disrespected.  And of course there are cynics who can only see an overblown Victorian melodrama where a brutal upstart contrives to inherit a once-proud estate. But the text endures.
(Though if you are a busy student with a Wuthering Heights  assignment, don't assume that seeing this production will save you reading the novel.)
If you're prepared to share Emma Rice's vision this is a compelling and adventurous piece of theatre. But If you're not there is still much to enjoy.  If I have any reservations they would be about its length.  It might have more impact a few minutes shorter.  And is the post-script itself too light to be convincing after all we have seen before? Mr Lockwood returns to close the play and finds a young Cathie Linton and Hareton Earnshaw in love under a Disney-blue sky.  Really?  Or are the passionate ghosts still out there?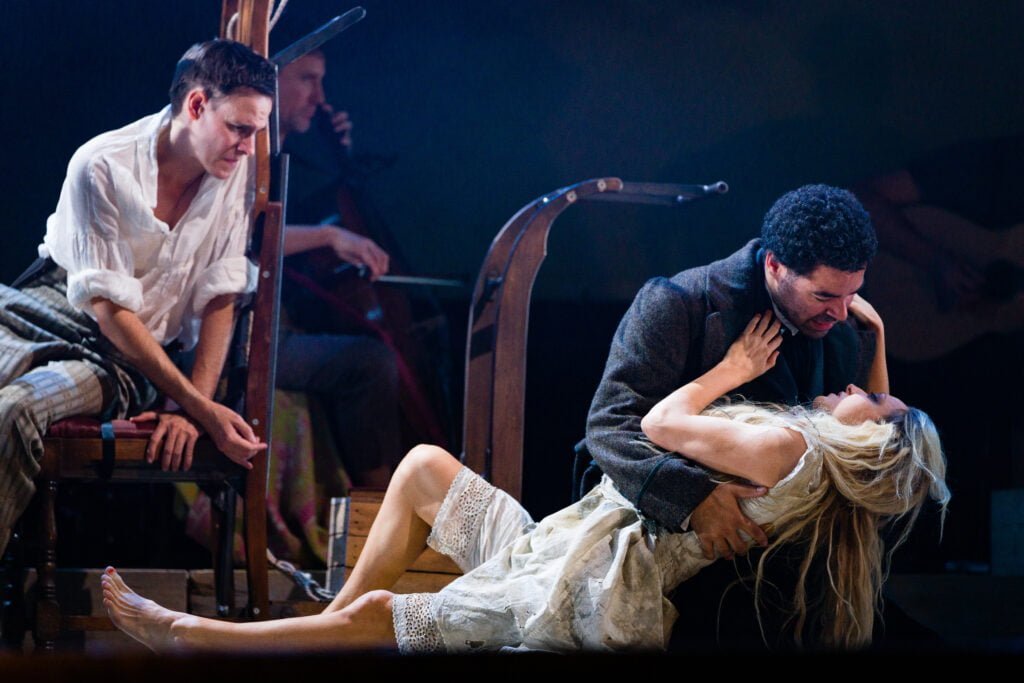 Wuthering Heights 
Written by Emily Brontë
Directed by Emma Rice
Cast
Starring:
Lucy McCormick
Ash Hunter
Sam Archer
Nandi Bhebhe
Mirabelle Gremaud
Stephanie Hockley
TJ Holmes
Craig Johnson
Jordan Laviniere
Katy Owen
Tama Phethean,
Witney White
Creatives
Director: Emma Rice
Designer:  Vicki Mortimer
Composer:  Ian Ross
Movement Design: Etta Murfitt
Lighting Designer: Jai Morjaria
Sound and Video Designer: Simon Baker
Musicians: Sid Goldsmith, Nadine Lee, Rennell Shaw
Information
Running Time: Two hours 50 minutes with an interval
Booking to 19th March 2022
Theatre:  
Lyttelton Theatre
Reviewed by Brian Clover
at the Lyttelton Theatre 
on 9th February 2022