Broken Wings: a tragic love story
"But that sorrow, that inner sadnees links her soul, her soul and mine."  
Lyric from Selma sung by Khalil Gibran
On Press Night of the new musical Broken Wings, there was a technical problem and the show was restarted.  I was so pleased because I got to hear the marvellous overture again with its soaring strings and sorrowful 'cello. 
Broken Wings is the autobiographical love story of Khalil Gibran (aged 40 Nadim Naaman) born in the Lebanon in 1883 who, after his father was imprisoned for fraud, as a child emigrated to Boston with his mother (Soophia Forough) and siblings.  After a few years in America he returned to Beirut, to his first home.  He meets a friend Dima Bawab (Ayesha Patel) and is introduced to an old friend of his father's, the very rich Farris Effandi Karamy (Stephen Rahman-Hughes).  Farris Karamy is thrilled to meet his old friend's son Khalil (aged 18 Lucca Chadwick-Patel) and introduces Khalil to his only daughter and heir, Selma (Noah Sinigaglia).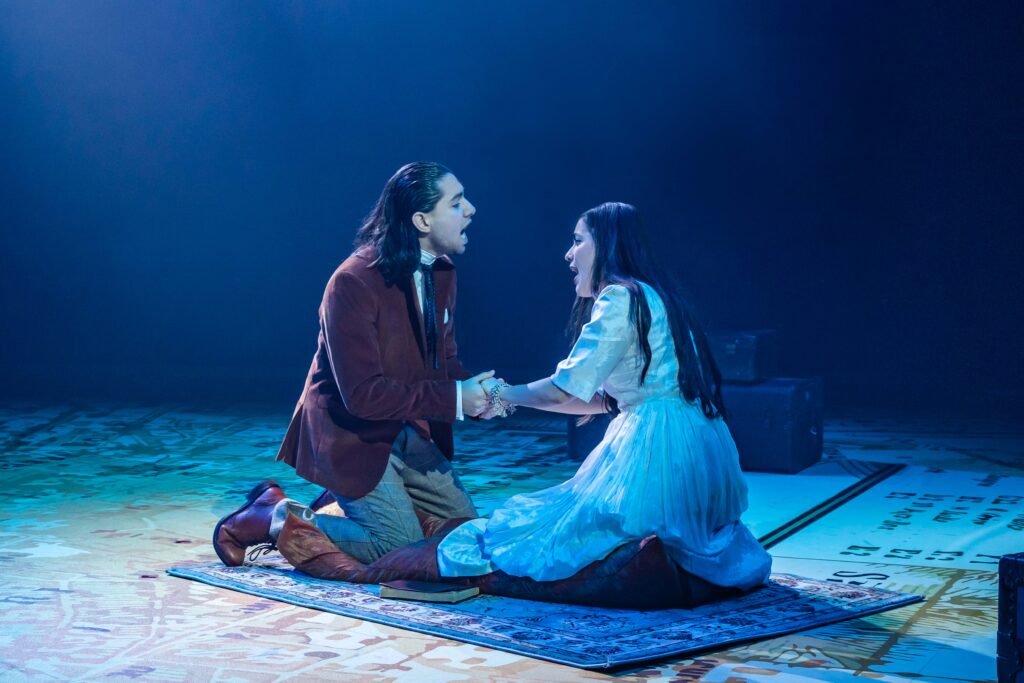 There is a huge spoiler in the first few minutes when Khalil (aged 40) introduces the musical when he speaks to music about his first love and the loss of her.  This might be an error as we wait for their love story to go awry with an audience sense of foreboding.  Did the musical of Love Story have the same issue?  Or Romeo and Juliet?
It appears that a marriage is being arranged between Selma and the nephew of Bishop Bulos Galib (Johan Munir) a member of the influential Galib family who have their eye on the Karamy wealth.  The husband intended for Selma, Mansour Bey Galib (Haroun Al Jeddai) looks gorgeous but is dissolute and would rather play with show girls and prostitutes than entertain his beautiful wife.  When asked by his uncle to marry Selma, his first reaction is, "They say a married man is more desirable".
We get a good idea of Beirut at the turn of the century with Gregor Donnelly's atmospheric set with its arched colonnades and old map of Beirut printed on one wall and on the floor, like carpet, plus Persian rugs.  Broken Wings is played in the round with the audience either side of the playing area.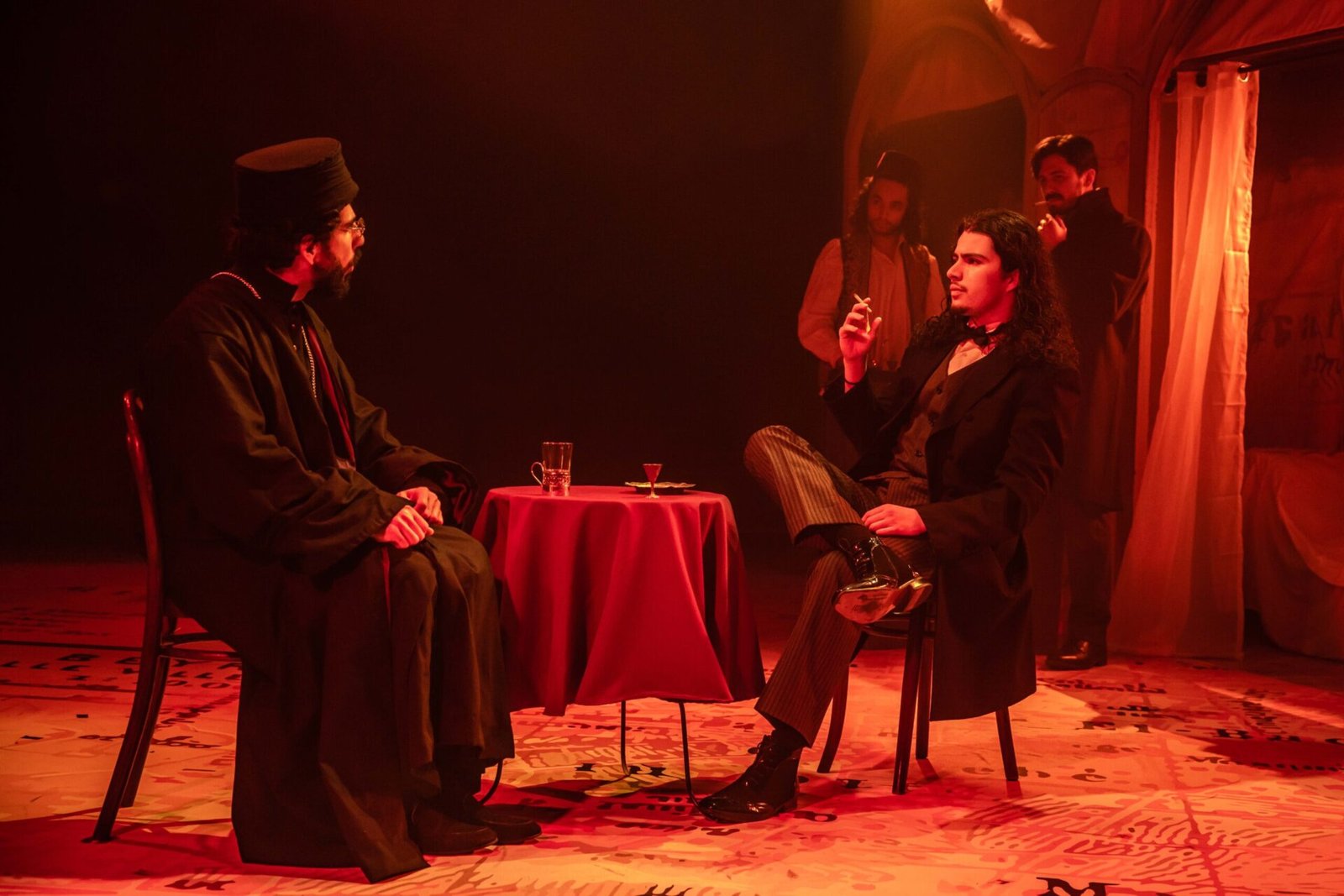 The lyrics have poetic descriptions but with little humour and lightness and too often the rhyme controls the meaning.  In "Selma", "No longer a stranger in this land, Just one more touch of her hand", the hackneyed "Then those beautiful eyes embedded like jewels" and the nonsensical "She wears a cloak of sorrow like blossom in the mist of dawn".  I feel the lyrics might have lost something in translation from Gibran's original.  Of course, many first loves are not tested by time but remain in their purity.  Remember it starts when you sink into his arms but ends with your arms in his sink!
The singing performances are strong as is the acting.  I loved Stephen Rahman-Hughes' rich singing voice as Farris and the duets between young Khalil and Selma. The choreography is limited although I like the scenic handkerchief dance at the Galib/Karamy wedding but there is good movement in the crowd scenes in Beirut.  Soophia Foroughi excels as Khalil's enterprising mother in "Spirit of the Earth" where the whole company is led by her.
I really liked the music which is strong and with pretty melodies although the lack of lyrical wit and originality makes the 150 minute running time slow but the orchestra under Erika Gundesen's direction is magnificent.  It is the book and lyrics which are lacking. 
Act One
 Overture  
Prologue: Heart of the Earth
All I Longed to See
All I longed to See (Reprise)
Your Father
Farris Effandi Karamy
Here in This Garden
So Many Questions
Selma
I Know Now
I Know Now (Reprise)
That Was the Day
'Til Death Reunites Us 
Act Two
Holy Matrimony
I Lived Long Enough
Mother
Spirit of the Earth
Be Free
Careful Mansour
Rescue Me
Heart of the Earth (Reprise)
Finale
Broken Wings
Book by Nadim Naaman
Music and Lyrics by Dana Al Fardan and Nadim Naaman
Adapted from Khalil Gibran's The Broken Wings
Cast
Starring:
Yasmeen Audi
Haroun Al Jeddal
Lucca Chadwick-Patel
Soophia Foroughi
 Alex Kais
Johan Munir
Nadim Naaman
Ayesha Patel
Stephen Rahman-Hughes
Noah Sinigaglia
Creatives
Director: Bronagh Lagan
Designer: Gregor Donnelly
Orchestrations and Arrangements: Joe Davison
Musical Director: Erika Gundesen
Movement: Philip Michael Thomas
Costume Designer:  Jon Morrell
Sound Designer: Andrew Johnson
Lighting Designer: Nic Farman
Information
Running Time:
Two hours 30 minutes with an interval
 Booking until 26th March 2022 
Theatre:
Charing Cross Theatre
The Arches
Villiers Street
London WC2N 6NL
Box Office: 08444 930 650
Tube: Embankment
Reviewed by Lizzie Loveridge
at the Charing Cross Theatre on 15th February 2022